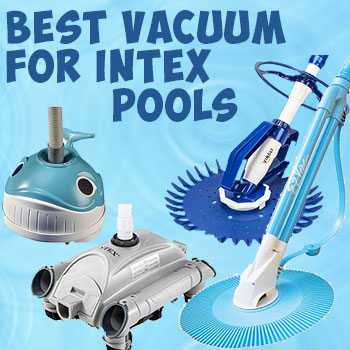 Congrats! Now you've got an Intex pool for swimming and fun. But apart from that, we have to admit that you also got some trouble with its proper and regular maintenance. Please, don't hurry up to get upset! The number one accessory that will solve most of your problems is cleaner.
We have different types of cleaners: automatic, robotic, suction side, pressure side and so on.
If you're not sure which is the best vacuum for Intex pool, this buying guide will be resourceful.
In the first section, we have reviewed the top 5 best cleaners that should be on your wishlist.
In the second section, we have a detailed buying guide, tips and answers to the frequently asked questions regarding Intex pool cleaners and cleaning in general.

Top 5 Best Vacuums for Intex Pools
After thorough research and testing, we came up with a final list of 5 top models for Intex above ground pools.

Size and weight
40.8 x 12.8 x 12.9 inches, 16.45 pounds
18.5 x 13 x 10.2 inches, 15.34 pounds
33.5 x 16.5 x 6.8 inches, 14.05 pounds
13.4 x 12.2 x 23.4 inches, 15.3 pounds
Cleaner Type
Suction Side Automatic Cleaner
Hydraulic Suction Mechanism
Hydraulic Suction Mechanism
Use
Above-ground/On-ground pools
Works with..
Powered by your pool's pump and filter
Powered by your pool's pump and filter
Installation
Without tools for 10 minutes
Easy to install in minutes
Last update on 2023-09-25 / Affiliate links / Images from Amazon Product Advertising API
Detailed Product Reviews
Most pool vacuums are not kids friendly. However, Hayward has created a unique cartoon line of vacuums for automatic cleaning bottoms of above and onground pools of all shapes and sizes. Featuring the patented SmartDrive program and unique turbine system, it operates smoothly and quietly for the entire floor of flat or dished pools with constant water flow regulation.
It is a suction side model that is available in five theme styles with different model numbers but the same technical characteristics:
Wanda the Whale (W3900),
Aqua Bug (W3500),
Penguin (PC100),
Aqua Critter (AR500Y),
Scuba Dave (PC700).
This robot connects directly to the skimmer basket by 32 feet hose, reducing the filter pump's load. The overall installation requires less than 10 minutes without any tools. For operation, you need only clean a skimmer, a pump basket, and a filter. During installation, you need to place the bumper ring to reduce friction and to guide the cleaner out of obstacles, walls, and stairs for non-stoppable cleaning. Wanda 3900 also boosts water circulation by drawing water from the bottom of the pool while it moves.
Even though it offers excellent performance, the price tag is relatively high compared to other cleaners with similar functionality. It's also not recommended for soft-sided above-ground pools and water temperatures below 15 degrees Celsius.
Pros
Looks like a toy
Automated cleaning of the floor
Enhance water circulation
Bumper ring to prevent stuck
Fast installation
Long 32 ft. hose
Cons
Only one cleaning mode
Not suitable for soft pools
Intex doesn't manufacturer only pools, it is also behind several accessories including this vacuum.
The Intex 28001 is an affordable pool vacuum and is among the few reliable options if you have low budget.
It connects to the existing inlet with the 24ft. hose. The requirements for this cleaner is 1600 – 4000gph.
It can handle Intex above ground pools of up to 24ft.
Regarding maneuverability, it has four wheels, but they aren't powered.
This will make it get stuck if it encounters the slightest obstacle.
But in deep corners, it won't get stuck as it reverses to free itself.
Pros
For small to large above ground pools
Cleans deep corners
Fast turnaround
This is also an extensive model, but the advantage is that there's no limitation on the pool it works with.
It is ideal for small to large above ground pools as well as the in-ground with dished-out and flat bottomed pools.
Regarding pool system requirements, Kreepy Krauley K50600 works with at least 3/4hp pumps and 2000gph.
The advantage of Pentair Kreepy Krauley is that it doesn't lose power as the skimmer valve regulates water pressure.
The random pattern ensures that every inch of the pool is covered. Even the largest Intex pool won't be a bother. However, expect it to take longer.
Even though the one piece design significantly cuts down maintenance, the cleaner produces an irritating noise.
Pros
Cleans all pool sizes and shape
Vacuums and skims
Doesn't lose power
No clogging
Low maintenance
This is among the lesser known brand, and cheaper too compared to Kreepy Krauley and similar models.
This suction side cleaner is similar to Kreepy Krauley regarding pool system requirements.
It works with at least 3/4hp pumps and 1600gph flow rate.
On the downside, VINGLI has a 10ft. hose which is short compared to the 32ft. hose other models come with.
This is a similar model just like the previous model we reviewed.
However, this one is a pretty much-updated model and is suited for larger above ground Intex pools.
This vacuum also connects to the inlet vias a 24ft hose.
The specified hose fittings should be 1-½-inch.
Just like the other model, this one works off your pool pump and requires a flow rate of between 1600 – 3500gph.
The maneuverability still depends on four wheels, but they are not powered.
The good thing is that it won't get stuck in the deep corners.

Pros
Affordable price
Fast cleaning
Buying Guide: How to choose?
Now, having looked at the top 5 best models, it's time we discuss several important aspects that you should consider before buying any one.
To start, let's find out why a pool vacuum is essential.
What's a pool vacuum and why do you need it?

Pool vacuums are cleaners that work by sucking all dirt and debris in your pool. The dirt includes leaves, twigs, sand, pebbles, critters and so on.
attention
The dirt and debris don't only make your pool dirty. It may expose your family to RWIs (Recreational Water Illnesses). Dirt also alters your chemistry (alkalinity and pH levels).
Types of Vacuums
There are 4 types of vacuums:

Robotic
Cordless
Side-suction


Robotic – These are models work independently. In other words, robotic pool cleaners don't rely on your filter system of the pump.

Examples include Maytronics Dolphin Nautilus and Aquabot.
important
The advantage is the autonomous operation meaning you don't need to be around for your cleaner to work. They also don't require any installation or set up. These cleaners come with their filter bag, so that means longer pool filter durability. They are also more versatile as they can clean the floor and walls and even steps if you have an in-ground pool. They also have better reach, especially deep in the corners.
On the downside, they are white expensive. Robotic pool vacuums also require intensive maintenance.
Pressure side models – Here, the vacuum cleaner connects to the wall's return outlet and leaves the skimmer free.
The household names here include Turbo Turtle and Polaris.
important
The advantage of pressure side cleaners is the high power, and consequently, suitability for large pools. It is energy efficient compared to suction side vacuums and cleans exceptionally faster. Pressure side vacuums use a separate filter bag, and that means lesser stress and longevity for your pool filter system.
The downside is the high installation costs as they require separate booster pumps. The maintenance is also intensive because of the more components and parts.
Suction side models – These connect to the suction inlet or in some models, the skimmer. They work with at least a 1HP pool pumps.
There are two subsets of suction side models:

inertia driven
gear driven.
The difference is the movement pattern. Inertia driven cleaners like Kreepy Krauley move randomly. On the other hand, gear driven vacuums, for example, Hayward move methodically.
important
The installation cost of suction side vacuums is lower because they require no booster pump. Also, there are no ports or valves to install or fix. The maintenance requirements are also favorable compared to pressure side pool cleaners as they have lesser moving parts.
The major downside is that they are for small pools only just like battery pool vacuums. This time it's because of low power and not runtime. It also overwhelms your filter system as it doesn't have its filter bag. Suction side models are also the slowest and have no simultaneous skimming action.
Cordless models – Also known as battery vacuums, these are used for small portable vacuums. As the name suggests, they are powered by rechargeable batteries.
Examples include Blaster, Paxcess, Aiper and Aqua Broom.
important
The advantage of these cleaners is the affordability. They also don't have the challenges of tangling like robotic vacuums.
But unfortunately, they are not ideal for large pools as the runtime is pretty short.
Factors to Consider when Buying Above Ground Pool Cleaners
Below is some checklist about all the aspects that should inform your buying decision.
Brand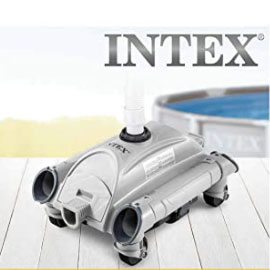 It is always recommended to buy the household names.
So what are the best Intex pool vacuum brands?
We have the likes of Hayward, Pentair, XtremepowerUS, Zodiac, Aquabot, and Polaris among others.
Intex themselves also feature in the list of the best brands with their Intex Krystal Klear cleaners.
Top brands are expensive but offer great value for money compared to the lesser known cheap pool vacuum brands like VINGLI.
Top brands guarantee excellent service and durability. Besides, these brands honor warranties just in case your pool ceases within the specified time.
Lastly, parts and accessories are readily available and at an affordable price.
Price/Budget
Pool vacuums vary in price depending on the type and features as well.
Suction side models are the cheapest and range between $100 and $400.
Pressure side cleaners follow suit with the base models retailing at around $200 and the high end going up to $800.
The robotic pool vacuums are the creme de la creme and cost from $500 all the way up to $1300.
When the price is a consideration, always remember the rule of thumb; you get what you pay for. In the same token, cheap is expensive. But still, there are some affordable pool vacuums if you're on a budget.
Design, shape & size
The size of your pool determines how long a complete cleaning cycle will take.
If you have a large pool, make sure to go for an automatic pool cleaner.
For the small pools, a manual cleaner is ideal.
Type of debris
For pool owner's dealing with the mid-sized dirt and debris like pebbles, sand, small leaves, and dead insects, a suction side cleaner will be the best. It has enough power to vacuum the small and light dirt particles.
For those who have to constantly deal with medium to large sized debris (twigs, acorns, and large leaves), buy a pressure side cleaner. This is because it has more power to suck up the large dirt and debris. Others have filters to ca capture even the small debris like sand.
Robotic pool vacuums are designed for pools with all types of dirt. This includes the finest dirt particles to the large-sized debris. We also have tough pool dirt like algae and the water scaling residue.
Advanced models like Dolphin Nautilus premier have the power to vacuum the large debris and interchangeable filters for the finest residue.
Power & flow rate
The performance of an above ground pool vacuum can be described in two;

The size of the motor determines power. It is matched regarding horsepower with the majority ranging between 0.5HP and 2.0HP.
Flow rate refers to the volume of water that can be pumped against time. The flow rate is calibrated in gph (gallons per hour).
important
When buying the pool pump, the power and flow rate had to be matched with the pool size. Here again, you have to match the power and flow rate of the cleaner to the pool pump. This is in the case of the automatic cleaners (pressure side cleaners and suction side).
If the pump is too powerful, the cleaner will be stressed, and that shortens the length of service. In the same token, if the cleaner is bigger for your pump, it loses efficiency.
Size


The size of your pool should inform the choice of the cleaner.
important
Large pools require equally large cleaners lest you lose efficiency. Always make sure that the cleaner matches the size and type of pool that you have.
Filter system
There are two types of filtration mechanisms;
bagged vacuums
bagless options
Suction side cleaners are the bagless options. They rely on the filter system of your pool pump, and that means shorter lifespan for the pool pump filter.
Pressure side and robotic pool vacuums come with filter bags. They collect the dirt and debris they vacuum, and that means longer lifespan for the pool pump filter.
Hose
The length of the hose is as important as power & flow rate.
attention
An ideal above ground pool cleaner should have a hose at least as long as the pools length/diameter. It should stretch from the skimmer box and at leave some allowance.
Also, consider the detachable hose. It allows you to lengthen the hose or shorten it as necessary.
Scrubbing system
When choosing a scrubbing system, the tough bristle brush sounds the best deal because of the equally tough stains.
However, for Intex pools, the tough bristle brushes may not be the best because of its somewhat fragile wall material. It is not as tough as the concrete or marble Walls in in-ground pools.
Maintenance
The more components and parts a vacuum has, the more intensive its maintenance becomes.
If you want a low maintenance pool vacuum, get the suction side. It has the fewest components, requires no booster pump and has no ports and valves. Most importantly, it has no separate filter bag to be emptied like in pressure side and robotic cleaners.
Pressure side vacuums come second because the extra booster pump means more maintenance. The filter bag also requires emptying.
Robotic pool cleaners require higher maintenance because of the complexity of robotics. These too need frequent bag emptying.
Style
This doesn't affect the pool cleaners performance.
However, it's worthy to mention that some animal-themed cleaning may be great purchases for families with kids.
Hayward has perfected the art of designing lovely pool cleaners.
You have the choice of Ladybug themed cleaners (Hayward Aqua Bug), Whales (Wanda the whale) as well as the duck- styled (Penguin).
Frequently Asked Questions
1. How do above ground pool vacuums work?
There are different types of vacuums, but the working principle makes them different. They all work by drawing water and passing it through a filter system.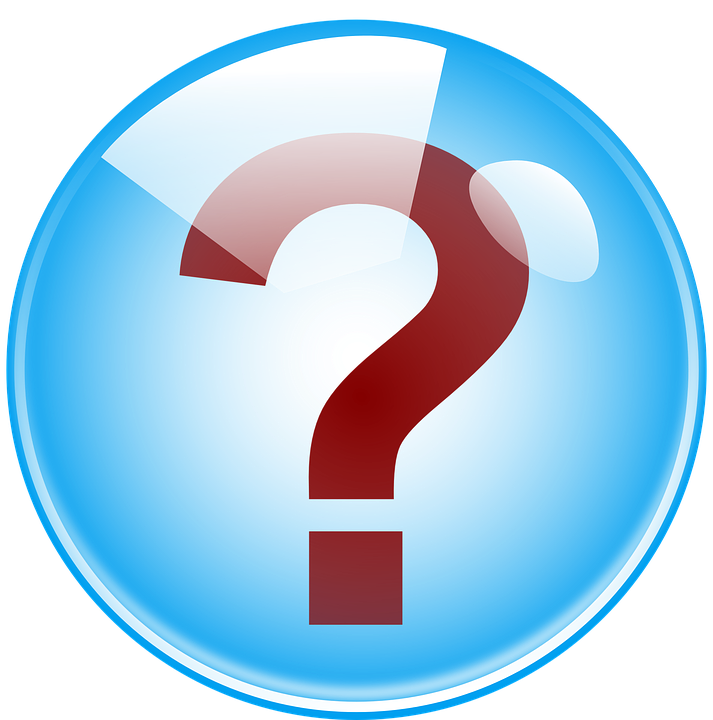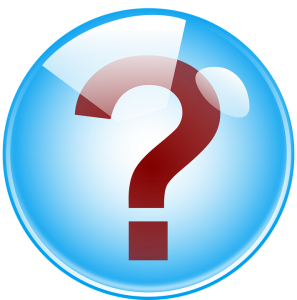 2. Can I use an in ground cleaner for my Intex pool?
Intex pools are above ground
, and that means your in-ground vacuum is not suitable. Using an in ground cleaner in an above ground pool is running a risk.
Pool Walls and sturdiness will be compromised by the high power of in-ground pool vacuums and the tougher scrubbers.
3. Should I clean my pool daily?
It sounds like a great idea to clean your pool daily, but it isn't. The pool cleaning needs are dependent on the dirt it is exposed to with time. Ordinarily, you need to clean the pool twice a week.
If there is more debris, you can increase the frequency to three times a week. The important thing to note is that the more you use your pool vacuum, the higher the wear and tear. That said, you shouldn't clean daily.
4. Is an automatic pool cleaner better than the manual type?
It all depends on the type of pool you are talking about. A manual model may be ideal for certain small above ground pools while others can be suited for large above ground pools.
This is the same case for automatic cleaners. There is no better option between the two; it all depends on the suitability of each pool vacuum with the kind of pool you have, and the cleaning needs.
5. Do I change my filter bag daily?
You shouldn't change the filter bag daily. However, you're supposed to empty it daily after cleaning the pool.
If you leave the dirt inside the bag for long, it wears down your pool system. The dirt may also corrode the pool filter bag material.
6. How to use Intex vacuum with dual outlets?
Old Intex pools came with two holes on the filter. However, new regulations require that they have three holes per the Virginia Graeme Baker Act. You can still use two holes instead of 3. Use the black rubber cap provided to block off one hole.
7. How to use a garden hose with Intex pool vacuum?
Attach the vacuum bag to the garden hose valve. The filter bag will vacuum debris from the pool's floor. Then, connect the telescoping wand to the garden hose and turn on the water to the garden hose.
After this, lower the vacuum inside the pool. With the telescoping handle, move vacuum around the pool. If it loses suction, it's time to empty the bag.
8. What is the best vacuum for above ground pools?
Choosing between these models, we mostly liked Hayward Wanda 3900. This is the only vacuum with navigation system. Besides, it uses the gearing system, never gets stuck, requires 1500 gph, has easy installation and quiet operation. Plus, we should separately note its extravagant design in the shape of a whale and a ladybug.
9. How often do I need to vacuum my Intex pool?
The frequency of cleaning depends on the frequency of usage and the pool size. If you swim only several times a month, we recommend at least weekly cleaning. If you are a heavy pool user, the very other day or every third day vacuuming is obligatory. Also, big pools need more frequent cleaning.
10. Hayward Wanda 3900 vs Pentair K50600 Kreepy Krauly E-Z: which vacuum cleaner is the best?
These models are almost identical in the respect of efficiency and functionality. However, Hayward Wanda 3900 offers navigation system, while Pentair uses random movement. That`s why, apart from all other similarities, we believe
Wanda 3900 to be a better above ground pool vacuum
.
11. Does Intex Auto Pool Cleaner need your pool`s pump?
Intex Auto cleaner requires a pool filter pump, but does not depend on the booster pump.
12. Do pool vacuums clean the walls of my Intex pool?
Unfortunately, pool vacuum cleaners for above ground pools do not climb walls and waterline.
Recent Updates
Mar 14, 2023:In the comparison, the model Hayward Wanda 900 was replaced with the new version of the same pool cleaner, the Hayward Wanda W3900.
Wrapping Up
There you have it folks; the best Intex pool vacuums review as well as a shopping guide.
If you weren't sure about the best model to buy, at least you have some light now.
If you have questions or ideas to share, please do so in the comments section below.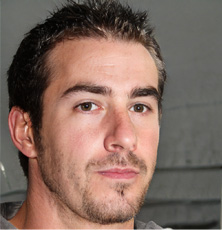 Hi! I'm Markus Robertson, and water is my passion.
Five years ago, I graduated from the University of California-Los Angeles and was going to become a professional marine biologist. However, my fate had other plans for me, and due to family problems, I had to find a more stable and well-paid job. I had only one wish for my job to be connected with water.
During this period of my life, I worked as a sales manager at Olympic Pool & Spa Supplies. The job helped me learn everything about swimming pools and related pool equipment, as well as how to choose the best option and what to pay attention to.
Having worked there for three years, I decided to start my own blog about pools, where I can tell people about the best new pool equipment models and share my knowledge and experience.
A marine biologist by education, I became a pool blogger by trade. Now I'm glad I can help the guests of my store and the visitors of my blog know a lot of exciting things about pools, their types, best pumps and filters, necessary equipment maintenance, and so on.
I welcome all people who want to choose a proper basin and the stuff to my blog! Hope you'll find this information interesting and useful!