Just an F.Y.I. there are
affiliate links
in this post, and if you click any of those links, we will earn a small commission.

In this article, I will compare three of the most popular pool vacuum cleaners from Water Tech: Catfish Li Ultra vs. Max Li CG vs. Centennial Handheld pool vacuum cleaners are a must if you own an above-ground pool or spa.
You can use a handheld pool cleaner to vacuum silt accumulated in hard to reach areas in in-ground pools.

Main Differences
Vacuum Head Size: The Pool Blaster Max Li CG has the widest vacuum head; it is 2.5 inches wider compared to the Catfish Li Ultra and Centennial.
Running Time: The Max Li CG pool vacuum cleaner has the longest battery life of 60 minutes, while the Catfish Li Ultra and Centennial are 15 minutes less.
Motor: The Max Li CG uses the Water Tech P30 motor, while the Catfish and Centennial both use the Water Tech P20.
Debris Chamber Size: Both the Max Li CG and Centennial have extra-large dirt compartments, but the latter is preferable due to its quick-release mechanism.
Comparison Table
X-Treme Multi-layer Filter
Vacuum Head
10.5" head with scrubbing brushes
12.75" head with scrubbing brushes
10.5" head with scrubbing brushes
Pool Pole
45" pool pole (4-piece Set) w/ pole adapter
X-Treme Multi-layer Filter
Vacuum Head
10.5" head with scrubbing brushes
Pool Pole
45" pool pole (4-piece Set) w/ pole adapter
X-Treme Multi-layer Filter
Vacuum Head
12.75" head with scrubbing brushes
X-Treme Multi-layer Filter
Vacuum Head
10.5" head with scrubbing brushes
Last update on 2023-12-04 / Affiliate links / Images from Amazon Product Advertising API
Water Tech took some of the best features of the Pool Blaster Cleaner and combined it with the Catfish, thus creating the Catfish Ultra Li.
A superb product, the Catfish Ultra Li is built using quality materials that will ensure it will last for years. The plastic parts are durable and thick enough to prevent breakage. Even the filter insert is a high-quality multi-layered mesh that almost felt like a cotton-type bag.
This pool vacuum is ideal for a small above-ground pool or hot tub, but you may also use it to clean certain areas in an in-ground pool.
attention
Take note; it is not intended for purging gunk brought by the winter months but for daily maintenance.
You may have to scoop out big clumps of debris. If your pool is covered in algae, you could not expect this vacuum to solve that problem for you.
On a positive note, the Catfish Ultra Li is perfect for removing sand, silt, leaves, and other little remnants that fall from the sky. If you can squeeze your budget a little, I suggest getting a sand silk bag to pick up ultra-fine sediments that may be lying in your pool.
I love that this cleaner collects debris without kicking anything back out. The vacuum head is flat and close to the bottom of the pool, thus creating almost no gap. There are also tiny brushes on the bottom that help sweep and vacuum simultaneously.
This little fellow runs off a lithium-ion battery. You should get around 45 minutes of running time when it is fully charged.
Moreover, you can make a pool pole about four feet long and the assembly could not be any easier. Also, you won't have to wrestle with hoses.
Pros
Perfect for cleaning areas that automated pool cleaners often miss
Lightweight and cordless for seamless performance
Has a larger debris capacity compared to previous models
Comes with a 4-piece pole set to reach difficult areas
Cons
Four hours charging time
The collection bag fills up rather fast when there are plenty of large debris
The Blaster Max is lightweight and straightforward to use. Similar to the Catfish Ultra Li, this unit is operated with a lithium-ion battery but it lasts 15 minutes more.
The machine uses a more robust motor that the company calls Water Tech P30 Motor. According to Water Tech, it delivers increased vacuum suction for quicker and more efficient debris pick-up compared to units using the older Water Tech P20 motor design.
The powerful motor works in perfect combination with the extra-large debris collection bag. Quickly, it picks up all kinds of debris except for algae dust that manages to escape the included X-Treme Multi-layer Filter. However, you can purchase a microfiber filter and install it inside the inclusive filter.
As expected of Water Tech, the overall quality of the vacuum is top-notch with firm connections and seals that prevent suction loss.
Pros
Wide vacuum head
The battery runs about an hour as described
Lightweight and cordless for seamless performance
Has an extra-large dirt compartment
Boasts of stronger suction power for better dirt pickup
Cons
Pole set is sold separately
Four hours charging time
While the Centennial sports a different design compared to the two pool vacuums, it still uses the same mechanics. The cordless, push-button operation allows easy cleaning anytime.
You can perform spot-cleaning or clean the entire the pool. To tackle small hard-to-reach areas, you can remove the included 10.5-inch vacuum to expose the angled head. The machine is a cinch to clean and take apart for storage.
The Centennial uses the Water Tech P20, which is the same motor used by the Catfish Li Ultra. It sucks up everything from leaves to fine sediments that have settled on the bottom. The unit uses dual-cam lever connection, making it a cinch to empty debris chamber between cleanings.
In many ways, the Centennial is similar to the Catfish Li Ultra but its design makes it a more ergonomic cleaner.
Pros
Removable vacuum head
Lightweight and cordless for seamless performance
Extra-large, transparent dirt compartment with dual-cam lever connection
Cons
Telescopic pool pole is sold separately
Four hours charging time
Final Thoughts
Whether you have a hot tub, an in-ground pool, or an Intex, I suggest getting any of these three vacuums to clean the gunk. All three units are above and beyond what I expected in a handheld pool vacuum.
While all three machines do a superb job at cleaning, I prefer the Max Li CG due to its more powerful suction power. But in the end, it is all up to you. Don't forget to let your friends know how awesome these products are.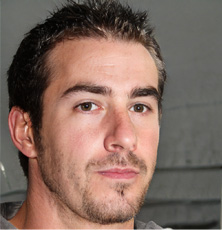 Hi! I'm Markus Robertson, and water is my passion.
Five years ago, I graduated from the University of California-Los Angeles and was going to become a professional marine biologist. However, my fate had other plans for me, and due to family problems, I had to find a more stable and well-paid job. I had only one wish for my job to be connected with water.
During this period of my life, I worked as a sales manager at Olympic Pool & Spa Supplies. The job helped me learn everything about swimming pools and related pool equipment, as well as how to choose the best option and what to pay attention to.
Having worked there for three years, I decided to start my own blog about pools, where I can tell people about the best new pool equipment models and share my knowledge and experience.
A marine biologist by education, I became a pool blogger by trade. Now I'm glad I can help the guests of my store and the visitors of my blog know a lot of exciting things about pools, their types, best pumps and filters, necessary equipment maintenance, and so on.
I welcome all people who want to choose a proper basin and the stuff to my blog! Hope you'll find this information interesting and useful!