Just an F.Y.I. there are
affiliate links
in this post, and if you click any of those links, we will earn a small commission.


Every house owner with a vacant backyard dreams about his/her own pool. However, inground constructions are messy and expensive, while inflatable models last for one season only. Above-ground frame pools become that perfect way out that combines affordability, ease of installation and maintenances, as well as sufficient place for swimming/resting.
If you'd also like to get something fast and worry-free for mounting, our Coleman vs Intex pools comparison will answer all your questions.
We're going to examine five best-selling models and then will decide which product suits you best. All models are presented in the comparison table.

Coleman vs Intex Brand Comparison

Intex Recreation Company is also a famous American brand with more than 50 years of history of beach balls, swimming pools,
boats
, etc. The only item that Company produces not for a swim is airbeds. The former company name was Wet Set. The first Intex above ground swimming pool was made in 1997.
The Company poses a lot of patents showing significant research works done for the production of high-quality leisure goods.
As Bestway, Intex is a reliable pool brand; they both have all the required accessories to maintain the pool in good order, such as pumps and filtration systems. In addition, Intex has a massive range of models of above-ground pools available at different prices.
Both pool brands produce good quality swimming pools experienced for many years by lucky users.
To understand which brand is more suitable for your needs, please check all pros and cons below.
Intex vs Coleman Main differences
Even though both Companies are trustable in swimming leisure products, there are some critical differences between them:

Coleman does not produce their swimming pools; these pools are produced by their partner – Bestway.
Intex has a broader model range of above-ground swimming pools, including small inflatable pools for kids and framed big ones (plastic and metal); meanwhile, Coleman is represented mainly with metal frame models.
Intex also produces a lot of accessories, while for Coleman, all additional accessories should be bought from Bestway that perfectly suits the pools. Also, the choice from Intex is a little bit more for all accessories.
There is an option to buy an Intex pool without all kits and pumps (if you already have everything), only a pool; this makes it very affordable.
Intex swimming pools mainly have more choices with affordable prices.
Other differences are better to check on comparing the most popular pool models of these brands.
Comparison Table
Water Capacity (90% filling)
Improved Water Circulation
dual suction outlet fittings
Hydro Aeration Technology
Hydro Aeration Technology
Filter Pump
yes (530 GPH+Ground Fault Circuit Interrupter)
Water Capacity (90% filling)
Improved Water Circulation
dual suction outlet fittings
Water Capacity (90% filling)
Improved Water Circulation
Hydro Aeration Technology
Water Capacity (90% filling)
Improved Water Circulation
Hydro Aeration Technology
Filter Pump
yes (530 GPH+Ground Fault Circuit Interrupter)
Last update on 2023-12-04 / Affiliate links / Images from Amazon Product Advertising API
Main Differences Between the Models
Before the detailed comparison, we'd like to list the essential differences between our pools. Below, you can see what to focus on during your choice and get the key information if you don't have much time to read the whole review.

Firstly, pools differ in size. While dimension variations are not that dramatic, we notice more significant changes in water capacity. Intex EH series pools are golden mean with 15ft x 48in size and 4440 gal capacity. Its Intex FBA brother is the most compact option with 12ft x 30in dimensions and only 1718 gal capacity. In the Coleman vs Intex pools battle, Colemans win the title of the largest constructions (18ft x 48in and 6092 gal.).
Surprisingly, both manufacturers use the same frames and liners for their pools. However, some models got improved frame joining. Colemans reinforced all constructions with Seal & Lock system. And with Intex, only the 15ft x 48″ 26725EH uses T-joints.
Because of the varying dimensions and water capacity, we naturally evidence the difference in filter pump flow rates. The detailed information on this characteristic is presented in the comparison table.
Finally, the first two Intex pools feature the ultimate set of accessories. The third Intex lacks all extras, except for the compulsory pump. Coleman above-ground pools are somewhere in the middle and lack only a ground cloth.

The first model we're going to discuss provides 15ft x 48in swimming space. All in all, large capacity is the main pool's advantage.
Otherwise, this Intex features pretty simple and solid construction. We like a metal frame and special triple strong, super-tough laminated sidewalls. Liner and poles are reinforced to withstand up to 4440 gallons of water. The amount of water is not a problem since Intex included dual suction outlet fittings that improve water circulation.
According to users' reviews, assembling takes about 40 minutes. Thanks to a special inbuilt drain plug, it also won't take much time to fill and drain the pool.
One more plus of this product is a rich kit. Apart from the pool, you also have an Intex brand Krystal Clear filter pump, a ladder, a ground cloth, and a pool cover. Thus, customers get as many as five products in one purchase!
The only cons we managed to highlight are the pretty high price and weak pump operation. However, in our opinion, the price is just considering the number of accessories, while the pump traditionally provides basic performance sufficient for stated water capacity.
Pros
pretty large pool for the whole family
quick and simple installation
solid metal frame and reinforced liner
excellent accessory kit
free filter pump, ladder, ground cloth, and pool cover
improved water circulation
Cons
expensive
very simple filter pump
kids will need your supervision
requires a thorough choice of a flat place for installation

The 26725EH modification features extremely close characteristics to the previous product. The list of similarities includes the same 15ft x 48in size, 4440 gal capacity, accessories, materials. So, why should we discuss this model here?
Intex 26725EH is an improved above-ground pool. It boasts a quality powder-coated steel frame and a slightly different 3-ply material liner.
But the main improvements are special T-joint connectors between the frame poles to stand the greater weight and, at the same time, to make assembly easier. Also, this pool comes with Hydro Aeration Technology that improves water purity and circulation.
Thus, the Intex 26725EH pool suits customers who look for increased durability for adequate money. Once again, the price may seem biting, but an extra cartridge filter pump, one pool ladder, ground cloth & pool cover are worth it.

Pros
nice capacity for the whole family
even quicker and simpler installation
new T-joint connectors and reinforced frame ensure the longer service life
thick 3-ply liner
great water quality with Hydro Aeration
comes with a filter pump, ladder, ground cloth, and pool cover
quick draining
Cons
expensive
very simple filter pump
kids will need your supervision
requires a thorough choice of a flat place for installation

If you liked the previous constructions but still look for something simpler and more affordable, welcome Intex FBA_28211EH pool. This product offers a bit smaller swimming space and no additional equipment (except for the pump). However, the durability of the frame and liner stay the same. Also, the pool is more suitable for kids and is trice more affordable.
Intex provides its usual frame construction and standard PVC liner material. Walls can resist most impacts, while frame poles assemble within 30 minutes. Altogether, the whole construction provides a 1718 gallon capacity.
Despite the lower price, this pool is equipped with our favorite Hydro Aeration technology and dual suction outlet fittings for optimal water circulation.
Finally, we still get a Krystal Clear filter pump, which is an exquisitely generous offer considering the cost.
As we said, the Intex FBA_28211EH pool is a nice choice for families with kids. It features simple yet durable construction for small money. Besides, many users state its only con is a weak pump.
Pros
compact pool for kids and adults
simple construction
quick installation
solid metal frame and PVC liner
a filter pump is included
excellent water quality and circulation thanks to Hydro Aeration and dual suction outlet fittings
affordable model
Cons
simple filter pump
liner may leak
requires a thorough choice of a flat place for installation

This season, the Coleman brand promotes its second-generation Vista above-ground frame pool. Indeed, despite the evident Coleman vs Intex pools similarity, this model has a lot to offer. And first of all, we'd like to highlight its super-large 6092 gal capacity.
Apart from being the largest frame pool in our rating, the Vista is the only one that comes with built-in portholes. Several windows ensure constant supervision after diving kids and allow for taking funny photos.
When it comes to frame, engineers complemented steel poles with Coleman patented Seal & Lock System joints for a sturdy and simple connection. The liner will also serve long due to Tritech multi-layer material.
Finally, we'd like to mention a unique rattan wicker print that perfectly and naturally matches any backyard.
Apart from the pool, you also get one filter pump, one ladder, and one pool cover.
Certainly, Coleman Vista offers durability compared with inground pools but features a lower price and easier installation. We'd recommend this model for adults who need some space for swimming.
But please mind that the size and kit will cost you over $1000. Also, we noticed no water circulation tools, which is a drawback for such water capacity. Finally, though windows are funny, they increase the chance of leakage.
Pros
the largest pool in our review
Coleman frame that lasts several seasons
Seal & Lock joint connectors with an easy lock system
improved Tritech liner
porthole windows for safety and fun
free cartridge filter pump
a removable pool ladder and a pool cover included
a drain plug
quick assembly
Cons
expensive
the pump flow rate may be insufficient for such water capacity
no systems for water circulation support
porthole windows may leak

As we've mentioned above, the Vista features lots of pros, but its windows often scare away customers. Coleman took care of this problem and presented its Coleman Deluxe frame pool.
Generally speaking, Deluxe is a twin of the Coleman Vista model. It provides us with the same swimming area and water capacity, frame and liner materials, Seal & Lock System.
The kit is also identical: one cartridge filter pump, one free ladder and a complimentary pool cover.
The main change is no windows. On the one hand, you won't be able to look after your kids when they dive anymore. But many users find this lack a blessing since leaks are minimized now.
We definitely recommend Coleman Deluxe construction as it provides just the same level of durability and convenience, at the same time being twice more affordable compared to the previous Coleman pools and Intex pools. Deluxe will suit families with kids and adult customers who need a spacious and simple pool for summer.
Pros
the largest pool in our review
excellent and durable steel frame
Seal & Lock system for extra durability
improved Tritech liner
free cartridge filter pump
a removable pool ladder and a pool cover included
the same natural design
a drain plug
minimum leakages
quick assembly
affordable
Cons
pump still leaves much to desire
no systems for water circulation support
Face to Face Comparison
Now when we got the key pools' characteristics, let us compare each feature separately and find our best-suit product.
Design and Dimensions
As a rule, pool manufacturers classify their products by size and pool capacity. That's why we can find all dimension information in the models' names. Anyway, let us list the sizes one more time. All five models have the following dimensions and water capacity:
Intex 15ft x 48in 26725EH Pool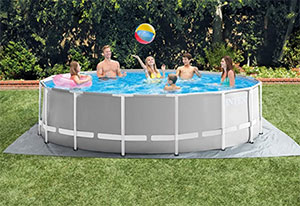 Coleman 18′ x 48″ Deluxe Pool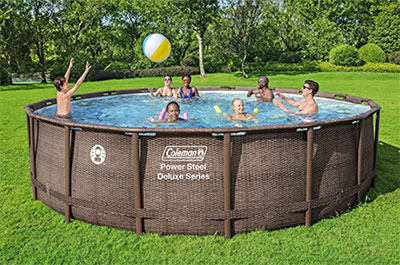 Well, there is no great difference in terms of dimensions between our competitors, but you still can choose a bigger product for swimming or a smaller pool for kids.
Offered colors also coincide within the brand series. Thus, all Intex pools are made in standard blue shades. Only the Intex 26725EH Pool uses a grey outfit with a blue inner covering.
Colemans chose more natural print imitating rattan wicker. This is a nice decision since your camouflage-like pool will be completely invisible and native in the backyard.
Finally, all five pools feature a standard round shape, so the design is identical.
Frame and Assembly

The frame is the main and essential part of rigid above-ground pools. Materials, construction, connectors – all these elements influence, firstly, how safe the pool will be and, secondly, for how long it will serve.
Here, we'd like to find out what of the Coleman vs Intex pool choices will become a long-term investment.
Intex 28241EH 15ft x 48in Pool
The first Intex pool comes with a powder-coated rust-resistant steel frame. The frame consists of standard metal poles and equally standard connectors that fix them. Everything is cheap and cheerful, as they say. But the quality is tested.
Intex 15ft x 48in 26725EH Pool
The Intex 26725EH features an improved prism frame. While the poles are made of the same powder-coated steel, a new method of connection is represented here. The system is called T-joints, and they fix three poles (one vertical and two transverse tubes). Besides, the vertical one is held tighter. Thus, the whole system becomes much more rigid and durable.
Intex FBA_28211EH 12ft x 30in Pool
When it comes to the FBA modification, engineers used the basic frame for it. We notice 100% identical steel poles that we've already met in the first Intex pool and simple connectors.
Coleman Vista and Deluxe 18′ x 48" Pools
We'll describe both Colemans together since they have no difference. First of all, users get corrosion and rust-resistant steel frame. All in all, it is similar to the Intex frame though Coleman's poles look wider and thicker.
Also, tubes are equipped with the Seal & Lock System, which is an alternative to Intex T-Joints.
Both manufacturers state the assembly takes about 30 minutes. Our tests show it's not quite true. Assembly usually lasts for 45-60 minutes, especially if you're alone and have no experience in pool installation. Still, for us, even a twice longer process feels pretty quick.
verdict
Here, we'd like to highlight Intex 15ft x 48in 26725EH Pool and both Coleman pools as they offer us special pole connectors. The systems ensure ultimate support for many years. However, if we consider the speed and convenience of assembly, simple Intex models will slightly win.
Liner

While frames ensure steadiness and support, the liner keeps water inside. In fact, fifty percent of pool durability depends on the liner.
Despite the vague explanations and stated differences, all Coleman and Intex pools come with the same 3-ply liner. It is made of PVC material consisted of three layers. Two outside layers provide protection against weather and sun impacts, hits, punctures, stretching, friction. The middle layer gives additional thickness and reinforcement.
The only difference lies in names. While Intex calls it 3-ply, Coleman prefers Tritech system title.
verdict
We cannot choose a winner here as all frame pools share the same liner material and technology. All we can state is that the 3-ply PVC walls are thick and durable, but, unfortunately, punctures and leakages are still possible.
Filter Pump
All five products come with complementary (and absolutely necessary) cartridge filter pumps. These units allow for:

proper water pumping;
eliminating major pool pollutants such as leaves, insects, sediment;
improving water circulation.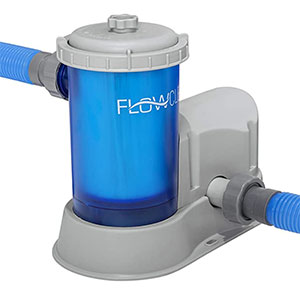 The pumps share the same appearance and functions. However, they differ in power and flow rate.

Intex models use their own brand pumps by Krystal Clear series.

Intex 28241EH and Intex 26725EH pool pumps produce 1000 gallons per hour. The declared water/system flow rate is 750 GPH.

The third Intex, smaller FBA_28211EH 12ft x 30in pool features equivalent but twice smaller 530 GPH filter pump. Consequently, its water/system flow rate is almost twice less too and forms 475 GPM. However, the FBA pump is the only one that is equipped with the Ground Fault Circuit Interrupter. This feature automatically turns the pump off in case of accidental moisturizing and increased risk of short circuit.

Coleman 18′ x 48″ Vista and Deluxe pools offer the most powerful pumps that process up to 1500 GPH. The system flow rate is unstated, though we can conclude it's over 900 GPH.
All filter pumps require standard 110-120V.
attention
Please also mind that, regardless of GPH, filter pumps deal greatly with large and medium-sized debris. However, we do not recommend them for fine particles.
Also, users note that pumps offer very simple, basic-level water treatment that feels inadequate of stated water capacities. Indeed, one cannot expect something super-powerful for this money, but we believe pumps and filters to be sufficient for main tasks.
Well, the final choice is yours here. Anyway, remember that you can get a more powerful pump as a replacement since all pools are easily compatible with other pumping and filtering products.
verdict
In our opinion, an extra filtering pump is a nice complement to the pool kit. The manufacturers save our money and provide us with a free pump (and we'll need them anyway). Besides, pumps are selected according to the water capacity, which cannot be overestimated.
Thus, in terms of efficiency, you can choose any pool. But we'd like to focus on the Intex FBA model due to its extra safety tip.
Hydro Aeration
Hydro Aeration is an Intex own technology aimed at the improvement of pool water quality. However, many other reputable pool equipment manufacturers implement equivalent technologies in their products.
To put it short, the system acts in several directions. The tiny construction mixes water with air bubbles from outside. Thus, it increases water circulation, enriches water with ions, and directs dirt particles into the filter.
Only two out of three of our competitors boast this technology. They are Intex 15ft x 48in 26725EH and Intex FBA_28211EH 12ft x 30in pools.
verdict
Evidently, Intex pools are leaders in this field, so they justly get the privilege in our Coleman vs Intex pools comparison.
Draining
Pool filling usually takes about an hour (or an hour and a half if you have a large pool and weak water pressure). However, emptying is a more time-consuming process. And if we consider the necessity for regular pool draining for cleaning, we'll realize how important a proper draining system is.
The draining systems of all our pools coincide. Both brands took care of our time and equipped their models with drain plugs. These small and simple units serve as a cork, but after the opening, they allow for attaching a hose. Please mind that depending on your hose, you may need a drain adapter that can be bought separately.
verdict
Unlike many cheap above-ground pools, our Colemans and Intexes don't have any problems with quick drainage. All models will require several minutes for draining, so you can safely get any pool for our review.
Accessories
As we see, Intex and Coleman pools we're discussing are pricy. Frankly speaking, it frightens many customers out. However, such price greatly depends on the accessories.
The maximum pool kit available in the market includes:

filter pumps;
removable ladders;
pool covers;
and ground cloths.

We've already discussed the meaning of pumps, so let us emit this here. The function of a ladder is also pretty obvious. We will only add that all ladders measure 48in high (to fit the pools), withstand up to 300 pounds, and feature corrosion-resistant frame and slip-resistant step design.
Usually, we focus on these elements and forget about covers and grounding. But in our opinion, they are essential for proper pool installation and insulation and protection against pollution when pol is not in use.
And luckily, almost all our constructions can boast these accessories.
Intex 28241EH and Intex 26725EH products are the best in this regard. Apart from the 15ft x 48in pools, customers also get free pumps (which we've already mentioned), a ladder, a cover, and a cloth.
Coleman Vista and Deluxe provide the same kit, except for the ground cloth. The lack is not that dramatic if you've already prepared a grounding area with leveling and decking.
When purchasing the compact Intex FBA pool, customers pay for the pool only. That's why we see only a filter pump in its kit and no extra elements. Anyway, such a modest set justifies an affordable price.
verdict
Indeed, the first two Intex products are our favorites. Coleman pools confidently keep up with the rivals and offer an equivalent toolset (especially if you can sacrifice the ground cloth). Intex FBA slightly loses against such background, but we believe that its price redeems the not-numerous kit.
Buyer's Guide – How to Choose the Best Frame Pool?

Now when we highlighted all pools' pros and cons, let us briefly remind you of the most important factors that influence the pool's quality, durability, and suitability for your needs.

Dimensions:
There are no universally perfect pool dimensions. Each case requires its own size, depending on your goals and the space available. If you buy a pool for children, you'll need a shallow model.
Pools for big companies
or regular swimming exercises require much more space and dimensions. But please don't forget to measure your backyard beforehand to make sure the pool will fit!
Frame Type:
Frame pools borrow all the best from the inflatable and inbuilt inground pools. They should be affordable and easily removable but serve for years. All these depend on the frame. We recommend choosing pools with metal frames only. It's also desirable to get an anti-corrosion cover.
You can also find lots of offers with prism frames – these are bigger pools made of stronger alloy and reinforced pillars.
Liner:
This is the second key to pool durability after the frame. Unfortunately, here we have much fewer options compared to frames. Almost all liners are made of PVC. But at least you can choose a model with a multi-layer liner. Thus, it should serve longer and withstand harmful impacts.
Assembly:
The concept is obvious – the bigger your pool, the more time and effort assembly will require. That's why we highly recommend paying attention to the frame connection system, any special joints included, the overall amount of work. Also, think about whether you have somebody to help you with installation and how much time you're ready to spend on it.
Grounding:
All
above-ground pools
require flat, prepared grounding. But the majority of pools feel satisfied with leveling and a ground cloth. However, you can face more complex models that need to be installed on a sand cushion, wooden decking, or concrete platform. As you see, installation methods may significantly differ. So, please remember to check this factor before purchase.
Accessories:
We'd recommend choosing pools with accessories. You'll need most of these items anyway. But thus, you can be sure the included accessories will fit your pool in all characteristics. And also, you can save on extras.
Almost all pools come with
filter cartridge or sand pumps
. You can also find a
skimmer
, a ladder, a ground cloth, a pool cover, a hose.
Frequently Asked Questions
Coleman vs Intex: what is the best above-ground frame pool?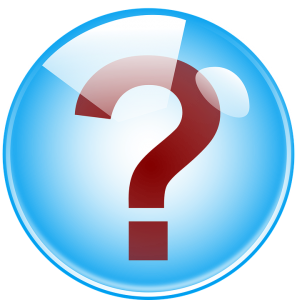 We'd like to specially highlight Intex 15ft x 48″ 26725EH and Coleman 18′ x 48″ Power Steel Deluxe pools.
The Intex 26725EH wins thanks to excellent dimensions, reinforced frame with T-joints, Hydro Aeration system, and the widest kit.
Coleman 18′ x 48″ Power Steel Deluxe Series pool offers the largest size for swimming and playing, also improved Seal & Lock frame, and nice kit. Unlike its Vista twin, it comes with no windows, which means less leakages.
Coleman vs Intex: what is the best frame pool for kids?
Intex FBA_28211EH 12 ft x 30 in Metal Frame Pool Set is our choice number one for kids. This above-ground pool is compact, i.e., safe for kids of various ages. Besides, it is the only model that boasts protection against circuits, improves water quality with Hydro Aeration, and cost quite affordable.
How long does it take to assemble an above-ground frame pool?
On average, an above-ground frame pool requires from 30 to 60 minutes to be installed. Indeed, the time will depend on the pool size, the number of elements, frame type, the number of assembling people, and their experience.
Can I replace an original filter pump on Intex or Coleman above-ground pool?
Yes, you can replace the original pumps that come in the Intex and Coleman kits. Many customers prefer installing more powerful and expensive devices. But please mind that your new pump should match pool type (only pumps for above-ground pools) and GPH/flow rate.
How long should a frame above-ground pool last?
The Achilles' heel of an above-ground pool is its liner. That's why its service life depends on the liner quality and resistance to impacts. If you take care of your pool, try to avoid tearing accidents, a frame above-ground pool may last up to 5 seasons. But on average, it works for three summers.
Conclusion
This was everything we'd like to tell you about Coleman vs Intex pools. The leading above-ground models are compared, strong and weak points are highlighted.
As usual, the final choice is yours. But we can state that all five pools will bring you joy and rest this summer.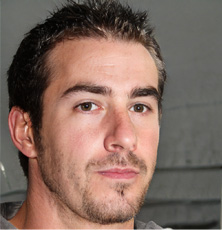 Hi! I'm Markus Robertson, and water is my passion.
Five years ago, I graduated from the University of California-Los Angeles and was going to become a professional marine biologist. However, my fate had other plans for me, and due to family problems, I had to find a more stable and well-paid job. I had only one wish for my job to be connected with water.
During this period of my life, I worked as a sales manager at Olympic Pool & Spa Supplies. The job helped me learn everything about swimming pools and related pool equipment, as well as how to choose the best option and what to pay attention to.
Having worked there for three years, I decided to start my own blog about pools, where I can tell people about the best new pool equipment models and share my knowledge and experience.
A marine biologist by education, I became a pool blogger by trade. Now I'm glad I can help the guests of my store and the visitors of my blog know a lot of exciting things about pools, their types, best pumps and filters, necessary equipment maintenance, and so on.
I welcome all people who want to choose a proper basin and the stuff to my blog! Hope you'll find this information interesting and useful!