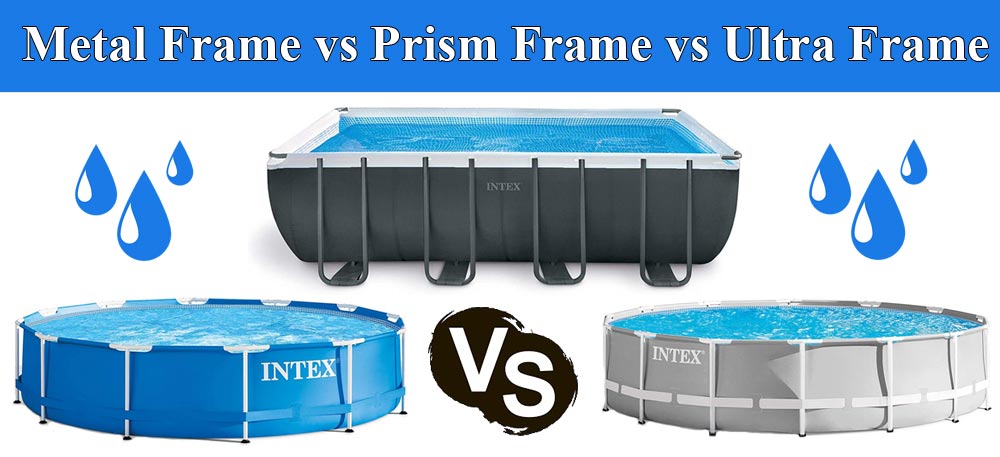 We declare that a swimming pool is a must for every backyard, especially this hot summer! But many will say: "Yeah, and who will pay me this luxury?" A pool is not a luxury anymore – that what we will answer to you. Indeed, inground stationary constructions will cost you thousands of dollars, but who says you should long for it? Above ground frame pools is our choice this season.
Above ground frame pools have always been popular, and the popularity seems to increase with years. The explanation is quite simple: such swimming pools offer exceptional durability, which can be compared with the quality of inground pools, for an affordable price.
If we start listing the best models, half of its names will belong to the Intex brand. Besides, we'll see that frame basins significantly differ in materials and construction.
Today, we'd like to take a closer look at several Intex metal frame vs. prism frame vs. ultra frame pools to find out the difference, how it affects the quality, and which one is the best. Stay with us if you want to get a perfect frame pool this season!

Last update on 2023-09-25 / Affiliate links / Images from Amazon Product Advertising API
Main Differences Between the Models
So, for this face-to-face review, we took five Intex pools of different sizes and frame designs. The following comparison will show us that our models have a lot of common and distinguishing features.
Having spared you the obvious differences like dimensions, warranty, and price, we'd like to shortly name top essential features. Here they are:
Firstly, presented above ground pools use three different types of frames. The first Intex 12ft x 30in comes with the simplest metal frame. The second and third pools have reinforced prism frames. The last two models are the most durable Intex pools as their skeletons are made from ultra XTR frame. Structures mostly differ in alloys and assembly.
The next important difference lies in T-joints. These are small connectors that allow for performing tool-free quick assembly. Besides, T-joints make the frame more rigid and stable. So, only two models – Intex 14ft x 42in Prism Frame and Intex 16ft x 48in Ultra XTR Pool – feature such connectors. The other three pools require direct connection of tubes.
Hydro Aeration technology can be met in all Itex frame pools except for the first Intex 12ft x 30in Metal Frame model.
Intex takes care of our wallets and pool maintenance and provides all participants with filter pumps. Thus, the first three above ground basins come with decent cartridge filter pumps. The last two kits of Intex ultra XTR frame pools include improved sand filter pumps. Pumps also significantly differ in flow rates, but we're going to discuss it later in detail.
Finally, we'd like to note the difference in accessories. In addition to the pumps and pools themselves, the manufacturer includes ladders, ground cloths, and pool covers. However, the Intex 12ft x 30in Metal Frame pool can boast only of a filter pump.
Let's start our face-to-face comparison with an excellent budget option by Intex.
This pool belongs to the category of metal frame pools for up to 4 adults. At the same time, this Intex can be called a family pool since its size and depth are absolutely safe for kids. The 12ft x 30in dimensions provide enough space for playing and moderate swimming. The maximum model's water capacity is 1718 gallons.
A classic design is supposed to fit any backyard. Here, we see the light blue walls with a small pile pattern inside and white frame tubes. The materials contribute to the durability of the model. The stainless steel frame is covered by super-tough laminated PVC material. No easy punctures are allowed as the liner consists of three durable layers.
Apart from the pool, this Intex kit also includes several additional accessories. Firstly, we don't have to spend money on filtration or circulation systems. We get an efficient Krystal clear cartridge filter pump. Its power is enough to refresh 1718 gallons of water, and dual suction outlet fittings provide improved water circulation.
Easy draining is guaranteed by a convenient drain plug. Just connect it to a hose and drain water without extra efforts.
In a short word, this metal frame model will be a nice budget family option for the summer season. The pool gives solid quality and needs no additional expenses. However, please mind it requires thorough installation. Also, a filter may fail to cope with fine debris.
For those who want more swimming space, Intex offers two additional size options. Apart from a 12ft x 30in pool, you can choose a 15ft x 48in or an 18ft x 48in configurations. They keep the same accessories, but the filter pumps became more powerful.
Pros
a nice option for the whole family
safe for kids
several sizes available
durable steel frame
laminated puncture-resistant PVC material
Krystal cartridge filter included
dual suction outlet fittings for circulation
convenient drain plug
fast installation
a 1-year warranty
affordable price
Cons
not much space for swimming
a rather weak filtration of fine debris
requires a thorough choice of a flat place for installation
Intex prism frame pools have become the next stage of frame pool development. But what's the improvement in this Intex metal vs. prism battle? The answer is the frame itself.
Intex 14ft x 42in model features the same puncture-resistant liner made from three reinforced layers. However, prism pools are more durable thanks to their improved frame pillars and innovative T-joints that connect all tubes. Thus, we get an easy assembly with no tools required and much more strong frame.
Like the previous model, this Intex basin comes with a cartridge filter pump. This time, greater water capacity (3357 gallons) requires a more powerful filtering device that processes 1000 gallons per hour.
Also, one will see the same dual suction outlet fittings for water circulation. And, once again, there is an improvement. The pool received the Hydro Aeration unit that significantly improves water quality, circulation, and filtration.
Additionally, the kit includes a removable pool ladder, a ground cloth, and a pool cover.
Speaking about the design, we should note that it was changed too. Now, the outside of the liner has a light grey color.
Intex 14ft x 42in is safe for kids over 6 and is big enough for several adults. As usual, the manufacturer offers several more size options for those who want a smaller or a larger basin.
So, if you're looking for an above ground pool that will last several seasons, this pool is for you. Not too expensive and durable, it also offers excellent accessories.
Pros
extra-durable frame
improved T-joints
several sizes available
laminated puncture-resistant PVC material
Hydro Aeration technology
Krystal cartridge filter included
dual suction outlet fittings for circulation
a drain plug
a removable pool ladder, a ground cloth, and a pool cover included
no-tool installation within 45 minutes
a 1-year warranty
Cons
big size requires longer pump running
a rather weak filtration of fine debris
may need a skimmer for large debris
Do you want to get a private pool lane? Here is one more prism frame pool model with a unique design.
Enlarged dimensions of 16.5ft X 9ft X 48in contain up to 3531 gallons of water and provides a lot of space for swimming in hot days. The oval shape is specially made to remind a swimming lane for those who prefer active exercise.
However, greater water capacity requires more support, which results in a bit changed the design of the frame. We still have a powder coated steel prism frame but with more complicated assembly and without T-joints. Pillars feature angle tilt, and top tubes support durable 3-ply liner.
Once again, Intex takes care of water purity and adds extra accessories. You'll get a cartridge filter pump for 1500 gal. flow rate. This model also improves water circulation and ionization due to the built-in Hydro Aeration Technology.
A lightweight pool ladder provides easy access to water. When the ladder is away, parents can prevent kids from getting into the pool unattended. A ground cloth protects the bottom liner from punctures, while a cover collects fallen leaves and large debris.
Many users note that the pool offers easy and quick maintenance. Also, we like its perfect shape with space for swimming and reinforced frame.
Speaking about drawbacks, it's worth noting that Intex Oval 16.5ft x 48in cannot be called a budget option. The assembly also takes time, and you can hardly disassemble it for winter.

Pros
unique oval shape for swimming
provides lots of space
extra-durable frame
puncture-resistant PVC material with three layers
Hydro Aeration technology
powerful cartridge filter included
dual suction outlet fittings for circulation
a drain plug
a removable pool ladder can keep kids out of the pool when unattended
ground cloth and a pool cover included
a 1-year warranty
Cons
assembly requires time
the big size needs longer pump running
a rather weak filtration of fine debris
expensive

Many people are looking for above ground pools that offer durability compared with inground pools but feature much lower price and easy installation. Here is an ideal model, which combines all these characteristics in one body – Intex Ultra XTR.
We have already scrutinized metal and prism frames. Now it's time to compare Intex prism frame vs. ultra frame design. Ultra XTR frame represents the ultimate quality and durability that one can only imagine in above ground pools.
This quality is guaranteed by improved alloy used for metal tubes. Intex 16ft x 48in basin consists of galvanized steel with anti-rust protection. The tubes themselves have significantly changed triangle design and T-joint locks for quick connection. Thus, despite the large size, the pool requires minimum time for assembly and almost no tools.
XTR design also means improved liner with thicker layers. Please also mind the stylish dark grey color of outside walls.
While the frame has changed a lot, the kit stays the same. In the box, we see a filter pump, a ladder, one ground cloth, and one cover. Does it seem like there aren't any changes? No, there are!
16ft x 48in dimensions with 5061 gal. water capacity require extremely powerful and thorough pumping and filtration. Intex Ultra XTR frame pool perfectly traps fine dirt thanks to a sand filter pump. However, its flow rate for 1200 gallons per hour proves to be too low for such water capacity. Time cycles for 1 to 12 hours partly redeem the lack of power.
As usual, Intex provided Hydro Aeration and extended 2-year warranty. Three more size options are available (18ft X 52in, 20ft X 48in, and 24ft X 52in).
Though the price seems to be too high, extreme quality, durability, and wide kit fully justify each dollar.

Pros
large size
ultra XTR frame that lasts several seasons
improved galvanized steel tubes of new shape
T-joint connectors with easy lock system
thicker liner
sand filter pump with several time cycles
Hydro Aeration technology
a removable pool ladder, a ground cloth, and a pool cover included
dual suction outlet fittings for circulation
a drain plug
quick assembly
a 2-year warranty
Cons
pump flow rate isn't enough for such water capacity
expensive
The last model of our comparison review represents another variation of the previous Intex XTR pool. This time, we have changed shape, enlarged design, and several important additions.
Firstly, this frame pool is rectangular and comes close to inground basins in its shape, size, and water capacity. 24ft x 12ft x 52in for 8403 gallons isn't the biggest option! The manufacturer also offers 32ft X 16ft X 52in pool that holds over 14000 gallons.
The materials of this ultra XTR frame and liner stayed the same. However, the tubes and the whole construction were adjusted for the capacity and shape. We don't have T-joints but have an easy lock system for quick assemble. However, please mind that such a tremendous reservoir requires about an hour to install.
Sand filter pump now features a greater flow rate of 2100 gallons per hour. The ladder, ground cloth, and pool cover come as well. Intex didn't forget about the Hydro Aeration system either.
Extreme quality and swimming space – that's all about Intex 24ft x 52in ultra XTR frame. This model is a perfect replacement for more expensive and hard-to-install inground pools.

Pros
large size equal to inground pools
ultra XTR frame that lasts several seasons
improved galvanized steel tubes of new shape
easy lock system
thicker liner
sand filter pump with several time cycles
Hydro Aeration technology
a removable pool ladder, a ground cloth, and a pool cover included
dual suction outlet fittings for circulation
a drain plug
a 2-year warranty
Cons
despite easy assembly, the pool requires at least two people and 60 minutes to install
needs a pool cleaner
expensive
The choice of the best model always depends on whether the pool features fit your requirements. So, now, when we considered all Intex frame pools separately, it's time to perform the face-to-face comparison of each characteristic.
Design and Dimensions
As you can see from the names, all five models (from the first to the last pool) have the following dimensions and water capacity:

12ft x 30in for 1718 gallons
14ft x 42in for 3357 gallons
16.5ft x 48in for 3531 gallons
16ft x 48in for 5061 gallons
24ft x 52in for 8403 gallons
Color options are almost identical in the majority of cases. All models have light or dark grey liner with blue inner walls. Only the first Intex 12ft x 30in metal frame pool features light blue cover.

Speaking about the design, we can note that there are more differences than similarities. The first, the second, and the fourth Intex pools have classic round shapes. The third frame pool offers a unique oval design, while the fifth ultra XTR basin is rectangular.
verdict
We don't think it's possible or necessary to choose a winner here. The design and size of the pool always depend only on the customer's preference. You can see that Intex offers frame pools of any size from the smallest to the largest models equal to inground pools.
Frame and Assembly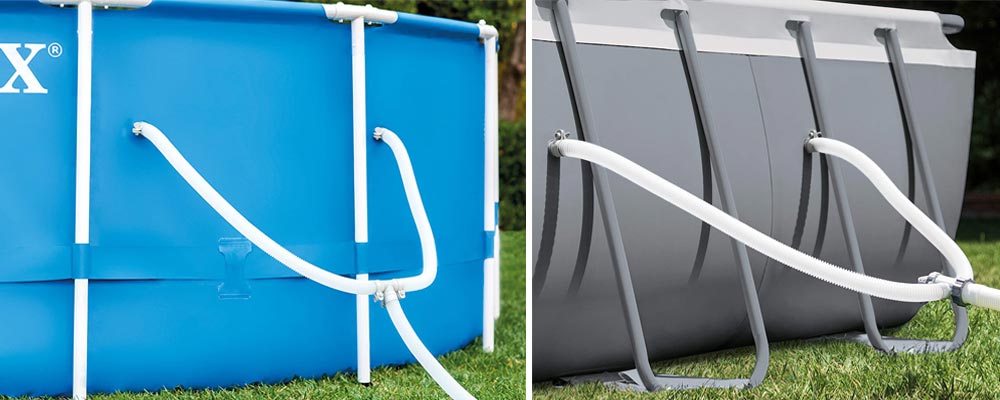 Many people prefer frame pools due to their easy assembly. All units connect and form a reliable pool skeleton. So, what can our models offer?
To begin with, let us note that all five pools use powder coated steel tubes resistant to rust.
Intex 12ft x 30in model comes with a standard metal frame. Tubes are made of stainless steel. T-shaped pillars directly connect upper transverse elements and fix them. Assembly requires only one person and takes about 30 minutes.
Intex 14ft x 42in pool uses an improved prism frame. Here, we have reinforced tubes, slightly improved frame pillars, and another method of connection. The kit includes special T-joints, each of which locks two transverse and one vertical tubes. Such assembly needs no tools and is also easy enough for one person. Installation takes about 45-50 minutes.
Intex 16.5ft x 48in basin features the same prism frame. However, this model consists of separate U-shaped supports connected with horizontal tubes. Unfortunately, no T-joints are included. Thus, the construction and the size of the pool results in a more complicated assembly. Users state you'll need at least two people and about an hour of free time.
The last two pools of the review, Intex 16ft x 48in and Intex 24ft x 52in, belong to the ultra XTR frame pools category. Comparing Intex ultra XTR vs. ultra frame or prism frame models, we notice that ultra XTR can offer the most durable and lasting support. Both basins have improved galvanized steel frame with inner and outer powder coating.

The first model has triangle-shaped tubes and T-joints. The second pool comes with round hollow units. Side elements have U shape, and no T-joints are included. Anyway, in both cases, tubes easily snap together with push button connections. Also, mind that these models will take up to an hour to assemble.
verdict
Without any doubt, the last two ultra XTR frame pools are winners here. They provide the ultimate support for many years. However, if we consider the speed and convenience of assembly, both XTR frame pools are inferior to Intex 12ft x 30in and 14ft x 42in models.
Liner
Liner is one of a few similarities between these Intex frame pools. All models use super-tough laminated material. The liner consists of three layers.
Two thick PVC layers cover liner outside and resist hits, punctures, stretching, friction, and sun rays. The middle layer reinforces pool walls.
verdict
According to this characteristic, all Intex frame pools are equal. However, the manufacturer states that Ultra XTR frame models use thicker covers that stand against greater water pressure.
Filter Pump


Each kit comes with a filter pump for 110-120V. Their main differences are flow rate and filling.
The first three pools use Krystal clear cartridge filter pumps. Despite the same design, they provide 530, 1000, and 1500 gallons per hour, respectively. When dealing faultlessly with large and medium debris, these filters face problems with trapping fine dirt.
The last two ultra XTR frame pools offer an improved filtration system. Thus, instead of cartridges, you'll get a Krystal sand filter pump.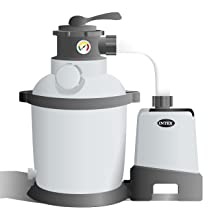 Sand significantly improves fine filtering, which results in purer water. The unit has a 12-inch diameter body resistant to corrosion. Also, we'd like to note a convenient timer with 1 to 12 hour pre-set cycles. Intex 16ft x 48in pump provides 1200 GPR, while Intex 24ft x 52in give 2100 GPR.
Filters are an excellent and quite useful addition to the kit. In all five cases, the manufacturer saves you several bucks and provides primary water filtration. Still, many users note that none of the offered filters possesses enough power to fit the pool water capacity.
As a result, you'll either need to run your filter pump all day long or deal with half-clean water.
verdict
There is no doubt that Intex 16ft x 48in and Intex 24ft x 52in ultra XTR frame pools come with better filtration systems. Still, we recommend you to make your own opinion on whether you need these filters or prefer investing in more powerful and thorough systems.
Hydro Aeration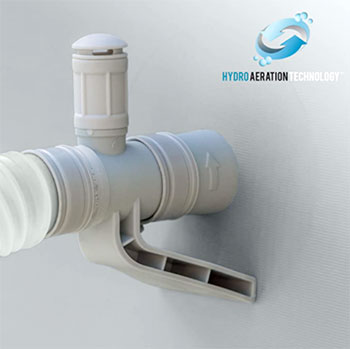 Hydro Aeration is an extremely useful technology that improves the quality of the water. In a short word, it is a small construction above one of the ports that makes pool water mix with the air.
Firstly, air enriches water with ions.
Secondly, it contributes to a more active circulation.
And finally, moving water throws together fine dirt particles. Fine parts become large parts, fall down on the bottom, and can be filtered much faster.
All Intex frame pools presented in the review could boast of Hydro Aeration technology but for the first Intex 12ft x 30in metal frame pool. This basic model doesn't provide us with such convenience.
verdict
Since Hydro Aeration significantly contributes to the quality of water and filtering, we have four winners out of five participants.
Draining
Draining systems of all pools don't have many differences. Each model comes with a drain plug. To perform quick draining, connect the plug with a hose and eliminate water. Some models may need a drain adapter that can be bought separately.
verdict
For some above ground frame pools, quick drainage becomes a real problem. In our case, all Intex models are equal and will take no more than several minutes of your free time.
Accessories


Usually, more expensive frame pools try to save our money and come with several additional elements. Our Intex models offer:

filter pumps;
removable ladders;
pool covers;
and ground cloths.
While the first pool kit includes only a filter pump, the owners of the other four pools also get ladders, covers, and clothes.

The explanation is obvious. The first Intex 12ft x 30in is a compact pool model. Consequently, you can easily clean it and get in it without ladders or covers. Other models provide greater dimensions, much more swimming space, and more complicated assembly. Here, ladders and covers are not a caprice but a true necessity.
verdict
You can safely choose any of five pools as they require no extra investments. Even the first model that has one filter pump without ladders and covers will suit any user.
Buyer's Guide – How to Choose the Best Frame Pool?
The abundance of pool models can drive crazy even an experienced customer. That's why we're glad to present to you several useful tips, following which will greatly increase your chances of choosing the most appropriate frame basin.
Type of a Frame
Though frame pools are considered temporary basins, it doesn't mean they should break after the first season. We all would like to purchase a reliable and durable pool. And this strength and durability directly depend on the type of system.

A metal frame is a classic for all times. The system combines an affordable price and not quite a long but decent lifetime. A metal frame is a great choice for kids and families who'd like to have a small source of refreshment.
Prism frames are usually used for bigger pools. The frame elements are made of stronger alloy and feature reinforced pillars. This frame type will suit big families where both adults and kids love to take a regular swim.
Ultra and ultra XTR frames are the strongest pool skeletons. So, choose such a frame if you want to purchase the biggest above ground pool. Also, please mind that these basins are usually never disassembled for cold seasons and stay like inground ones.
Dimensions
The choice of a frame pool for summer is determined by its goal, i.e., what for do you need it? If you buy a pool for children, you obviously need a shallow model. Pools for big companies or regular swimming exercises require much more space and dimensions.
Besides, the pool size directly depends on the size of your backyard.
important
Please consider the factor of free space before purchasing a basin. Having determined the approximate dimensions and configuration, you can go to the store.
Assembly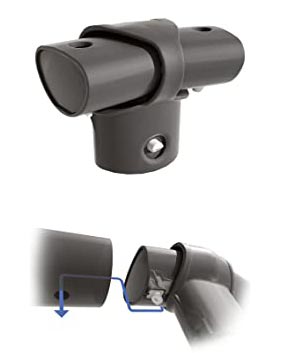 The next factor arises from the previous two points. The bigger your pool, the more time and effort assembly will need. That's why all experts recommend choosing a frame pool taking into account assembly.
Think about whether you have somebody to help you with installation and how much time you're ready to spend on it. Also, remember that the biggest and most durable pools usually offer too complicated disassembly. So, most probably, you'll have to leave it all year round.
Some frames consist of convenient connecting elements that need a minimum of tools or no tools at all.
important
T-joints and quick locks help reduce the assembly time. Look for such constructions if you'd like to have a big and worry-free frame pool.
Installation
All above ground pools, including frame models, should be installed only on a flat, even surface. However, while one pool demands thorough ground preparation, another basin takes it much easier.
Installation on a prepared ground may include providing a sand, wooden, or concrete cushion. It should be as even as possible. This requirement doesn't depend on the pool size. Both small seasonal pools and large inground-like models may be set in such a way.
There is also an installation in the pit. As a rule, the pit is required for frost-resistant and almost stationary models. The method is time-consuming, but the result is a stable and long-serving pool.
However, the majority of frame pools don't need any digging or cushions. You should only choose a flat and even surface, lay a ground cloth, and set your pool.
important
As you see, installation methods may significantly differ. So, please remember checking this factor before purchase.
Accessories

All customers prefer buying pools with additional accessories to save time and money. The most popular kits include everything that is necessary for normal pool operation.
Almost all pools come with filter cartridge and sand pumps for water treatment. They don't always work efficiently, but if you don't want or don't know how to choose a pump, you'll like this accessory.
Some models are also equipped with a skimmer. The device is designed to clean the surface of the water from large contaminants like leaves, grass, sticks, insects, etc.
The widest kit you can have includes a ladder, a ground cloth, hoses, a pool cover.
important
As mentioned before, accessories cannot boast of the ultimate quality, but they allow you to save a lot of time, money, and effort.
Frequently Asked Questions
How long should I run the filter pump of my Intex frame pool? And can I replace it?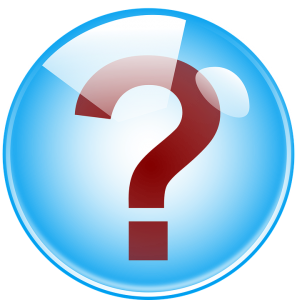 Unfortunately, Intex provides weak pumps that do not suit the water capacity. To maintain water purity, you will either have to run your pump 12 hours per day or replace it with a more powerful item. Hayward pumps will perfectly fit the majority of Intex pools.
How often should I run my Dolphin robotic pool cleaner?
It depends on the installation place of your Intex pool and how often you use it. With daily use and debris from nearby bushes and trees, you need to run a Dolphin robotic cleaner at least three times per week. If the filter basket is too dirty, you will need to run it more frequently. On the other hand, if it is almost clean, you can decrease the cleaning procedures up to two times per week.
The robotic pool cleaner
also performs a water filtration function that helps reduce algae and bacteria in the pool and chemical usage.
Which Intex frame pool should I choose for the family with two kids 3 and 4 years old?
Many customers like the Intex 12ft x 30in frame model. It has enough space for the whole family's swimming and playing. At the same time, you can be sure of your kids` safety since the basin is shallow.
Additionally, the pool is cheap, which means you can buy it for a couple of seasons and then replace it with a bigger one when your kids grow up.
Can I leave my frame pool up through winter?
Intex 12ft x 30in is a model whose metal frame requires disassembling during cold seasons. However, other prism and ultra frame basins can be left up through winter. Just drain your pool and use a pool cover to protect the bottom from debris.
Can I add chemicals and salt to my Intex frame pool?
In the majority of cases, frame pools become unusable because of the liner and not the frame. Still, users claim that, with proper maintenance and installation, your Intex ultra XTR pool will last at least 5 seasons.
Conclusion
During this review, we managed to find the most durable frame pools. They are Intex ultra XTR frame models. That's why, if you're looking for a capacious and lasting pool, try the Intex 16ft x 48in and Intex 24ft x 52in.
Still, we cannot affirm that they are the best choice for every user. Firstly, the pools are quite expensive. And secondly, they will not suit those who have little space, small kids, or no time for complicated assembly. For those people, Intex produces excellent prism frame pools and the metal frame 12ft x 30in model.
important
Consequently, there are no clear winners and losers. Each Intex model has its pros and cons. We tried to help you see the difference. Now, it's your time to consider your needs and choose the best.
Recent Updates
Jan 13, 2021: A more thorough examination of filter pumps included in many Intex above ground frame pools showed that one filter lasts for about two weeks only. So please mind this before getting a model. Our team recommends either purchasing a package of replaceable filters beforehand or changing an original filter pump with a more powerful and long-lasting sand pump.
Mar 1, 2021: Intex states all its above ground pools ensure a decent level of safety even for the smallest swimmers. Thus, all our competitors are now suitable for ages 6 years and up.
May 19, 2021: If you choose one of the largest pools (the XTR sets), you can complement it with a salt water system. However, please mind the filter pump characteristics and power to avoid problems.
Jul 04, 2021: For the last six months, prices for above ground pools grew noticeably. We confirm a 20%-25% increase since the beginning of the summer. However, the phenomenon has a seasonal nature. That's why we'd recommend you looking for a pool during cold seasons when prices are significantly low.
Mar 14, 2023: The misprint is corrected in the pool comparison table. Ready for water time was changed from 30 minutes to 45 minutes. In the detailed review section, the time was indicated correctly. Also, the Frequently Asked Question section was updated based on the latest comments from our readers.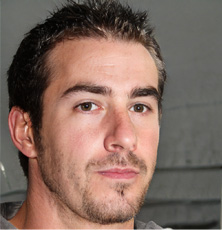 Hi! I'm Markus Robertson, and water is my passion.
Five years ago, I graduated from the University of California-Los Angeles and was going to become a professional marine biologist. However, my fate had other plans for me, and due to family problems, I had to find a more stable and well-paid job. I had only one wish for my job to be connected with water.
During this period of my life, I worked as a sales manager at Olympic Pool & Spa Supplies. The job helped me learn everything about swimming pools and related pool equipment, as well as how to choose the best option and what to pay attention to.
Having worked there for three years, I decided to start my own blog about pools, where I can tell people about the best new pool equipment models and share my knowledge and experience.
A marine biologist by education, I became a pool blogger by trade. Now I'm glad I can help the guests of my store and the visitors of my blog know a lot of exciting things about pools, their types, best pumps and filters, necessary equipment maintenance, and so on.
I welcome all people who want to choose a proper basin and the stuff to my blog! Hope you'll find this information interesting and useful!