Just an F.Y.I. there are
affiliate links
in this post, and if you click any of those links, we will earn a small commission.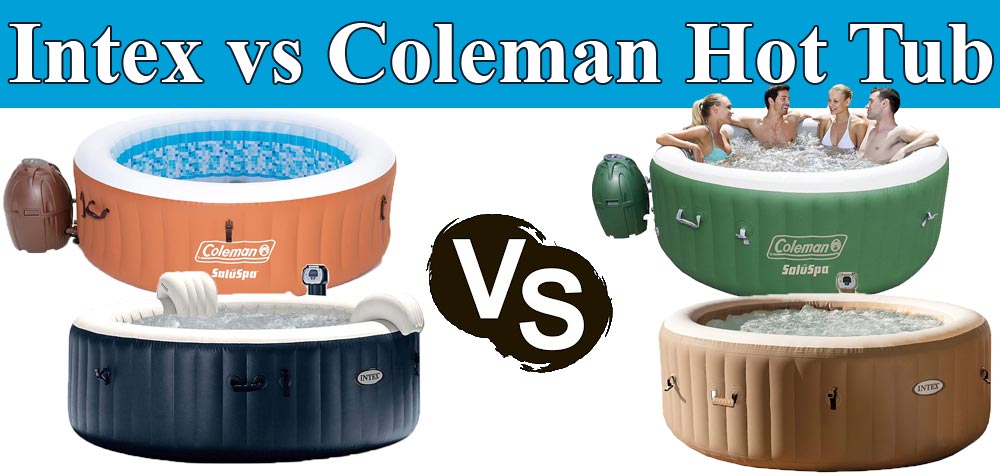 Your own private spa isn't a luxury anymore! Inflatable hot tubs will provide you with all swimming and relaxing pleasures for moderate money!
Warm water, temperature adjustment, bubble jet massage, therapeutic effect – these are the features common for all hot tubs. But unlike the frame products, inflatable spas guarantee much easier and quicker assembly for much more beneficial price.
Get ready for a real battle between the two popular pool brands Intex vs Coleman Hot Tub. Learn everything about their bestsellers Intex 4-Person PureSpa, 6-Person PureSpa, Coleman SaluSpa, and SaluSpa Miami! Let's find a perfect budget inflatable hot tub together!

Main Differences Between the Models
In essence, our Intex and Coleman hot tubs share the same basis. We will also miss some insignificant distinguishing features like colors. Let us focus on the crucial differences, relying on which you'll be able to choose your perfect inflatable hot tub. Here they are:

Firstly, due to different dimensions, the spas are suitable for a different number of people. The first three models, – Intex PureSpa 4-Person, Intex PureSpa 6-Person, and Coleman SaluSpa, – are the biggest pools for up to 6 people. Coleman SaluSpa Miami tub is for 4 people only.
Purchasing different tubs, you'll get a different number of jets and varying intensity of the hydro massage. They are 120, 170, 114, and 120 jets, respectively.
The next important difference connected with jets is the presence of the jet flow control in both Coleman spas. They are the only that allow users to adjust the water pressure.
Unlike the Intex spas, the Coleman pumps come with the Power Saving Timer. It means you can program your pump and heating for up to 72 hours work and reset the timer every 3 days if necessary.
Pumps offer one more slight difference. They all have built-in digital screens for easy control over the tub systems. But while the Intex models have these screens separately on the top of the stand attached to the pump, the Colemans have integrated displays directly into the pump top panel.
Finally, there are a lot of differences in the kits of each spa. We'll discuss them all later, and now we'd only like to note that the Intex tubs come with thermal ground cloths and carry bags. The Colemans do not have any.
Comparison Table
Dispenser
floating chlorine dispenser
floating chlorine dispenser
Last update on 2023-12-04 / Affiliate links / Images from Amazon Product Advertising API
A spacious spa hot tub for four adults will be a nice investment in your backyard facilities. Even in the coolest nights, you can lounge in warm bubbling water, setting the most comfortable temperature.
Firstly, this Intex PureSpa model is made of durable tear-resistant vinyl material. The rigid construction of the bowl stands any mechanical damages and sun exposure. At the same time, inflatable and portable spa guarantees you quick and worry-free installation.
The model uses a thermal ground cloth and an energy-efficient cover that serve two aims. They prevent damages and pollution as well as maintain the set temperature inside the pool. Since the temperature is preserved, you can be sure your hot tub electricity bills won't cost you a fortune.
Apart from the dual protection, Intex PureSpa comes with everything you may need. Thus, we get a convenient built-in pump integrated into the heating system with easy adjustment, two filter cartridges, hard water treatment with a floating chlorine dispenser, a 3-way test strip, and necessary hoses.
The product for four persons measures 77″ x 28″ and contains up to 210 gallons. The lovely cocoa color will fit any backyard, and convenient handles provide easy transportation when the tub is empty.
Speaking about drawbacks, we'd like to mention a rather weak pump and heating system that needs a lot of time to heat the water. Many users also complain that they have to run the heater all the time to maintain a stable temperature.
The Intex official site offers two spa options – you can choose between a cheaper PureSpa without a cover and a more expensive version with the full kit. In any case, the hot tub provides much more pros than cons but may seem overpriced.
Pros
though being for 4 people, it's big enough for 6
durable materials and solid construction
easy installation
easy temperature regulation through the control panel
energy-saving
comes with a protective and heat-trapping cover
comes with a protective thermal ground cloth
includes necessary pump, heater, two filters, and a floating chlorine dispenser
a built-in drain valve
handles and carry bag for transportation
lovely design
Cons
weak pump that lasts for several months only
weak filters
slow water heating
needs constant heating
The next Intex hot tub very successfully combines the same dimensions and a more affordable price. Though most of its features coincide with the previous PureSpa product, we can also note several nice additions.
So, this pool is designed to contain up to six people with as much comfort as possible. Here, we have a 85″ x 28″ inflatable body with 290 gals water capacity made of the laminate puncture-resistant PVC. The model can last for several seasons and keeps its form even in the most severe conditions thanks to the patented Fiber-Tech Beams construction.
The spa is equipped with automatic heating and massage systems where water comes through the thorough filtration and chemical hard water treatment. While the pool still features the heating system, two filter cartridges, a floating chlorine dispenser, and a test strip, we can also find an additional Air Blower system.
Also, engineers improved the hydro massage system by enlarging the number of bubble jets (170 elements).
A thermal ground cloth, an insulated cover, and an inflation hose stayed the same. However, the users will get two additional head rests, a carry bag for easier tub transportation, and a lovely decorative multi-color LED light.
Finally, Intex has preserved its brand fast installation and a convenient control panel for water temperature regulation.
Pros
up to 6 people capacity
puncture-resistant durable materials
Fiber-Tech reinforced construction
easy temperature regulation through the control panel
ready to use within 20 minutes
improved 170 bubble jets
an insulated cover and a thermal ground cloth included
two head rests
multi-color LED light
includes necessary pump, heater, two filters, and a floating chlorine dispenser
a built-in drain valve
handles and a carry bag for transportation
lovely design
Cons
weak pump and filters
slow water heating
needs constant heating
noisy operation
Now, it's time to present another excellent spa product by the Coleman brand. Many users find it challenging to choose between Intex or Coleman hot tub as they have a lot in common. Let's find it out.
The model measures standard 71″ x 28″ and contains about 220 gallons.
Let's also list other standard features such as durable Beam construction covered with Tritech fortified PVC, two cartridge filters, and a cover. Apart from these units, the tub also uses one chemconnect dispenser.
Speaking about distinguishing features, we should note a pump. This unit performs several functions. You can inflate the spa, heat the water, regulate filtration, and control the water temperature – and all these are possible thanks to one pump.
Moreover, the pump panel now provides unique control over the pressure of 114 bubble jets, which means you can now adjust the most comfortable flow. And you can also set the so-called Power Saving Timer to make the spa maintain one temperature for up to 72 hours. However, some users consider the timer to be a drawback as they have to reset temperature every several days.
We can state that this spa has almost no cons. The only minus is the lack of thermal ground cloth. Thus, you should be very attentive while choosing the installation place. Also, mind that filters easily clog and require weekly maintenance.
While Coleman SaluSpa seems absolutely identical externally, we see that it offers a lot of inner improvements. This item is suitable for people who especially concern about electricity bills and durability.

Pros
puncture-resistant Tritech material
durable Beam construction
powerful multi-functional pump
easy temperature regulation
adjustable jet flow
Power Saving Timer for 72 hours
Coleman SaluSpa cover
two cartridge filters and a chemconnect dispenser
a built-in drain valve
handles for easy transportation
lovely design
quick installation
Cons
Power Saving Timer requires regular temperature resetting
no ground cloth
regular filter cleaning
it may be difficult to find chlorine and bromine tablets of a proper size
Here is one more competitor of the Intex spa vs Coleman spa battle – Coleman SaluSpa Miami Air Jet hot tub. Judging from the name, we can expect that this model is very similar to the previous one. Is it really so?
On the one hand, a great number of characteristics it features are standard for all inflatable hot tubs. The spa is made of the rigid beams and Tritech 3-ply liner that guarantees puncture-resistant durable service life.
The SaluSpa needs several minutes to install and features convenient handles to move the item. The 71″ x 26″ dimensions of the tub and 192 gallons water capacity are aimed at the rest of maximum 4 people.
The model is equipped with 120 bubble jets with adjustable flow and one universal pump for all control types. The heating system, water filtration with two cartridges, temperature setting through the 72 hours timer all depend on the pump.
The kit also includes standard insulation cover with safety clips, chemical floater, and two filter cartridges. As an addition, we can see one cushioned floor. This is also the only hot tub that comes with a repair patch and the second that comes without a ground cloth.
Actually, we can claim that Coleman SaluSpa Miami is a «little brother» of the previous Coleman tub. They share the majority of pros and cons like the timer that requires regular resetting, a noisy pump, clogging filtration, and no ground cloth.
Featuring a bit smaller size, you should mind that this tub is more expensive that the previous Coleman.
Pros
suitable for 4 people
puncture-resistant Tritech material
durable Beam construction
powerful multi-functional pump
easy temperature regulation
adjustable jet flow
Power Saving Timer for 72 hours
Coleman SaluSpa cover
two cartridge filters and a chemconnect dispenser
a built-in drain valve
cushioned floor
a repair patch
handles for easy transportation
lovely design
quick installation
Cons
Power Saving Timer requires regular temperature resetting
no ground cloth
regular filter cleaning
it may be difficult to find chlorine and bromine tablets of a proper size
Face to face comparison
Though we now know the main hot tubs characteristics, it can be difficult for many customers to highlight the most appropriate model. So, let's perform the Intex vs Coleman hot tub step-by-step comparison to make a clear conclusion on each spa.
Design and Dimensions
Let us begin with the dimensions and water capacity of the models. This factor should be considered first since it directly influences the number of people to enjoy your hot tub and the place where you can install it.
Listing the tubs in the same order, we get:

77″ x 28″ with 57″ inner diameter for 210 gallons;
85″ x 28″ with 65″ inner diameter for 290 gallons;
71″ x 28″ with 57″ inner diameter for 220 gallons;
71″ x 26″ with about 50″ inner diameter for 192 gallons;
While the dimensions of the first three models are the same, their water capacities may surprise you. The manufacturers give these very data, but users say you can fill all the tubs with up to 250 gallons without the threat of flooding. However, please mind that safe water capacity depends on the number of people sitting inside.


Speaking about the latter moment, we'd like to note that the last Coleman SaluSpa Miami is the smallest, and it's perfect for the maximum of 4 persons. Despite their names, Intex PureSpa 4-Person and Intex PureSpa 6-Person can both contain 6 people. If you have a big family or company, Coleman SaluSpa is also the right choice for six people. Anyway, the fewer swimmers, the more space, so even for the biggest spas, four people are an optimal option.
We can also conclude that neither of the hot tubs will take much space in your backyard. A small 6ft x 6ft patio will be enough.
The design of the Intex and Coleman products is mainly the same. All spas have round inflatable bodies with beams and dual handles for convenient transportation. But when it comes to the color options, they are all different. You are free to choose between cocoa, dark blue, light green, orange, or black tubs.
verdict
While the first three models are literally identical, the last Coleman Miami is the most compact option. There cannot be any winners and losers; the choice fully depends on your needs. We can only state that a hot tub fits even the smallest backyard and doesn't require a lot of water.
Materials and Installation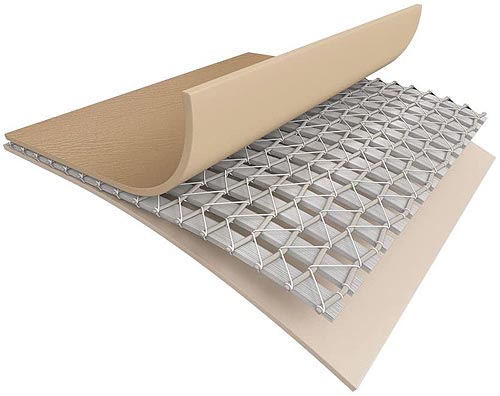 Neither Intex nor Coleman decided to reinvent the wheel and used the same material and construction for inflatable spas.
So, first of all, each model is made from puncture-resistant laminate PVC. Though many inflatable pools tend to leak, Intex and Coleman hot tubs have reinforced seams and face this problem much rarer.
important
However, please mind that even the best inflatable products need regular inflation.
It's important to note that all spas liners consist of three separate layers united to provide extra protection against tears, punctures as well as UV protection. However, the brands use different names for this technology – Intex PureSpas call it 3-ply material and Coleman SaluSpas prefer Tritech 3x fortified liner.
The construction itself is also standard. Since the spa walls have to hold a significant amount of bubbling water and several people inside, the manufacturers decided to reinforce the structure. All models have several dozens of special beams that stand between the outside and inside walls. Filled with air, the spas firstly guarantee less leakage and deflation and secondly have a much more durable and rigid structure. Intex calls it patented Fiber-Tech Beams, Coleman uses no special names.
In all four cases, installation takes less than half an hour. All you need is to unfold the item and inflate it. The choice of the right place is the most complicated part. You will have to find a perfectly flat, even, and clean spot with no stones and sticks. The best option is to set your spa on wooden or concrete flooring.
Also, the Intex spas come with protective and heat-reflecting ground cloths. Colemans have nothing like this. Besides, many users complain about their complicated and unclear user's guides.
Easy assembly allows you to set and remove your spa for cold seasons. But if you don't want to, materials will stand any weather conditions, including cold nights and the scorching sun.
verdict
Customers will see no difference between the materials and construction of the spas. If you doubt about inflatable products, you should know that leakages and deflation are still possible, and you do have to inflate them from time to time to maintain proper condition.
However, these tubs are much stronger and lasting compared with pools or mattresses. With proper care, they will last for several seasons.
The only moment to consider is assembly. Here, Coleman vs Intex spa battle leads to the Intex win. They provide a simpler manual and extremely useful ground cloths.
Pump
Here, we see a strict division between the Intex and Coleman products.
Coleman SaluSpa tubs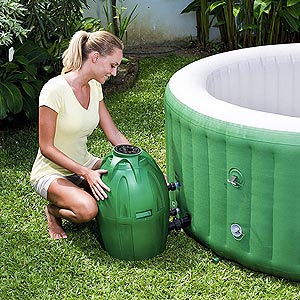 Coleman SaluSpa tubs use a slightly similar circulation filter pump that also combines inflation, heating, and filtering. The flow rate is a bit more moderate and measures 320 gals/h.
All four participants of our review require 110-120V and 12A power rate.
Unlike the previous unit, this pump also features a convenient built-in control panel to run your spa from one place.
Moreover, while the Intex pumps work automatically, both Coleman items have the so-called Power Saving Timer.
It's worth noting that the function is very controversial. On the one hand, it is supposed to save energy. You turn the pump and heating on for a maximum of 72 hours. If you didn't reset the timer after three days, the pump automatically turns off.
But on the other hand, the majority of users simply forget to reset the timer. Thus, a week later, when you decide to rest, you will find a very unpleasant surprise as cold water.
On the contrary, the adjustable flow on jets is a generally recognized nice Coleman addition. You can set the most desirable intensity, which is impossible on the Intex PureSpa models.
We can't say that the Coleman pumps are of high quality. Without proper maintenance, your pump will die very fast. They also complain about extremely noisy work and difficulty in finding a new item for replacement.
Anyway, these pumps seem to last a bit longer and offer more control options.
verdict
One has to admit that pumps are rather weak points of the spas. The quality of the items could be higher. Despite some pros, each brand features significant minuses. The Intex pumps tend to break too often and don't have the jet control. But the Coleman pumps are louder and won't work longer than 3 days without resetting. That's why the choice is up to your needs and what you are ready to sacrifice.
Filtration and Water Treatment
The filtration systems of the spas are identical. All four models use two replaceable cartridge filters that let the water through and trap debris. Cartridges themselves are located inside the filter set plastic cases.
Unfortunately, filters are too weak to cope with all pollutions. They collect some large and medium debris quite well; however, it's recommended to collect large dirt with a skimmer. But the majority of fine particles escape filtration.
Another drawback of the cartridges is their short service life. If you use your tub daily, you need everyday cleaning and monthly filter change. For rare usages, at least weekly cleaning and filter change every 2 months are required.
The manufacturers state that bare filters are not enough to promote water purity. That's why all four inflatable spas have chemical cleaning unites. Intex PureSpa models work with the hard water treatment that reduces calcium buidup and increases efficiency. They also have floating pool chlorine dispensers, which are responsible for the distribution of disinfectants.
The Coleman hot tubs come with similar chemconnect dispensers. They are slightly more powerful as water flow goes through them to disperse chlorine all over the reservoirs evenly.
Please mind that in all four cases, chlorine and bromine tablets are not included!
verdict
Intex, as well as Coleman spas, can boast of equal filtration and water treatment systems. They are not the best and have difficulties with fine debris and regular cleaning. Still, all filters and dispensers do their best to improve water quality.
Temperature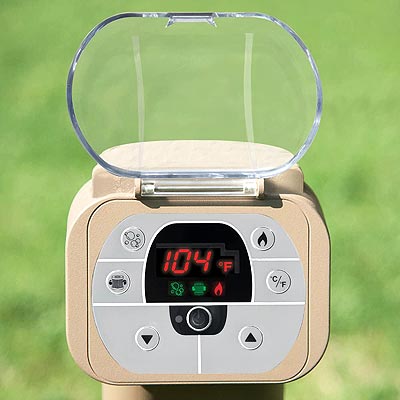 The temperature rate is the next coinciding feature of our spas. Each model provides you with wide temperature adjustment options. You can choose any degrees between 68-104 degrees Fahrenheit or 20-40 degrees Celsius.

The only slight difference lies in the control panels. As we have mentioned above, Coleman SaluSpa tubs offer easy-to-use digital displays integrated into the pump top. Intex PureSpa tubs also locate their screens on the pumps, but they stand on the long tubes and raise above the pumps.

Unfortunately, the heating systems of the spas are really-really slow.

The fresh water heats with a speed of 2 degrees per hour, which makes about 5 hours to heat the whole pool. Later, when you need to maintain or slightly increase the temperature, you'll have to wait for about an hour.
verdict
The temperature range of the spas pleased us a lot. The water heats evenly without cold zones. Still, one should be ready to dedicate several hours or even the whole evening to warm up his hot tub.
Bubble Jets
The more bubble jets, the better therapeutic effect and pleasure. That's obvious. In the Intex PureSpa 4-Person, Intex PureSpa 6-Person, Coleman SaluSpa, and Coleman SaluSpa Miami hot tubs, the jacuzzi effect is achieved by:
140 jets;
170 jets;
114 jets;
120 jets;
Though the last two Coleman models have fewer jets than the Intex spas, they can boast of one important advantage. We have already mentioned in the Pump paragraph that Coleman SaluSpas have adjustable jet flow. So, you can control the intensity of the massage.
verdict
We believe that the jet flow control is a bit more beneficial feature than a big number of jets. That's why the Colemans are our winners here.
Draining
Thanks to simple and efficient drain plugs built into the bottoms, our four hot tubs can be drained within several minutes. Excellent and impeccable function!
verdict
We have few words to say about draining systems except for their efficiency and real usefulness.
Accessories
Surely, accessories are just additional things that make your maintenance and usage simpler. Still, they help us save some money and a lot of effort.
To get a clear understanding of the accessory sets in each hot tub, let's list them separately.
Intex PureSpa 6-person hot tub comes with: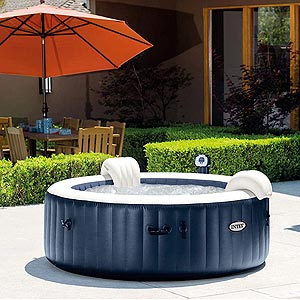 a pump with heating;
an insulated cover;
a thermal ground cloth;
two cartridge filters;
a floating chlorine dispenser;
3-way test strip;
an inflation hose;
a carry bag;
two head rests;
a multi-color LED light;
Coleman SaluSpa Miami hot tub features: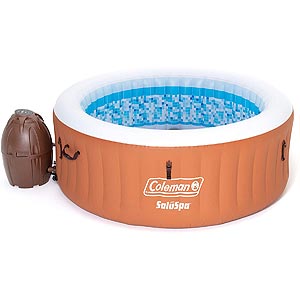 a pump with heating;
an insulated cover;
two cartridge filters;
a chemconnect dispenser;
an inflation hose;
a floor cushion;
a repair patch;
As we see, the majority of «vital» accessories such as filters cover with safety clips, and dispensers are presented in all kits. However, we'd like to note that both Coleman tubs lack such an important part as a ground cloth, making installation and energy-saving less efficient.
Coleman SaluSpa offers the most moderate, basic set of accessories. Intex PureSpa 4-Person comes close to the same point, but its ground cloth and convenient carry bag do it a favor.
The second models of each brand, i.e., Intex PureSpa 6-Person and Coleman SaluSpa Miami feature the widest and, consequently, the most useful and desired kits.
The Intex model accessories are mainly aimed at comfort and entertainment. Its two head rests make your sitting much more pleasant for the neck, and the LED light with several changing colors adds fun to every massage session.
On the contrary, the Coleman spa combines a floor cushion for pleasure and practicality. The latter relates to a repair patch that allows you to prolong your tub's life in the case of punctures. By the way, the Miami is the only tub that comes with such an indispensable unit for inflatable products.
verdict
Despite several useful tools, Coleman SaluSpa has a poor set of accessories, which can hardly satisfy the user's needs (like extra protection and isolation via ground cloth).
If you don't need any supportive elements and look for essentials, choose the Intex 4-Person.
The last two tubs cause severe Intex PureSpa 6-Person vs Coleman SaluSpa Miami battle, where there cannot be the only right winner. The choice between entertainment and utility is yours.
Buyer's Guide – How to Choose the Best Frame Pool?
The purchase of an inflatable hot tub is a complicated task for everybody who has never faced such products before. To make the right choice and invest your money in the wisest way possible, we recommend considering several crucial moments.
Dimensions
First of all, it's better to decide on the size of the future tub. Your spa should fit the backyard and the number of possible users.
Small models take less than 4ft x 4ft area and contain about 2-4 people. Bigger models are designed for the comfortable rest of 6 people and need about 6ft x 6ft or 8ft x 8ft of your backyard.
Materials and Shape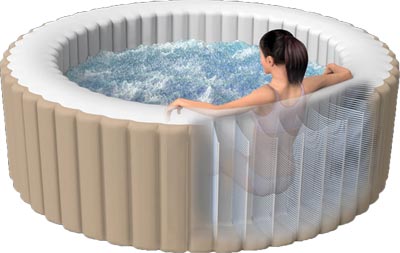 Please always pay attention to the materials a tub is made of. The service life and solidity of the product will directly depend on it.
PVC is the most wide-spread and reliable option. It is recommended to look for reinforced 3-ply liners. If you need a big hot tub for up to 6 people, also pay attention to the models with additional beams and stiffeners for greater support.
Please beware of too cheap spas. Nowadays, you may easily face bad-quality fakes.
attention
The shape of a hot tub is another essential factor. Manufacturers make rectangular and round models. Sometimes you can find oval options. Rectangular tubs are perfect for up to 4 people for everyone to have his own corner. Round models better suit either pairs or big companies up to 6 people. Besides, round hot tubs provide evener water heating and easier cleaning.
Number of Jets and Their Adjustment
The number of jets is one of the most important moments to consider. They determine the intensity and efficiency of hydro massage, thus influencing your health.
That's why we always check the number of jets and test their work right after the purchase to make sure they all work properly.
Also, the presence of the jet control and adjust system will help you significantly improve the massage. If you have backaches or spinal problems and look for a tub, not for pleasure but for medical reasons, the opportunity to control water pressure and flow should be really important to you.
Filtration and Chemical Treatment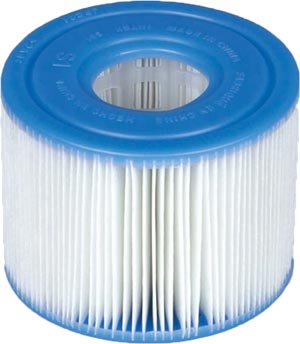 Many people wonder whether a hot tub really needs a chlorine and bromine dispenser. The majority of products includes this item into the kit as they contribute to the safety and quality of the water. Their necessity depends on the frequency of tub use.
If you are going to take massage sessions once or twice per week, you can save on this item without any harm. But for everyday use, a chlorine dispenser is a must that fights against bacteria and algae in warm water.
Unlike the dispensers, filters are needed regardless of your swimming habits. Almost all decent inflatable hot tubs come with filters. If you don't perform chemical water treatment, filters will help you cope with large and fine debris.
If you have both a dispenser and a filter, you'll get dual protection.
Accessories
Surely, accessories are complementary units that only make usage simpler and more comfortable. Still, it may be quite useful and beneficial to get extra filters, chlorine tablets, hoses, and the like with your hot tub.
attention
The best and most demanded accessories are thermal ground cloths, insulated covers, repair patches, additional filters, and dispensers. We do recommend you to choose tubs with these items in the kit since you'll need them anyway. And there, manufacturers save you a lot of time and money.
Frequently Asked Questions
1. How much will an inflatable hot tub cost me per year?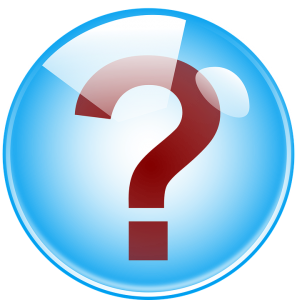 If you are going to use your tub from time to time, you'll hardly see any differences in your electricity bills. For those who prefer 24/7 running, spas will cost about $20-$30 per month with medium temperatures. The constant support of the 104-degree level will surely cost you more.
How often should I change the water in my tub?
Please change the water in your inflatable hot tub every month to protect yourself from the dangerous impact of chemicals. Also, the frequency of water change will depend on the number of people that use it. The more people, the oftener you should fill your spa with fresh water.
How high should the water level be in my inflatable hot tub?
The quantity of water in a tub will depend on the number of people resting inside. The more people, the less water you need as its level will rise.
On average, all manufacturers recommend filling hot tubs a maximum of 80%.
Are hot tubs safe for kids and pregnant women?
As a matter of fact, hot tubs are not completely safe for small kids and pregnant women since the impact of high temperatures for a long time may harm them. Still, doctors do allow for taking short sessions with limited temperatures.
It is recommended to stay in a spa for up to 10 minutes per day (and no longer). The maximum temperature must not exceed 100 degrees Fahrenheit or 38 degrees Celsius.
Please always consult your doctor before taking a hot tub! Do not take a tub alone and always keep your kids supervised.
What is the best chemical water treatment for hot tubs? Should I keep my dispenser inside the tub all the time?
Specialists recommend using either chlorine or bromine tablets to protect your tub water from hazardous bacteria, algae, and particles. Besides, bromine is considered to be even more effective than chlorine since it better withstands high temperatures and stays active.
Chlorine and bromine dispensers should be removed from the water before you decide to use the spa. Also, wait for about 10 minutes and test your water to the water chemistry with special strips to make sure the level of chemicals is safe.
Conclusion
As we now see, inflatable hot tubs may be less lasting compared with frame models, but they still perform excellent work and can become a nice affordable investment.
So, what inflatable hot tub should we choose?
As usual, it depends. It depends on a lot of your requirements, conditions, and budget.
If we compare the brands, one will see that the Intex offers wider kits and silent work, when the Coleman conquers us with its jet flow control and slightly better pumps.
If you're looking for a capacious and budget spa, try Intex 4-Person PureSpa. It comes with all necessary elements like the ground cloth and offers one of the best prices.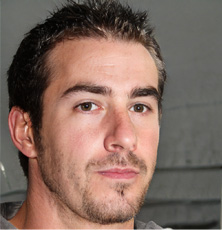 Hi! I'm Markus Robertson, and water is my passion.
Five years ago, I graduated from the University of California-Los Angeles and was going to become a professional marine biologist. However, my fate had other plans for me, and due to family problems, I had to find a more stable and well-paid job. I had only one wish for my job to be connected with water.
During this period of my life, I worked as a sales manager at Olympic Pool & Spa Supplies. The job helped me learn everything about swimming pools and related pool equipment, as well as how to choose the best option and what to pay attention to.
Having worked there for three years, I decided to start my own blog about pools, where I can tell people about the best new pool equipment models and share my knowledge and experience.
A marine biologist by education, I became a pool blogger by trade. Now I'm glad I can help the guests of my store and the visitors of my blog know a lot of exciting things about pools, their types, best pumps and filters, necessary equipment maintenance, and so on.
I welcome all people who want to choose a proper basin and the stuff to my blog! Hope you'll find this information interesting and useful!