Just an F.Y.I. there are
affiliate links
in this post, and if you click any of those links, we will earn a small commission.


Pentair vs. Hayward — you have probably heard this debate from plumbers or pool service technicians.
In this article, we will review the Pentair SuperFlo® 342001 and the Hayward Power-Flo. We chose these products for review, as they are regarded by many as the best variable speed pump and best-selling single-speed pump, respectively.
Pentair is holding a steady reputation over the years by making quality equipment, although there are some complaints regarding warranties. The said company is particularly notable for producing the best variable speed pumps in the industry. After all, Pentair pioneered these types of pumps and are always improving their tech.
Hayward, on the other hand, isn't as well-established as Pentair, but they produce a line of incredible products, as well. As far as pumps go, the competition between Pentair and Hayward is an even playing field as far as reliability is concerned.
So, if you own an above-ground pool in or an old or new in-ground pool, our Pentair vs. Hayward comparison might be of interest to you.
Comparison table
Operating speed
Three programmable speeds
Best for
Above-ground and in-ground pools
Good Choice
Best for
Above-ground and in-ground pools
Best choice
Operating speed
Three programmable speeds
Last update on 2023-12-04 / Affiliate links / Images from Amazon Product Advertising API
Our Expert Advice

Even though the installation of Pentair and Hayward pool pumps is easy and detailed instruction is included in the package, you should remember that the warranty is valid only with the installation of a certified professional. Pentair provides 2 years warranty, and Hayward provides 3 years warranty. You can rely on a free change of defective materials or workmanship during this time.

Everyone is familiar with Pentair because they have been on the market for a long time. They came out with the first variable speed pump, the IntelliFlo®, and many homeowners still have it in their backyards. Then the company introduced the Pentair SuperFlo® 342001, which is another excellent pump.
The SuperFlo® is unique among its kind because it runs what they call a dual-voltage. Given its ability to convert the voltage, it makes an excellent option for older pools.
Although it isn't as powerful as the IntelliFlo®, it is sufficient for a majority of pools. At 1.5 horsepower, it packs enough power to animate water in a standard pool and get water features moving.
As for installation, you don't have to be a rocket scientist to figure it out. The SuperFlo® includes two 1 ½" unions for easy plumbing installation. If you have 2-inch plumping, you will only need to buy 1 1 ½" to 2" fittings. Electrical wiring is also just as simple. There are only three wires inside the pump. The machine will accept power from a 110-volt or 220-volt breaker without problems.
On a side note, Pentair has come a long way in producing user-friendly pumps. The SuperFlo® features a real-time clock with 24-hour memory retention.
You can leave the machine pumping for an entire day before needing to program it again using the three-speed settings. Just leave the pump do its thing at various speeds, allowing it to clean your pool without compromising energy or performance.
Best of all, the Pentair 342001 SuperFlo® uses a lot less wattage, and so, you can generate substantial savings.
Pros
The only VS pump that you can wire to either 110V (nominal voltage range) or 220V
Ideal for new and standard pools requiring up to a 1.5-HP pump
Can be used for old pools with copper pipes
Easy self-installation and user-friendly digital controller
Features a real-time, 24-hour clock
You can program in your own run time and RPM speeds
Energy-Star certified/Pentair's most energy-efficient product
Ultra-quiet TEFC motor
Cons
The 2-year warranty is only applicable if you purchase the product from a retail brick-and-mortar store
Self-installation voids warranty: you have to pay Pentair for their services

The Hayward Power-Flo is an affordable pool pump made for circulating water on all types of above-ground pools. With its weight of 24 pounds, it is a compact and fairly light machine that should fit into the plumbing system of any regular pool.
One of the highlights of the Power-Flo is the PermaGLass XL housing. Among its benefits is that you can use the pump in any place irrespective of the weather condition. The housing is entirely resistant to corrosion, and you should not expect cracks or dents to occur.
The Power-Flo produces 1.5 horsepower to provide sufficient water filtration in standard pools.
Likewise, its electric motor features a stainless-steel shaft to keep it tuned for optimal performance even in the long term. There is an overload protector to it, as well. This feature is highly valuable, as it shuts the motor off in case of overheating. At the same time, it turns the engine on when the conditions are back to normal.
Additionally, the pump includes self-lubricating bearings and shaft seals. Hence, maintenance is minimal or perhaps, you may never even have to provide any. The strainer basket also has a capacity of 118 cubic inches, and so, busy pool owners should clean it less frequently. Its cover is transparent, so you can monitor the amount of debris it had accumulated.
Unfortunately, the Hayward Power-Flo works at one fixed speed. You should also be aware that you have to plug and unplug the electric cord each time you use the pump.
Pros
Ideal for above-ground pools requiring up to a 1.5-HP pump
Weather-resistant PermaGLass XL houses the motor
Thermal overload protector provides self-regulating functions
Comes with a heat-resistant and drip-proof double-sized seal
Requires minimal upkeep: large strainer basket with clear lid, self-lubricating bearings, and shaft
Cons
Operates at a single speed
The lack of an on/off switch could affect energy consumption
How to Choose the Right Pool Pump for You
Single Speed vs. Variable Speed
If you're thinking of installing a pool or replacing an existing pool pump, you might be wondering which type of pool pump you should be getting.
Single-speed pumps, such as the Hayward Power-Flo, are traditional pool pumps that account for 75% of the residential swimming pools in the United States. As the name hints, it runs at a constant speed as soon as you turn it on. Single-speed pumps also have the least expensive upfront costs. Unfortunately, this type of pump is an energy hog.
In contrast, variable speed pumps, such as the Pentair SuperFlo®, address this wasted energy by utilizing what they call a permanent magnet motor, which is the same type of motor in electric cars. This feature allows you to run your pump at lower flow rates for extended periods. When you lower the speed, you cut the amperage, which is what you pay for electricity bills.
verdict
If you compare Pentair vs. Hayward in terms of energy efficiency, we'd say the SuperFlo® is a clear winner in this round. According to the National Renewable Energy Laboratory, variable speed pumps are 90% more efficient than single-speed pumps.
Motor, the Heart of the Pump
Motors range from 1.5 HP to 3 HP, and you should base your choice with the size of your pool.
However, a higher horsepower doesn't always equate to better performance. A 3-HP motor would be an overkill for a backyard swimming pool.
If the engine is too powerful, it could affect the designed flow rates of other equipment and cause a lot of problems. Pumps with such power are for massive pools with high flow demands and intricate water features.
On the other hand, a 1.5-HP pump, such as the Hayward Power-Flo and the Pentair SuperFlo®, is better suited to the pipe size, water volume, and filter design of an average residential pool.
More Flow Isn't Always Better
Pentair SuperFlo® VS 342001

Maximum flow rate: 103 – 113 GPM
Flow rate at 30 ft. of head: 83 GPM
Hayward Power-Flo: 75 GPM

Flow rate at 30 ft. of head: 80 GPM
attention
You might be inclined to think that a pump that moves the most water is better. However, the flow rate isn't an overriding factor to consider if you purchase a variable speed pump because it is unlikely that you will run the pump at full speed.
That would defeat the purpose of getting a VS pump in the first place. Again, this is why variable speed pumps, such as the Pentair SuperFlo®, have the upper hand against single speed pumps.
A
pool pump
is designed to meet and exceed the average pool turnover requirements multiple times a day. But with a VS pump, you can decrease the amount of water that you are filtering depending on the needs of your pool.
Some people do this by shutting down their pump at some part of the day at the expense of the proper circulation and filtration of the pool water. You won't be generating chlorine whenever you turn the pump.
Noise
The output noise of your pump is another thing to consider, mainly if you live in a subdivision.
You want to run your pool during the off-peak hours when electricity is cheaper without enraging your neighbors.
Conclusion
So, which is better — Pentair vs. Hayward? In the end, you can't answer this question by simply stating that one company is better than the other, as both companies make amazing products.
The Hayward Power-Flo is a dependable above-ground pool pump that provides enough power to circulate water, run a sand filter, or power a suction-side pool cleaner. More impressively, it has the durability of a Nokia 3310!
Likewise, the Pentair SuperFlo® 342001 VS pump would be a great purchase if your older single-speed pump is on the way out. If you have a 110V, you can install it now and have the option to switch over to 220V in the future to benefit from improved performance. Most importantly, it costs less to operate, and so, you won't have to blow your bills sky-high.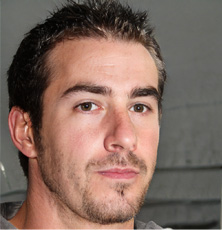 Hi! I'm Markus Robertson, and water is my passion.
Five years ago, I graduated from the University of California-Los Angeles and was going to become a professional marine biologist. However, my fate had other plans for me, and due to family problems, I had to find a more stable and well-paid job. I had only one wish for my job to be connected with water.
During this period of my life, I worked as a sales manager at Olympic Pool & Spa Supplies. The job helped me learn everything about swimming pools and related pool equipment, as well as how to choose the best option and what to pay attention to.
Having worked there for three years, I decided to start my own blog about pools, where I can tell people about the best new pool equipment models and share my knowledge and experience.
A marine biologist by education, I became a pool blogger by trade. Now I'm glad I can help the guests of my store and the visitors of my blog know a lot of exciting things about pools, their types, best pumps and filters, necessary equipment maintenance, and so on.
I welcome all people who want to choose a proper basin and the stuff to my blog! Hope you'll find this information interesting and useful!