Manually vacuuming your pool can be one of the worst things on your to-do list, but hiring a good pool cleaner can be too expensive.
So, what's the solution?
Well, the best way to go is to buy a pool vacuum like the Hayward Poolvergnuegen Suction Pool Cleaner.
It's a side suction pool cleaner. Instead of hooking up to your electric supply, it connects to your pool filter system. The suction powers this device and sends it rolling around in your pool, thoroughly cleaning and vacuuming as it goes.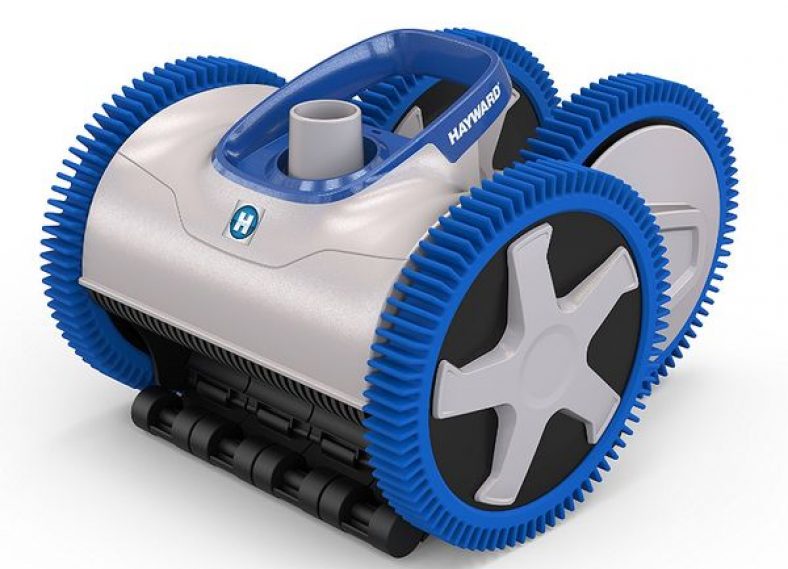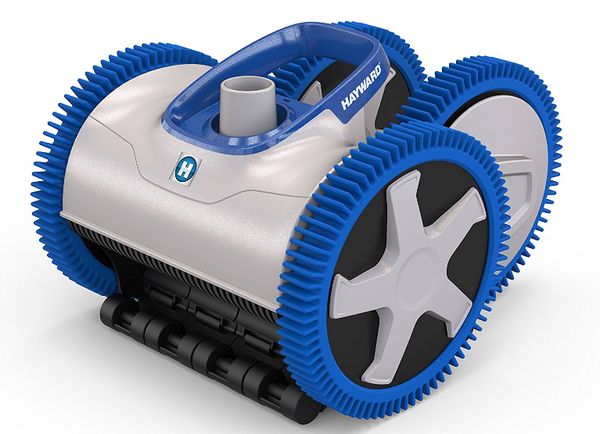 Suction pool vacuums cost much less than robotic cleaners. You might spend $800-$1000 or upwards on robotic pool cleaner, but non-robotic, a suction filter like the Hayward Poolvergnuegen is a fraction of that price, and can still do a great job cleaning your entire pool.
In this article, we're going to tell you more about this vacuum, so that you can invest in the best vacuum for your pool. Read on to know more about its features, how it works, what it cleans and what it doesn't, the best place to buy, and more.

Hayward Poolvergnuegen Review
How Can the Hayward Poolvergnuegen Pool Cleaner Help Me?
If you don't like to clean your pool manually, or don't have any time for it, an automatic pool cleaner is the best option. It offers you pretty good value for money. It will clean your entire pool without all those expensive extras that bring up the price of pool cleaners.
The perfect design of the PoolCleaner allows it to move around seamlessly in your pool without any danger of being stuck.
It's specially created wheels can help it go from deep end to the shallow end and up its walls. There is no need for any follow-up cleaning with a manual cleaner to get those missed up spots. In most pools, this pool cleaner can clean everywhere.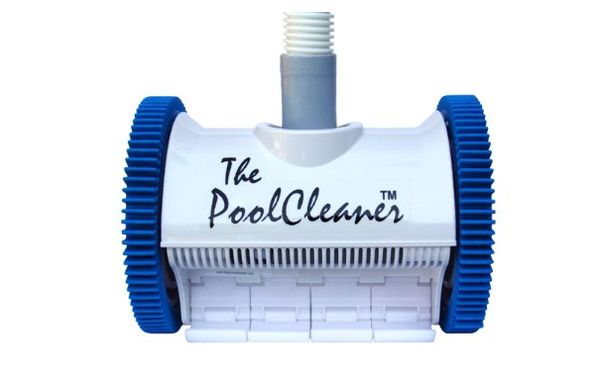 Noise isn't an issue with this pool vacuum. Unless the pool skimmer or your system itself makes noise, the PoolCleaner will be quiet. It can also be used at night without disturbing anyone.
The biggest benefit of this pool vacuum is that it's a low-maintenance option that still works well. There is no electrical connections to maintain, no built-in filter to clean, and no moving pieces to replace.
Over the course of time, you may only have to replace its wheels and nothing else. If you want an easy pool cleaning solution, Hayward poolvergnuegen suction pool cleaner is the best choice for you.
Pros
Inexpensive
Durable
Efficient Clean
Lightweight
Low maintenance
Doesn't get stuck
All pool shapes and surfaces
Cons
Needs some adjustments
Doesn't handle steps well
Somewhat Noisy
What are its important Features?
Sometimes people assume all pool vacuums have almost same features, but Pool Cleaner has many unique things to offer.
Its specialized tires a patented Poolvergnuegen item, and is the main reason why this vacuum is so versatile and mobile. It's possible to switch to different types of tires to clean different pool surfaces, but tube tires work best for concrete pools. They can also help this vacuum climb and move around the pool basin effortlessly.
Irrespective of the suction system you have, this pool cleaner's self-adjusting turbine vanes make sure it gets the ideal level of water flow to work well. These vanes are an important feature as they allow it to be compatible with any pool skimmer or vacuum suction.
The adjustable roller skirt of this vacuum works well for all types of uneven surfaces. While other pool cleaners may have suction issues on these kinds of surfaces, you can expect better movement and suction from the Hayward PoolCleaner.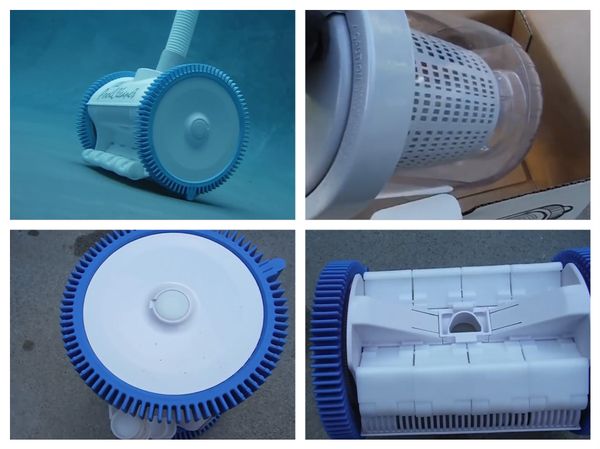 You can quickly change the suction throat of the Pool Cleaner to compensate for the types of dirt and debris you experience in your pool. Larger debris and leaves need a bigger throat, while smaller items can effortlessly pass through a standard throat.
Pre-programmed steering sequences in this vacuum ensure it doesn't get stuck on obstacles within the pool. It makes this pool cleaner will make a turn and get away from the obstacle. You can also expect this device to reach every corner of your pool due to this feature.
What's in the box?
2-Wheel Suction PoolCleaner
Water Gate
Regulator Valve
9 x 1-meter sections of Hose
Hose Cone
Recommended Accessories
If you have a lot of extra-large leaves or lot of leaves in your pool, it's a good idea to invest in a leaf canister.
This can reduce a lot of stain on your filter and can make the entire cleaning process easier.
How Does the Hayward Poolvergnuegen Suction Pool Cleaner Work?
The Hayward Poolvergnuegen is a suction side cleaner so you must have a dedicated vacuum suction port in your pool skimmer or pool. It has hoses attached to the top that connects to the vacuum suction. Once the suction is turned on, this vacuum will start driving around your pool, cleaning it as it goes.
There is no need to supervise this pool cleaner as it works. Once it's dropped to the bottom of the pool with suction, it will start cleaning on its own.
The duration of standard cleaning cycle may vary depending upon the size of the pool, but it can be around 3-4 hours if you have a small or medium sized pool. Many large pools might need up to 6 hours of cleaning.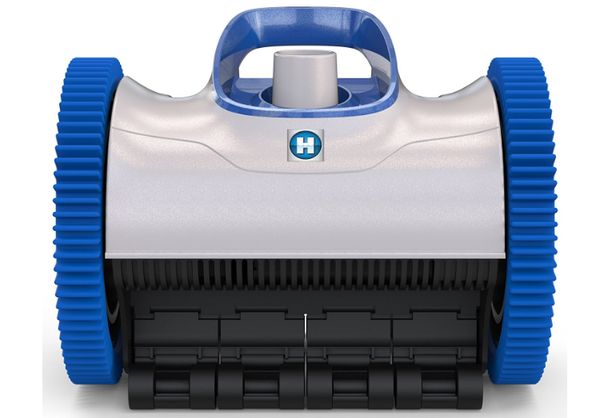 All the debris and dirt is sucked up by the vacuum throat, and it goes through the hose and may end up in the existing pool suction system's filter. You won't find any filter on this vacuum itself, so it needs little maintenance after each use.
Do the Pool Cleaner's Vacuum Wheels Work on All Kinds of Pool Surfaces?
As it's a suction-powered pool cleaner, vacuuming is not an issue for most surfaces. But some surfaces may need different tires. Tires with long treads are best for tile pool or vinyl floor, but not for every surface.
You can easily but set of tires to make it work in any in-ground pool. Pebbled pools, pool liners, gunite and other types of pool floors types are fine if you ensure that they have the right tires.
The tires aren't that expensive and are very simple to change. There is no need to hire a technician to get the job done. You can order a set when you get this pool cleaner and change them before you set it to clean.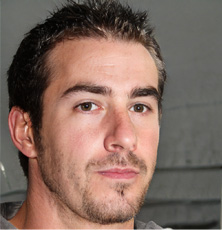 Hi! I'm Markus Robertson, and water is my passion.
Five years ago, I graduated from the University of California-Los Angeles and was going to become a professional marine biologist. However, my fate had other plans for me, and due to family problems, I had to find a more stable and well-paid job. I had only one wish for my job to be connected with water.
During this period of my life, I worked as a sales manager at Olympic Pool & Spa Supplies. The job helped me learn everything about swimming pools and related pool equipment, as well as how to choose the best option and what to pay attention to.
Having worked there for three years, I decided to start my own blog about pools, where I can tell people about the best new pool equipment models and share my knowledge and experience.
A marine biologist by education, I became a pool blogger by trade. Now I'm glad I can help the guests of my store and the visitors of my blog know a lot of exciting things about pools, their types, best pumps and filters, necessary equipment maintenance, and so on.
I welcome all people who want to choose a proper basin and the stuff to my blog! Hope you'll find this information interesting and useful!