Polaris Vac-Sweep 3900 Pool Cleaner:

Overview

Polaris has been selling pool cleaning equipment for over four decades. The Polaris 3900 is an innovative pool cleaner that comes loaded with an impressive list of features and delivers top-class performance, which makes it one of the most powerful cleaning tools from the brand.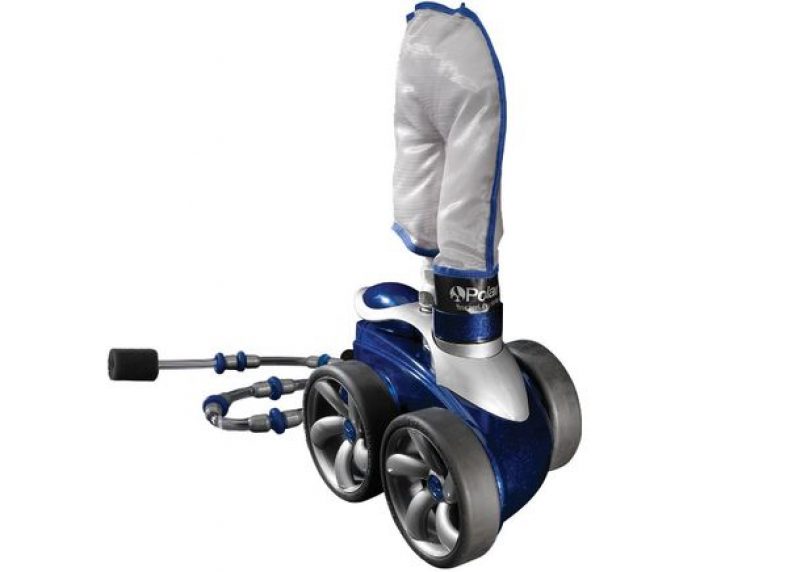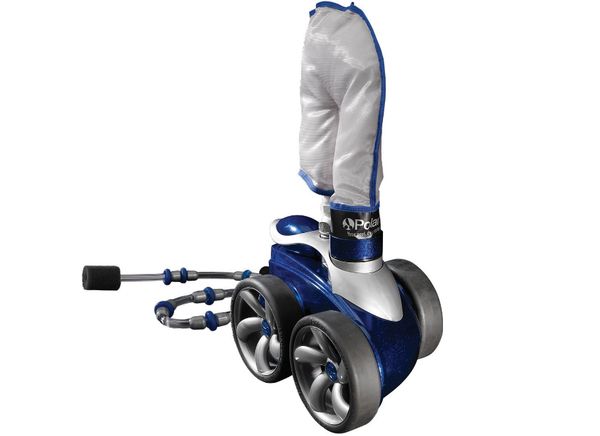 The Polaris 3900 is sold with additional accessories that make your cleaning experience more pleasant such as a sweep hose scrubber, a multi-purpose super bag for collecting a larger amount of debris, a black silt/sand bag, and WideTrax tires.
If you have a large pool that can use additional circulation and filtration or a pool exposed to extra-large debris, the Polaris 3900 Sport might be the right option for you. If you want to find out if it is the right option for you continue reading this Polaris 3900 review.
Pros
It comes with a large debris bag
It is a very powerful cleaner
It has excellent pool coverage in a short time
The 4-wheel drive system improves stability
Cons
It does not clean the step areas of a pool
It requires a booster pump that you have to purchase separately
Polaris 3900: Features
The Polaris 3900 is a top pressure side cleaner featuring sophisticated design and delivers exceptional vacuum power, and 50 percent increased torque to produce maximum efficiency and speed while cleaning thanks to the all-wheel PosiDrive system.
The Polaris 3900 has 3 Venturi jets to help maximize its vacuum power. It is designed to work in in-ground pools. It features a detachable dual-chambered bag that filters a great percentage of debris and waste and large sized debris, which makes cleaning up more efficient and faster.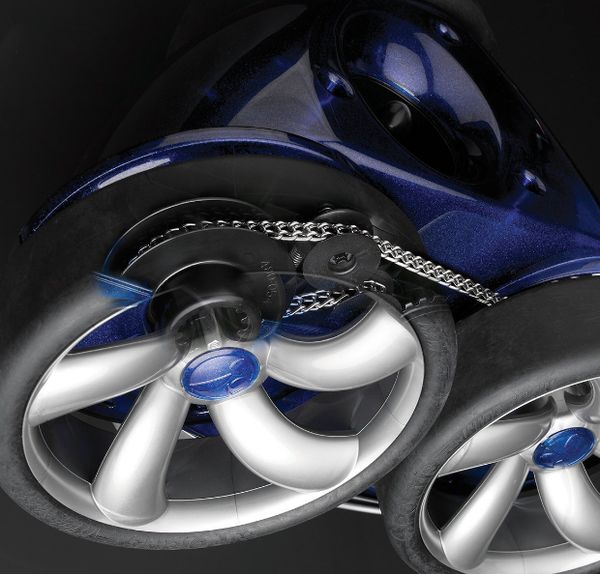 The Polaris 3900 comes with the TailSweep Pro, which is an advanced sweep hose that prevents water from splashing outside the pool during cleaning and cleans out debris from all the hidden corners of your pool thoroughly.
The 3900 Pro includes advanced auto-reverse technology that allows it to back out of tight corners and prevents it from getting stuck. It even changes the cleaning pattern and direction of the cleaner better than the Kreepy Krauly Racer.
The Polaris 3900 uses 4-wheel, which gives it the traction and stability it requires as it cuts through the pool and even climbs the wall surfaces of the pool unlike the Vacsweep 65. However, it does require a booster pump to function.
The Polaris 3900 is a powerful pool cleaner that has received much praise due to its speed of cleaning and dependability. The cleaner circulates through its filter bag 40 gallons of water per minute to aid the filtration and circulation system of your pool.
The TailSweep Pro is a significant improvement with the Polaris 3900 to its predecessor. The TailSweep Pro wags back and forth behind the pool cleaner sweeping the walls and floor as the pool cleaner moves by.
The tail would previously splash water more than it cleaned, but with the new technology, water is not sprayed out of the pool when it comes up to the water's surface, and actually, fits any pressure-side Polaris cleaner.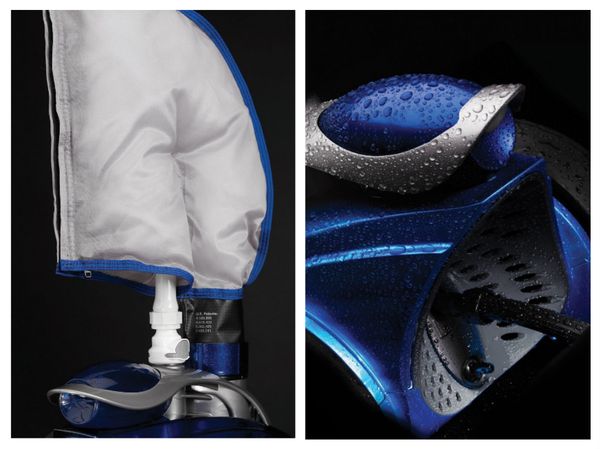 What's Included with The Polaris 3900?
The Polaris 3900 Sport weighs 22.9 pounds
Its dimensions are 11 X 24 X 24 inches
Its wheels are made from WideTrax tires
The capacity of the cleaner's super bag is 5L
It has a 2.5-inch vacuum inlet
It requires auto-backup and booster pump
It comes with a multi-purpose double zipper super bag, a few accessories, black WideTrax tires, the sweep hose scrubber, and a black silt/sand bag.
Ease of Use
The Polaris 3900 Pool Cleaner is easy to install, operate, and use. To install the Polaris in your in-ground pool, simply follow the instructed provided in the manual to trim your hose to the required length, to regulate the water pressure for optimal suction, speed, TailSweep, and Vac pattern.
The Polaris 3900 comes with just a single debris bag, if you need an additional one, you will have to buy it. However, the pool cleaner has quite a fast cleaning cycle and cleans effectively too.
The Polaris 3900 has some interesting details.
First, it needs a booster pump for powering it up, which means that you cannot run it on the existing backup line.
Second, the filtration bag might fill up faster than usual due to the power of the Venturi Jets, which means that you will be required to empty it more frequently than you would have hoped to.
Who Should Buy the Polaris 3900?
The Polaris 3900 is suitable for those that own in-ground pools and don't mind spending extra to get their pools cleaned as fast as possible without necessarily spending too much time monitoring the cleaner as it goes by.
The Polaris 3900 is a very powerful cleaner whose key selling points are the speed of cleaning and movement thanks to the TailSweep Pro and WideTrax tires in addition to the power it uses for circulating and filtering additional water during its cycle.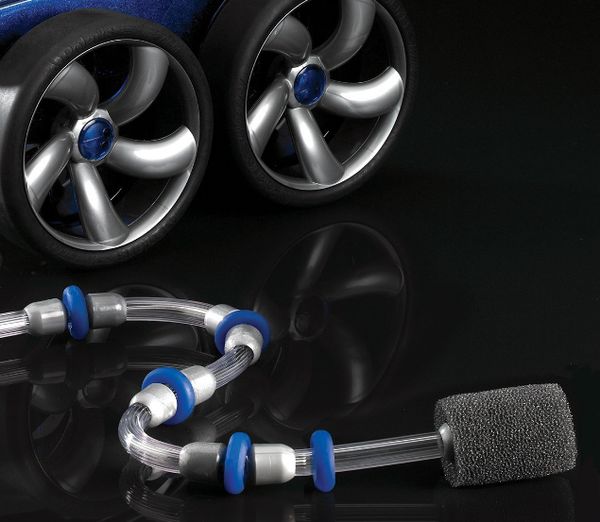 In terms of price, the Polaris 3900 costs a few hundred dollars more than the Polaris 380 or 280 but reviews show that it might not perform better than the previous models. Still, it has a larger capacity for debris and is more powerful.
Polaris 3900: Summary
The key selling points of the Polaris 3900 are power and speed that help circulate additional water during its cycle, which could lead to less wear on the filter. However, you might have to purchase an additional booster pump for operation.
While the pool cleaner has its advantages, keep in mind that you require a booster pump each time you want to use it and it doesn't clean step areas. However, these are not deal breakers for such a robust and dependable product as the Polaris 3900.
The Polaris 3900 is designed to be a powerful pool cleaner but is comes at a reasonably high price point. It is an exceptional product that delivers maximum performance. In spite of the high price tag, it is still a quality product and definitely worth each penny.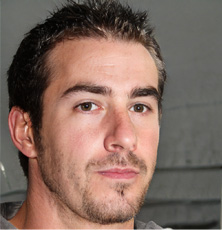 Hi! I'm Markus Robertson, and water is my passion.
Five years ago, I graduated from the University of California-Los Angeles and was going to become a professional marine biologist. However, my fate had other plans for me, and due to family problems, I had to find a more stable and well-paid job. I had only one wish for my job to be connected with water.
During this period of my life, I worked as a sales manager at Olympic Pool & Spa Supplies. The job helped me learn everything about swimming pools and related pool equipment, as well as how to choose the best option and what to pay attention to.
Having worked there for three years, I decided to start my own blog about pools, where I can tell people about the best new pool equipment models and share my knowledge and experience.
A marine biologist by education, I became a pool blogger by trade. Now I'm glad I can help the guests of my store and the visitors of my blog know a lot of exciting things about pools, their types, best pumps and filters, necessary equipment maintenance, and so on.
I welcome all people who want to choose a proper basin and the stuff to my blog! Hope you'll find this information interesting and useful!