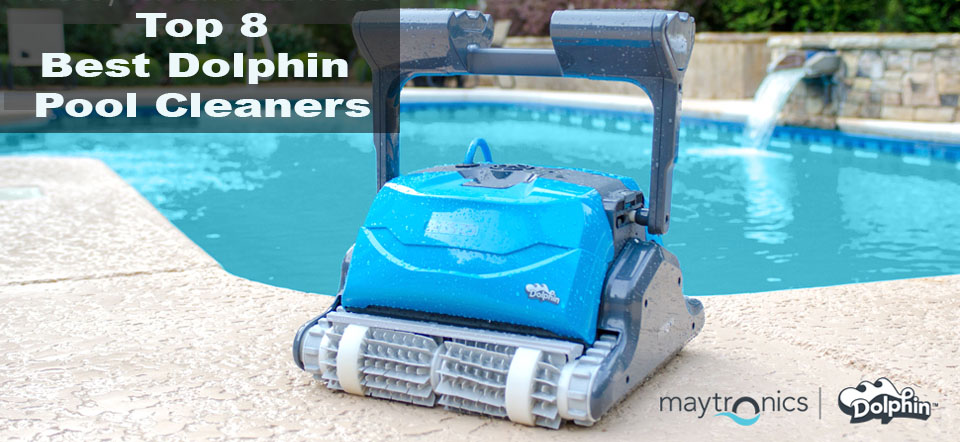 If you`re looking for the best pool cleaner with all possible smart technologies and high quality, you need to have a look at Maytronics Dolphin models. Over 30 years, this manufacturer has been holding the leading position in the market, offering the Best Dolphin Pool Cleaners and the broadest range of cleaning solutions for all pool types.

You`re asking why they are the best robotic pool cleaners? Here are the proofs.
The main reason why all users, including me, love the Dolphins is their unique diversity and functionality. First of all, it doesn`t matter whether you have an above ground or inground pool, the company produces devices for reservoirs of all configurations, size, and complexity.
Dolphins are the best thanks to the well-thought-out rubber brushes, which suit all surfaces and scrub even the worst debris from the most challenging areas. The cleaners process bottoms, walls, steps, waterline. Even the biggest pools are cleaned within a couple of hours.
Besides, they need zero attention and control. Dolphins are one of a few pool cleaners that apply smart navigation like CleverClean, app control, and scheduling.
I also like these models for their energy saving, as they are independent of pool pumps.
Here are the top 14 best Dolphin pool cleaners according to the users` reviews with all their advantages. Let`s go!

Comparison Table
Detailed Product Reviews

Oasis Z5i is an automatic pool cleaner for all inground pools up to 50 feet with smart filling like Bluetooth control, several cleaning settings, excellent performance, etc.
During testing, the model absolutely proved the manufacturer`s promises of cleanliness. It covered all surfaces of my 30 ft inground pool, including walls and waterline within 2 hours. Dynamic scrubbing, suction, and filtering eliminated even the sediment. The dirt is accumulated in a twin cartridge filter.
The greatest thing is that I don`t have to monitor the device all the time, as I used to do with old models. The Dolphin Oasis is automatic and can be run through Bluetooth connection and MyDolphin App. There are also three scheduling settings for every day, every other day, or every third day cleaning. My pool is smaller, but for 50 ft pools, standard cleaning time takes 2.5 hours.
I also liked handy handles for dropping in and pulling out, even though the case weighs pretty much. It provides a nice water eliminating system and 50 ft tangle-free cable.
Dolphin Oasis Z5i model
is a good energy-efficient pool cleaner with the autonomous operation and excellent scrubbing.
Pros
tangle-free cable
comprehensive cleaning of all surfaces
dynamic scrubbing brushes and dual filtering
fast performance up to 2.5 hours
smartphone control through Bluetooth
3 scheduling settings
energy-saving
Cons
no transport caddy included
often gets stuck in drains
does not climb steps
random navigation

If you have an above ground pool and think that Dolphins are not for you, you are deeply wrong. Dolphin E10 is a specialized pool cleaner for above ground reservoirs up to 30 ft. The model possesses the same high-efficiency scrubbing brushes for all types of surfaces and pollutions and even faster cleaning.
The main advantage of the cleaner is the genuinely effective CleverClean technology based on sensors and the Obstacle Escape system. Within 1.5 hours, the device thoroughly covered all bottom zones and avoided barriers like stairs legs. However, I was a bit disappointed that the E10 processes only floor and doesn`t clean walls or waterline.
Still, its autonomy and ease of installation can somehow soften the drawbacks. The cleaner requires no booster pumps, no installation, no complicated control. The management is run through the simple touch screen.
The final plus of the cleaner is its dimensions. While the majority of other Dolphins, which I tested, were really bulky, this one is only 22.8 pounds and much more compact.
So I didn`t feel the need for any caddy. Effective water out system also makes the usage more comfortable. A 40 ft cable doesn`t tangle much and cling, though it`s not swivel or tangle-free, and a large top-load filter basket traps a lot of dirt.
Pros
suitable for above ground pools
excellent scrubbing
cleaning takes only 1.5 hours
CleverClean navigation
no additional booster pumps and hoses
energy-saving
capacious top-load basket
lightweight body with water out system
a 2-year warranty
Cons
only for floor cleaning
no swivel and tangle-free cable
touch screen control without apps
many users complain about poor filtering

Dolphin Escape is another excellent model for 30 ft and smaller above ground pools with a 40 ft cable, track driving system, and efficient scrubs.
This pool cleaner is somewhat similar to the previous one, as it uses the same combination of dual scrubbing brushes and suction. The 24V motor gives high power, at the same time cutting your electricity expenses by 90% compared with old-fashioned pool cleaner models.
Full cleaning takes 1.5 hours, though it still cannot be applied to walls, steps, and waterline.
The thing that impressed me was the speed and thoroughness of cleaning. Escape is equipped with SmartNav 2.0 navigation system, which scans the reservoir and notifies the cleaner about obstacles, sets the algorithm of performance, and helps collect all pollution. It goes to a filter basket set inside the body. Unlike many other pool cleaners I had before, this top-load container offers effortless and hygienic emptying.
Here we also see fine filtration, lightweight design for convenient transportation and operation, and a 2-year warranty.
Pros
suitable for above ground pools
active scrubbing and hypergrip tracks
1.5 hours cleaning
SmartNav 2.0 navigation
90% less energy consumption
capacious top-load basket
lightweight body with water out system
a 2-year warranty
Cons
no wall, steps, and waterline cleaning
no swivel and tangle-free cable
no remote control
only fine filter included

Dolphin Nautilus CC Plus performs comprehensive cleaning of the bottom and walls of all 50 ft inground pools. Like all Dolphin cleaners, it doesn`t need additional pumps, filters, or hoses.
Cleaning takes standard 2 hours, during which the device sucks large debris like leaves and scrubs all algae. Dual brushes perform scrubbing, and debris with dirt water come through the double filter cartridge.
Here once again, I faced Smart navigation and scheduling function, which pleased me very much. Unfortunately, I didn`t have an ability to run the cleaner through the app, but button setting with three schedule modes gave me a choice between every day, every other day, or every third day cleaning.
I think, except for navigation and scheduling, the best features of this Dolphin model are its comprehensive filtering capabilities and a tangle-free floating 60 ft cable.
The weight of the item is listed at 19 pounds, but mind that it`ll become heavier while immersed and require some efforts to pull out. A transport caddy isn`t included in the kit.
Pros
tangle-free floating cable
cleans both floor and walls
fine and ultra-fine filter cartridges
2 hours of cleaning
Smart navigation
scheduling with three settings
energy-saving
Cons
no transport caddy included
does not clean waterline
no remote control

The next model in our top is Dolphin Nautilus CC, which unique feature is compatibility with both above ground and inground pools up to 33 ft. As you can see from the name, this Dolphin is rather similar to the previous Nautilus CC Plus, though being a more moderate cleaner.
So, here I noted the same 2 hours cleaning with a scrubbing brush, but this model has only one rubber roller. Water and debris come through filtering, and instead of dual cartridges, it uses a top-load filter basket. It turned out to be not so thorough, though I liked capacity and the easiness of emptying.
Unfortunately, I couldn`t use smart navigation or app control in my Nautilus CC, but handy remote control and scheduling atone many inconveniences. The touch screen offers remote on/off, energy-saving mode, and three scheduling settings for a week. In all cases, the Dolphin processes the floor and climbs the walls.
As far as this cleaner was designed for smaller pools and equipped with simpler filling, I could say it`s as energy-saving as all other Dolphin models and very lightweight. Anyway, I never had any difficulties with its transportation and liked the water release system.
Still, during cleaning, I often faced the problem of tangled cable, which limited the cleaner`s maneuverability, as this Nautilus CC has no tangle-free or floating cord.
Pros
suitable for both above ground and inground pools
comprehensive cleaning of all surfaces
large filter basket with convenient top load
fast performance within 2 hours
3 scheduling settings for a week
Very lightweight
energy-saving
does not require booster pumps or additional equipment
Cons
no tangle-free cable
does not clean waterline
random navigation

Triton PS deeply impressed me with its efficiency and climbing abilities. This pool cleaner showed one of the best cleaning results and managed to work on walls and waterline as thoroughly as on the bottom without slipping and dirt missing. Though lacking smart navigation, it has excellent dual scrubbing elements and the PowerStream mobility system with multiple jets, which contribute to maneuverability and dirt collection.
As usual, here, the debris comes into a large filter basket with top loading. I also liked rather fast 2 hours cleaning with scheduling for every day, every other day, and every third day operation. Dolphin Triton PS is designed for large inground pools up to 50 feet, but, in fact, all these features helped clean my 30 ft pool even faster than for two hours.
The cleaner`s design deserves a separate mention. Triton series has an outstandingly bright case made in yellow and black colors, while all other Dolphins prefer more restrained blue, white, and grey tones (like Dolphin Sigma robotic pool cleaner, for example).
The manufacturer claims the cleaner weighs only 16.5 pounds and is equipped with a water release system. When pulling out, it felt rather heavier, but I can`t say it`s in any way bulky. Besides, here I had no problems with a 60 ft cord due to the anti-tangling technology.
Pros
works on the floor and easily climbs walls and waterline
PowerStream mobility system with multiple jets
dynamic dual scrubbers
fast 2 hours cleaning
3 scheduling settings
handy control module
large filter basket
tangle-free cable
bright and lightweight case
Cons
random navigation
no smartphone control
some users faced clogging when removing leaves and large debris

After trying Dolphin Advantage, I concluded that this pool cleaner is a helpful average among Dolphin models. I can`t say it features any unique or smart technologies, but it`s equipped with all standard functions presented in other Maytronics Dolphins and necessary for proper pool cleaning. Thanks to such functionality at an affordable price, Advantage automatic pool cleaner is listed in this top.
So, here we see a cleaner for owners of 33 feet inground pools who are looking for thorough floor and walls processing. Operation is based on a single scrubbing roller, powerful suction Maytronics motor, and filtering capability of dirt basket.
Standard cleaning takes the usual 2 hours. Users can also take control module and choose one of the three scheduling modes for every day, every other day, and every third day performance.
Being made for medium-sized pools, Dolphin Advantage has compact dimensions, small weight, and long enough cord.
As I said, here, you cannot see smartphone control, smart navigation, tangle-free cable, waterline cleaning. Nevertheless, Advantage gives all conveniences of automatic pool cleaner, which will please any user who doesn`t chase for the latest innovations.
Pros
a standard set of functions
no booster pump or installation required
floor and walls cleaning
an energy-efficient powerful suction motor
capacious filter container with top loading
2 hours cleaning
scheduling options
compact dimensions
Cons
does not process steps and waterline
random navigation
no smartphone capabilities
no tangle-free cable
not very thorough filtration

The final model of our review belongs to the category of smart navigating automatic pool cleaners. Here, I met not only the usual Dolphin features but also some innovative technologies.
Thus, when using Dolphin Nautilus, I forgot about random navigation. This cleaner is one of a few Dolphins, which apply CleverClean scanning. It means, the device scanned my pool, determined all obstacles, and engaged smart algorithms for choosing the best route.
Smart navigation and dual scrubbing allow top floor and walls cleaning. I was a bit disappointed that such a hi-tech model doesn`t clean steps and waterline.
However, the cleaner`s filtration pleased me very much. Nautilus is equipped with more efficient dual cartridges for filtration of both large and fine debris. The only drawback is not very convenient bottom loading.
As the cleaner is aimed at large inground pools up to 50 feet, it has rather long 3 hour operation time. Unfortunately, Nautilus doesn`t offer a schedule set, so all management is performed manually.
Also, the cleaner has a long 60 ft cable, and its anti-tangling construction turned out to be really useful.
Pros
floor and wall cleaning
long tangle-free cable
dual scrubbing brushes
dual filter cartridges for large and fine debris
CleverClean scanning
weighs only 16.5 pounds
energy-saving
Cons
does not clean steps and waterline
no scheduling and remote control
inconvenient bottom-load filter cartridges
a rather long operation time
Dolphin Premier belongs to the latest generation, which means ultimate surface cleaning and the smartest technologies.
The robot is designed for big inground pools 50ft long. The unit will reach every corner of your reservoir thanks to a 60ft tangle-free cord and comprehensive floor, wall and waterline cleaning. In the most thorough mode, cleaning takes 3 hours.
Like all Dolphins, Premier uses dual scrubbers and filtration. However, Premier's filtration is my favorite among all other robots as the manufacturer equips us with as many as three filters to choose the optimal one for the current water state. There are a bottom-load fine cartridge filter, ultra-fine cartridge filter, and an oversized fine filter bag. This is the most generous filter kit available in Dolphin.
Moreover, filters have a full filter indicator to notify you when it's time to empty the bag.
Brand patented CleverClean navigation ensures obstacle avoidance. Among smart technologies, we also note a week schedule with three settings, easy control via a touch screen and an optional handheld remote control.
The pool cleaner saves us 90% more energy-efficient than regular cleaners due to a twin DC motor.
I can say that for me, Dolphin Premier is an almost perfect model. The only drawbacks I noted are a heavy body with no water release and high price.
Pros
cleans floor, walls and waterline
consumes 90% less energy than regular pool cleaners
the best filtration with three filters in one kit
built-in filter indicator notifies you when the filter is full
dual scrubbers
weekly cleaning schedule
CleverClean navigation
an optional handheld remote control
a long tangle-free swivel cord
Cons
expensive
long operation time
heavy and has no water release system
Dolphin Proteus is a relatively young generation of Maytronics robotic cleaners, with the DX3 model being the first. The bot works in medium-sized inground pools up to 33 ft but can also fit above ground reservoirs of rigid construction. In fact, I believe a long non-swivel 50ft cable will suit even bigger pools.
The model comes with only one front scrubber, but it's enough to process the floor and walls. The filtration system consists of a standard top-load basket.
CleverClean scanning and algorithms are a pleasant addition to such an affordable unit. Besides, it also supports a weekly scheduler, and in all modes, cleaning takes 2 hours.
What I love most of all in this modification is its extremely light body for a robotic pool cleaner. The unit weighs only 13.8 pounds, which makes it one of the lightest among our competitors. The quick water release only contributes to the ease of application.
When it comes to cons, I only miss an anti-tangle cord design and waterline/stairs cleaning. The cord does tangle pretty much. Please also mind that one scrubber is less efficient than the dual system.
Pros
very compact and lightweight body
suits inground and above ground pools
long cord
cleans the floor and climbs walls
not a long cleaning cycle
nice large top-load filter basket
front scrubber
weekly cleaning schedule
CleverClean navigation
a touch screen included
water release system
affordable Dolphin model
Cons
doesn't clean stairs and waterline
single scrubbing unit is less efficient
cable tangles
Owners of bigger pools up to 50ft may also enjoy the Proteus series quality of cleaning. Its DX4 cleaner solved all problems of the previous device for ultimate performance.
Pool cleaner now can climb even waterline and thoroughly scrub all sediment and algae with its dual scrubbers. Bigger pools, wider cleaning areas, and improved scrubbing mean more dirt collected. All it will fit an enlarged filter basket.
By the way, cleaning time still requires 2 hours only.
A longer 60ft anti-tangle cable is another improvement I loved pretty much.
Engineers saved the water release system but complemented the cleaner with a more convenient grab handle. This is a nice addition since the unit became heavier and bulkier.
Thus, cleaning zones, dual scrubbers, bigger basket, and better cord are the main changes. The manufacturer didn't focus on smart function, so we see the same CleverClean navigation and scheduling.
Pros
designed for large inground pools
improved and elongated tangle-free 60ft cord
cleans floor, walls and climbs waterline
larger top-load filter basket
two scrubbers
weekly cleaning schedule
CleverClean navigation
a touch screen included
water release system
Cons
pricy
bigger and heavier body
no app control for the money
«I» for Intelligence. This is 100% true for the Dolphin Proteus DX5i pool cleaner that supports the easiest WiFi and smartphone control through the MyDolphin app. Though the touch screen is still included, there is no need to program schedule, set modes, and run the device manually anymore.
Also, now we can adjust the cleaning time and choose between a Standard 2-hour cycle or Quick 1-hour cleaning.
With all these in mind, Proteus still processes floor, walls, steps, and waterline in large inground 50ft pools. Don't worry about dual scrubbers and a filter basket – they are here to contribute to the water cleanliness.
With this model, we take all the best cleaning features from the previous DX generations and complement them with smart controlling. Physical maintenance is also a piece of cake as we see the same water release and a handle, but the body is super light again.
Dolphin Proteus DX5i can be called the best robotic pool cleaner. However, it's not an affordable option, especially for customers on a budget, which spoils the effect a bit.
Pros
for large inground pools
a smart robot with WiFi, Bluetooth, and app control
cleans floor, walls, steps, waterline
supports two cycle modes for quick or standard cleaning
uses a tangle-free 60ft cord
has a top-load filter basket
two scrubbers
weekly cleaning schedule
CleverClean navigation
a touch screen included
water release system
light
Cons
the most expensive cleaner in the series
Dolphin Quantum is quite similar to the Proteus series by its aim. The unit cleans large inground pools up to 50ft and uses an anti-tangle swivel 60ft cable, dual scrubbers, and a filter basket for it.
The reasons why I included this robot in the review are better grip on vertical surfaces and improved SmartNav 2.0 navigation.
Like many other Dolphins, Quantum climbs walls and waterline. But thanks to PowerStream mobility technology, it does it with greater ease and, consequently, greater energy efficiency.
Moreover, motors of a new generation make it 8X more energy efficient than pressure and suction cleaners.
Though I still miss app control, other smart features are quite sufficient for all cleaning tasks and user's comfort. Dolphin Quantum supports a weekly scheduler and simple one-touch buttons on the screen.
I also enjoy a carry handle, water release, and a new lighter body shape.
Pros
fits the largest inground pools
improved PowerStream climbing feature for floor, walls, and waterline processing
just 2 hours of cleaning
more thorough SmartNav 2.0 scanning
energy-saving
uses a tangle-free swivel 60ft cord
has a top-load filter basket and two scrubbers
weekly cleaning schedule
a touch screen included
water release system
light body
Cons
expensive
no app or WiFi control for the money
Last but not least, Dolphin Mercury is an excellent and more affordable WiFi-controlled robotic pool cleaner that collected numerous advantages.
Though it seems pricy, the unit is almost twice cheaper than the Proteus DX5i but with the same functionality. Once you activate the WiFi and install the MyDolphin app, your cleaner will do all tasks you send through the smartphone from any place in the world. If you don't want to spend time even on such a fast control, set a weekly schedule beforehand.
Cleaning zones include floors, walls, steps, and waterline. Depending on your preferences, cleaning may take 1 hour (in the Quick mode) or 2 hours (in the standard mode).
The main working elements are the same – two super-fast scrubbers, a top-load basket filter, and CleverClean navigation sensors.
Mercury better suits inground pools up to 50ft and comes with a tangle-free 60ft cord.
The case features a carry handle and side water release. Small weight is one of the sweetest pros.
Pros
affordable smart pool cleaner with WiFi and app control
fits the largest inground pools
cleans everything from floor to walls and waterline
two cleaning time settings
CleverClean navigation
uses a tangle-free swivel 60ft cord
has a top-load filter basket and two scrubbers
weekly cleaning schedule
a touch screen included
water release system
light body
Cons
still not a budget option
My Own Top 5 Best Dolphin Pool Cleaners
Best Affordable Dolphin Robotic Pool Cleaner
Dolphin Escape
is my winner in terms of functionality it offers for such small money (among Dolphins). The cleaning efficiency stays on one level with the most expensive devices. The model also has great SmartNav 2.0 navigation and 90% improved energy consumption.
Best Dolphin Robotic Pool Cleaner for Medium-Sized Inground and Above Ground Pools
Dolphin Proteus DX3 and
Nautilus CC
are the best Dolphin pool cleaners for medium reservoirs of all types. Though they have some drawbacks (tangling cord, only one scrubber), their general cleaning results are pretty sufficient for pools up to 33ft. They both climb walls and stairs, offer CleverClean navigation, and even boast touch screens. And the price is significantly lower compared with the same Nautilus CC Plus.
Best Price-Quality Dolphin Robotic Pool Cleaner
In my opinion,
Proteus DX4
offers the widest cleaning technologies for the lowest price possible.
However, it is not alone here. Nautilus CC Plus is another excellent Dolphin robotic pool cleaner. It only sacrifices waterline cleaning, but will cost you less.
Best Dolphin Robotic Pool Cleaner for Large Pools
If you own a large pool up to 50ft, I'd recommend you Dolphin Quantum. The model features smart navigation and a tangle-free cord, which are essential when we deal with large pools. Besides, it climbs vertical surfaces, including waterline, much easier thanks to PowerStream system and takes only 2 hours for this. An improved energy-saving motor is another gift for a reasonable large pool owner.
Best Smart App Controlled Dolphin Robotic Pool Cleaner
Here, I hesitate between Dolphin Proteus DX5i and Mercury cleaners. Both offer everything we may need, including intelligent smartphone control, light bodies, all pool zones cleaning, and two time cycles. But the latter model slightly wins, in my opinion, thanks to a more affordable price.
Buyer`s Guide – How to Choose the Best Dolphin Automatic Pool Cleaner


So, after we`ve got acquainted with the best Maytronics Dolphin cleaners, some users may still have difficulties in choosing a model that will suit their pools 100%.
That`s why, before making the final choice, I recommend looking at several crucial factors that should be noted.
How Do Robotic Pool Cleaners Work? Do You Need One?
Robotic pool cleaners work independently from the pool`s booster pumps and filters. They are plugged into a regular household power outlet. They usually use an electric motor, high suction, and special scrubbing brushes, which eliminate the dirt. Besides, an automatic cleaner is equipped with smart technologies like navigation, scanning, smartphone control, and scheduling.
You need such a device if you have a medium or large pool with a complicated surface, which is often used.
Automatic cleaners are also useful for people who are looking for totally autonomous intelligent robots with remote control. Plus, you`ll like them, if you want an energy-saving item, which can clean, filter, and improve water circulation at the same time.
Pool Type and Size
Before buying a cleaner, please pay attention to what type of pool it is designed. A model for inground reservoirs won`t be suitable for above ground pools and vice versa.
Such difference can be explained by materials, of which the pool is made. For example, one cleaner deals with fiberglass and vinyl; another does not. However, Maytronics offers several Dolphin cleaners, which can work in both pool types like Dolphin Nautilus CC.
verdict
The size of the pool is essential, too, as a model can be produced for medium basins up to 30 feet or large pools up to 50 feet. Consequently, they have different productivity, the capacity of baskets, and cable length.
What Surfaces the Robot Can Clean
Each pool cleaner can work on flat surfaces like the bottom. However, many users need more comprehensive cleaning, which includes processing of walls, steps, and waterline. These surfaces are much more slippery, and the cleaner must use some particular technologies to climb them.
That`s why if you have a big pool or require extra cleanliness, you`d better check what pool elements your Dolphin can deal with. For instance, Dolphin Plus cordless robotic pool cleaner is one of the best, as it cleans all surfaces, never being disturbed by cable.
Navigation
As we understood from the model reviews, the majority of Dolphins use random navigation. It gives a superior cleaning result, but blind vacuuming takes more time and can be less efficient for large pools.
After testing, I realized that even cleaners with random movement left my 30 ft pool clean, so I don`t feel like spending extra money on this function. But if your basin is bigger, you`ll probably think smart navigation to be a necessary and worthy addition.
Filtration
Nowadays, Dolphin automatic pool cleaners use two types of filtration – filter baskets and cartridges. While baskets cope with the task pretty well and offer top loading and easy emptying, cartridges are still considered to be more productive.
Dual cartridge filtration allows catching not only large debris but also fine particles. However, sometimes they can be more complicated in maintenance.
Remote Control and Scheduling
important
One of the best things in automatic pool cleaners is their independence. They can work without extra installation and monitoring, leaving us more free time. Such technologies, like remote and smartphone control, as well as schedule, contribute to the cleaners` autonomy.
Inevitably, a Dolphin with such abilities is better than its less innovative brothers. You can set the day and time of operation and turn it on/off from anywhere. But everything in the world has its price.
So, if you have a small pool and use it rarely, such investment may become not very beneficial. Anyway, the final choice is yours.
Weight
If you`re a healthy man full of strength, this factor has no importance to you. But if you`re a lady or you`re looking for a pool cleaner for elderly relatives, people with back pain, and other health problems/restrictions, you should consider the weight of the device.
As far as we have to immerse and lift the cleaners manually and rather often, significant weight enlarged by extra water significantly affects the spine and can worsen poor health. Better choose light models up to 20 lb with water release systems. Also, you can buy transport caddy.
Frequently Asked Questions
Which Dolphin pool cleaner is the best for inground pools?
Among all Maytronics automatic pool cleaners presented, Dolphin Oasis Z5i has the broadest set of functions and the most innovative technologies.
It works with large pools up to 50 feet and thoroughly cleans all surfaces from bottom to slippery walls and waterline. Here we see dual scrubbing rollers, twin cartridge filtering for large and fine debris, long tangle-free cable.
But the most attractive features are scheduling and remote control through Bluetooth and MyDolphin App. You`re free to set one of three scheduling scenarios and monitor your cleaner from the smartphone.
However, mind that Oasis cannot boast of smart navigation, so operation is random.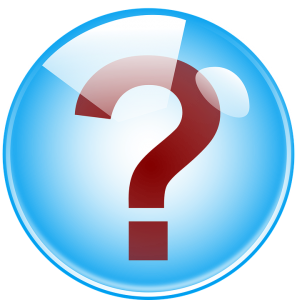 How often should I run my Dolphin cleaner?
The frequency of cleaner usage depends on your preference. Some owners clean their pools daily, some weekly, etc.
However, there are stated sanitary standards, according to which a pool requires daily or every other day cleaning if used every daily. If a pool is used once a week or rarely, specialists recommend performing cleaning directly before swimming or at least once a week.
Can I leave my Dolphin pool cleaner in the pool?
Many users prefer keeping their pool cleaners in the pool all the time. Thus, you can leave your Dolphin cleaner in the pool after operation just as safely, if it`s filled with pure water.
If you add some chemicals to water, the manufacturer recommends lifting the device, as these cleaning agents and disinfectants can damage the cleaner.
Why did my Dolphin pool cleaner stop working?
If your Dolphin automatic pool cleaner stopped working, there could be several causes.
First, check the cable. It can be unplugged or damaged. In the case of a cable error, the cleaner will be still.
The second cause is clogging. If some debris clogged the port, it prevents normal suction and further operation. Turn the cleaner off, remove the trouble, and try to continue the process.
Sometimes there can be remote control errors and cleaner froze. Then try to reset your Dolphin as stated in the manual.
If all previous causes are eliminated, and the device still doesn`t work, you probably have more severe breakage, which cannot be fixed yourself. Contact the user`s service for further information and help.
How do I empty my Dolphin pool cleaner?
To empty and clean your Dolphin, you should remove a filter basket or cartridge (it depends on the filtering system of your device), throw away all large debris, and rinse the filter. Then put it back and continue pool cleaning. Emptying is necessary after every operation.
Conclusion
In conclusion, I`d like to say that though being very expensive, automatic pool cleaners totally justify such price.
At the moment, they offer the best performance and the most intelligent features like smart navigation, scheduling, etc.
However, even the simplest Dolphins showed excellent performance during tests. Most of all, I loved their scrubbing brushes and climbing abilities, which left no chance to dirt. Besides, almost all cleaners offer quite useful scheduling.
Maytronics Dolphin cleaners stand out from other brands. You can find a device for both inground and above ground basins. Besides, the abundance of models allows us to choose the cleaner with only those functions we really need. For example, there are Oasis and Plus with remote control, and there is the Dolphin Advantage with minimum functions for the perfect result.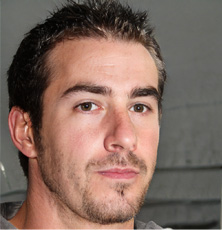 Hi! I'm Markus Robertson, and water is my passion.
Five years ago, I graduated from the University of California-Los Angeles and was going to become a professional marine biologist. However, my fate had other plans for me, and due to family problems, I had to find a more stable and well-paid job. I had only one wish for my job to be connected with water.
During this period of my life, I worked as a sales manager at Olympic Pool & Spa Supplies. The job helped me learn everything about swimming pools and related pool equipment, as well as how to choose the best option and what to pay attention to.
Having worked there for three years, I decided to start my own blog about pools, where I can tell people about the best new pool equipment models and share my knowledge and experience.
A marine biologist by education, I became a pool blogger by trade. Now I'm glad I can help the guests of my store and the visitors of my blog know a lot of exciting things about pools, their types, best pumps and filters, necessary equipment maintenance, and so on.
I welcome all people who want to choose a proper basin and the stuff to my blog! Hope you'll find this information interesting and useful!