For the last several years, the Maytronics company has released a huge number of excellent robotic pool cleaners for any requirements and budget.
Participants of our today's Dolphin Nautilus CC Plus vs. Dolphin Nautilus CC review represent models that belong to one line. They have one basis but, at the same time, feature crucial differences both in functions and price.
Do these robotic cleaners deserve their status? Will we manage to find the best one? Stay with us to get the answers!

Main Differences Between the Models
You can guess by the names that these Dolphins should share a lot of similar features, and that's the truth. Still, we managed to find a significant number of differences, which form the basis of comparison. Here they are: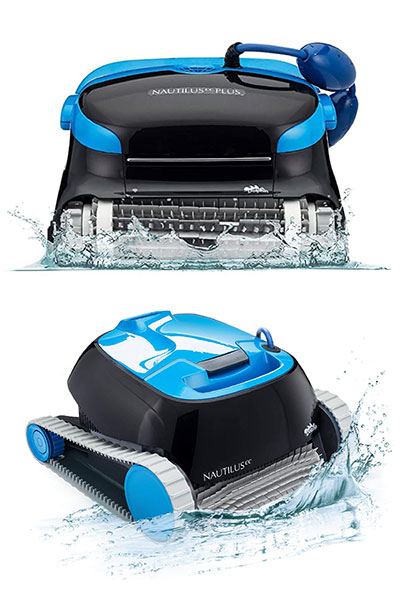 Both cleaners are designed for inground pools and can be applied in above ground pools either. However, Nautilus CC Plus is a more powerful device that cleans larger basins up to 50ft. Nautilus CC suits smaller swimming pools up to 33ft.
Consequently, the difference also lies in cable length. The first option comes with a longer 60ft floating cord equipped with swivel and anti-tangle functions. In the second case, you get 50 feet of cable, which can float only. No swivel or anti-tangle included.
The Plus cleaner uses dual scrubbers for sediment elimination. Its opponent comes with a single scrubber.
Filtration systems of the robots present an essential difference too. When purchasing the CC Plus, you get dual cartridges for fine and ultra-fine filtration. The CC cleaner features a bigger but less efficient fine filter basket.
It's supposed that both Dolphins have CleverClean navigation. Numerous tests and users` reviews assert that while Nautilus CC Plus does use this technology, the CC cleaner fails to navigate with equal accuracy.
Dolphin Nautilus CC is the only cleaner in the review that uses both triple scheduling and Energy Saving mode.
In the same way, the CC is the only one that comes with a water release system.
Comparison table
Pool Type
inground and above ground
inground and above ground
Filter
dual cartridge system with fine and ultra-fine filters
a filter basket with fine filter-panels
Cable
tangle-free swivel floating 60 ft cord
simple floating 50ft cord
Pool Type
inground and above ground
Filter
dual cartridge system with fine and ultra-fine filters
Cable
tangle-free swivel floating 60 ft cord
Pool Type
inground and above ground
Filter
a filter basket with fine filter-panels
Cable
simple floating 50ft cord
Last update on 2023-09-25 / Affiliate links / Images from Amazon Product Advertising API
Owners of large pools, especially inground ones, know for sure how tedious and expensive it is to maintain the cleanliness of such basins. However, manufacturers think about our needs. Here is Dolphin Nautilus CC Plus, and this is the model that will perform 90% of physical cleaning for you.
The CC Plus is specially designed for inground pools up to 50ft, though it also perfectly suits smaller above ground models. The robot immerses into water and processes floor and even walls, eliminating large debris and sediment.
A powerful motor combined with two scrubbing brushes generates high suction and rotation. Thus, your pool is cleaned of fallen leaves and sticks as well as of algae and bacteria. The climbing ability allows it to work on vertical surfaces and climb steps. However, our tests show that step cleaning cannot be called perfect. One more drawback is the lack of waterline cleaning.
Many Dolphins feature capacious filters but struggle with fine filtering. Nautilus CC Plus uses large top load dual cartridges that include fine and ultra-fine panels. Such a construction captures even the smallest particles.
CC letters in the robot's name stand for CleverClean navigation. The system is based on smart route planning and avoidance of encountered obstacles. Such technology is significantly better compared with old randomized cleaning.
Besides, CleverClean navigation provides much faster cleaning. Within just 2 hours, the bot will lick 50 feet of pool surface. You can repeat this procedure daily, every other day, or every third day. Everything you need is to schedule your cleaner through a touch screen, which comes with the unit. Here, we see the ON/OFF button and 1-2-3 buttons for above mentioned time modes. However, don't expect any smarter control methods – Dolphin Nautilus CC Plus doesn't support mobile app.
Speaking about components and dimensions, it's worth noting that the unit comes with a long 60ft tangle-free swivel cord. We also like its compact 16″ x 10″ x 16″ body that weighs only 19 pounds. Though the robot cannot boast a useful quick water release system, it offers a handle to grab it and pull it out of the water after usage.
Not the smartest but very efficient and independent Dolphin Nautilus CC Plus cleaner justly holds leading positions in all pool robot reviews. Though being pricy with its cost, it provides a significant number of conveniences.
Pros
suits inground and above ground pools
no pumps and hose needed
floor, wall, and step cleaning
dual efficient scrubbers
fine and ultra-fine filter cartridges
CleverClean navigation
2 hours cleaning cycle
three scheduling options
tangle-free swivel floating cable for 60ft
Cons
no waterline cleaning
no app control
no quick water release system
expensive
Nautilus CC is an excellent pool cleaner model for those looking for a simpler and more affordable version of Nautilus CC Plus. These robots feature a lot of similar characteristics, but the CC satisfies less demanding users.
Just like the previous Dolphin, this cleaner works with both inground and above ground pools. However, this time, their dimensions shouldn't exceed 33ft.
Still, such limitation isn't connected with a cord length. The kit comes with a very long floating 50ft cable, the only drawback of which is the lack of anti-tangle and swivel functions. The unit is considered to be less powerful and features only one scrubber. This cleaning element allows the robot to collect any debris and sediment. But as you understand, its operation takes twice more time than the dual-scrubbing system of other Dolphins.
However, even one scrubber and suction provides thorough cleaning of almost all pool surfaces. Nautilus CC processes floor, walls, and even steps. We'd like to note that step vacuuming requires a bit more time and effort due to the awkward shape of the elements. Like with the CC Plus, waterline cleaning isn't available here.
The cleaning cycle lasts for 2 hours as well. You are free to run the cleaner from a remote touch screen with the ON/OFF switch and three schedule settings for every day, every other day, or every third day operation. Though Nautilus CC doesn't support app control, we like its additional Energy Saving mode.
Once again, the name Nautilus CC points on CleverClean navigation. Though the Maytronics official site confirms the presence of this technology, our tests and numerous users` reviews don't prove it. The cleaner features random cleaning and sometimes bumps into obstacles.
A top load filter basket provides a lot of room for large debris and easy emptying. Panels use fine filters that trap the majority of dirt but can miss fine particles.
Many users note the cleaner's compactness, which is proved by tests. It measures 16.38″ x 16.77″ x 8.97″ and weighs only 14 pounds. Besides, its construction includes a quick water release system and a convenient handle.
Buying Nautilus CC, you can get a decent, efficient, and energy-saving pool cleaner. Though it may need more time, the device eventually processes the whole pool and all its surfaces.
Pros
suitable for both above ground and inground pools
requires no pumps and hoses
floor, wall, and step cleaning
a scrubbing roller
2 hours cleaning cycle
a touch screen with three scheduling options
Energy Saving mode
top load basket of fine filtration
50ft floating cable
lightweight design
quick water release
Cons
no tangle-free swivel cable
no waterline cleaning
only one scrubber
poor navigation
no app control
Face To Face comparison
Now, when we know all general functions and elements of the models, let's take a closer look at each characteristic of two pool cleaners. Keep reading if you want to see a face to face comparison and highlight the winner.
Design and Dimensions
As far as these models belong to one Nautilus line, they are notable for a very similar design. In both cases, we see stylish blue and black plastic bodies with light scrubbers. Tank-like tracks provide driving. Also, devices feature top lids for easy access to filters and solid handles for transportation and usage.
However, the main similarities end here. The differences in Nautiluses` design includes a number of brushes, cable length, weight, and dimensions.
Dolphin Nautilus CC features: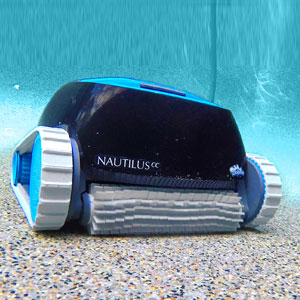 single scrubber;
a floating 50ft cord that has no tangle-free of swivel technologies;
a more lightweight 14 lb body;
16.38″ x 16.77″ x 8.97″ dimensions.
verdict
Despite similar exterior, our robotic pool cleaners have a range of key differences. We suppose it to be quite challenging to find a winner here as the choice depends on your preference. Nautilus CC Plus has undoubtedly longer and more well-thought-out cable as well as dual scrubbers. However, Nautilus CC is significantly lighter.
Cleaning Performance
The cleaning performance of the vac depends on several components such as the brush system, the type of surfaces it cleans, and the required time.
As we've mentioned in the previous part, the first model of our review has two scrubbers. They are installed on opposite sides of the body with a suction port in the middle of construction. Such dual scrubbing and high power provide excellent climbing, which results in comprehensive cleaning of pool bottom, walls, and partly steps. All areas are covered within 2 hours.
The second device collects debris with only one scrubber and directs it to a suction port. Nevertheless, it can also climb walls and steps. This function complements floor cleaning. The built-in cleaning cycle lasts for 2 hours. However, while Nautilus CC Plus can cope with all dirt during one turn, the CC model may need two cycles. Such differences are caused by less power and a number of rollers.
Let us note it separately that neither of these Maytronics automatic pool cleaners can clean waterline, which is a pity. Also, although they climb steps, tests show they do it well only on wide steps. Small and narrow surfaces cause great difficulty both in climbing/getting off and scrubbing.
verdict
Here, we prefer Dolphin Nautilus CC Plus for its better scrubbing and higher power. It will be an excellent choice for large pools with complex construction. Nautilus CC features a bit weaker performance, which can still please owners of smaller standard basins.
Filtration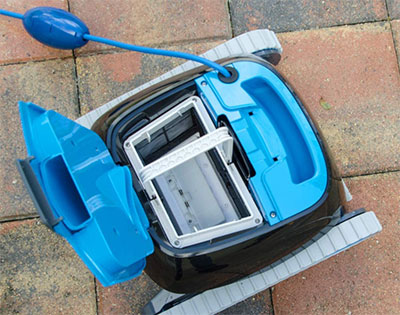 Nautilus CC
uses another filtration system. Here we see a
filter basket with fine filter-panels
. Such a construction is perfect for big dirt like fallen leaves because it gives lots of space and needs rare emptying. However, many users claim it fails with fine debris.
Despite different designs of the filters, the manufacturer provided the same top-load emptying system. Everything we need is to open the top lid of the cleaner and pull the filter out. Emptying takes several seconds and stays remarkably hygienic.
verdict
First of all, let us say that both built-in systems are an excellent contribution to your pool filtration. On the one hand, the CC Plus offers a two-stage filtration for more thorough dirt trapping. But on the other hand, the CC model gives a much more capacious basket. So, there is no clear winner, and the choice depends on your needs.
Navigation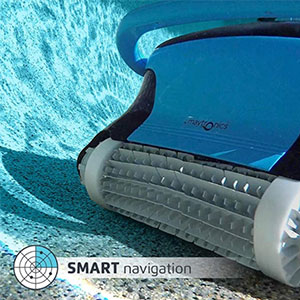 Each of the cleaners come with CleverClean technology. Several sensors allow them to plan a cleaning route as well as avoid any obstacles on this path.
The first Dolphin faced no difficulties in navigation and proved its CC name. But the second CC cleaner didn't show the same level of navigation despite all manufacturer's statements. Neither we nor other users were satisfied with its randomized movements and regular hits.
verdict
Without doubts, Nautilus CC Plus is a winner here. Even though it cannot determine dirt, the navigation technology it uses can be called smart. Unfortunately, Dolphin Nautilus CC doesn't meet the expectations.
Control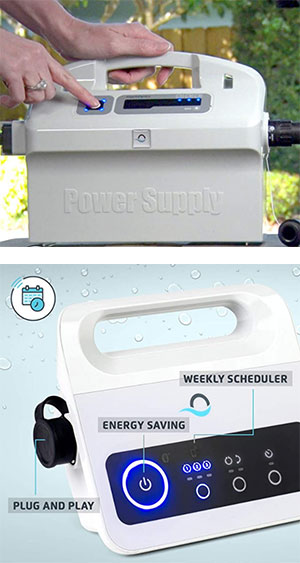 If you're looking for an innovative smart pool cleaner with WiFi support and app control, let us say all at once that these Dolphin models are not for you. However, they are a great choice for those who don't want or need to spend extra bucks on smartphone connection.
Handy touch screens, which come in both kits, partly compensate for the lack of apps. When unpacking your device, you'll see a compact panel with several buttons. These units allow you to control your cleaner remotely from the land without the need for constant pulling out.
Each screen has a power switch and three additional buttons that stand for three schedule options. Thanks to them, you can program your device to perform every day, every other day, or every third day cleaning.
Besides, Nautilus CC provides one more mode for Energy Saving performance.
verdict
The lack of app control is a pity for many users. Still, our models provide a golden middle for customers on a budget between the latest technologies and no remote control at all. Here we'd like to give the first place to Dolphin CC. Its more saving energy consumption deserves it.
Quick Water Release System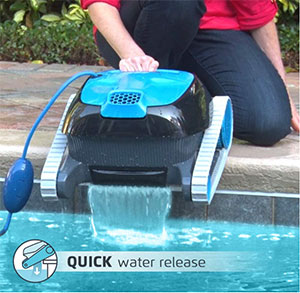 During operation, a robotic pool cleaner absorbs so much water that its weight can increase significantly. A quick water release system allows users to eliminate extra water in the first seconds after pulling out.
Besides weight reduction, it also helps provide proper maintenance and prolong the lifetime of your device.
Though Nautilus CC Plus is a more expensive and powerful model, engineers didn't provide it with the water out system.
The CC cleaner, on the contrary, can release extra water. Everything you need is to put the robot on the poolside and tilt it with its lattice down.
verdict
Quick water release is an extremely useful and demanded addition to any pool cleaner. So, it's evident that Dolphin Nautilus CC is a winner here.
Transport Caddy
As we have stated earlier, both robots belong to the category of compact and lightweight models. The first device weighs 19 pounds, and the second one is even lighter, with its 14 pounds only. Consequently, the manufacturer considered it to be easy enough to carry them manually without transport caddies. You can buy a caddy separately if you need one.
But do you really need it? Our tests give a clear answer to this question. Nautilus CC is too lightweight both before and even after usage to need a caddy.
In our opinion, Nautilus CC Plus doesn't require special means of transportation either. However, please be ready that it will become heavier after cleaning as water cannot leave it quickly.
verdict
Maytronics doesn't provide you with caddies, but it leaves you the right to purchase one additionally. However, we believe it to be an unnecessary investment in both cases.
Accessories
Dolphin Nautilus CC Plus also offers: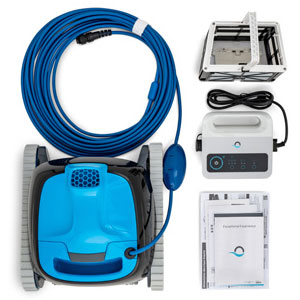 a filter basket
a touch screen for remote control
user manual
Buyer's Guide – How to Choose the Best Robotic Pool Cleaner?
Regardless of the brand and model, you can always choose the most suitable pool cleaner if you follow several simple rules. Here is a list of crucial factors to mind before purchasing a pool cleaning robot.

Pool Type and Size
Pools can be either inground or
above ground
. These two types involve the difference in size, shape, and complexity of construction. That's why we highly recommend you to mind your pool type before choosing a cleaner.
Usually, inground pools are bigger, have non-standard shapes with lots of obstacles like steps, niches, spa elements, and so on. Consequently, they require more powerful cleaners with longer cables and more through navigation.
Above ground pools can easily work with inground pool cleaners. However, it may be more profitable to choose cheaper and less powerful robots.
Wall and Waterline Climbing
If you think that the pool bottom is the only surface that needs cleaning, you're sincerely wrong. Dirty water leaves sediment and bacteria on walls, steps, and waterline of your basin. That's why climbing robotic cleaners are the best option for any pool.
Try to choose those devices for large pools, which can clean the floor, walls, waterline, and steps. However, if you have a standard medium pool without steps and recesses, climbing may seem not such an urgent feature for you.
Navigation
Small pools
have less cleaning areas. Consequently, even the simplest robots with no navigation and random movement will process them quickly and efficiently.
Unfortunately, bigger pools over 30-40ft can become a problem for non-smart cleaners. Efficiency automatically decreases, while operation time grows. Here we face a need for smart navigation technologies with route planning, dirt detection, and obstacle avoidance.
As you see, the demand for navigation directly depends on your pool, requirements, and budget. So, please mind this factor.
Filtration
Independent operation without pool pumps and filters is the distinguishing feature of all robotic pool cleaners. They work directly from the outlet and use their own filters.
At the moment, you can find cartridge and basket filtering units. Each of them has pros and cons. Cartridges are more thorough but less capacious. Filter baskets, on the contrary, can contain a lot of debris but often miss fine dirt.
So, once again, here, the choice of the best option is up to you. Think about what you need more and buy the most suitable cleaner.
Cleaning Cycles
The majority of robotic pool cleaners have only one cleaning cycle. They turn on, process the pool, and automatically turn off after 1.5 or 2 hours. It depends on the pre-programmed duration of one cleaning session.
However, more expensive models provide users with several time options. Usually, you can set a fast cleaning for about 1 hour or a longer cycle of over 2 hours.
Duration of cleaning and several options play an essential role in big pools with lots of surfaces. Smaller pools can do with only one time set. Anyway, the choice is yours.
Control
All robotic cleaners can be divided into smart and non-smart models. It depends on whether your device provides remote control through WiFi, Bluetooth, and app.
As you guess, smart, app-controlled models are significantly more expensive compared with manually run cleaners. However, they are more convenient in use and give more customization options like scheduling, remote turn on/off from anywhere, maintenance/error notifications, etc.
This is another crucial characteristic for your consideration, which doesn't influence cleaning but influence the convenience of use.
Frequently Asked Questions
1. Dolphin Nautilus CC Plus vs. Dolphin Nautilus CC: which robotic pool cleaner is better for large inground pools?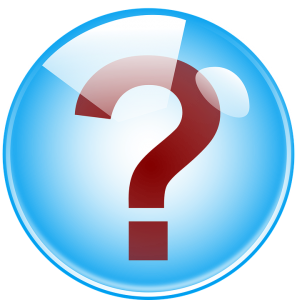 Face to face comparison shows that the CC Plus model provides more power and functions required for high-quality inground pool cleaning.
Firstly, it has a longer 60ft cable with swivel and tangle-free design. Nautilus CC has floating only 50 ft cord. Its dual scrubbing system provides quicker dirt collection, while the single scrubber of the CC cleaner needs more time.
And finally, CleverClean navigation increases cleaning speed and thoroughness without bumps. Dolphin Nautilus CC uses random navigation.
Thus, all these features make the CC Plus perfect for inground pools up to 50ft. Its opponent works with 33ft pools.
2. Is it safe to use Dolphin Nautilus CC Plus and Nautilus CC in salt water?
All Maytronics
Dolphin robotic cleaners
can work both in pure water and in water with salt and chlorine content. The maximum permitted content of chlorine is 4 parts per million (ppm). The maximum permitted content of NaCl is 5000 ppm.
3. How can I improve filtration in my Dolphin Nautilus pool cleaner?
If you'd like to get more thorough filtration from your Dolphin, we recommend you purchase an ultra-fine filter. They are available as cartridges and baskets, depending on the filter type of your cleaner.
If your robot is already equipped with ultra-fine filtration, buy additional units and change them every 2-3 months to maintain a high level of water treatment.
4. What is input voltage for Dolphin Nautilus CC Plus and Nautilus CC robotic pool cleaners?
These Dolphins require a standard 120v outlet for power.
5. How much will Dolphin robotic pool cleaner cost me per month?
Dolphin robotic pool cleaners work independently of pool pumps. That's why they are considered to be eight times more energy-efficient than side suction and stick pool cleaners.
The manufacturer states their hourly consumption costs about 5 cents, while you'll need to run it no longer than 2-4 hours per day several times per week.
Anyway, most users don't notice any changes in their electricity bills and say Dolphins are cheaper than pumps.
Conclusion
Dolphin Nautilus CC Plus vs. Nautilus CC face to face comparison has once again proved that there is no loser in this competition as well as there is no clear winner.
The first Dolphin has all the rights to bear its Plus name. It offers the highest suction, dual scrubbing, are smart navigation. In a short word, it's an efficiency worthy of the largest swimming pool.
Nevertheless, though Nautilus CC yields to the CC Plus in power and navigation, it's still an excellent option for smaller basins and managing people. We love its energy-saving operation, large filter basket, and lightweight body. The device's performance completely justifies its price.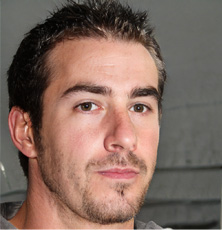 Hi! I'm Markus Robertson, and water is my passion.
Five years ago, I graduated from the University of California-Los Angeles and was going to become a professional marine biologist. However, my fate had other plans for me, and due to family problems, I had to find a more stable and well-paid job. I had only one wish for my job to be connected with water.
During this period of my life, I worked as a sales manager at Olympic Pool & Spa Supplies. The job helped me learn everything about swimming pools and related pool equipment, as well as how to choose the best option and what to pay attention to.
Having worked there for three years, I decided to start my own blog about pools, where I can tell people about the best new pool equipment models and share my knowledge and experience.
A marine biologist by education, I became a pool blogger by trade. Now I'm glad I can help the guests of my store and the visitors of my blog know a lot of exciting things about pools, their types, best pumps and filters, necessary equipment maintenance, and so on.
I welcome all people who want to choose a proper basin and the stuff to my blog! Hope you'll find this information interesting and useful!