Just an F.Y.I. there are
affiliate links
in this post, and if you click any of those links, we will earn a small commission.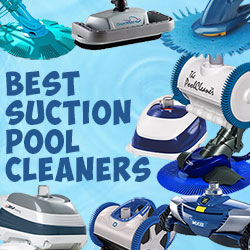 Are you looking for the best suction pool cleaner? Are you sick of scooping the debris out of your pool with a wobbly and ineffective cleaning wand and done overpaying pool cleaners? If so, then now is the time for you to start thinking about getting yourself an automatic pool cleaner.

While there are all sorts of unique pool cleaning apparatuses on the market, we've done our best to find the best suction pool cleaners. These nifty bottom-cleaners suck the ick out of your pool using the latent energy from your preinstalled pump and filtration system.

If all this seems too good to be true, read along to discover our top nine suction-side pool cleaners.


Then, check out our buying guide to find out how these meticulous debris-removers get the job done.
Best Suction Pool Cleaners – Comparison Table
Model

Cleaner Type

Priority

Pool Surface

Pool Size

Check
Price

Hayward W3925ADC

Automatic Suction Vacuum

Floor, walls, and coves

Gunite

Up to 20' x 40' pools

Check Price

Hayward PHS41CST

V-Flex technology

Floors and walls

Concrete, Gunite, Vinyl, Fiberglass, Tile, Pebble

Up to 20' x 40' or pools with deep ends

Check Price

Zodiac Baracuda G3 W03000

Advanced Suction Automatic Cleaner

Floors, walls and steps

Tile, Vinyl, Gunite, and Fiberglass

Any pools

Check Price

Hayward 2025ADV PoolVac XL

Exclusive AquaPilot

Pool floor, walls, coves

Vinyl

Up to 20' x 40'

Check Price

XtremepowerUS Automatic Pool Cleaner

Automatic Suction Vacuum

Floors and walls

Concrete, Vinyl, Tile, and Fiberglass

Up to 30'

Check Price

Pentair 360042 Kreepy Krauly

Dive float directional system

From water line to pool bottom

Tile, Vinyl, Gunite, and Fiberglass

Any pools

Check Price

Hayward Poolvergnuegen 896584000-013

Automatic Turbine Suction Cleaner

Floor, Walls, Coves

Gunite, Vinyl, Fiberglass, pebble and Tile

Up to 16' x 32'

Check Price

Pentair GW9500 Kreepy Krauly

SmartTrac Programmed Steering

Floors and walls

Gunite, fiberglass, vinyl, and other

48 ft

Check Price

Zodiac MX8 Suction-Side Cleaner

Double Cyclonic Suction

Floors and walls

Concrete, Tile, Vinyl and Fiberglass

Any pools

Check Price
Detailed Product Reviews
The first model of the comparison works directly with your pool filtration system, requiring no additional purchases for installation. The unit is designed for inground pools up to 20 ft x 40 ft.
Hayward Navigator Pro is one of the smartest products on our list as it uses patented SmartDrive navigation technology. The cleaner activates a moving algorithm with a series of predetermined turns that help it systematically process the pool floor, walls, and coves.
Users also like its unique vacuum wings' and skirt for better debris collection, a quite long 40 ft hose, and energy efficiency. Let me also mention an easy installation without extra tools in less than 10 minutes.
Surely, we cannot do without drawbacks too. Despite the smart navigation, the pool cleaner often gets stuck, which is a headache for many owners. Besides, the unit costs pretty much, but the body material quality doesn't justify such a price.
Pros
Thorough cleaning with special wings and skirt
Smart navigation for more precise vacuuming
Doesn't require extra filters, pumps, etc.
Energy-saving
Easy to install
Cons
Gets stuck
Flimsy case with cheap plastic parts
Pricy
The Hayward PHS41CST AquaNaut Suction Pool Vacuum is a powerful cleaning apparatus that connects directly to your pool's filtration system.
It consists of a small oblong housing that sits on top of four gear-like wheels.
Inside, the suction cleaner houses a four-chamber valve that filters out dirt and debris of all sizes. These chambers make up the insides of Hayward's proprietary V-Flex Technology, a system designed to improve filtration efficiency regardless of a pool pump's power.
With a Mars Rover-like exterior, it comes as no surprise that the AquaNaut can navigate over raised patches and slopes without staggering along the way.
One of the biggest complaints about suction cleaners is their inability to navigate changing landscapes. But the AquaNaut can climb steep inclines and mosy over sunken toys without losing its momentum.
Not only that, but this incredible device maintains a constant suction during the time it is hooked up to your pool.
However, while the AquaNaut is a strong performer, its steep price makes it an unattainable investment for some pool owners. On top of that, some customers have reported that the cleaner lacks traction on smooth-surfaced pools.
Pros
Three interchangeable throats
Optimal suction at varying pump speeds
Constant cleaning
Scales steep inclines and maneuvers over raised patches
Adjustable navigation system
Cons
Struggles to grip some surfaces
Zodiac Baracuda G3 W03000 – Best Suction Pool Cleaner for Variable Speed Pump
The Zodiac Baracuda Pool Cleaner is yet another meticulous pool cleaner.
Its powerful cleaning head provides super strong suction without any audible effects. Meanwhile, its 36-fin deflector disc helps lift up stuck-on debris in pesky hard-to-reach places.
With no wheels or gears to get caught on drain covers or lights, the Zodiac is able to move as smooth as a stingray at the bottom of the ocean. Since its only internal mechanism is a diaphragm, it is super easy to diagnose issues with the device.
We love that the Zodiac Baracuda G3 W03000 has an all-encompassing cleaning head. The starburst-like rubber attachment is suitable for everything from concrete to vinyl surfaces.
With even suction and a far-reaching hose attachment, the Zodiac quietly eradicates dead leaves and insects from all corners and crevices of a pool.
Here are also some users' complaints about the unit. While the Zodiac's soft plastic tubing provides powerful suction, it's also incredibly susceptible to jams.
If you aren't willing to spend time picking stubborn objects out of your cleaning wand's soft diaphragm, you may want to avoid the Zodiac as well as other products with similar designs.
With that said, the Zodiac's proprietary FlowKeeper Valve provides even and unrelenting coverage at all times. Not to mention, its durable scuff-resistant hose provides all-over cleaning coverage.
Pros
36-fin soft disc head
Handle on cleaning head
Suitable for most pool surfaces
Attaches directly to your filter pump
Proprietary FlowKeeper Valve
Quiet
Are you on the lookout for a high-quality suction cleaner that can handle a pool that's as long as 40 feet?
The Hayward 2025ADV PoolVac XL pool vacuum is a futuristic-looking device that glides along the bottom and sides of a pool.
The Hayward pool cleaner is super easy to install and even easier to use.
In fact, it connects directly to your pool's skimmer or suction port for instant turbine-driven suction.
While its lengthy hose trails behind it as it cleans, its built-in navigation system, AquaPilot, prevents it from becoming tangled or worn.
As a result, the PoolVac quickly and efficiently removes debris from your pool before sending it off to its filter trap.
We love how effortlessly the Hayward PoolVac moves across the surface of a swimming pool. This robotic-looking device can make its way from the shallow end to the deep end and back again in just a few minutes. All the while, its intelligent navigation system tracks its smart hose as its trails behind.
One downside of the Hayward PoolVac is that you cannot coil it up for storage. Unfortunately, the smart hoses don't respond well to superficial kinks. If you find your PoolVac idling in one corner of your swimming pool, s misshapen hoses may be the source of the issue.
Pros
AquaPilot automatic steering system
Wings for pulling debris from corners
Preprogrammed steering system
Compatible with pools as big as 40 by 20 feet
Integrated turbine technology
Installs in less than 10 minutes
Even coverage
Leaves nothing behind
If your decision to purchase a pool cleaner is part of an effort to avoid doing actual hands-on maintenance, then the XtremepowerUS Automatic Pool Cleaner Vacuum may be for you.
This handy blue cleaning apparatus connects directly to your pool's filter pump to provide thorough ground-to-wall cleaning coverage where you need it most.
The underwater vacuum is compatible with swimming pool pumps with 1 hp (horsepower) of power or more.
It's hard to find a pool cleaner for less than $100, let alone one that works effectively. The XtremepowerUS is one of such rarities. Yet, it manages to out-suck pool vacuums that sell for more than two-times its list price.
On top of that, it's worth noting that very few competitors offer a 1-year parts warranty such as the XtremepowerUS's.
Still, please mind the cons. While the XtremepowerUS works great, it often idles when the pool filter it is hooked up to isn't clean. It may frustrate some pool owners to have to constantly clean out their filters, but we're willing to look past this minor inconvenience.
The best part is that you do not need tools or extra electricity to get it up and running. With a wide range of customizable cleaning patterns, the XtremepowerUS is able to turn a debris-laden pool into a crystalline looking glass.
Pros
Connects directly to the pool filter
Yellow seal clips for hose attachments
Enables dispursement of filtered water
Cleans walls and floors well
Crimped cleaning head for cleaning corners and hart-to-reach places
Cons
Requires a clean pool filter
Must be fully submerged to remove air bubbles
The Pentair 360042 Kreepy Krauly inground pool cleaner connects directly to your pool system's skimmer or pump.
Its built-in dive float directional system enables it to glide from the surface to the floor without any hiccups along the way.
Meanwhile, an automatic valve helps regulate water to provide an unrelenting flow of air.
What's more, the Kreepy Krauly's crimped cleaning heat and wings help to remove dirt from stubborn spaces and channel it directly into your pool's filtration system.
We love that the Pentair 360042 Kreepy Krauly has just one moving part. As such, it is easy to identify and resolve issues such as clogs and part failures.
Of course, there's no real reason to worry about these issues.
After all, the Kreepy Krauly boasts a powerful ongoing suction that is capable of removing every last bit of dirt and debris from your pool.
Unfortunately, not all pool owners are prepared to foot the bill for this pricey of a pool cleaner. Nevertheless, those who do are likely to get several years of use out of this powerful cleaner.
Pros
Dive float navigation system
Automatic valve for optimal suction
Roller strap for maneuvering around ladders
No noise
Long lasting
Several feet of hose included
Popular product
Cons
Pricey
Does not pick up particularly heavy debris
Yet another favorite of inground pool owners, the Hayward Poolvergnuegen 896584000-013 Pool Cleaner is a powerful suction device that automatically removes debris from the crevices of your swimming pool.
The device is built on top of two gear-like wheels that are engineered to climb across your pool bottom.
On top of that, it is connected to 32 feet of durable scuff-free hoses. Inside, it features self-adjusting turbine vanes that allow debris to pass through without inhibiting water movement.
Also, the Hayward Poolvergnuegen 896584000-013 has a built-in automatic steering system that enables full pool coverage without so much as a single tangle or dead end.
Where do we start? There are so many things to love about the Hayward Poolvergnuegen. While this pool cleaner may lack a sophisticated aesthetic design, many pool owners say that their Poolvergnugen has lasted for years without getting stuck or leaving residue behind.
In fact, the general consensus is that the Poolvergnuegen is one of least fickle and top performing suction-side cleaners on the market.
However, we admit that this powerful cleaner doesn't come at a bargain. Of course, that number will probably translate to heaping saving after just one pool season.
After all, you'll be able to skip out on future cleaning-related repairs, professional cleaning services, and expensive replacements parts.
Since the Poolvergnuegen is designed to climb steep surfaces, it's a match made in heaven for the deepest ends.
Pros
Grippy double-wheeled foundation
Climbs out of the deep end with ease
Roller skirt and wings for cleaning tight corners
Pre-programmed internal steering system
Comes with 32 feet of hose
Cons
Pricey
May need tire replacements after several years
As we work our way down to the bottom of our list, we are happy to share the renowned Pentair GW9500 Kreepy Krauly Great White Inground Pool Cleaner with you.
This sleek-looking suction-side pool cleaner works well on nearly every type of pool covering, including vinyl, fiberglass, and cement.
Not to mention, its SmartTrac pre-programmed steering system enables it to move from one end of the pool to the other without getting tangled up in any obstacles.
On top of that, the cleaner can turn itself to navigate out of tight corners and other sticky situations.
Its ample 15-inch coverage helps eliminate debris in the shortest time possible. Meanwhile, its bristle brush head helps loosen seriously stuck-on dirt.
The Pentair GW9500 Kreepy Krauly Great White Inground Pool Cleaner is a good excuse to cancel your pool cleaning contract, but it is not without its own problems. On the positive side, this cleaner has a reliable navigation system that gets it from point A to Point B without tangling the hose behind it.
Unfortunately, the Pentair GW9500 Kreepy Krauly Great White Inground Pool Cleaner is susceptible to frequent clogs. A few wet leaves or dense debris patches are all it takes to put this suction-side pool cleaner out of commission.
Since most people pay big bucks to cut themselves out of the cleaning equation, you can see why this cleaner's constant need for attention has us rather irked.
Pros
Connects directly to skimmer
Adjustable cleaning head
Cleans a wide variety of surfaces
Built–in turning mechanism
Smart-Trac pre-programmed steering system
Last but certainly not least, the Zodiac MX8 Suction-Side Cleaner is the most expensive debris remover on our list.
Aesthetics aside, the MX8 boasts some of the most dynamic and low-maintenance debris-removal technologies on the market.
For one, its Cyclonic Vacuum technology manages to cash in on the underutilized power of a pool's skimmer.
In doing so, the MX8 creates enough torque to whip up a large clump of soggy debris without clogging up a pool's filtration system.
Meanwhile, X-Trax tires enable the device to move up and down your pool's slopes, wells, and corners.
Keep in mind that the Zodiac's vacuum line is a whopping 2 1/2 inches thick. As such, it offers ample space for large debris to travel through without getting stuck.
The Zodiac MX8 is an energy efficient pool cleaner. As such, you can hook it up to a low-powered filter and still score a sparkly clean swimming pool as a result.
On top of that, the Zodiac is easy to install. All you have to do is twist it in and let it be to score a perfectly.
On the downside, the Zodiac MX8 costs a lot! Of course, that's for a device that offers years of maintenance-free service.
Pros
Adjustable intake for different types of debris
Max-Drive navigation system
Climbs up walls well
Wide cleaning path
Energy efficient
Easy to install
As you can see, some of our top models share a very similar appearance, construction, area of application, and even price range. Thus, the choice becomes even more challenging for customers. That's why we decided to conduct a couple of face-to-face comparisons between the most similar pool cleaners to help you highlight the main features.
Kreepy Krauly vs Zodiac Barracuda
While comparing Barracuda vs Kreepy Krauly, we see the same membranes, strong suction, compatibility with all pool surface types and small to medium-sized debris. In a word, the models are rather similar than different. Still, what are the crucial differences?
Firstly, Barracuda works with low-speed and 2-speed pumps. Kreepy Krauly has no special recommendations.
Secondly, Barracuda also boasts a special Wheel Deflector system to deal with tight corners and avoid getting stuck. However, there are no navigation technologies here. Its rival is a bit smarter in terms of navigation. Here, we see a Dive float directional system that guides cleaner.
The whole product is efficient yet simple in maintenance, thanks to the patented Quick-Release Cassette. Kreepy lacks additional technologies that would improve maintenance. However, it uses a more complex membrane with wings and channels that contribute to suction and direct debris during cleaning. The Zodiac product has a flat 36-fin deflector disc membrane that features no extra patterns.
Finally, Kreepy Krauly climbs absolutely all surfaces, including the waterline. Zodiac Barracuda deals with the bottom, walls, and steps only.
verdict
Kreepy Krauly is smarter and better in terms of comprehensive pool cleaning. So, if you need perfectly spotless surfaces, this is your choice. However, Barracuda offers easier maintenance, while performance stays almost on the same level as the opponent.
Zodiac MX8 vs Hayward Navigator
And our second battle is Zodiac vs Hayward comparison. Being designed for the same pool types and cleaning purposes, they attract similar categories of customers. So, here are the differences to pay attention to.

The zodiac model uses special X-Trax tires complemented with a suction port. Thus, we get debris collection and excellent climbing abilities. The MX series pool cleaners process even waterline. But while even large debris comes into the filtration system, the device cannot deal with sediment and other pollution that requires scrubbing.
Hayward Navigator has no tires or wheels. It comes with a suction port and special wings and scrubbing units. Thus, it eliminates both debris and sediments. However, please mind it cannot clean the waterline.
The MX8 covers 15 inches of the surface at once thanks to a wide cleaning path and Dual Cyclonic Vacuum technology. The Navigator deals with a shorter piece of surface.
Luckily, both devices are equipped with navigation technologies. The first model has a Max-Drive navigation system, and the second uses patented SmartDrive navigation technology. Each works with preset moving algorithms, but the difference is worth mentioning.
Finally, we get a 39 ft and a 40 ft hose in each case, which is almost the same.
verdict
Zodiac MX8 cleans more areas and does it faster. If you're not limited in a budget and need a faster operation, pick up this model. However, Hayward Navigator costs less. It does work longer and miss the waterline, but its scrubbing actions provide a more thorough cleaning. This is the choice for those looking for perfectly clean surfaces without the hustle and bustle.
What is a Suction Cleaner?
Suction cleaners attach to the suction side of a pool skimmer or water pump to create a powerful pull that can be used to remove debris from the inside of a pool.
Suction cleaners consist of a self-propelled cleaning head attached to a lengthy hose.
Suction cleaners vary in size and design, though all serve as a means for removing debris from swimming pools.
How Does a Suction Pool Cleaner Work?
Suction pool cleaners utilize the on-going force of the suction-side of a water pump in order to pull debris from swimming pools.
Most suction cleaners consist of a lengthy hose system that is twisted onto the suction-side of the filter and then attached to a small cleaning head. The cleaning heads consist of a smart navigation system as well as an internal valve or rotating gear that helps it to pick up debris and send them into a pool's built-in filtration system.
Since suction pool cleaners run off of a pool pump's energy, they can be installed and then left to work their magic over an extended period of time. These powerful cleaning devices work like an unmanned underwater vacuum.
Since they pass debris directly to your pool's filtration system, they make cleaning as easy and frustration-free as possible. Many can even climb up walls and navigate into tight corners to pull out difficult-to-reach particles.
Types of Pool Cleaners
In addition to suction-side cleaners, there are a few alternative automatic pool cleaners on the market.
Pressure
Pressure-side automatic pool cleaners lock into the pressurized side of your pool filter. The pressure from the filter is used to drive the cleaning device down to the bottom of the pool.
The big difference between pressure-side and suction-side cleaners is that pressure-side cleaners feature an integrated filtration system. As such, they do not send any debris back into your pool's filter system.
What's more, they often demand the addition of an extra pump to power their way across a pool. While the additional power enables them to clean faster and more efficiently, it can lead to a pricey electricity bill.
Robotic
Robotic pool cleaners boast independent filtration systems built into free-moving devices.
These smart devices connect directly to a deckside source of electricity to power their way across your pool bottom.
While
robotic pool cleaners
tend to be extremely efficient and fast, they are not the type of cleaning device you can set and forget. Not to mention, they are a bit pricey and have the potential to boost your monthly electricity bill.
Suction
As you already know, suction cleaners connect directly to the suction side of your pool filter. They typically don't require an additional source of energy.
Nevertheless, they do send all the debris they capture back through your pool's preexisting filtration system.
Things to Consider Before Buying a Suction Pool Cleaner
While we cannot say enough positive things about suction pool cleaners, there are few things you'll want to consider before purchasing one of your own.
Size of Pool
Suction-side pool cleaners typically come with a set of connectable hoses. Consider how far the hoses reach to ensure that they will be able to travel the entire length and width of your pool. Keep an eye out for hoses that come in segmented pieces, as these are easier to tailor to your specific pool.
On top of that, it's important to consider the depth of your pool when purchasing a suction-side pool cleaner.
Read products reviews to see how well a suction cleaner climbs out of the deep end or up to a wall. The last thing you want is a pool cleaner that needs constant freeing up.
Types of Debris
Think about what types of debris accumulate in your pool.
Many budget-rate suction pool cleaners struggle with large debris like leaves and rocks.
Think about the size of the moving parts inside a pool filter and ask yourself if they are equipped to handle the type of debris that accumulates in your pool.
If not, you may want to upgrade to a more powerful model with a wider hose.
Pump and Filtration System
Since suction pool cleaners run off of your preexisting pool filter and pump, the amount of power these elements produce is often directly responsible for a suction cleaner's filtration rate.
If your filter system is slow or inefficient, it is a good idea to focus on finding a suction filter that maximizes water pressure for ultimate efficiency.
Frequently Asked Questions
1. How do suction pool cleaners work?
Suction pool cleaners work with the help of a pool pump, being attached to it by a hose. They use its force to get suction power, move aroung the pool, and collect the dirt into the pool filtartion system.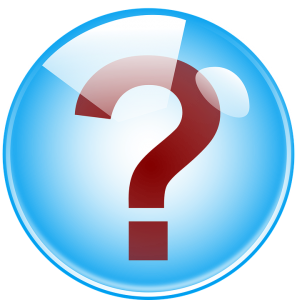 2. Does a suction pool cleaner need a booster pump?
Suction pool cleaners directly depend on the pool
booster pump
and filter to get suction, that`s why they need a booster pump.
3. Do suction pool cleaners clean walls and waterline?
Suction pool cleaners greatly perform floor and walls cleaning. Some of them are powerful enough to climb waterline, steps, and coves.
4. What is the best suction pool cleaner?
The choice of the best cleaner depends on your needs and requirements. That`s why we cannot name the best model, but can list several top suction pool cleaners, which perform comprehensive operation without getting stuck and costing a fortune. They are Zodiac Baracuda G3 W03000, Hayward 2025ADV PoolVac XL, Pentair 360042 Kreepy Krauly,
Zodiac MX8 Suction-Side Cleaner
, and some others.
Final Thoughts
Suction pool cleaners are an affordable and efficient cleaning method for most inground and aboveground pools.
After careful consideration, the Hayward PHS41CST AquaNaut Suction Pool Vacuum is our favorite suction-side cleaner. Not only is super easy to set up but it's also a meticulous cleaner that left our pool looking sparkly clean.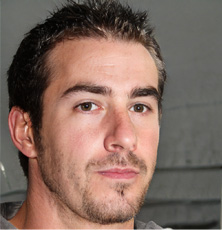 Hi! I'm Markus Robertson, and water is my passion.
Five years ago, I graduated from the University of California-Los Angeles and was going to become a professional marine biologist. However, my fate had other plans for me, and due to family problems, I had to find a more stable and well-paid job. I had only one wish for my job to be connected with water.
During this period of my life, I worked as a sales manager at Olympic Pool & Spa Supplies. The job helped me learn everything about swimming pools and related pool equipment, as well as how to choose the best option and what to pay attention to.
Having worked there for three years, I decided to start my own blog about pools, where I can tell people about the best new pool equipment models and share my knowledge and experience.
A marine biologist by education, I became a pool blogger by trade. Now I'm glad I can help the guests of my store and the visitors of my blog know a lot of exciting things about pools, their types, best pumps and filters, necessary equipment maintenance, and so on.
I welcome all people who want to choose a proper basin and the stuff to my blog! Hope you'll find this information interesting and useful!