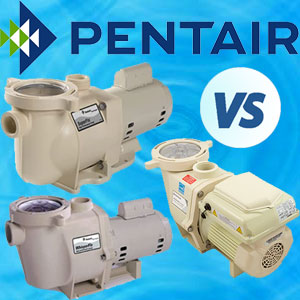 Pentair is one of the oldest, most reputable, and reliable brands that produce pool equipment. When it comes to pool pumps, at the moment, it focuses on two lineups – SuperFlo and WhisperFlo.
As we can guess from the name, the SuperFlo provides greater power, while the WhisperFlo series is aimed at quieter performance. But are there more significant differences between Pentair SuperFlo vs WhisperFlo?
To answer this question, we're going to compare six pump models from two series. Competitors cover all speed types from single speed to variable speed models and a «golden mean» option of dual speed pumps. We selected the best-selling devices with high ratings and various price levels. So, stay with us to find your perfect pool pump!
Main Differences Between the Models
Below, we'll conduct the detailed Pentair pool pumps comparison. However, we also highly appreciate our readers' time. So, if you cannot read the whole article, let us briefly list the main differences between the SuperFlo and WhisperFlo pumps in this section:

Pentair SuperFlo 342001 and Pentair WhisperFlo 011533 provide three different RPM speeds to adjust to current needs. Pentair WhisperFlo 011522 has two such options. All other pumps are single speed pumps.
All variable speed pumps and all WhisperFlo pumps are equipped with an improved TEFC motor, which is more resistant to overloading and overheating and requires less energy. Only the Pentair SuperFlo 340038 device comes with simpler heavy-duty motors.
Consequently, all Pentair pool pumps differ in horsepower rate. You can see the difference in our comparison table.
Pentair SuperFlo 342001 and Pentair WhisperFlo 011533 are the only models here that offer smart control and customization through a built-in digital screen.
Also, these models feature a 24-hour timer. Other Pentair pumps have none.
The WhisperFlo series pumps are distinguished by super-silent operation. In addition, they reduce the noise level thanks to a special FunnelFlo diffuser.
In the description of some products, the manufacturer mentions NSF and Energy Star certifications.
Comparison Table
Dimensions
27.9 x 16.2 x 12.7 inches
27.5 x 12.5 x 14.8 inches
29.8 x 12.6 x 14.5 inches
Speeds
variable speed pump (3 speeds)
Motor
totally enclosed fan-cooled (TEFC) motor
Totally Enclosed Fan-Cooled (TEFC) Motor
Heavy-duty 56 square flange motor
Totally Enclosed Fan-Cooled (TEFC) Motor
Totally Enclosed Fan-Cooled (TEFC) Motor
Totally Enclosed Fan-Cooled (TEFC) Motor
Built-In Filter
oversized strainer basket with a see-through lid
Strainer basket with easy-trough lid
Oversized strainer basket with see- through
Strainer basket with a see-through pot lid
Oversized strainer basket with easy-remove polymer lid
Oversized strainer basket with easy-remove polymer lid
Digital Screen and Timer
Optional touch screen, no timer
No touch screen, no timer
Digital display, 24-hour clock
No touch screen, no timer
No touch screen, no timer
RPM
adjustable from 300 to 3450 (1200-1400, 2200, 3450 are the most popular options)
Last update on 2023-09-25 / Affiliate links / Images from Amazon Product Advertising API
Pentair SuperFlo 342001 is the best option for customers free of strict budgets and everybody who needs great electricity saving.
First of all, the model works in all inground pools but is especially suitable for large constructions. However, your electricity bills will stay low (or even drop) thanks to a powerful (1.5 HP), totally enclosed fan-cooled (TEFC) motor with three speeds.
A convenient digital screen allows you to set speeds and timers manually or let the pump choose the most appropriate one automatically, depending on current needs.
Thus, the SuperFlo 342001 can reduce electricity consumption by up to 80%. Also, we love its automatic current power recognition, so it can work with both popular V types.
The only drawbacks of the model are its heavy body and very high price. Let us also note that some owners of pools over 50-60 ft complain about insufficient pump power.
All in all, Pentair SuperFlo 342001 is worth its price and will certainly redeem in a couple of years. Smart and convenient control combined with durability and power does cost money. But we'd recommend it only for inground pool owners.
Pros
suits inground pools of all sizes
great 1.5 HP TEFC motor
three programmable speeds
requires 80% less electricity compared to standard single speed pumps
easy control with a digital screen
manual or automatic speed adjustment
24-hour timer included
standard piping
automatically adapts to your V power
easy installation
quiet operation
Cons
expensive
is not suitable for above ground pools
heavy
The SuperFlo 348190 offers a 1.1 HP performance that perfectly suits inground pools. But, this time, we cannot count on any energy economy; that's why if you'd like to save electricity during further usage, it's better to set this model in smaller pools of all shapes.
It has a modern heavy-duty proprietary totally enclosed fan-cooled motor with a high service factor for long life. This motor also ensures extremely quiet operation.
The pump has only one standard speed, no timer or touch screen, but you can purchase a touch screen optionally. Though all control is manual here, it's quite simple. The unit has self-priming for quick, easy start-up. Besides, this SuperFlo also adapts to your current power.
In fact, this pump has a balanced flow for better efficiency but lacks customization. Otherwise, the enhanced construction lasts as long as improved variable speed pumps and is almost twice more affordable in operation costs.
We'd recommend Pentair SuperFlo 348190 to small and medium inground pool owners who are satisfied with their current electricity consumption. Also, this is a decent alternative for customers on a budget.
Pros
excellent for small and medium inground pools
comes with a 1.1 HP heavy-duty TEFC motor
highly engineered hydraulics for quieter and longer operation
easy self-priming for quick start-up
standard piping
automatically adapts to your V power
easy installation
UL/cUL listed and NSF certified
more affordable option
Cons
is not suitable for above ground pools
no energy saving because of one speed
no timer
Pentair 340038 is the final representative of the SuperFlo family in this review. This model also has only one speed and 1 HP. Its capacity is enough for a small swimming pool to filter 90 gallons per minute; you need 1.5 HP or 2 HP for large pools. But this pump uses less energy for a small pool than others on the market.
So, if the capacity of this pump meets your filtration and cleaning needs, Pentair 340038 is the most energy-efficient pump out of the three reviewed Superflo models. Unfortunately, this model is not produced anymore, so it is now sold from stock.
The pump has thick body walls and an improved internal flow design to reduce hydraulic noise and work extremely quietly. All other parameters, such as a strainer basket, a 56 square flange motor, port sizes, and a quick start, are the same as for other SuperFlo pumps.
About 10% of negative reviews are dedicated to issues with noise; this pump is not as silent as promised. So, this is almost the only drawback you may face after purchasing and asking for a replacement. And for us, this model is overpriced, so it's better to wait for discounts.
Pros
works with all inground pools
energy efficient for small pools
comes with a 1 HP heavy-duty 56 square flange motor
hydraulics technology
standard piping
Energy Star certified
easy installation
quiet operation
Cons
overpriced (at the moment of the article posting)
only one speed
is not suitable for above ground pools
no timer and screen for manual control
This is another top-quality pump – the updated model from Pentair. WhisperFlo pumps are designed for high-efficiency power consumption with optimized hydraulic performance. The variable speed motor of WhisperFlo 011533 allows to save up to 90% of energy costs.
The pump has a thick wall body for a high-efficiency permanent magnet motor with 56 square flange and fan cooling. The pump can operate with three speeds from 450 to 3450 RPM. At the lowest speed the energy consumption is minimized. The enclosed body protects from UV and rain.
It has an easy interface with a digital display and a drive keypad. You can set a customized daily schedule, start a quick clean, choose a speed or start and stop the pump from the keypad.
The extra-large strainer basket holds all pool debris extending the time between cleanings. Additionally, the polymer glass lid with a quarter-turn lock establishes easy pump inspection and maintenance. The basket should be inspected at least once a week.
The 011533 WhisperFlo pump is a perfect choice for its price and energy efficiency if you have an inground pool. It can be integrated into all cleaning pool and spa systems. This pump has a digital output RS-485 for external control of the most Pentair Automation Systems.
However, the users complain of poor water protection, the pump does not have a freeze protection as well. Also, the plug and an electrical cord is not included in the package.
Pros
Three speed
2" suction and discharge ports
Compatible with all cleaning systems
Energy costs savings of up to 90%
Polymer lid so simple inspection and maintenance
Oversized strainer basket
Digital output RS-485 for external control
Customized timer
Programmable quick lean mode
Quick and easy start with a proper level of water inside
Cons
Heavy
Not suitable for above ground pools
a plug and an electrical cord are not included
no freeze protection
Another pump from Pentair WhisperFlo family 011512 is a dual-speed pump with 1.5 HP. It has an innovative design of a thermoplastic housing motor that allows working quietly to resist corrosion and high temperature. With the high-efficiency impeller FunnelFlo, the flow is maximum from the previous models, and the performance is the most energy efficient. This model is available as a single-speed and two-speed pump; we check the two-speed one.
Like all WhisperFlo and SuperFlo, this pump is designed for inground pools. Its sealed beating and stainless shaft do not require lubrication. WhisperFlo 011522 can work in a pool of any size and with any combination of spas, jets, cleaning cycles, and filters. This pump is designed to work in residential or commercial pools for extended services-free life.
The pump requires only regular cleaning of the oversized strainer basket. The necessity of cleaning can be observed from a strong polymer lid that can be easily removed as locked with a quarter-turn. For a quick start-up, automatic priming is executed. The pump is equipped with heavy-duty threads for dependable free connections with pipes.
The only complaint from users was improper delivery that caused damage, but another model quickly replaced the pump by Seller.
Pros
can be used both for inground pools of all sizes
energy efficient at low speed
transparent lid for oversized strainer
easy maintenance and operation
available as a single speed or two speed pumps
unique impeller for maximum flow
compatible with all cleaning systems, jets and spas
super quiet operation
Cons
pricy
heavy
no timer
no digital screen and a touchpad
In a word, Pentair WhisperFlo 011513 is a twin of the 011512 pump (which is evident even from the name). The model features all characteristics we love so much about the WhisperFlo units. They are an innovative FunnelFlo diffuser, silent operation, a heavy-duty motor, simplicity, and efficiency.
It needs less horsepower than many other devices, which results in energy cost reduction. But we still get the same high power. Thus, being a single-speed pump, it can guarantee us a certain economy. In addition, it has a 2" port size to connect with suction and discharge pipes. The service factor of this model is 1.65.
Like all WhisperFlo and SuperFlo, this pump is designed for inground pools. However, it works perfectly for simple pools without waterfalls, spas, and jets; for the small pool size, the working time is about 6 hours. Whisperflo 011513 is also equipped with a self-priming function for easy installation.
We consider Pentair WhisperFlo 011513 as a universal model for all small and average pools. Here, you'll pay more than for a standard single-speed device, but extra bucks are invested in electricity saving. The only complaint we have – is pump damage during transportation. So please examine the pump thoroughly during unpacking.
Pros
can be used both for inground pools
improves water flow and silent operation thanks to the FunnelFlo diffuser
has a heavy-duty 56 square flange motor
easy self-priming for quick start-up
standard piping
automatically adapts to your V power
easy installation
service factor 1.65
Face to Face Comparison
Design and Dimensions
A powerful pool pump cannot be tiny. However, it can feature reasonable dimensions and weight for your ease of installation. Below, we put the list of all models- dimensions for your comparison:
Pentair 348190 SuperFlo Single speed pump
27.9 x 16.2 x 12.7 inches
39 pounds
Pentair 011522 WhisperFlo Dual speed pump
27.5 x 12x 15 inches
47 pounds
As you see, the SuperFlo and WhisperFlo pumps don't differ very much in size. But we can note the variability in weight. So, we'd like to highlight Pentair SuperFlo 340038 and WhisperFlo 011513 as the lightest and smallest options.
Predictably, the manufacturer uses the same materials and design for all its products. Each device is made of resistant plastic with stainless metallic elements. The main color is almond.
important
All our Pentairs support only horizontal orientation. There are also two hose ports, and some models have additional parts like digital screens.
Motor
Only one pump uses a heavy-duty, high-performance, 56 square flange motor. The Superflo 340038 is the exception. This is the most widespread and standard option for middle-class pumps. Due to improved hydraulics, motors don't require additional lubrication and increase water flow. The motor is aimed at longer service life.
The rest of Pentair's pool pump competitors boast a more innovative motor. This variable speed pump comes with the so-called totally enclosed fan-cooled motor or TEFC motor. Unlike the previous engine, this one doesn't allow outside air to get inside. Instead, it has a built-in fan that blows and cools the motor.
Firstly, this technology ensures more efficient cooling and thus increases motor life.
Secondly, the closed construction also protects your pump against dirt, water, and unfavorable weather conditions.
Apart from that, motors mainly differ in horsepower rate. As you can see in our Pentair SuperFlo vs WhisperFlo comparison table, we have a wide range of choices: from modest 1 HP in Pentair 340038 SuperFlo and 1 HP in Pentair 011513 WhisperFlo to the middle 1.5 HP in Pentair 011522 WhisperFlo. However, the maximum 2.6 horsepower is produced by the Pentair 011533 WhisperFlo model.
verdict
The Pentair 011522 WhisperFlo and Pentair 342001 SuperFlo are both our winners here. Despite the reputation of simple motors, the TEFC option does last longer. And when it comes to horsepower, even the smallest HP is enough for inground pools. The choice here depends on your preferences (especially in terms of electricity saving). But we'd prefer the balanced 1.5 HP models.
Speeds
Not only does Pentair SuperFlo 342001 boast an improved motor, but it also can alter the number of rotations per minute in three ways. This pump is a variable speed model that supports three speeds. You can adjust the flow manually by choosing any RPM rate from 300 to 3450 points. The manufacturer and experienced users recommend setting standard 1400, 2200, and 3450 RPM as the optimal speeds for large pools.
The WhisperFlo 011533 boasts the same three-speed motor. You can manually set the speed from 450 to 3450 RPM using a touchpad. The manufacturer designed this pump to use in pools with several water devices to make it the most efficient in its class. Also, you can integrate this pump into all Pentair control systems.
The WhisperFlo 011522 is similar to the previous device as it also changes speeds. However, we have a dual speed pump that supports 1750 and 3450 RPM speeds here. The main difference is the lack of speed adjustment. The pump is fully independent and adapts rotations automatically without your participation.
All other pumps in your comparison are single speed models. It doesn't mean they're weaker as all ensure the same maximum of 3450 RPM. But since we have only one speed, the pump doesn't allow any customization, which results in a minimal energy economy.
verdict
The verdict is that Pentair SuperFlo 342001 is the best option for large pools, as it has a wide variety of RPM with different speeds, especially if you also use energy-consuming accessories like heaters, pool cleaners, fountains, spas, etc. Pentair SuperFlo 340042 is a more affordable alternative, by the way.
Energy Consumption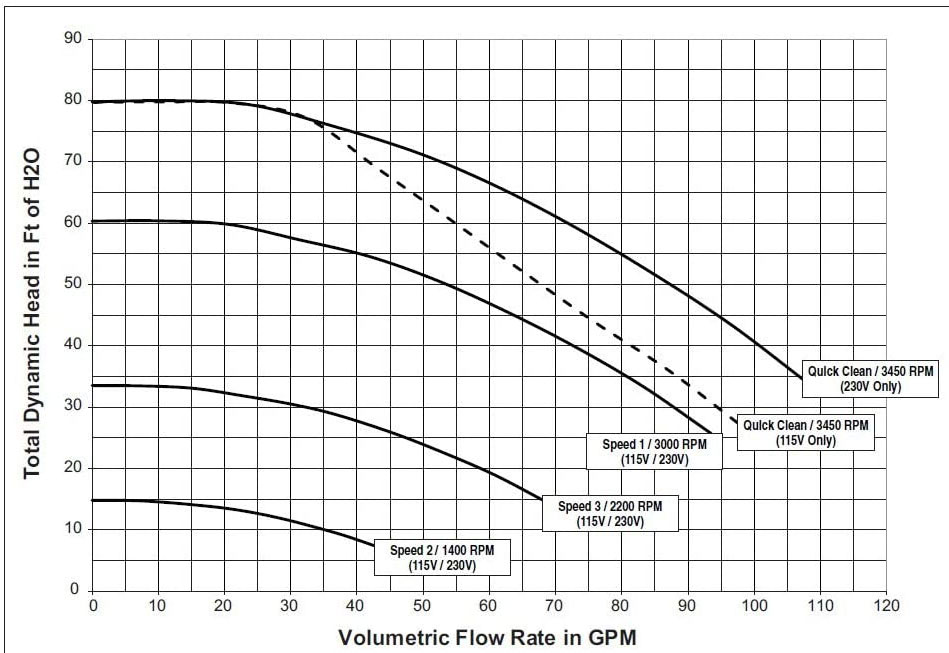 Only several speeds and the opportunity to alter them ensure visible electricity savings. That's the main pro of variable speed pumps.
The more speeds you have, the more outstanding results you can reach. So, Pentair SuperFlo 342001 and WhisperFlo 011533 with three speeds, and the TEFC motors consume 80% less energy compared with standard single speed pumps. Its dual speed brother, Pentair WhisperFlo 011522, can cut your spending by 50%.
The rest SuperFlo and WhisperFlo models cannot adjust to the current water flow and change their consumption. That's why they work steadily but always with one power. For many users, it's not a problem at all, but pumps will cost you the same money each month.
verdict
As in the previous section, the SuperFlo and WhisperFlo variable and dual speed pumps are our favorites. No other models can offer the same economic level, and their usage is more profitable than single speed pool pumps.
Control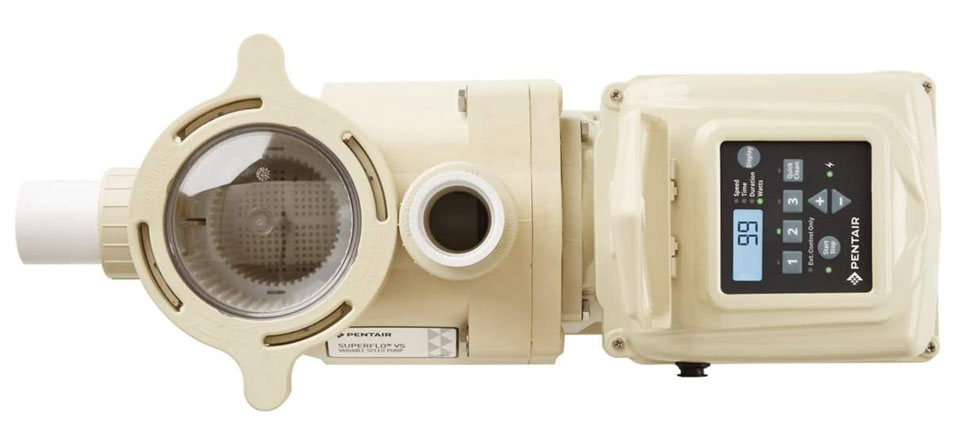 Pentair SuperFlo 342001 and WhisperFlo 011533 Variable Speed
Several speeds and the option of their adjustment inevitably mean the necessity for accurate control tools. That's why Pentair SuperFlo 342001 pump and WhisperFlo 011533 are equipped with a digital screen. The screen displays current speeds/RPM, scales for their change, and your actual energy consumption. Once you set the speed, you can also set a 24-hour timer to make the pump turn off automatically when you need. Also, in case of any errors in the pump, the screen will inform you.
Pentair WhisperFlo 011522 Dual Speed
Pentair WhisperFlo 011522 should also offer something similar for easy control. However, despite the dual speeds, users get no screens for their adjustment. The pump decides itself what speed to activate now. Consequently, there is also no timer.
Pentair SuperFlo and WhisperFlo Single Speed
Finally, all single speed pumps – WhisperFlo 011513 and two other SuperFlos – provide a minimum of control options. You can only start and stop your pump manually. And we don't have timers for automatic stops.
verdict
In variable speed models, digital screens are rather a necessity than a luxury. The owners of single speed models don't need it. But it's a timer where they really lose a lot.
Basket
Luckily, all Pentair pumps come with their own filter baskets to collect large debris. The units are called oversized strainer baskets, which means they were enlarged compared with previous pumps.
Pentair doesn't provide official information on the basket capacity. But we can say it's really huge and will last for many sessions before you need to empty it. Moreover, monitoring is easier thanks to a see-through lid. You don't have to open the bin each time to check its filling.
As we said, baskets mainly deal with large debris to protect the pump motor and inner parts from clogging and breakage. When it comes to fine particles, you'd better get a separate professional pool filter.
Buyer's Guide – How to Choose the Best Pool Pump?
Now, when we get acquainted with Pentair pools pumps, we understand the most important characteristics of these devices. Anyway, in this section, we'd like to briefly repeat the crucial moments to mind to buy a perfect pool pump.
First of all, consider your pool type and size. Pumps for inground and above ground pools differ just as much as pumps for small and large pools.
Also, the HP and number of speeds significantly influence pump performance. Let us also add here a motor, the quality of which is crucial both for pump power and durability. Altogether, these three factors are the basics of any pump and a key to your further energy savings.
Experts recommend paying attention to the GPM rate. The number of gallons per minute will vary depending on your pool size and pump speeds available, but there is also a scale of maximal and minimal points your device can provide. So if you choose a suitable pump, you'll get the necessary circulation. But a wrong device will cause some problems.
Finally, we'd recommend you check the pump materials. Almost all models have plastic cases, but its quality may vary. It's better to choose options resistant to sun rays, moisture, hits, and other impacts.
Frequently Asked Questions
Pentair SuperFlo vs WhisperFlo: what is the best pool pump?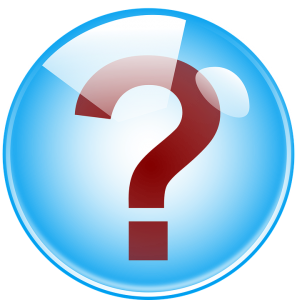 Despite the evident similarity, both series have a couple of crucial differences. The SuperFlo pumps are more powerful yet more energy-efficient. The WhisperFlo models provide close performance but work almost silently. That's why we cannot choose one winner here.
Do Pentair SuperFlo and WhisperFlo pool pumps work with sand and cartridge filters?
How to adjust a speed on Pentair SuperFlo variable speed pool pump?
The SuperFlo variable speed pumps have a digital screen for customization. There are 1, 2, and 3 buttons and + and – arrows in the middle of this screen. All you need is to choose the speed by pressing 1, 2, or 3 and then adjust the RPM by pressing + or -. All changes will be displayed in the upper right corner of the screen in the Speed marker section.
In case of any difficulties, please read the user manual.
How long do Pentair SuperFlo and WhisperFlo pumps last?
The manufacturer provides a 1-year warranty for pool pumps by these series. However, it ensures you'll get a replacement or repair in case you purchase a defective good. On average, Pentair pool pumps last over 5 years and can serve even over 10 years.
Conclusion
That's it! We've reviewed the most popular Pentair pool pumps and now can conclude which model suits your needs.
Pentair SuperFlo 342001 Variable Speed Pool Pump is undoubtedly our comparison's most energy-efficient and smart pump. That's why it has become our first choice.
The second choice is WhisperFlo 011533. This pump is almost the same energy-efficient and has convenient touchpad control functions.
Pentair 011522 WhisperFlo Two Speed Pool Pump is close to the previous models. This is a more affordable but very similar alternative to the variable speed device. So, if you're on a budget but would like to get some energy savings later, try this model. This model is our third choice.
The other single pumps WhispeFlo and SuperFlo, have similar characteristics, including HP 1-1.1, control functions, and a strainer size.
But in any case, please choose the pump based on the size and water equipment type.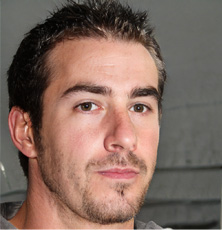 Hi! I'm Markus Robertson, and water is my passion.
Five years ago, I graduated from the University of California-Los Angeles and was going to become a professional marine biologist. However, my fate had other plans for me, and due to family problems, I had to find a more stable and well-paid job. I had only one wish for my job to be connected with water.
During this period of my life, I worked as a sales manager at Olympic Pool & Spa Supplies. The job helped me learn everything about swimming pools and related pool equipment, as well as how to choose the best option and what to pay attention to.
Having worked there for three years, I decided to start my own blog about pools, where I can tell people about the best new pool equipment models and share my knowledge and experience.
A marine biologist by education, I became a pool blogger by trade. Now I'm glad I can help the guests of my store and the visitors of my blog know a lot of exciting things about pools, their types, best pumps and filters, necessary equipment maintenance, and so on.
I welcome all people who want to choose a proper basin and the stuff to my blog! Hope you'll find this information interesting and useful!