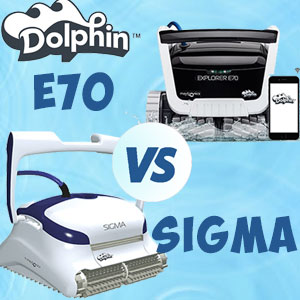 Manual cleaning takes time and may cause skin irritation, whether you clean your floor or a swimming pool. This is how the necessity arises to make robotic cleaners, to make all cleaning remote and automatic.
The first robotic cleaners independent from pump equipment were constructed in 1967. Since then, this type of automatic pool cleaner confidently took place among other equipment for pool maintenance.
Modern robotic pool cleaners can clean floor and walls, and filter water. Electricity, batteries, or solar energy can power them. In this article, we will compare the most advanced robotic cleaners – Dolphin E70 vs. Sigma.
Both cleaners are produced by the Maytronics pool brand, one of the global leaders in the swimming pool industry.

Dolphin E70 vs. Sigma – Comparison Table
Filter type
Large capacity cartridges
Type of filter installation
Brushes
Standard and active brushes
Type of filter installation
Brushes
Standard and active brushes
Filter type
Large capacity cartridges
Type of filter installation
Last update on 2023-09-25 / Affiliate links / Images from Amazon Product Advertising API
Main Difference Between the Models
Dolphin E70 and Sigma robotic cleaners have all the required features to clean the swimming pool. But there are some small options that provide only one of the models. The main differences are listed in this section; more details are provided in the Buyer's Guide section.

Dolphin E70 has a caddy for storage and transportation in the package. For Sigma, you need to buy it separately.
Only Dolphin Sigma has a gyroscope to ensure better orientation in the pool and prolongs the time for cleaning on the waterline.
Dolphin E70 has a filter basket, while Dolphin Sigma has two filter cartridges. This does not impact the functionality, and both filters are extra-large.
Dolphin Explorer E70 has three cleaning cycles (short, default, and long), and Sigma has only one default cycle.
E70 is equipped with one standard and active brush; Sigma has two combined brushes.
E70 has a pick-up mode and fast water release function for easier, cleaner extract. The Sigma model does not provide these options for owners.
The Explorer E70 model is considerably more expensive than the Sigma model.
Detailed Product Review
Please check their detailed reviews to understand all sides of these pool cleaners and estimate their pros and cons.
Dolphin Explorer E70 provides superior pool cleaning with minimum effort from the owner's side. It is designed for 50 ft inground pools of all pool shapes and materials. To start the robot working, you need to connect a power unit with a robot and the electricity. No other installation is required; you need only to put the cleaner into the water and press start on the power unit. Advanced navigation ensures complete coverage of a floor, walls, and water line. In addition, E70 is equipped with a unique water temperature sensor to check the water temperature in Celsius and Fahrenheit and with in/out of water sensor.
The Explorer E70 is equipped with two durable and efficient rubber brushes – one in front and one at the back (both consist of two parts). They scrub away all dirt, algae, and debris. With PowerStream technology, using multi-directional jets, the E70 can stay longer on vertical surfaces. It can turn around 360 degrees to cover angles and tight corners using rubber track wheels if required. Also, it cleans drains.
In the package is included a premium durable caddy. It is lightweight and has two wheels to transport and store the cleaner effortlessly. The caddy has places for the robot and the power unit. You can roll a cable neatly and hang it on the caddy's cable holder. The owner can leave the power unit in the caddy even during the cleaning cycle, but it should stay at least 10 feet from the water. Excess cables should remain on the caddy without kinks and tangles.
The filter system of E70 is presented with a top-access extra-large filter basket. It has multi-level filtration for fine, coarse, and ultra-fine debris. The filter has a full filter indicator, but it is recommended to extract the basket each time after the cleaning cycle and clean it with water from a garden hose. In addition, you need to clean the filter before it dries, as clogged filters are ineffective. Another tip is to start the season with a net filter only, without a fine internal one.
This Dolphin model has a built-in Wi-Fi module. Using a smartphone application, you receive the complete set of possibilities to check the current status of cleaning, set a schedule or go to manual drive mode. There is also a possibility of delaying the start for one, two, or three hours and choosing the cleaning cycle time. The most advanced feature is pick-me-up mode – the robot goes to the pool's edge (to the nearest wall) and waits until you lift it using an ergonomic top handle for cleaning and storage in a dry place.

Pros
Universal Caddy is included in the package
90% more effective than suction and pressure-side pool cleaners
60 ft patented swivel cable preventing tangling
Several cleaning cycles
Delay feature
Connection to electricity is only required for work
Water temperature sensor
Pick me up mode and quick water release
Remote control with a smartphone application
Cons
One of the most expensive Dolphin model
No remote control in the package
Only 60 ft cable, extensions are not allowed
The power supply is water resistant, not waterproof
Pulling by the cable from the water is not allowed
Another representative of Dolphin's advanced robotic cleaners is Dolphin Sigma. It has the same suction rate of 4500 gph as E70 and also can clean walls, a floor, and water. The control function is the same – with a start button on a power unit and through the same myDolphin Plus App. The smart navigation 3.0 with a gyroscope ensures complete coverage using advanced algorithms. The gyroscope provides enhanced mobility in 3 axes for full rotation and best performance. Also, the gyroscope helps the cleaner to be more tight to the pool surface and stay longer on the waterline.
Installed triple high-output DC motors power dual combined split-spinning scrubbing brushes. This model is built based on commercial pool cleaners, so you can be sure that your pool will be completely clean at the end of the cleaning cycle. All rough, fine, and ultra-fine debris are collected into the filter cartridges ensuring dual-level filtration. The cleaner comes with two filters – standard fine cartridges and ultra-fine cartridges.
Unfortunately, this model is not equipped as an E70 with a separate leaf bag (Dolphin Premier Cleaner has it). These filters, as always, require regular cleaning with a hose before they dry out. The filters are located on top; to remove them, you need to open the lid and remove them from both sides of the robot.
The smartphone application has no difference for Dolphin E70 vs. Sigma. The same functions are available for Sigma – scheduling, manual control, and cleaning progress. The manual control feature is helpful in cleaning stubborn areas. As a bonus, you will receive tons of valuable information from the app: the quantity of filtered water, total distance covered, total time for cleaning, energy saved, and much more.
The unique feature of this robot is the handle. It is used to take the robot out of the water and determine the speed of cleaning on a waterline. You need to lock it in a diagonal position for better results. Also, this model can be connected to your smartphone via Bluetooth or Wi-Fi. The LED lights on your power supply unit indicate the status of the connection: a flashing blue light informs that robot is waiting for a Bluetooth connection, and a flashing green light informs that it is waiting for a Wi-Fi or home network connection. If you want to use Bluetooth or Wi-Fi for remote control, you may purchase a remote control. With it, you can start, delay for one hour, or stop cleaning; choose the cleaning mode floor only, ultra clean, or floor, walls, and waterline; set a schedule; and it has the possibility to drive the robot in manual mode. Unfortunately, this model has only one default cycle in 2.5 hours.

Pros
Powerful suction power 4500 gph
Excellent waterline scrubbing
Smart Navigation for complete coverage
Patented swivel 60 ft cable preventing tangling
Remote control with a smartphone application
Fine and ultra-fine kits in the package
Drains cleaning
3 years warranty
Cons
Only 2.5 hours cycle for cleaning
No full filter indicator
Expensive model
No caddy in the package included
No remote control in the package
No easy pickup function
Only 60 ft cable; no extensions are allowed
Buyer's Guide
Robotic pool cleaners operate autonomously, cleaning water and pool surfaces with walls, floors, and some models, even waterlines. Their pumps and motors mainly work only from electricity-powering brushers that effectively brush all pool materials. For more pros and cons of robotic cleaners, see the below table:
Cons
:
Advanced models are expensive
A small length of the electric cable limits the allowed pool size
Long cable easy tangling
Pool cleaners should be chosen based on your pool size and type
The filter should be cleaner after each cycle for better result
As you see, robotic pool cleaners are very helpful in regularly maintaining pools. Let's check in detail the differences between the two review models – Dolphin E70 vs. Sigma.
Design and functionality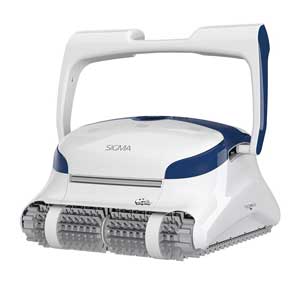 Dolphin Sigma has a white body with blue accents. Its large top handle is used to take out the robot and set a moving speed by different positioning. The
robot has two brushes and two truck wheels
. Sigma is a lightweight model
(35 pounds)
; to remove it from the water, you need to pull it with a blue cable and then use the handle. It effectively cleans walls, waterlines, and floors using only one cycle.
verdict
Dolphin Explorer E70 is more convenient in use, with several cleaning cycles, sensors, and additional functions for removing the cleaner from the water. Nevertheless, Sigma is lighter (the dimensions of the two models are the same) and has a gyroscope ensuring better waterline cleaning.
Filter system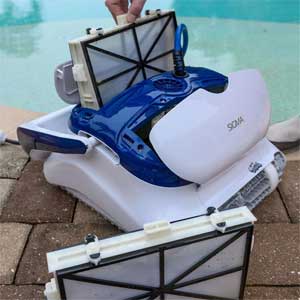 Dolphin Sigma has
two cartridges with net filters and two with ultra-fine net filters
. Two cartridges should be installed on both sides of the handle in the top part of the robot. Next, you need to dismantle filters from the cartridge; you need only a garden hose for cleaning.
verdict
Even though the filter type is different for these two models, there is no difference in the efficiency of Dolphin E70 vs. Sigma filter systems. The availability of two types – fine and ultra-fine net sizes – makes them suitable for all debris. Both filters have top access. So, the construction of filters is different, but there is no winner as both are effective. E70 has the only advantage of a full filter indicator, but you still need to clean all filters after each cycle.
Brushes
Dolphin Sigma has two dual-active combined brushes. Advanced triple high-output DC motors power them. These motors consume 90% less energy than old-fashioned models, and that is why the brushes can rotate at the highest speed and in different directions.
verdict
Dolphin Sigma is the winner, as it is equipped with the three effective DC motors to ensure the highest flow rate and speed of the scrubbing brushes. While E70 has only one active brush.
Surprisingly, the described differences are the only ones. The rest characteristics are the same:

The same power unit with one start/stop button.
The same smartphone application for remote control.
The same swivel cable prevents tangling with the size 60 ft.
Both robots are suitable for all types of in-ground pools with sizes up to 50 feet.
How to choose the Best Pool Robotic Cleaners?
Before buying a robotic pool cleaner, you should research which type is suitable for your swimming pool. We propose to you the summary of eight tips on how to choose the best pool robotic cleaner.
Check your pool type, size, material, and shape
Each cleaner's technical characteristics indicate recommendations for the pool type – above or in the ground. Some pools are designed for both types, but robots designed only for in-ground pools can damage above-ground pools (especially vinyl). If you have an angle (deep and shallow ends of your pool), you must choose a powerful motor model. Otherwise, the robot can't climb, and some parts remain uncleaned. The shape is not essential for the pool; all are designed for kidney, oval, rectangular, etc. If your pool is made from a soft material such as vinyl, you should double-check that the pool's brushes and wheels are safe for this material.
Check the weight of the cleaner
During regular operation, you need to put in and out a robotic cleaner for each cleaning cycle. For that, you should have on the robot a convenient handle and be lightweight. Check if you can easily lift such weight before purchase.
Choose proper length of the cable
If you choose the cleaner powered by electricity, the length of the cable should be an essential parameter to consider. As all manufacturers do not consider do not allow to use of extensions. The cable length should be enough to reach from a socket to the far end of the swimming pool. We recommend you choose models with anti-swivel cables.
Determine the required quantity of brushes
Robotic pool cleaners can be equipped with one or two brushes (in front and back). The type and quantity of brushes determine the quality of cleaning. The rotation speed also determines the quality of the cleaning (higher rpm – scrubs better). The brushes should be compatible again with your pool material.
Determine the required area for cleaning
Not all robots are designed to clean floors, walls, and a waterline. The models that can clean all are the most advanced and expensive. But all these surfaces should be cleaned. So, you have two options: choose the most advanced or choose based on your budget and clean a waterline manually with a telescopic brush.
Check the filter type
Most robotic cleaners have top or bottom-installed filter cartridges or filter baskets. Models with top filters are easy to maintain; you do not need to turn around the cleaner to extract the file. Also, the filter differs for mesh sizes. Depending on the most frequent size of debris, you should choose the filter (or buy additionally the required size). If you have a lot of leaves, you need to buy a cleaner with a basket filter or with an external bag. If you have a lot of sand, you need to buy a fine filter capturing these small particles. All filters are cleaned with a garden hose without any chemicals.
Determine navigation system
Advanced robots like Dolphin have CleverClean or PowerStream navigation systems. Such robots scan your pool surfaces and create the shortest paths. They can even clean tight corners. Without navigation systems, robots randomly go around your pool, can miss some spots, and the cleaning cycle (correspondingly, electric consumption) is significantly higher.
Check the possibility of remote control
For those who like to start cleaning from work or to keep a pool in perfect order from a vacation trip, remote control via smartphone is required. The robot should be able to connect via Bluetooth or Wi-Fi to the Internet. Some cleaners that do not have a connection can be scheduled to run automatically every day/every second, or every third day. Even with automatic start, you need to clean a filter after every cycle and keep the cleaner inside the pool.
If you follow all of our tips, you will choose the best pool robotic cleaner suitable for your swimming pool.
Frequently Asked Questions
Are there any water requirements for robotic pool cleaners?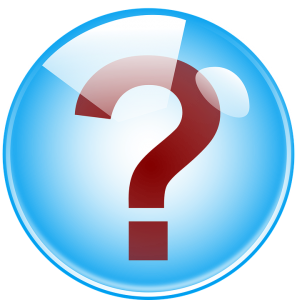 Yes. Dolphin robotic cleaners should be used in the water with temperatures of 43-95 F, pH – 7.0-7.8 ppm, chlorine level – of not more than 4 ppm, and NaCl level of not more than 5000 ppm.
Can I operate Dolphin E70 without a smartphone application?
Yes, you can. The power unit has one start button. By default, a 2 hours cleaning cycle will be started. On this power unit, you have LED indicators for advanced features (which can be set only through the smartphone app). The blue blinking indicator shows that the robotic cleaner works in a default mode. The green blinking indicator shows that it works from a remote control or smartphone application.
Can I swim in the pool while a pool cleaner is working?
No. Using the pool with the robotic pool cleaner is strictly prohibited because of possible electric shock.
My Dolphin Sigma is running in cycles. What could be the reason?
There are several possible reasons that you should check: the filter could be clogged, debris could stick in the impeller, the power supply could be incorrectly positioned, and cable could be too short, and finally, the pool water could be out of the requirements.
What are the smallest sizes of particles that the Dolphin Sigma filter can handle?
Dolphin Sigma has one of the largest cartridges in the pool robot; the ultra-fine cartridge from the package can clean down to 2 microns.
Conclusion
All robotic cleaners are designed to save you time from manual scrubbing and give you the opportunity to stay with your friends and family. The proposed in this article models are the most advanced on the market. There is no clear winner in the comparison of Dolphin E70 vs. Sigma, as the cleaning result is excellent for the two models. But E70 has several cleaning cycles and special features for taking out from the water, while Sigma consumes less energy and has a gyroscope for better navigation in the pool. The biggest advantage of these models is that they can clean floors, walls, and water lines. The choice between them should be based on your budget and color preferences.
Professional engineer with 7 years of experience in trading and service of swimming pools covers all tricky cases and the most detailed reviews of pool equipment. Helps in challenging cases with a cup of coffee!