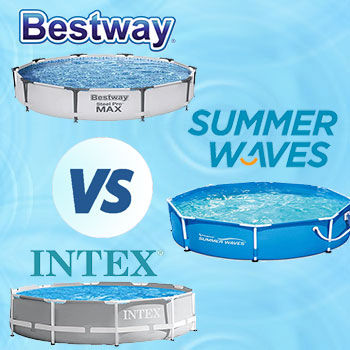 This season, hot weather provoked equally hot discussions about pros and cons of frame pools. While stationary inground basins do cost a lot and require expensive equipment, above ground pools, and especially frame ones, are much more affordable both in installation and maintenance. On the other hand, many are afraid that frame pools will not last long and provide the desirable level of comfort. So, who is wright here?
Customers split into several fan groups with their own favourite brands – Bestway, Intex, and Summer Waves.

Having examined pool models by each manufacturer, I wrote this review to help you choose the best. I selected three frame pools to set them in Bestway vs. Intex vs. Summer Waves comparison. Some of them I happened to test myself; some were chosen by users` reviews.
The first basin of the review is Bestway 56407 Steel Pro.
Since 1994, Bestway brand has been producing pool equipment, which includes over one thousand items. The name is widely known all over the world thanks to the combination of affordable prices, wide choice, and reliable quality.
Intex company is even more famous, and, perhaps, you`ll find their products in every second house, where they use pools. Intex can boast of a longer history that counts over 40 years, during which they have been selling above ground pools, pumps, filters, ladders, inflatable mattresses, and so on. At the moment, I`m using their Intex 10ft X 30in Prism Frame Pool and want to tell you about my experience.
However, your choice isn`t limited only by Bestway or Intex frame pool. According to sales and feedbacks, many customers prefer Summer Waves Active Metal Frame by Polygroup company. Apart from high-quality basins, they equip Summer Waves models with separate pumps and filters.
So, I think we should take a closer look at such an intriguing and promising model.
Our Expert Advice

Since above ground pools are often set as seasonal or temporary swimming constructions, we recommend choosing models with as simple assembly as possible. Please also check the installation manuals beforehand to get more information about the process. Almost all manuals for all models can be found on the brands' official websites.
Main Differences Between the Models
Before the main review, I`d like to highlight the differences and similarities between the pools. First of all, I noted the same shape, construction, materials, filter pumps included, and price niche. I can`t say there are a lot of distinguishing features between these above ground pools, but here are the most crucial:

Best Swimming Pools – Comparison Table
Accessories
Flow-controlled drain valve
Hydro Aeration technology
Accessories
Flow-controlled drain valve
Accessories
Hydro Aeration technology
Last update on 2023-09-25 / Affiliate links / Images from Amazon Product Advertising API
Detailed Product Reviews
Bestway 56407 is my former above ground pool and my first frame pool after inflatable models. A couple of years ago, when I moved to a new house, I left it to new owners, and as far as I know, they still use it.
So, the first moment I liked about the pool was its easy assembly. Being as big as 10 ft x 30 in, it took me about one hour to install it without extra tools. I prefer to disassemble the pool at the end of the summer seasons, so the construction absolutely pleased me.
The pool consists of a steel frame, which is assembled with the help of T-shaped connectors and C-shaped clips. Then you cover the frame with the polyester wall.
I was a bit worried about the quality of materials, as the pool is quite cheap. But during several years of usage, the pool didn`t fade or become rusty. The manufacturer says its materials are very durable. There are rust-resistant steel and polyester 3-ply wall with anti-UV coverage.
However, I paid attention that many users complained about leakage. I didn`t face such a problem myself, but if you have small active children or like active games and jumping, you`d better consider this shortcoming.
The pool comes with a filter pump and FrameLink cup holders. Since it was my first serious pool and I was confused to buy extra filters, pumps, cleaners, etc., this addition came in handy. I can`t say it was the best filter I had, but it helped clean water.
Also, the Bestway features quick filling and draining. It has a flow-controlled drain valve for fast emptying.
Even after testing other pools, I believe Bestway 56407 Steel Pro to be an excellent model. It does have some drawbacks, but for the money offered, it's absolutely OK for me.
Pros
reliable stainless steel frame
easy assembly
UV resistant coverage
comes with filter pump
quick drain valve
affordable price
Cons
many users complain that the kit may come without the promised filter pump
filter offers a rather weak filtration
leakage is possible
Intex Prism became my next frame pool, which I have been using for one year now. In general, I can say that this model is similar to Bestway, but I noticed some advantages.
They say the pool has the same 10 ft x 30 in. dimensions, but in practice, it`s a bit shallower – 24 in. deep. Before buying, I checked the materials and ease of installation, as I got used to the quick assembly of the Bestway. Here, we have the same rust-resistant steel and long-lasting UV polymer fabric. The walls consist of three layers for greater durability.
The installation is almost the same. Frame elements connect without any tools. Though the manufacturer says installation takes only 30 minutes, I managed to complete it only after 60 minutes. Anyway, for me, it`s still speedy.
The Intex swimming pool also comes with a filter pump. But besides saving money like in the former pool, I got much better filtration. I don`t think it`s due to the more efficient pump, but due to a specific technology.
So, the pump uses the type H filter cartridge, which collects fine debris. Also, the pool features the so-called Hydro Aeration technology. It is aimed at water oxygenating. Practically, the water gets more circulation and stays fresh longer. I noticed that the Hydro Aeration contributes to the filtering and cleaning, as it makes debris settle on the floor of the pool.
For me, the pool is almost the Bestway twin, but I found its filtration and oxygenation more pleasant. However, the thing I don`t like is its weight. The construction is lighter than my previous pool, and I`m a bit worried about its safety during gusty winds.
Pros
rust-resistant steel frame
UV resistant 3-layer coverage
quick installation
has a filter pump
Hydro Aeration technology
easy to clean as the debris falls onto the bottom
affordable price
Cons
high probability of leaks
rather lightweight construction
Summer Waves Active is one of the buyers` favorites, so I thought we would also find it interesting to have a closer look at the model.
The pool is a bit narrower in diameter but has the same depth as in the Bestway basin. It`s 8 ft x 30 in.
The pool`s frame and the whole construction is identical to the previous pools. We see the galvanized metal frame and polymer liner. The liner consists of two layers of heavy gauge PVC with the polyester mesh between them.
The users affirm that assembly is fast enough. However, I clapped eyes on complaints about disassembling. They say that the locking pins are tough to remove if you would like to take the pool away for winter.
It`s nice to see that budget basins are equipped with filter pumps like their more expensive brothers, for example, Coleman swimming pool. Summer Waves Active kit also includes a filter pump. Plus, you get a skimmer. The pump features 110-120 volt consumption; the filter belongs to the type I filter cartridge and removes sediment, sand, leaves, etc. Still, many owners prefer to install a larger capacity pump for better cleaning.
I should also note the pool design. Polygroup offers two color options with Blue and Dark Wicker liners. Both look pretty nice and suit any backyard. However, I prefer the dark variant. Its liner attracts sun rays, which make water heat faster.
Pros
the strong frame and durable liner
quick installation
comes with a filter pump
includes a skimmer
two color options
Cons
complicated disassembly
not very thorough filtration
many users claim the pump and skimmer break quickly
not very affordable price
Bestway vs Intex vs Summer Waves Swimming Pools Differences and Similarities
Design and Dimensions
Intex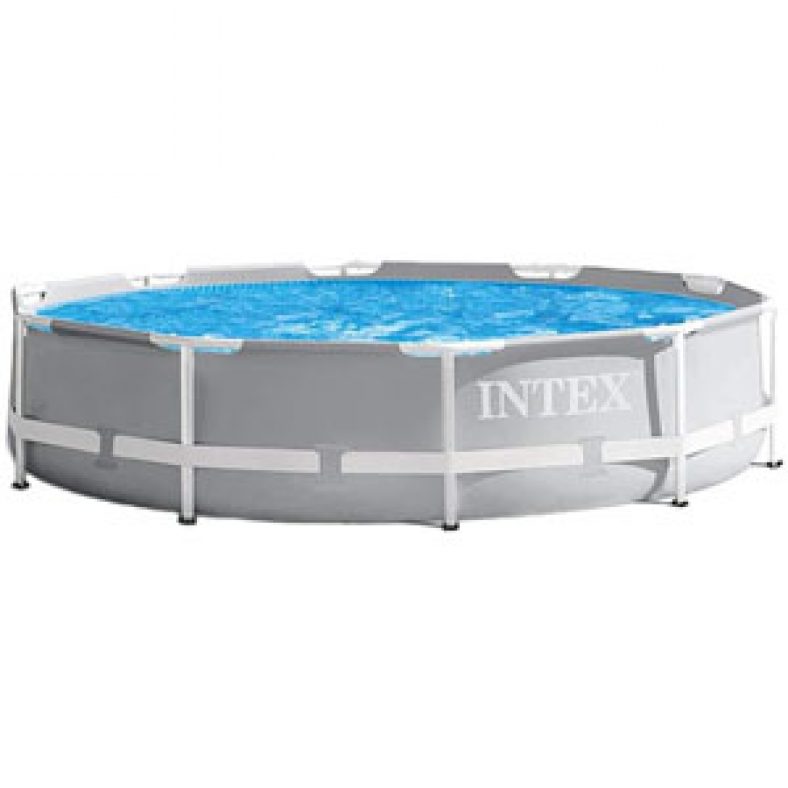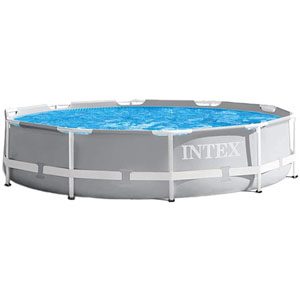 Intex pool features the same 10 ft x 30 in dimensions. The manufacturer states that the actual water depth is 24 inches.
All external parts of the basin are light grey, while inside, it`s bright blue with tile imitation.
Materials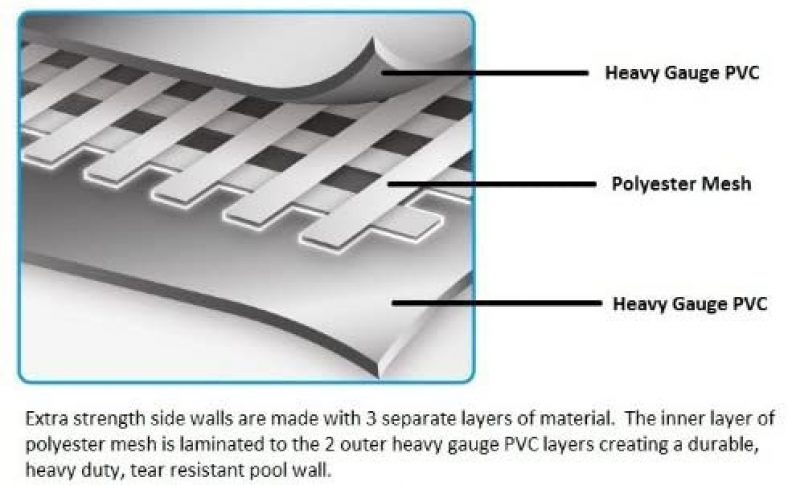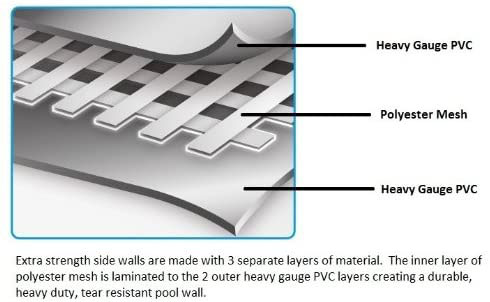 Here, we see that all three pools use the same materials.
The liners of the basins consist of three layers for greater durability. Two polymer lists cover and seal polyester mesh. They are also resistant to ultra-violet rays and fading.
The frame itself is made of stainless steel to avoid corrosion and resist weather factors. Only the Summer Waves pool features galvanized metal as the basis of the frame.
Our Expert Advice

Unfortunately, even the thickest and firmest liners tire from time to time. Some manufacturers include special repair patches into the pools' kits. I'd recommend giving preference to models with such additions. If your pool doesn't have it, you can also buy it separately.
Installation
Intex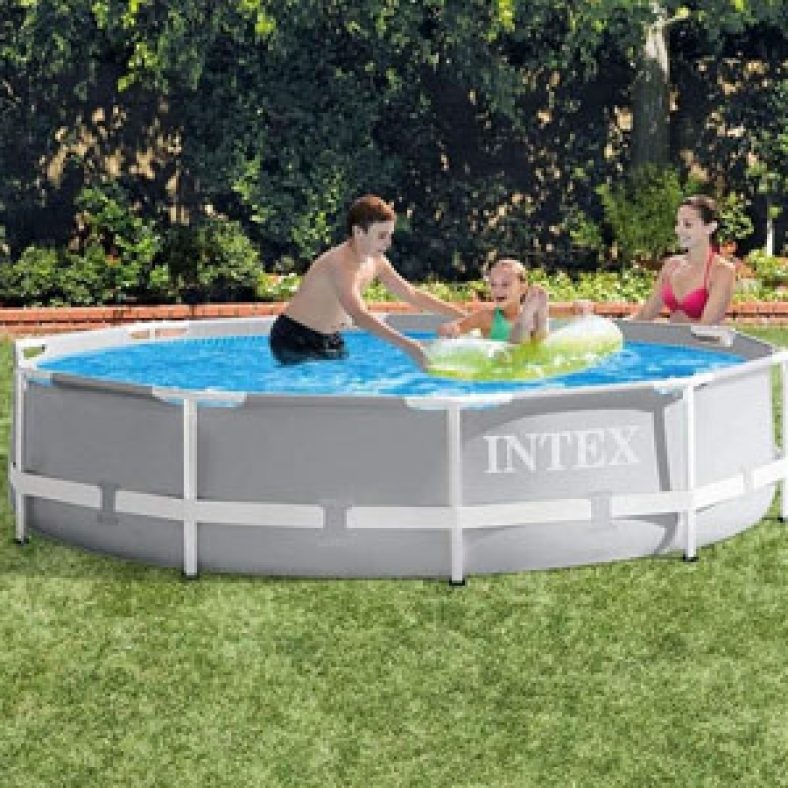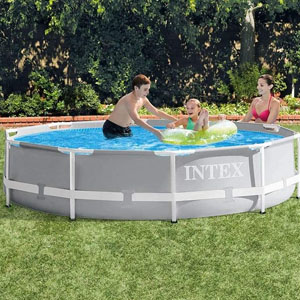 The Intex uses the same installation technology. Here, we see multiple T-shaped connectors, which fasten metal elements of the pool frame. The frame is covered with liner, and the pool is ready.
However, though the manufacturer promises the assembly takes only 30 minutes, my practical experience shows it`s twice longer.
Filter
Intex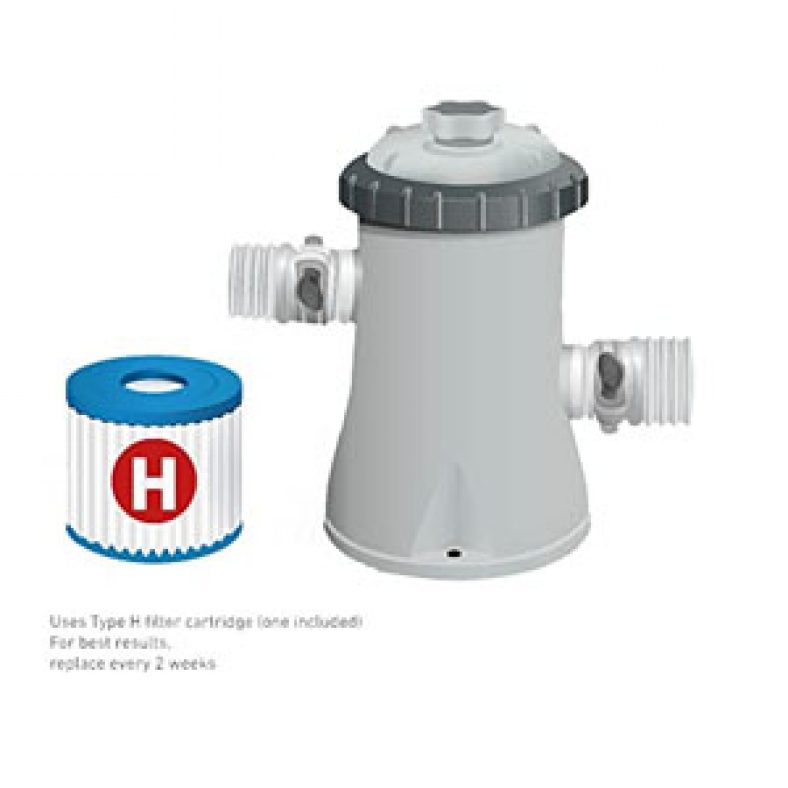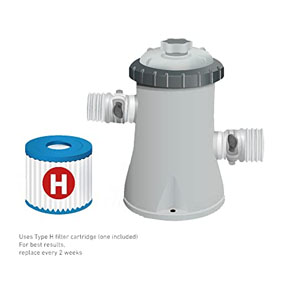 Intex 10 ft x 30 in Prism also includes a 110-120V cartridge filter pump of 330 gallons per hour. The cartridges last for two weeks; then, you need to change them.
This filter is very similar to the Bestway one, and I used it for some time but decided to install a sand filter. It seems to work better and require less maintenance and expenses.
Our Expert Advice

If you feel the original filter does not cope with its duties, you can replace it with something more powerful. Thus, Intex Krystal Clear filter series combine both a filter and a pump. But as far as we're speaking about small and medium-sized above ground pools, please, pick up the models with the lowest flow rates.
Additional Accessories and Technologies
Intex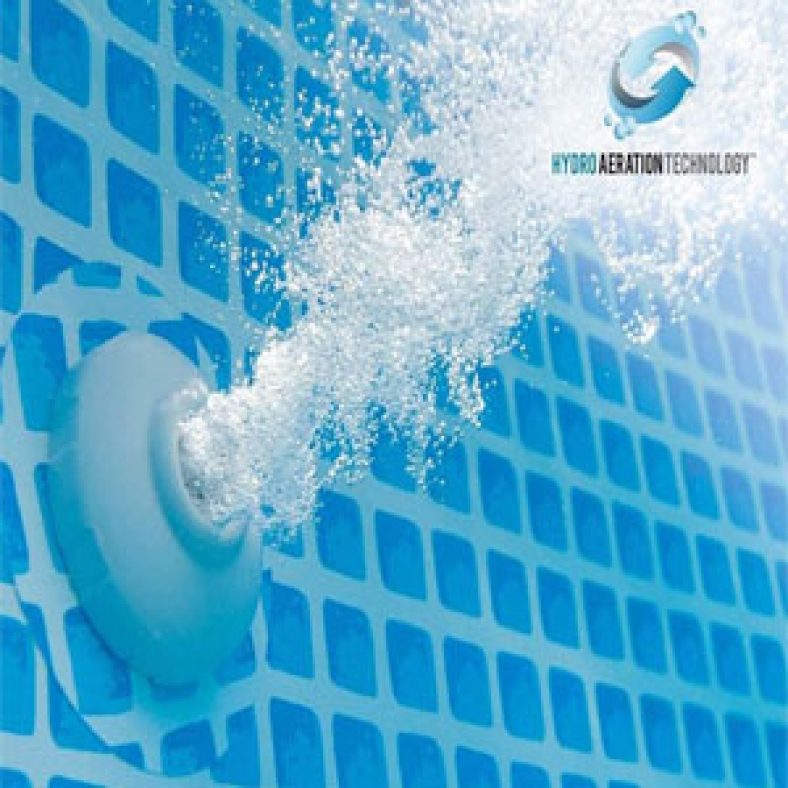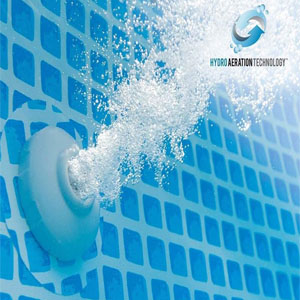 Intex pool does not have any extra accessories, but it uses the Hydro Aeration technology. It mixes air with water and fills it with oxygen. Consequently, the pool water stays clean longer, gets constant refreshing.
The technology also contributes to more thorough filtration.
Suitable for Pets
attention
Unfortunately, I should say that these above ground pools are not recommended for pets. The liners of the basins can stand adults, active children`s games, but sharp claws of the dog or cat will tear the polyester with high probability.
Frequently Asked Questions
Can I replace the filter of my above ground frame pool with a more powerful one?
As a rule, standard filters, which come with the pools, are rather weak and cannot provide proper water cleaning. Consequently, many pool owners change them into more powerful and efficient models like
sand filters and bigger cartridge filters
.
So, you can replace a filter. Only mind that it should fit all the hoses, attachments, or adapters.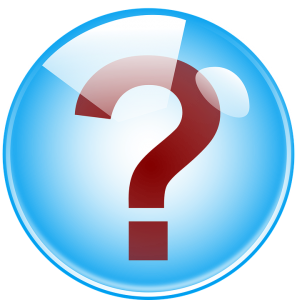 Bestway 56407 Steel Pro vs. Intex 10ft x 30in Prism: which above ground frame pool is better?
Bestway and Intex pools are very similar. They have the same construction, materials, dimensions, filter pumps included, and so on. However, Intex 10ft x 30in Prism uses the Hydro Aeration technology, which contributes to water circulation, refreshing, and more thorough filtration. That`s why I give my preference to Intex 10ft x 30in Prism above ground frame pool.
What do you put under your above ground pool for greater stability?
An above ground pool should always stay on a flat surface. The best way to provide this evenness is to make a cushion. You can use sand, stone dust, an old carpet, lists of special foam.
How long will Summer Waves Active Metal Frame pool last?
Usually, frame pools have a very durable frame, which can last for more than 10 years with proper maintenance. The liner is subject to more damage, tearing, and leaks. So, this pool element should be changed every 5 years. However, practice shows that the liner gets out of service within 2-3 years.
Conclusion
I really like frame pools, as for me, they provide the best combination of price, swimming space, and durability.
They are both spacious enough for adults and safe for kids, easy in installation and maintenance. And if you take proper care of the liner, you can use the pool for years without leakage.
Some people can try above ground pools before purchasing an inground basin like a test of your strength.
All three pools feature similar quality and characteristics. So, the choice is almost equivalent. The kit even includes filter pumps. However, I do recommend you buy a better filter.
Recent Updates
Jan 20, 2021: Please pay attention that the water capacity I've mentioned in the review forms about 80% of the pools' maximum capacity. Such a choice is dictated by the manufacturers' recommendations not to overfill the pools and leave about 20% of the space empty.
Mar 1, 2021: Intex brand has recently added a disclaimer to its Intex 10ft X 30in Prism Frame Pool description. The manufacturer highly recommends reviewing the HOA rules and restrictions before purchasing this product. It also draws our attention to the fact that not all housing agencies will permit private above-ground pools.
May 15, 2021: Cartridge filter pumps included in the above-discussed review can be replaced with more powerful and durable sand filter pumps. However, users should pay special attention to the pump power characteristics and pool capacity.
Jul 9, 2021: The IntexPoolPumps team confirms that all three frame pools discussed in this article are still available for purchase.
Mar 15, 2023: The Manufacturer of Summer Waves Active Metal Frame Above Ground pool 8 ft x 30 inches decreased the price significantly. Now, it is the most affordable model of the three reviewed models in this article.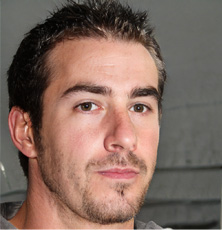 Hi! I'm Markus Robertson, and water is my passion.
Five years ago, I graduated from the University of California-Los Angeles and was going to become a professional marine biologist. However, my fate had other plans for me, and due to family problems, I had to find a more stable and well-paid job. I had only one wish for my job to be connected with water.
During this period of my life, I worked as a sales manager at Olympic Pool & Spa Supplies. The job helped me learn everything about swimming pools and related pool equipment, as well as how to choose the best option and what to pay attention to.
Having worked there for three years, I decided to start my own blog about pools, where I can tell people about the best new pool equipment models and share my knowledge and experience.
A marine biologist by education, I became a pool blogger by trade. Now I'm glad I can help the guests of my store and the visitors of my blog know a lot of exciting things about pools, their types, best pumps and filters, necessary equipment maintenance, and so on.
I welcome all people who want to choose a proper basin and the stuff to my blog! Hope you'll find this information interesting and useful!