Just an F.Y.I. there are
affiliate links
in this post, and if you click any of those links, we will earn a small commission.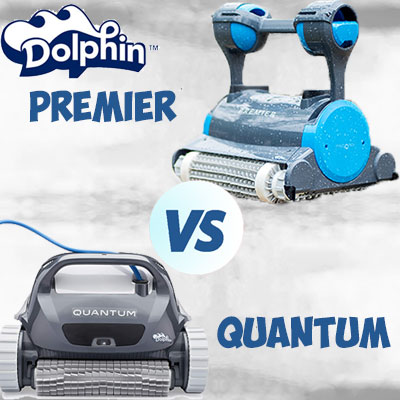 Here, you will get the in-depth review and comparison of Dolphin Quantum vs Premier robotic pool cleaners from the Maytronics US Company as the two best cutting-edge cleaning solutions for your pool.
Using automatic pool cleaners has become more and more popular among pool owners. That's because everyone wants to choose the most optimal solution in terms of providing the best maintenance.
When you use a robotic pool cleaner, the pool's type, size, shape, and materials do not matter much. Moreover, such devices ensure easy control and excellent cleanliness, fast operation, and great coverage of the surfaces if a device has a smart scanning and mapping system. The cleaners also lower the energy costs and eliminate the need for manual labor, saving time and effort.
In addition, you do not need to rely on any other appliances, such as a pool pump, booster, or filter. You can efficiently save water and chemicals, too.
Apart from this, using robotic cleaners is very convenient because they are programmable for setting appropriate cleaning schedules.
The issue is how to choose the best cleaner. That is why we have prepared the review and comparison of the two most widely used and highly appreciated models – Dolphin Quantum and Dolphin Premier from the outstanding Maytronics US manufacturer. Let's take a closer look at their similarities and differences.

Main Differences of Models
Both Dolphin Quantum and Premier have a lot of similar features. First, however, let's cover the most important differences:

The Premier is bigger than the Quantum in length, height, and width featuring 23.2×19.5×13.8 and 22.3×18.1×13.6 inches, respectively.
The Premier is much heavier – 36.8 vs. 28.4 pounds in the Quantum.
The Quantum's suction rating is 4,000 GPH, while the Premier is a bit more powerful, with its 4,500 GPH suction rating indices.
There are slight differences in the filtration systems – the Quantum's one consists of an oversized debris cartridge for sucking fine and ultra-fine debris and dust while the Premier is equipped with multimedia and an oversized leaf bag which allows for filtering any ultra-fine dust.
The Quantum's cable is 50 ft long while the Premier's is longer – 60 ft.
The Premier is available with four media types that can automatically classify waste, while the Quantum is equipped with one 400-sq-inch bag for debris only.
The Quantum can clean the pool thoroughly within 2 hours, while the Premier can do the same job within 3 hours.
The Dolphin Premier is available with a remote control,while the Quantum is not.
Let's look at the main technical characteristics in the following table.
Technical Summary Sheet
Pool Type
Gunite, Plaster, Vinyl, Fiberglass
Gunite, Plaster, Vinyl, Fiberglass
Surface Cleaning Models
Floor, wall, and steps, jet-driven lateral movement
Floor, wall, and steps, tile and waterline vertical and horizontal cleaning
Filters
Fine & Ultra Fine, oversized debris cartridge
Multimedia, oversized leaf bag, Fine & Ultra Fine cartridge
Scheduling
3 schedule options: once a day, three times a week, two times a week
3 schedule options: once a day, three times a week, two times a week
Cable
Tangle-free swivel, 50 ft long
360 tangle-free swivel, 60 ft long
Pool Type
Gunite, Plaster, Vinyl, Fiberglass
Surface Cleaning Models
Floor, wall, and steps, jet-driven lateral movement
Filters
Fine & Ultra Fine, oversized debris cartridge
Scheduling
3 schedule options: once a day, three times a week, two times a week
Cable
Tangle-free swivel, 50 ft long
Pool Type
Gunite, Plaster, Vinyl, Fiberglass
Surface Cleaning Models
Floor, wall, and steps, tile and waterline vertical and horizontal cleaning
Filters
Multimedia, oversized leaf bag, Fine & Ultra Fine cartridge
Scheduling
3 schedule options: once a day, three times a week, two times a week
Cable
360 tangle-free swivel, 60 ft long
Last update on 2023-12-04 / Affiliate links / Images from Amazon Product Advertising API
Detailed Product Review
Let's consider the main features of Dolphin Premier vs. Quantum in more detail.
The Quantum features easy use, light weight, and Anti-Tangle swivel technology, allowing for moving freely around large pools with the area of up to 50 sq. feet.
You can set your cleaner for every day, every other day, and every 3rd day 2-hour cleaning cycles. Cleaning is uninterrupted with efficient scrubbing of walls due to PowerStream mobility for vertical surfaces. It is also meant for waterline scrubbing. In addition, double brushes can remove very tough and stuck-on dirt.
The appliance has fine and ultra-fine filters for efficient performance. The 400-sq-inch extra-large top-loading filter basket can trap leaves, small debris, and all types of dirt.
The device is energy-saving and it is eight times more energy-efficient than traditional pressure or suction cleaners. There is no need to add any other hoses or booster pumps. The quality warranty is two years.
Advantages of the Model
The Quantum model has a lot of advantages. They are:

It can move up and down the walls as well as from side to side for deep scrubbing.
Each panel of the appliance can snap apart for convenient cleaning.
The model uses the patented technology of internal vortex jets for horizontal and vertical movements.
It can clean all types of surfaces, including the tile and waterline.
The device has dual Hyper Brushes for trapping biofilm, bacteria, and algae.
Uninterrupted and smooth cleaning is possible due to the Anti-Tangle swivel technology, one of the best engineering achievements.
Pros and Cons
We have compiled the list of advantages and disadvantages based on the test experience and customer reviews.
Pros
Easy to operate, clean, and manage
Very well-built and saves a lot of pool maintenance time
Climbs the walls and does a great job
Not an inexpensive unit but worth the money
A big debris collector which is quite easy to open and clean
Very energy- and time-efficient
Can clean large debris, sandy dirt, and sludge stuff
Easy to pull out the filter and wash it out
Cons
Cheaply built and may stop working after 1.5 months
May have design or manufacturing defects
The User Manual is not clear enough
Can break if left in the water for prolonged periods
The Premier model features easy use due to a single-button plug and CleverClean technology with highly technological algorithms for complete pool coverage. It uses the Anti-Tangle swivel cable technology, which is appropriately patented.
The appliance also has powerful dual scrubbing brushes for removing stubborn dirt and debris from the floors and walls.
The Premier also features a 3-hour cycle of cleaning with three filter options – the bottom-loading fine cartridge filter, ultra-fine filter, and a huge fine-filter bag. You can set the schedule for every-day cleaning or opt for cleaning your poll three times or twice a week.
Moreover, the device has multi-media developed exclusively for this model. That allows for cleaning all types of surfaces including the tile and waterline. The full-filter indicator shows when it's time to clean the filter. In addition, it has a three-year quality warranty.
Advantages of the Model

The Premier has some crucial advantages for more convenient use. They include:
Dual 24-volt DC motors and dual scrubbing brushes perform well for boosting energy efficiency (the appliance demonstrates 90% less energy consumption than you can see in common old-fashioned cleaners).
The appliance uses SmartNav software for perfect optimization of scanning processes and complete coverage.
The SmartControl weekly timer can work automatically at the scheduled intervals.
LED cartridge-full indicator signals about the time for cleaning the filters.
Anti-Tangle swivel technology helps hassle-free cleaning.
Pros and Cons
This list includes the most specific features marked by the customers and following from our appliance testing.
Pros
Truly worth the money
Speedy operation and easy maintenance
Very practical, so the pool is always crystal clear
Easy cleaning of the filters
Very low usage of power (about 175 Watts at a time)
Convenient and efficient multi-media
Anti-tangle cable which works well for uneven surfaces
Remote control which helps a lot
Cons
The lack of appropriate customer service
The need to clean filters very often
Instructions are very vague
Sometimes, poor movements up and down the walls
The filter basket is on the underside, and there is really no way to remove it for cleaning without getting a little wet
Face to Face Comparison
You can see the main functions and design elements of each model above. Now, let's analyze Dolphin Premier vs. Dolphin Quantum in more detail. This face-to-face comparison is quite helpful to help you make the right choice.
Design and Dimensions

These two models belong to the Dolphin line. Though, their designs and colors differ. The Quantum is a smaller machine in black and gray colors,while the Premier is made in black and blue colors. The cover lids for cleaning also differ – the Quantum has a top lid, and the Premier has a bottom lid. They both have solid handles, which make the devices portable.
The appliances also differ in their dimensions. The Quantum is 22.3×18.1×13.6 inches, while the Premier is 23.2×19.5×13.8 inches. The latter is bulkier, and you can also see it by their weight. It is 36.8 pounds for the Premier, and the Quantum is only 28.4 pounds.
The cord length is 50 ft for the Quantum and 60ft for the Premier.
verdict
You can see that these models are different in both their design and dimensions. We cannot say which one is better, though the Premier is heavier and bulkier, while the Quantum is more lightweight. The Quantum is smaller, and its cable is shorter, but it's up to you to decide which one is more suitable for cleaning your pool.
Cleaning Orientation and Performance


The orientation of both devices is from side to side (horizontal) and vertical (from the bottom to the surface and vice versa).
The performance also depends on the system of brushes, the material of surfaces they clean, and the time used for complete cleaning. Both devices are equipped with two scrambling brushes. They work well for different kinds of pools made of vinyl, gunite, plaster, and fiberglass. They can efficiently clean the floor, walls, and waterline. In addition, both Quantum and Premier can clean tiles with a lot of precision.
The cleaning time of one cycle is 2 hours for the Quantum and 3 hours for the Premier.
verdict
Despite the similarity of technologies used in the two devices, we would prefer the Premier for larger pools because it is larger and more powerful. The Quantum, instead, has a shorter cycle of performance. It can clean a pool within 2 hours. So, it is preferable for smaller pools.
Navigation Technology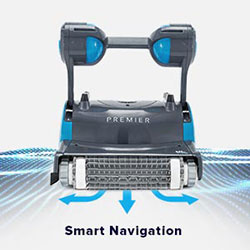 Both machines use CleverClean technology. They are equipped with sensors to map the route and avoid obstacles.
However, as we can see from the experience and customer reviews, the Quantum shows more satisfactory results working on narrower surfaces and climbing the steps. That's because of its smaller dimensions and better maneuverability.
Moreover, you can use it in smaller pools on the surfaces of different dimensions, both vertically and horizontally.
The Premier is more powerful, instead. So, it can work smoothly on large flat surfaces of big pools.

verdict
The Quantum shows more maneuverability on narrow surfaces. So, it is a winner here. But, on the other hand, the Premier uses its smart navigation system more efficiently on vaster areas and larger surfaces.
Drive System and Capacity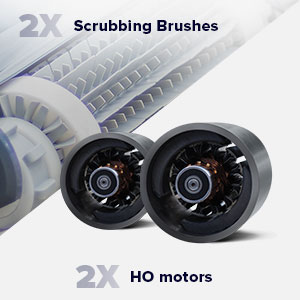 The Premier also uses dual motors, working with 24-volt DC, but its suction power is more significant – 4,500 GPH. It uses 90% less energy than common cleaners. No additional hoses and boosters are necessary, either.
verdict
Both machines have two motors and are almost equally energy-efficient, operating without extra hoses or boosters. However, the Premier is more powerful, with its 4,500 GPH suction rating vs. 4,000 in the Quantum. So, if you need a more robust and efficient machine, opt for the Premier.
Filtration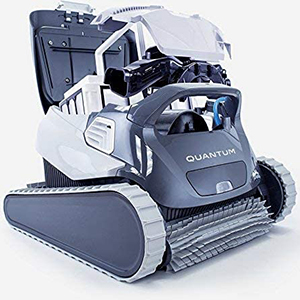 The Premier also has fine and ultra-fine cartridge filters and the big filter bag. The difference is in bottom loading. However, the most important feature here is multi-media that can classify the waste properly. It is less vulnerable to blocking.
verdict
Let's assume that both filtration systems are quite efficient because of their fine and ultra-fine filtration options. However, the Quantum has a bigger and more capacious basket, while the multimedia of the Premium allows for more efficient classification of debris and collecting it. So, both systems perform well, and it's up to you which one to choose.
Programming and Remote Control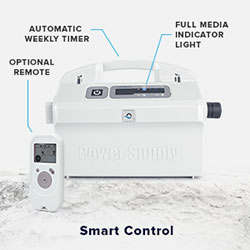 Since Maytronic US is a prominent company famous and appreciated for its perfect robotic pool cleaner solutions, both models are equipped with the software for setting the cleaning modes. You can choose from three modes – every-day cleaning, three times a week, or two times a week cleaning.
When you preset one of the modes, your pool will be completely clean and ready for pleasant use when you are away from home.
The difference is that the Premier has a remote control that allows you to pre-schedule the machine from some distance, and it is very convenient. The device also has a LED full-cartridge indicator to see that it's time to empty the cartridge and clean filters.
verdict
Despite the similar SmartClean software both machines are using, the Premier model seems more convenient because it has a remote control and a cartridge-full indicator. You can see all the needs of your machine at once, and the maintenance is much easier.
Tangle-Free and Easy-Lift Systems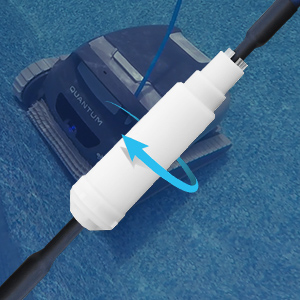 Both devices use the patented Anti-Tangle systems in their cables. This is a swivel technology that is one of the best engineering developments in the robotic pool cleaners' new generation. It has been recently introduced in manufacturing processes for these devices, and it has gained high appreciation. It allows for uninterrupted and smooth cleaning of all surfaces.
However, the customer reviews show that the technology works better for the Quantum model because it is lighter and more maneuverable on narrower surfaces. On the other hand, the Premier, on the other hand, can clean larger areas more smoothly with this hassle-free technology.
The easy-lift systems of both devices include special solid handles. However, the Premier is almost 10 pounds heavier than the Quantum, and it has the bottom loading of filters. As a result, many customers report getting a bit wet while lifting and cleaning the device.
verdict
Both devices are great with their Anti-Tangle swivel cable systems for smooth cleaning of surfaces. However, the Quantum is lighter, making it more maneuverable and easier to maintain. That is why you can use it with ease if your pool is smaller and has narrower surfaces.
Frequently Asked Questions
How long is a Dolphin Quantum pool cleaner cycle?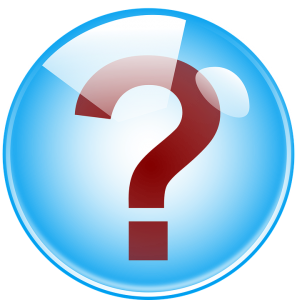 The complete cleaning cycle of the Quantum model is 2 hours. For comparison, the cleaning cycle of the Premier is 3 hours.
Is Dolphin Premier suitable for above-ground pools?
This model is ideal for in-ground swimming pools with up to 50 square feet of area. It can be used for above-ground pools as well, though if you give preference to
other models
, such as, for example,
Nautilus CC
, you will make a better choice.
Which of the Dolphin pool cleaners better cleans the waterline?
Both devices – the Quantum and the Premier – clean the waterline and tiles efficiently. However, as we have seen from the testing use and customer reports from experienced users, the argument is that the Quantum is better for this purpose because of its maneuverability. At the same time, the
Premier
suits larger pools better because it is more powerful and equipped with multi-media to map the surface and identify the type of debris efficiently.
Does Dolphin Quantum map the pool?
Yes, it can do it with the help of SmartClean technology, but, unfortunately, it is not enough for effective mapping of different uneven surfaces. The multimedia software, an essential characteristic feature of the Premier model, is more helpful here. So, if the bottom of your pool is uneven and there are many layers and obstacles on it, it is better to opt for the premier.
Is it safe to use the Quantum and Premier Dolphin models in saltwater?
All the robotic cleaners manufactured by Maytronics can work both in fresh and saltwater or the water with chlorine additions. Check the maximum permitted amounts of chlorine and salt in your pool's water in the User's Manual.
Conclusion
When we regard Dolphin Quantum vs. Premier robotic pool cleaners from the Maytronics US Company comparison and contrast, we can see a lot of similarities in engineering and technological solutions. That is why it is impossible to define a straightforward winner here.
The Quantum has many pluses referring to its maneuverability which is possible due to its lighter weight and smaller dimensions. Besides, it is top-loaded, and it is more convenient for cleaning filters.
The Premier is heavier, but it is more powerful. Apart from this, it has a smart multimedia system and LED indicators for cleaning filters and a cartridge. Moreover, it has a remote control. So, its use seems more convenient.
Therefore, we can assume that using the Quantum is preferable in pools with smaller and narrower areas. At the same time, the Premier works very well for larger pools with vast surfaces and different layers of bottoms.
When choosing a robotic pool cleaner right for you, consider its capacity, energy efficiency, the type of software, and the filtration options that will suit your cleaning purposes more consistently.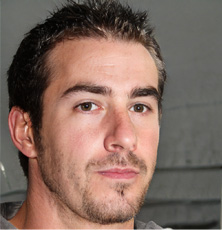 Hi! I'm Markus Robertson, and water is my passion.
Five years ago, I graduated from the University of California-Los Angeles and was going to become a professional marine biologist. However, my fate had other plans for me, and due to family problems, I had to find a more stable and well-paid job. I had only one wish for my job to be connected with water.
During this period of my life, I worked as a sales manager at Olympic Pool & Spa Supplies. The job helped me learn everything about swimming pools and related pool equipment, as well as how to choose the best option and what to pay attention to.
Having worked there for three years, I decided to start my own blog about pools, where I can tell people about the best new pool equipment models and share my knowledge and experience.
A marine biologist by education, I became a pool blogger by trade. Now I'm glad I can help the guests of my store and the visitors of my blog know a lot of exciting things about pools, their types, best pumps and filters, necessary equipment maintenance, and so on.
I welcome all people who want to choose a proper basin and the stuff to my blog! Hope you'll find this information interesting and useful!