The hot tub is one of the water entertainment that is not only for fun but also for therapeutic purposes. That is why they became popular during the lockdown and continue being best-sellers.
The inflatable spas have many advantages compared to the stationary models. They are portable; most models are inexpensive, can be used indoors and outdoors, can be removed for storage during the cold season, have a lot of accessories (lights, cushions, beverage holders, etc.), and have a wide selection.
Intex hot tubs are perfect examples of luxurious spa experiences for an affordable price. In the comparison of Intex Simple Spa vs. PureSpa, we present two popular basic models.

Intex Simple Spa vs. PureSpa – Comparison Table
Material
Vinyl (PVC) and Polyester Mesh
Thermal ground cloth
One insulated ground cloth
One insulated ground cloth
Filters
Two replaceable filter cartridges
Two replaceable filter cartridges
Water treatment
Floating chemical dispenser
Floating chemical dispenser/ electronic hard water treatment
Material
Vinyl (PVC) and Polyester Mesh
Thermal ground cloth
One insulated ground cloth
Filters
Two replaceable filter cartridges
Water treatment
Floating chemical dispenser
Thermal ground cloth
One insulated ground cloth
Filters
Two replaceable filter cartridges
Water treatment
Floating chemical dispenser/ electronic hard water treatment
Last update on 2023-09-25 / Affiliate links / Images from Amazon Product Advertising API
Main differences between Intex Simple Spa and PureSpa
These INTEX Simple Spa and Pure Spa models represent basic hot tubs for small company gatherings. They do not have a lot of accessories and differ slightly by some technical parameters. The main differences are:

Simple Spa has a round, while Pure Spa has an octagonal shape.
The material of Pure Spa walls is more firm – laminated PVC vs. standard PVC with polyester mesh.
Simple Spa has only 100 bubble jets, while Pure Spa has 120 bubble jets.
Pure Spa has a hard water treatment system, while Simple Spa is developed only for standard chemical water treatment.
The dimensions of Pure Spa are more significant than those of Simple Spa.
This article's product overview and face-to-face comparison sections present a more detailed description of the two models.
Intex Simple Spa and PureSpa – Product Overview
Intex hot tubs offer the next level of relaxation. Due to their vivid choice and affordable price, Intex pools and spas are the most popular on the market.
Intex history lasts over 50 years of producing above-ground spas, toys, inflatable furniture, mattresses, boats, and more. As the choice even of Intex spa is considerable, please see below a detailed comparison of two models – Simple and Pure Spa.
The Intex Simple Spa is designed for indoor and outdoor usage, in even areas without any obstructions. Four people can enjoy a relaxing tub. It is one of the cheapest basic spa models on the market.
The spa is made from PVC material strengthened with strong external mesh for additional protection. The spa installation is easy and requires only 20 minutes, it should be placed on the ground on the insulated pad and then inflated using the built-in pump.
It is required up to 10 minutes to inflate the overall tub. You can deflate the spa after usage. The spa can be quickly filled with water from a garden hose to the maximum level indicated on the wall. Unfortunately, you can't move the spa after it is filled with water. The water temperature should be below 40 C, and it will be quickly heated up to this level. While the tub is filling with water or heating you can cover it with an insulated cover to minimize heat loss. The tub energy-efficient cover also should be inflated with a pump.
Intex Simple Spa is equipped with a pump installed near the tub for easy inflation and heating. The spa has a control unit that is located on the pump unit.
This spa has an easy-to-use tilting control panel that starts up to 100 soothing bubble jets around the spa and heats the water to 104 F. The control panel is protected with a plastic lid and shows the current water temperature, and its buttons allow to increase/decrease temperature and turn on/off the water heating. The filtration system with two cartridge filters automatically starts with the heating and continues circulation; when the heating stops, you can manually stop it.
In addition, you can adjust the required temperature using the up and down buttons.

Pros
Built-in pump for quick installation and heating (2 in 1)
Extra durable construction to use in all seasons
Temperature indication
Easy temperature adjustment
100 bubble jets
PVC spa's material strengthen with external mesh
Fits four people
Energy-efficient protective cover with a key for secure locking
Installation within 20 minutes
Affordable price
Cons
Basic models without additional features
You can't sit on the walls
Forbidden from staying in the direct sun, causing the material damage
A repair patch is not included
No headrest cushions on the wall
The INTEX PureSpa is a popular hot tub for four people to relax in hot water outdoors or indoors. The Pure Spa is made from durable exterior material consisting of puncture-resistant 3-ply laminated material.
As the Simple Spa, the Pure Spa should be installed on an even surface with a ground cloth that comes in the package. To inflate the tub, you need to use the built-in pump and the particular port on the pump's hose. The overall installation process requires only one person and with filling water up to a minimum level takes only twenty minutes. After filling the water, you can reconnect the pump to the position where it will be connected to the tub for heating, circulation, and bubbling the water. If you use the tub regularly, you may keep the heating system set at the required temperature all the time, and if you use the cover, it will stay at this level for a long time, making this solution cost-effective.
This model is equipped with a hard water treatment system that works automatically when the filter pump is in operation. PureSpa model has one easy-to-touch detachable control panel on the pump for heating, water circulation, and making bubble jets. The panel has batteries charged when it is located on the pump unit. If they are full, you can install the panel in the holder located on the top of the tub's wall.
In addition, 120 bubbles around the entire inside wall are designed for high comfort and instant massage.
You can purchase separately for this model a cup holder installed on the wall for beverages and refreshments. And as the filter should be regularly changed once per month, you can buy a pack of type S1 easy-set pool filter cartridges. They are made from Dacron paper for perfect filtration and maximum efficiency; they should be cleaned once per week if they are not changed.

Pros
Built-in pump for inflation, heating, water circulation, and bubbling
Temperature indication in F or C
Detachable control panel with easy control
A hard water treatment system
Octagon shape
120 bubble jets
Fits four people
Energy-efficient spa cover
Firm walls allow sitting
Soft bottom for comfortable sitting
Cons
The pump is working only in the heating or bubble mode; both are not possible at the same time
All accessories should be purchased separately
No timers for heating
Should be coved for storage outside in the direct sun
A repair patch is not included
Intex Simple Spa vs. PureSpa – Face-to-Face Comparison
Two INTEX basic spa models are compared based on main parameters: design, materials, dimensions, insulation, pump, filtration, water treatment, bubble jets, heating, and draining system. As both tubs do not have accessories in the standard packages (only for separate purchases), this aspect is not included in the comparison.
Design and Dimensions
INTEX 28433EP PureSpa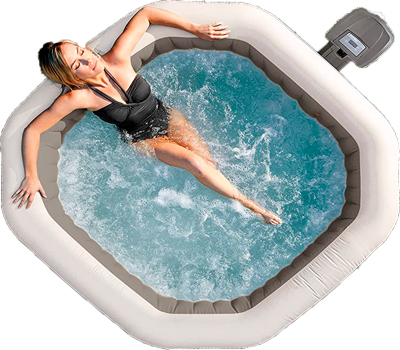 The PureSpa has an octagon shape. The color of the tub is grey and white. 47 fiber beams make firm construction even to sit on the walls. The diameter of the tub is 79 inches, enough to relax people. The outer side has several handles for easy moving.
verdict
The Pure Spa model is more extensive than Simple Spa. As both models are designed for the same number of people, sitting in a larger model is more comfortable. Also, Pure Spa construction is firmer and allows it to sit on the walls, and the form of the tub is different, but this does not impact the functionality. So, INTEX Pure Spa is the winner.
Materials and insulation
The Pure spa and the cover are made from laminated material with high-density thermal-resistant foam for additional insulation and high-strength fibers for ultimate support. The cover protects the spa from weather damage and keeps the water inside warm. The cover is connected to the tub with locking safety buckles.
verdict
Again, the Pure Spa Intex model is the winner of more durable materials and additional insulation layers to keep warm water longer.
Pump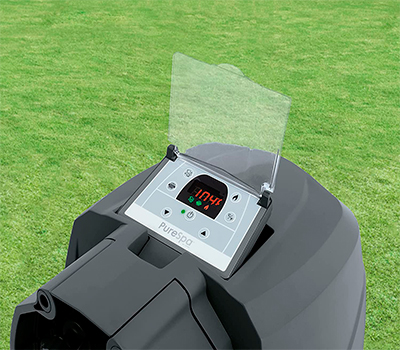 The pure spa also goes with the same pump for filtration, inflation, water circulation, and bible jets creation. The pump installation requirements are typical for INTEX spa– 6 feet from the electrical appliance and connection to the 110 V GFCI/RCD protected electrical outlet without an extension cord. As most of the household sockets are 13-16 Amps, and
the spa draws at least 13 Amps
, only one pump should be connected to the household circuit breaker, to prevent a trip.
verdict
There is no difference between the functionality of the pumps of Simple and Pure Spa. They both have the same flow rate – 460 gal/hour (the pump can turn over all water in the tub 2.2 times per hour), ensuring the same speed of temperature rise – 2-3 F/hour. Both pumps work quietly, and their sound can hardly be heard when the spa is bubbling. There is no winner in this part of the comparison.
Filtration and water treatment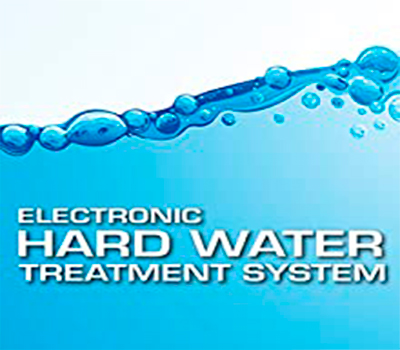 The Pure spa has
two filter cartridges
representing the filtration system. The filter maintenance is the same as for other Intex products –
every week cleaning, every month change
.
The Pure Spa is equipped with an eco-friendly sanitation system for clean and clear water. It consists of an electronic hard water treatment consuming 10W to prevent calcium build-up and is more gentle to the skin; and natural chlorine saltwater system (the same as in Simple Spa).
The magnetic field created by the pump around incoming water also stops salts from building up on the walls' interiors prolonging spa life.
verdict
The water treatment of Pure Spa is two-level and consists not only of chemical treatment with a chlorine dispenser as for Simple Spa but also of an electronic hard water treatment system. This system makes water gentle and soft, without salts, which extends the tub's life. So, Pure Spa is the winner.
Temperature
Before entering the Pure or Simple spa, the user should measure the temperature with the thermometer (not included in the package). You should not use the spa with a temperature higher than 104 F (40 C).
The recommended temperature is 100-104 F (38-40 C) for soaking more than 10 minutes, and the lower temperature should be used with kids. An adjustable water heating system with a control panel allows you to heat water according to your preferences.
The tub is designed to work in the temperature range of 68-104 F. The same heater is installed for both tubs, with a power consumption of 1300 W.
verdict
There are no special water temperature requirements for different INTEX spa models. Health rules and advice determine all requirements. So, there is no winner in Intex Simple Spa vs. PureSpa for this part of the comparison.
Bubble jets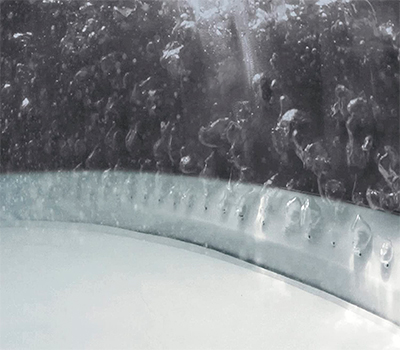 120 bubble jets ensure a mild massage in the Pure Spa around all walls. The control panel on the pump unit controls them. The bubble air blow is also rated 110-120 V/ 1.1 hp.
verdict
The Pure Spa is slightly bigger than the Simple Spa, so it has more bubble jets (120 vs. 100) with the same capacity of a bubble air blower. So, INTEX Pure Spa is the winner.
Draining
Construction of the draining system of Pure and Simple SPA is the same and has only drain valves. Both spas have two bottom drain valves that should be closed when filling the spa with water.
The spa with its drain valve should be pointed toward drainage, where the excess water or the water for removal can drain once.
The water in the tubs should be changed every 2-3 months.
verdict
There is no winner in comparing Intex Simple Spa draining systems vs. PureSpa, as it is the same for both models.
How to choose the best inflatable spa
It would be best if you considered the essential recommendations for choosing the best spa when purchasing an inflatable hot tub.

Choose a trustable manufacturer. The most popular brands of inflatable spas are Intex, Coleman, MSpa, and SaluSpa. These companies produce durable spas and invest significant money in new technologies. Also, they have worldwide technical support and can change the broken parts within a short time. All these factors are essential to prevent the waste of money and to enjoy the spa the whole season.
Size of the hot tub. The price of the inflatable spa depends on its size; for more people, you need to buy a giant spa. If an advertisement is indicated that the tub fits four people, that does not mean that four adults will comfortably relax in this spa.
Installation place. Some hot spas are designed only for indoor usage; some can also be used outdoors. Remember that they should be placed on an even surface and take up significant space.
A number of bubble jets. 100-120 bubble jets are sufficient for four persons in the tub. The bigger tub requires more bubble jets. The number of jets also impacts the price.
Durable and robust tub wall. Choosing the tub with firm walls where you can safely sit is better. This also helps to prevent water spills.
Heater. All spas heat water up to 100-104 F; the heating speed depends on the heater capacity. More powerful heaters heat the water quicker but consume more energy (money). Also, some heaters have timers and start delays (on the control panels). But all additional features are more expensive.
Maintenance and water filtration. All water systems require constant water treatment. Chemical water treatment systems are commonly less healthy but cheaper than other filtration systems. Also, reserve some money for regular filter changes and possible material repair.
Accessories. LED lighting, head cushions, massage systems, detachable control panels, cup holders, etc., all these accessories add significant comfort but increase the price.
Health recommendations. Remember some limitations in the usage of spas. It is not recommended for kids under 6 years of age, pregnant women, diabetic, in poor health, or under medical care. Also, alcohol, drugs, and medications should be avoided before spa usage. Due to the risk of drowning, you should use the spa carefully under close supervision.
So, as you see, several aspects impact the choice of the hot tub, all of which are in close connection with the price. You can dismiss some accessories to obtain the spa of the more trustable brand, as this purchase will be for more years.
Frequently Asked Questions
Will I receive a carry bag with PureSpa or Simple Spa?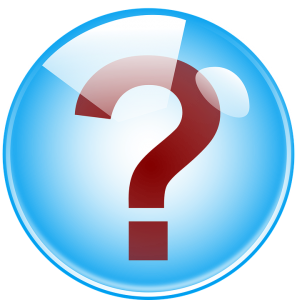 No, in the standard package of these two models carry bags for easy transportation are not included.
Is it possible to use the Intex PureSpa by six people?
The presented model fits only four people, but you can buy PureSpa Bubble Massage Deluxe model 28439EP or 28427EP for six people, also available on Amazon.
The Spa has several handles on the outer wall of the
hot tub
; you can move the spa with them only until it is filled with water. Spa transportation with water is not recommended as it may result in material rupture.
Conclusion
There is no significant difference between Intex Simple Spa vs. PureSpa. Both models have the same pump for heating, inflating, bubbling, and water circulation. PureSpa has more bubble jets and is bigger, which is why this model is more expensive.
Nevertheless, they both fit the same number of people – four. Another advantage of the PureSpa model is its hard water treatment system prolongs spa life. But if you want to buy a simple spa without accessories for an affordable price, then Intex Simple Spa is a perfect choice. For a more durable spa with more jets and octagon form, go shopping for Intex PureSpa.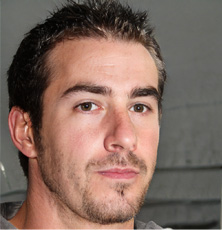 Hi! I'm Markus Robertson, and water is my passion.
Five years ago, I graduated from the University of California-Los Angeles and was going to become a professional marine biologist. However, my fate had other plans for me, and due to family problems, I had to find a more stable and well-paid job. I had only one wish for my job to be connected with water.
During this period of my life, I worked as a sales manager at Olympic Pool & Spa Supplies. The job helped me learn everything about swimming pools and related pool equipment, as well as how to choose the best option and what to pay attention to.
Having worked there for three years, I decided to start my own blog about pools, where I can tell people about the best new pool equipment models and share my knowledge and experience.
A marine biologist by education, I became a pool blogger by trade. Now I'm glad I can help the guests of my store and the visitors of my blog know a lot of exciting things about pools, their types, best pumps and filters, necessary equipment maintenance, and so on.
I welcome all people who want to choose a proper basin and the stuff to my blog! Hope you'll find this information interesting and useful!