Just an F.Y.I. there are
affiliate links
in this post, and if you click any of those links, we will earn a small commission.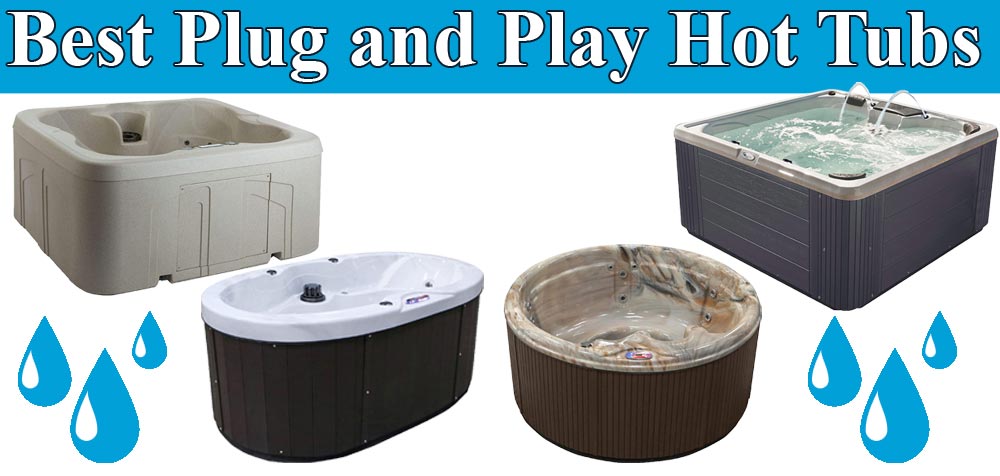 Plug & play hot tubs seem to gain unusual popularity this season. Being more durable than inflatable products and more affordable than common hot spas, they become a perfect investment both for health and pleasure.
At the moment, the list of best-selling models is crowned by four products – LIFE SMART 4 Person, American Spas AM-418B, American Spas AM-511-RM, and Essential Hot Tubs 30-Jet 2020 Adelaide.
Without further ado, let's get down to the models' dissection and comparison and determine whether the best plug and play hot tubs deserve such a high title!
Main Differences Between the Models
The following review will be dedicated to the four plug & play hot tubs. Belonging to the same category means a lot of similarities, and we can state that the tubs really have common features to share. Nevertheless, we also paid attention to the differences, which can help you make the right model choice. Here they are:
All hot tubs differ greatly in design, but the most significant difference lies in seating capacity. LIFE SMART 4 Person model is suitable for 4 people. American Spas AM-418B is designed for only two, while its «brother» American Spas AM-511-RM can contain up to 5 people. The last product Essential Hot Tubs 30-Jet 2020 Adelaide provides the record 6-seat capacity.
The number of jets also varies. Listing the models in the same order, we'll get 13, 18, 11, and 30 jets, respectively.
Though all jets support flow adjustment, only the two American Spas hot tubs allow users to adjust the flow for each seat separately.
All models come with independent pumps and heaters. The LIFE SMART hot tub is the only that combines these two elements in one body.
The LIFE SMART is also the only one that doesn't perform ozone water sanitation. Other products use special ozonators.
Comparison table of Small Hot Tubs
Heater
separate 5.5 kW titanium heater
separate 5.5 kW titanium heater
separate stainless steel Balboa 1kW/4kW heater
Bubble Jets
13 jets with adjustable flow
18 jets with adjustable flow
11 jets with adjustable flow
30 jets with adjustable flow
Individual Seat Jet Flow Control
Sound System
2-speaker Bluetooth Freedom Sound System
Last update on 2023-12-04 / Affiliate links / Images from Amazon Product Advertising API
The first model is a bright representative of the hot spa line. Indeed, all its features contribute to the plug and play level of convenience and ease of use. So, what are they?
First of all, Life Smart is made of solid, durable materials for years of exploitation. Item is designed for four people, and it comes with partly divided four seats. Each has individual rotating back jets and top-side valves. Users can also set the perfect flow and massage intensity but for the whole tub without individual control for each seat.
The whole control process is performed via a convenient digital command center. Moreover, there is the Eco Smart technology for additional ease of management.
All in all, the tub is equipped with 13 high-powered jets and several valves that support a balance between water and air massage. A built-in pump heats water to 40-104 degrees. Use a thermostat to set any temperature. Evenly insulated foam walls with brand clip locked cover help keep water warm as long as possible, thus saving your energy.
A top-loading filter guarantees water purity, while a multi-color LED light system and a small waterfall create a festive atmosphere and help relax.
All elements of the hot tub need minimum effort and knowledge of installation, so you can really just plug the spa and enjoy it. Besides, with so many elements inside, it stays quite lightweight for moving and transportation. The model suits both outdoor and indoor use.
The only minuses are quite a high price and the lack of chemical dispenser. Please mind that the white spa inner cover turns yellow with time. Besides, though the tub was released as a 4-seat model, users state it may be a bit small for four adults. So, the best option is to use it for a couple rest or three people.
Pros
suitable for 2- 4 people
high-quality materials
powerful 1.5 HP multi-functional pump
13 jets and air valves
jet flow control
air and water mixed hydrotherapy massage
simple digital command center
Eco Smart technology
top-loading filter
multi-color LED light system included
small waterfall
additional foam insulation of walls and protective cover
a built-in drain valve
lightweight
Cons
no chemical dispenser included
no individual jet control for each seat
becomes yellowish with time
may feel small for four people
American Spas AM-418B is a smaller model designed only for two. Still, it has lots of unique features to boast of.
So, as we said, this hot tub is equipped with two independent seats, each having its own jet number and location, flow control, and even seat design. One place is made for those who prefer an upright body position when another is slightly reclined.
The total number of jets is 18; jets differ in designs and are made of stainless steel. Engineers provided separate jets for arm, back, and leg massaging with directional control.
A built-in digital display is responsible for managing the jet flow, heating, lighting, and other functions.
Though a pump is powerful enough to provide quick water heating, let us also mention exquisitely designed insulation. Apart from a thermo-layer, it comes with a high-quality cover that traps heat.
Water treatment is based on an American Spas brand 50 sq. ft. Bio-Clean filter with easy top-loading access. A HydroClear Ozonator with active ozone bubbles purifies and sanitizes water additionally.
Complete hydrotherapy of the AM-418B comes with a full set of entertainment elements. Thus, users get a lovely waterfall, multi-color LED lighting, and exclusive 2-speaker Bluetooth Freedom Sound System for comprehensive audio and visual relaxation.
Complaints we managed to find relate to the lack of chemical dispenser and difficult transportation of the tub since it is really heavy.
Pros
designed for 2 people
high-quality materials
powerful 2 HP multi-functional pump
18 jets of several designs and individual locations
seats have different designs to suit people with varying body position preferences
individual jet control for each seat
individual hydrotherapy massage for several body zones
simple digital display for control
Bio-Clean easy access filter
HydroClear Ozonator
2-speaker Bluetooth Freedom Sound System
multi-color LED light system included
small waterfall
additional insulation of bottom/walls and protective cover
a built-in drain valve
Cons
no chemical dispenser included
heavy
Party men and big families can also try the relaxing power of hot tubs. All they need is to purchase American Spas AM-511-RM designed for as many as 5 people! Yes, it's true – the tub can contain five people at once and provide each with his/her own massaging zone.
Generally, this model has lots in common with the previous American Spas. Thus, the product comes with the same 50 ft. sq. Bio-Clean easy access filter and water sanitizing Ozonator.
The water heating system is identical as well since the tub uses the same pump, bottom located heating elements, comprehensive foam insulation, and Hydro-Armor tapered spa cover to retain heat inside the tub.
You'll face no difficulties in your tub controlling and customization. Run all tub systems through a digital panel installed in the tub.
When it comes to the unique spa features, we'd like to notice its round design with one big common seat in the form of a bench to contain five people.
Above the bench, we'll see five individual jet zones designed for directional back massage. It means that everyone gets his/her piece of hydrotherapy targeted to help specific stress points. Moreover, each zone has individual jet flow control.
Jets come in several designs for more diverse massaging, but all are made of stainless steel for greater durability. The total number of jets is 11.
The entertainment part is presented by a small waterfall and LED lighting with the choice of seven colors.
Though pluses outweigh it all, the existing pitfalls include a heavy body and a bit complicated installation. Please also mind that the tub has the only back massage zone. If you need comprehensive hydrotherapy with arm and leg participation, it may be worth looking for some other options.

Pros
5 people seating capacity
high-quality materials
powerful 2 HP multi-functional pump
11 jets of several designs
individual jet control for each seat
simple digital display for control
Bio-Clean easy access filter
HydroClear Ozonator
multi-color LED light system included
small waterfall
additional insulation of bottom/walls and protective cover
a built-in drain valve
Cons
only back massage zones
no chemical dispenser included
heavy
slightly complicated installation
Essential Hot Tubs Adelaide becomes the biggest model of the review. The product is able to fit as many as 6 people at once and is rigged with record 30 jets.
So, the square hot tub inner side can be divided into two zones. The first is presented by two separate face-to-face seats, which the manufacturer calls Captain's Chairs. Both have varying designs that are very similar to what we saw in the American Spas Hot Tub AM-418B model.
Seats offer reclined or upright body position and leg or back jet massaging. The second part gets much more space, as it looks like a big common lounge zone. Here, we see a common bench with four back massaging jet sets.
The jet flow is adjustable for all jets. Two LED flow controls can change the intensity of water pressure. Another hot tub control is located in one digital command center. Here, we adjust the temperature, set modes, water treatment, etc.
The Adelaide comes with one 2 Peak HP pump with two speeds, an innovative 1kW/4kW (120V/240V) all-season stainless steel Balboa heater for quick filling and heating. Water always spays fresh and safe thanks to a top-load cartridge filter and the ozone water treatment system.
As usual, customers get a hot tub item together with an insulated cover. Besides that, this is the only model that provides 3 headrests, 2 LED lit waterfalls and a convenient built-in ice bucket with a lid and tray for drinks and snacks.
We'd also like to inform customers beforehand that you won't find a chemical dispenser in the kit and need a couple of friends to move the tub.
Pros
suitable for up to 6 people
high-quality materials
2 Peak HP pump
30 stainless steel jets
2 relax zones with individual seat designs and massaging
2 LED jet flow controls
digital command center
a top-loading cartridge filter
Ozonator for additional water treatment
2 LED lit waterfalls
Three built-in headrests
an insulated cover
a capacious ice bucket
a built-in drain valve
Cons
expensive
no chemical dispenser included
no individual jet control for each seat
heavy
Now when we get quite a detailed description of all four models, some customers may still feel uncertainty about choosing the right hot tub. Thus, it's time for us to concentrate on their characteristics, scrutinize them separately, and compare the results.
Detailed face-to-face comparison of Plug and Play Hot Tubs
Design and Dimensions
Dimensions of hot tubs may vary, but the main thing about them is that they should completely satisfy your needs and vacant space available. On the one hand, the more compact the tub, the easier it would be to fit it in the backyard and move. On the other hand, the bigger it's inside, the more space for rest you have.
So, our models feature the following dimensions:

LIFE SMART 4 Person Plug & Play Hot Tub measures 70″ x 61″ x 32″, weighs 235 pounds (empty), and can hold about 200 gallons;
American Spas Hot Tub AM-418B 2-Person measures 90″ x 48″ x 33″, weighs about 500 pounds, and can hold 200 gallons;
American Spas Hot Tub AM-511-RM measures 78″ x 78″ x 36″, weighs 627 pounds, and can hold 300 gallons;
Essential Hot Tubs 30-Jet 2020 Adelaide Hot Tub measures 74″ x 74″ x 34″, weighs 630 pounds, and can hold 300 gallons;
When it comes to design, the products offer different color and shape decisions to meet any taste and preferences. We've got two square models (the first and the fourth) and one round (the third) for big companies. The only small hot tub for two (the second model) features an oval shape.
Color options are also diverse but neutral to fit into any backyard design. You can choose between white, black and white, Tuscan Sun, and grey and white color palette.
Materials and Installation
The LIFE SMART model is made from eco thermoplastic with additional full foam energy-saving insulation. Users say it is durable enough though it is not very resistant to the sun and time exposure. So, be ready that white cover will turn yellow after several years.
The next two American Spas hot tubs predictably share the same materials. Thus, they consist of a wooden frame, which is covered by synthetic cabinet panels. The inner side is mostly acrylic with recyclable premium insulation. Having looked through dozens of reviews, we didn't find a single complaint about their durability and material quality.
Last but not least, the Essential Hot Tubs Adelaide also uses custom designed cabinet panels, acrylic cover, and insulation layer. Materials are quite similar to those used in the previous two models, so we can also rely on their durability.
Let us also not that all jets in all models are made of stainless steel, which guarantees worry-free exploitation and extended service life.
Installation is another advantage of the tubs. Since they belong to the plug & play category of hot spas, minimal mounting experience and skills are required. The hot tubs are assembled according to the instructions (this is the most time-consuming part of the task) and then just plug into a common outlet.
The process isn't so easy and fast as with inflatable hot tubs. Still, no special wire works are needed, like in stationary products. Besides, these tubs are portable, and you can take them with you when moving. Though we recommend hiring specialists for installation to save time, you can also cope with it within several hours.

Verdict: Materials and installation convenience are undoubtedly among the main advantages of these hot tubs. If you're looking for a golden mean between durability, easy (dis)assembly, and transportation for relatively affordable money, you could hardly find something better than plug & play hot tubs.
Pump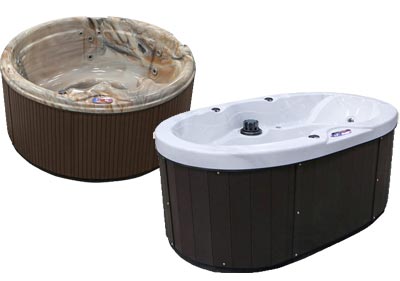 The American Spas tubs feature slightly more powerful equipment. They use a 2 HP 6-breaker pump with two speeds and a reverse-flow system for overheating protection.
The pump doesn't heat the water as there is a built-in 5.5 kW titanium heater for it. Once again, you'll get no noise and wiring problems as both tubs work from standard 110V or 240V net.
Verdict: Close comparison proves that, though looking differently in many characteristics, the four plug & play tubs coincide with one of the most crucial moments – pumps. Their horsepower, voltage, and noiseless performance similarity puzzle the choice. We can only recommend paying special attention to the American Spas and the Essential models that have separate (i.e., more powerful) heaters.
Filtration and Water Treatment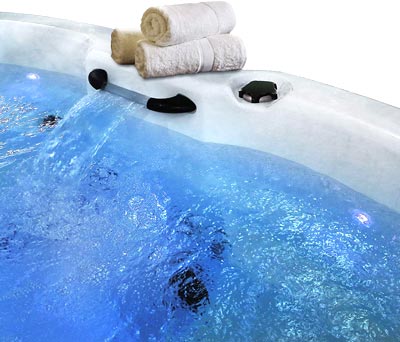 Top-loading cartridge filters have long become the standard water treatment method for all inflatable and plug & play hot tubs. So, our four items provide this very filtration.
Filters are installed in the tubs' bodies in special filter cups for easy access. This fact will please you since cartridge filters require regular cleaning and replacement.
Tubs mostly deal with fine debris. Large dirt like leaves, sticks, and bugs are kept away by covers, but sometimes they also get inside, and filters will eliminate them, either.
At the same time, warm water is a perfect environment for algae and bacteria, which are beyond the reach of any filter. That's when hot tubs need additional water treatment systems such as chemical dispensers and ozonators.
Unfortunately, none of our models can offer chemical water sanitation. However, the American Spas AM-418B, the AM-511-RM, and the Essential Hot Tubs 2020 Adelaide use highly-efficient hydro Ozonators that destroy all hazardous particles in the water with ozone.
Verdict: Cartridge water filtration seems quite satisfying for such water capacities, and we like their easy-access location. The only thing to mind is the necessity for frequent replacement (about once per month). Generally, all hot tubs are equal here except for the LIFE SMART. This model is the only one that lacks both chemical and ozone water processing functions.
Temperature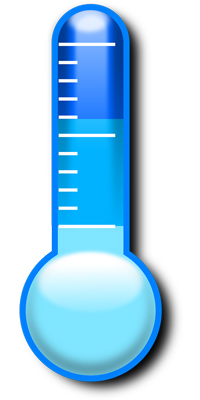 As mentioned above, the LIFE SMART 4 Person uses a multi-functional pump with a built-in heating system. The temperature set available varies from 80°F (26°C) to 104°F (40°C). Cold water heating to the maximum level will take over 24 hours, which is rather time-consuming compared to other hot tubs.
On the other hand, the LIFE SMART became the most energy-saving product of the review thanks to its Lifesmart Eco Smart technology. This highly efficient energy management system built into the spa controls electricity consumption. Besides, engineers added several heating modes to keep water warm, depending on the frequency of tub use.
The other three hot tubs have independent heaters that provide 80°F (26°C) – 104°F (40°C) rate. The heating goes faster, so you'll need 12-16 hours or slightly more to increase the pure water temperature to the maximum level. Here, you can also adjust the energy consumption by setting one of the Set Temperature, Economy, and Sleep modes.
Customers will also be glad to know that temperature control is performed through convenient digital displays installed on the tubs.

Verdict: The first hot tub slightly loses to its rivals in the heating speed. The gap is not that much, but if you want a quickly heating product, the other three options may be preferable. However, its energy-saving feature makes the LIFE SMART still a worthy investment.
Bubble Jets
The total number of jets for each hot tubs are presented below:

13 jets;
18 jets;
11 jets;
30 jets;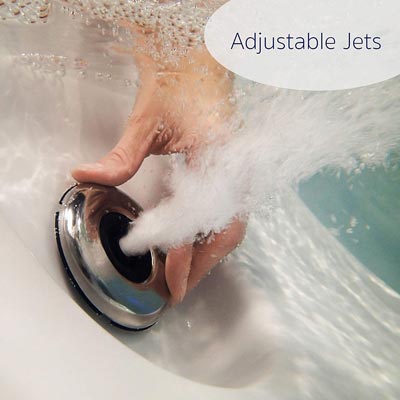 Jets are divided into several groups, depending on the number of seats and massage zones. The LIFE SMART and the American Spas AM-511-RM provide only back massaging. The Essential Hot Spas 2020 Adelaide has both back and leg zones, and the American Spas AM-418B turns out to offer the best hydrotherapy for back, neck, arms, and legs at the same time.

It's a great pleasure for us to say that absolutely all tubs offer jet flow adjustment. Thus, you can set the most suitable massage intensity and change it when needed.

However, please pay attention that the LIFE SMART and the Essential Adelaide models alter the flow rate for all jets. The American Spas hot tubs owners will be able to change the flow for each seat separately, never disturbing neighbors.

As usual, jet flow adjustment is performed via digital displays. But the Adelaide is the only exception that also comes with a command center but uses two LED lit manual controls for jets.
Draining
Nowadays, you can hardly find a ready-make hot tub without an elaborate draining system. When you have 300 gallons of water to release, you will definitely appreciate a small valve that will help you drain water for a couple of minutes.
So, our four models didn't become exceptions. Each product is equipped with a convenient drain valve installed at the bottom. Draining will also require the use of a hose, which is not included in the kits.
Accessories
Essential Hot Tubs 30-Jet 2020 Adelaide Hot Tub features: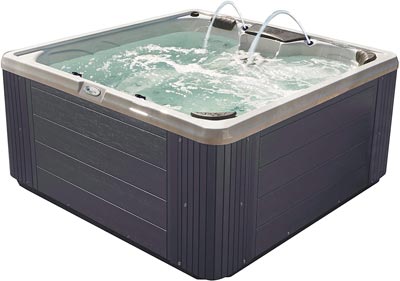 a pump;
insulated tapered cover with locking clips;
a cartridge filter;
multi-color LED lighting;
3 headrests;
a built-in ice bucket and tray;
American Spas Hot Tub AM-418B comes with: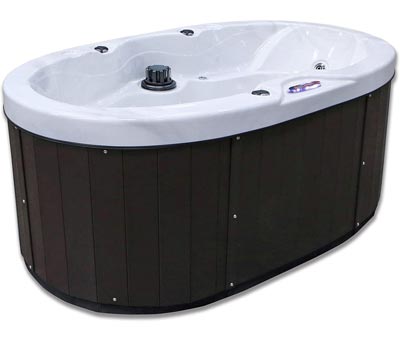 a pump;
a Hydro-armor tapered spa cover;
easy access 50 ft. reusable Bio-Clean cartridge filter;
multi-color LED lighting;
2-speaker Bluetooth Freedom Sound System installed;
The kits make a choice easier since we found few differences between them. First of all, we're glad that all models come with the most necessary accessories as covers and filters.
LED lighting is a voluntary addition of the manufacturers, but it significantly contributes to the atmosphere creation.
Finally, we'd like to specially highlight the second and the fourth hot tubs for their unique sound system, headrests, and ice bucket. If you'd like to get the maximum pleasure for the money, American Spas AM-418B and the Adelaide will please you a lot.
Buyer's Guide – How to Choose the Best Plug & Play Hot Tub?
Plug & play hot tubs are definitely more affordable than stationary models, but they still cost a lot. That's why if you don't want to waste your money on an inappropriate product, a thorough pre-purchase selection is necessary. Here are several crucial moments to remember when looking for your perfect option.
Dimensions, Shape, and Weight
The product's dimensions influence both the seating capacity and the nuances of the installation process. Think of how many people you'd like to have inside. There are models both for intimate rests for two, medium-sized items for 3-4 people, and big hot tubs for parties and companies (up to 6-8 person).
The shape of the tub may be too inconvenient for further installation or seating comfort. So, choose wisely between square, round, and oval products.
The weight will influence transportation as well as the choice of the place for installation. Not all hot tubs can be installed indoor because of their weight. And it may also be too difficult to move them to another house.
Design of the Seats
Seats are an important criterion of hot spas. For company rest, reservoirs with free seating zones are recommended. Thus you'll be able to fit more people than the maximum capacity allows. Hot tubs for couples only can have individual seats.
Please check whether seats are comfortable for a long-term stay. Water should cover your shoulders to provide better therapeutic results.
Built-In Functions
Specialists recommend choosing hot tubs and spas with ultimate heating and filtering features. They will guarantee you perfect and safe rest.
Heating shouldn't take too much time and require too much energy. If your model offers several heating modes, your choice is impeccable.
Water treatment systems can consist of cartridge filters, chemical dispensers, ozone sanitizing elements, etc. The more you have, the better.
It is also recommended to pay attention to such functions as LED lighting, waterfalls, built-in sound system, Wi-Fi control. Though they don't directly influence the hot tub operation, all these additions can make your rest even more comfortable and amusing.
Massaging and Therapeutic Features
The therapeutic effect you're going to get directly depends on the quantity and design of jets. Hot spas can have air as well as hydro jets, and, consequently, you can find models with pure air and hydro massage or tubs with the combined operation.
Hence, your choice should be dictated by the desired therapeutic effect. Simple fun and entertainment can do with air bubbles, while hot tubs purchased due to medical reasons must provide all types of massage.
We'd also recommend you check the jets' location and division into massage zones (for back only or for back, legs, arms, etc.). Jet flow adjustment will also greatly contribute to your hydro procedures.
Frequently Asked Questions
1. What is the difference between stationary and plug & play hot tubs?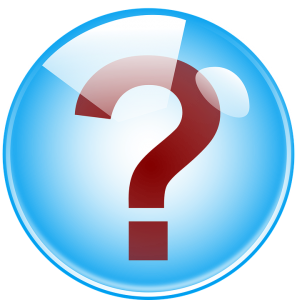 Visually, plug & play hot tubs are almost identical to stationary models and share lots of common features. For example, they offer a similar heating range and speed, excellent filtration, comprehensive hydro massage effect.
At the same time, p&p models are much more affordable. And most importantly, they provide easy installation. P&p hot tubs work from a common outlet, don't need professional electrician's services, and can be assembled even by an inexperienced person. You can also disassemble and take your plug & play tub with you when moving.
2. What is the most affordable plug & play hot tub?
Young families and couples will like the American Spas AM-418B hot tub just for two. This 2-seat model with diverse hydro massage options, adjustable jet flow, individual seat control, fast heating.
Customers searching for a hot spa for big companies can try another American Spas AM-511-RM with identical characteristics and price but greatly extended seating capacity.
3. How much will a plug & play hot tub cost me per month?
The monthly cost of hot tub use will sum up from several factors. The energy consumption depends on its original power and requirements, the frequency of tub use, the set temperature, insulation, season, and climate. On average, monthly expenses vary from $30 to $60.
4. Do I need to pay for professional plug & play hot tub installation?
One of the main advantages of plug & play hot tubs is their simple installation that doesn't require professional skills and knowledge. Hot spas work from standard 110V-120V outlets and are not connected to the wiring directly. Thus, they save your money on electrician's services.
However, some models provide you an option to convert them to 240V net. This procedure must be performed by professionals only.
5. Can plug & play hot tubs be put directly on the ground, or do they require additional padding?
The majority of products need a level surface as a base. You can set your tub on lawn, pavers, deck, gravel, concrete, and so on. But we highly recommend you form an additional pad and insulation layer for greater stability and longer life of the unit.
Conclusion
The SMART LIFE 4 Person can be called a nice golden mean option in terms of functionality. However, price seems unfair for slightly slower heating, no individual jet flow control for each seat, and no ozone water treatment.
The two American Spas models put their best foot forward, so we consider them the best options for both couples and big companies. The hot tubs offer the most affordable price, perfect jet control, hydro massage, heating speed, and water treatment.
Last but not least, Essential Hot Tubs 2020 is notable for its record 30 jets and the most diverse number of massage zones. We also loved its unique accessory kit with ice bucket and tray, two waterfalls, and headrests. However, it is definitely not a budget option.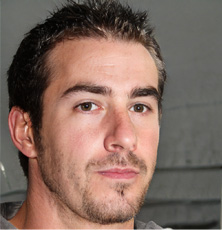 Hi! I'm Markus Robertson, and water is my passion.
Five years ago, I graduated from the University of California-Los Angeles and was going to become a professional marine biologist. However, my fate had other plans for me, and due to family problems, I had to find a more stable and well-paid job. I had only one wish for my job to be connected with water.
During this period of my life, I worked as a sales manager at Olympic Pool & Spa Supplies. The job helped me learn everything about swimming pools and related pool equipment, as well as how to choose the best option and what to pay attention to.
Having worked there for three years, I decided to start my own blog about pools, where I can tell people about the best new pool equipment models and share my knowledge and experience.
A marine biologist by education, I became a pool blogger by trade. Now I'm glad I can help the guests of my store and the visitors of my blog know a lot of exciting things about pools, their types, best pumps and filters, necessary equipment maintenance, and so on.
I welcome all people who want to choose a proper basin and the stuff to my blog! Hope you'll find this information interesting and useful!