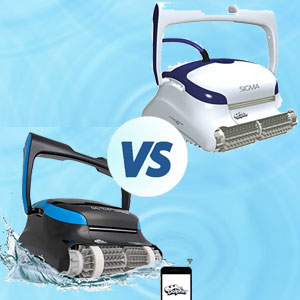 Today, I am going to compare two robotic pool cleaners — Dolphin Nautilus CC Supreme vs. Sigma.
If you are on the lookout for high-end robotic pool cleaners, you have probably seen these models surface in ads and buyer suggestions.
Maytronics' Dolphin Nautilus CC Supreme and Dolphin Sigma thoroughly clean pool floors and waterlines. Both models have features that make them way more hands-off and user-friendly than cheaper units.
However, Sigma costs a bit more than Nautilus CC Supreme. Is the extra cost worth it? Merely reading customer feedback makes it difficult to figure out which unit outperforms the other, so I took the deep dive for you.

Comparison table
Pool Surfaces
Gunite/Plaster, Vinyl, Fiberglass
Gunite/Plaster, Vinyl, Fiberglass
Pool Surfaces
Gunite/Plaster, Vinyl, Fiberglass
Pool Surfaces
Gunite/Plaster, Vinyl, Fiberglass
Last update on 2023-09-25 / Affiliate links / Images from Amazon Product Advertising API
Main Differences
Sigma Boast of PowerClean™ Quad Scrubbing Brushes

Nautilus CC Supreme is fitted with three brushes. Two separately controlled brushes spin independently at the front, while the third active brush is located at the center of the robot.

Sigma, on the other hand, has quad brushes. A pair of active brushes are placed at the front and these two spins in opposite directions to maximize agitation. Meanwhile, the second pair of active brushes are placed at the rear to promote balance.

Additionally, Sigma's active brushes feature PowerClean™ technology, which is effective against tough microorganisms that would otherwise destroy water quality, compromise safety, and increase the chlorine demand.

CleverClean Technology vs. Gyroscope Mobility

In terms of navigation, Sigma is in the lead not just against the Nautilus CC Supreme but also against all other robotic pool cleaners in the market.

Sigma boasts of a gyroscopic control system. Combining gyro technology with advanced smart navigation software (SmartNav™ 3.0) and triple high-output DC motors gives you one of the greatest engineering accomplishments in the pool cleaning industry.

On the contrary, Nautilus CC Supreme uses CleverClean Technology that is a far cry from the gyroscope-enabled navigation found in Sigma.

Nautilus CC Supreme Have Hidden Charges

The warranty is pretty much the same for the Dolphin Nautilus CC Supreme and Sigma.

Both units have an impressive three years of coverage, which is the best you will find on a residential pool robot. But if you look closer into the print, you will notice that there is a significant difference that might sway your decision.

If you decide to return your Nautilus CC Supreme, you may lose half of what you paid just to return the product. Sigma, on the other hand, does not have this hidden policy. There is no 50% restocking fee if you purchase the Sigma from a platinum seller.

Therefore, the return policy is one of the factors working in Sigma's favor.


The CC Supreme is the chief pool robot among Dolphin's Nautilus line. It comes equipped with three active scrubbing brushes instead of two.

This pool robot does not bother with Bluetooth because it has Wi-Fi connectivity. Simply download the My Dolphin Plus app on your smartphone to set up the connection.

Once you have established a connection, you can access the Nautilus CC Supreme using the different settings that it offers no matter where you are.

You can use the app to turn the pool robot on or off, choose the cleaning cycle, set the weekly scheduler, use delay start, or check if the filter is full. There are three different cleaning modes: Quick Clean, Standard Clean, and Enhanced Clean.

Pros
Comes with a top-loading filter
Cleans floors, walls, and waterline
Can reach every corner and curve
Wi-Fi controlled and offers multiple cleaning cycles
Cons
An expensive option
Navigation software is not as accurate as expected
Filter cartridge may fill up quickly when there's too much large debris
Sigma sets the new standard for robotic pool cleaners!
Equipped with SmartNav 3.0 Robotic Scanning and Gyroscopic Mobility System, it delivers optimized scanning and precise coverage to ensure every nook and cranny is reached.
Sigma gauges the best pattern for faster cleaning and improved efficiency. The robot completes a cleaning cycle in pools up to 60 feet long in just two hours.
The robot knows where it has and hasn't been to avoid overlapping cleaning, making sure no time is wasted. With the ability to sense ladders and drains, Sigma won't get stuck.
Pros
Comes with a top-loading filter with larger capacity
Superior wall and waterline abilities
Can reach every corner and curve
Wi-Fi controlled and offers multiple cleaning cycles
Uses gyro sensors and SmartNav 3.0 mapping software
Face to Face Comparison
Without further ado, I will compare the Dolphin Nautilus CC Supreme vs. Sigma based on their main features to see which model wins overall.
Design
Dolphin Sigma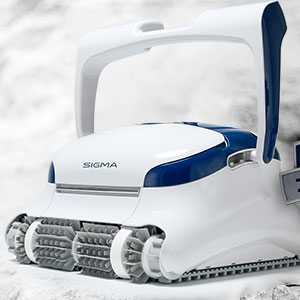 At 24 pounds, taking the Dolphin Sigma out of the box feels like picking up a Corgi. The machine is also on the heavy side, but this is due to the incredible hardware it is fitted with.
Likewise, the Sigma comes with a 50-foot cable with Maytronics' patented tangle-free swivel. This swivel system provides unlimited 360-degree rotation so that the robot can move around residential pools with ease.
This model also has a top-loading cartridge filtration.
While the robot includes a neat-looking power supply, I recommend using the My Dolphin app to make most of this remarkable machine.
Aesthetic-wise, the Sigma features a heavy-duty white shell accented with blue on the sides. I love the color as it does not leave room for fading.
verdict
Unfortunately, the color of the shell CC Supreme may start to fade after two seasons. The colors do not hold up well under extended water exposure.
Active Brushes and Motors
Dolphin Nautilus CC Supreme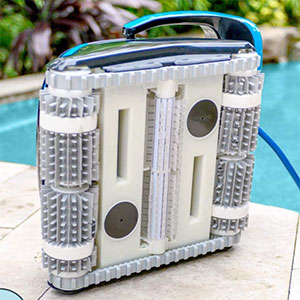 Cleaning coverage is strong and steady for the Dolphin Nautilus CC Supreme. This model boasts of dual cyclone motors that drive not just one, but a total of three active brushes:

Dynamic Dual Scrubber
Center High-Speed Scrubber
The front brush is split into two. For maximum agitation against stubborn dirt, the front brushes spin toward the opposite direction. The front and center brushes work together, agitating stubborn dirt and algae off your pool. The robot would always leave its path noticeably cleaner as it makes its way up to the walls.
attention
Yup, this robot climbs walls!
The high-traction rubber tracks would help maintain constant contact when climbing smooth surfaces so that the robot can scrub the filthiest part of the pool. Mold and mildew from curved edges have no chance, as well.
Overall, the Nautilus CC Supreme gets the job done. The only downside is that the robot seems to struggle with large debris, particularly leaves and pine needles. This problem leads us to the filtration system of the unit.
Dolphin SIGMA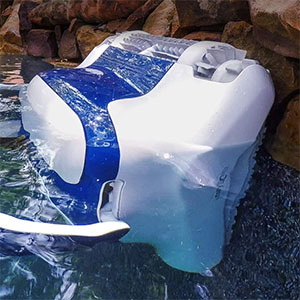 My favorite feature of the Sigma robotic pool cleaner is its four scrubbing brushes. Think of it as having two Dynamic Dual Scrubber — only this time the brushes are placed at the front and rear to promote better balance.
With up to 3000 revolutions per minute and integrated PowerClean™ technology, the quad brush loosens up algae and tackles pathogens that sit against pool walls.
Moreover, it is worth mentioning that the Sigma pool robot uses three 24-volt DC motors that require 87% less energy compared to AC motors. The result is powerful suction and an economical balance of power.
When it comes to wall climbing and waterline cleaning, the Sigma robotic pool cleaner proves to be superior. The HyperGrip tracks maintain continuous contact against the pool surface even when climbing steep slippery walls. No slipping. No wasted energy.
Control and Wi-Fi Connectivity
Dolphin SIGMA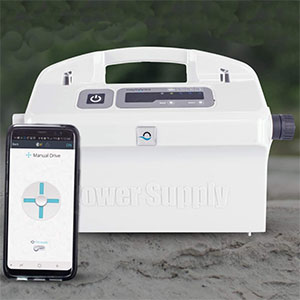 Sigma is equipped with programmable modes. You can set Sigma to automatically run daily, twice a week, or thrice a week.
Whether or not you are out of town, your pool stays clean and ready for a party.
Sigma is engineered to clean quickly and thoroughly, which means you can schedule your robot to run less often. The new advanced controls allow you to run Sigma only when needed to save more energy.
Filtration System
Dolphin Nautilus CC Supreme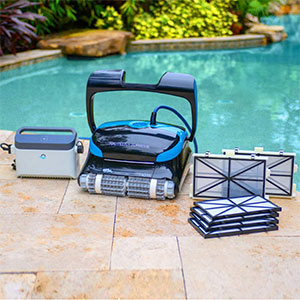 The Nautilus CC Supreme has two filter media options: fine and ultra-fine.
I like that the ultra-fine cartridge filters down particles up to two microns in size, such as silt and sand that cloud pools. However, the mesh filter cannot handle much debris.
The filters might be rather generous in terms of surface area but if your backyard has plenty of overhanging trees, then that would be a problem.
attention
You will have to be prepared to babysit your robot if your pool often gets a substantial amount of leaves. The cartridges would fill up fast. You may have to empty the basket every 30 or 45 minutes before the robot can continue.
Given the price tag of this pool robot, you cannot help but compare it to other equally powerful units that share the same price point. I expected an upgrade but the Nautilus CC Supreme offers the same standard filtration you see in lower-priced units.
On the bright side, the Nautilus CC Supreme uses top-loading filters that make upkeep a cinch. You can quickly access and remove the baskets encasing the filters. Just open them up and hose them down to tidy them up.
Dolphin Sigma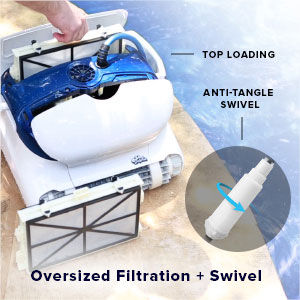 SIGMA bears Dolphin's a new and improved cartridge that boasts of having the biggest capacity ever recorded in a robotic pool cleaner.
If you are worried about dead bugs, twigs, and other floating debris, then consider this problem solved. The massive cartridge will hold plenty of silt and large gunk.
important
The new SnapLoc™ Filters make robot cleaning easier than ever. Each side simply snaps apart for quick and easy cleaning.
Navigation
Dolphin SIGMA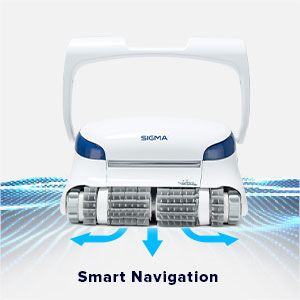 Navigation is the biggest difference between these two models.
Sigma's gyroscope mobility is a radical departure from the navigational capabilities of standard robotic pool cleaners, including Nautilus CC Supreme's CleverClean Technology.
Equipped with high-tech gyroscopes, the robot detects its orientation by measuring its linear acceleration and angular rotational velocity. Moreover, the advanced sensors monitor and control position, orientation, direction, and rotation.
Expect the gyro advantage to deliver constant information with pinpoint precision to the microprocessor, thus bringing more efficiency in cleaning coverage, climbing, and waterline cleaning.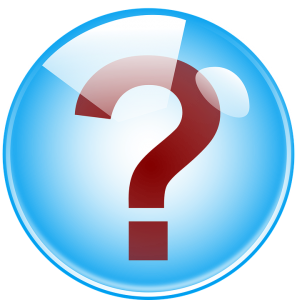 Frequently Asked Questions
1. Does the Dolphin Sigma clean the edges of the pool leading up to the walls?
Yes, it can. The front scrubber will reach those areas and climb to clean the sidewalls.
2. Can the Dolphin Sigma sense obstacles?
The Dolphin Sigma can sense ladders and drains, unlike ordinary robotic pool cleaners that get stuck in obstacles.
3. Why is the Dolphin Nautilus CC Supreme not climbing walls?
While designed to clean pool walls, the Nautilus CC Supreme may not make it onto the highest part of the walls when the walls come together at a steep angle instead of a gentle curve.
Dolphin Nautilus CC Supreme vs. Sigma: Robot Pool Cleaner Is Worth It?
You will often find these two models in the best of categories for robotic pool cleaners and it is a cinch to see why.
Both models have a long list of incredible features, including wall climbing and waterline cleaning of in-ground pools. Both units also have split spinning scrubbing brushes that provide deeper cleaning and better mobility compared to a standard pool cleaner.
But when pitted against each other, my vote would go to Sigma; it is the safer buy because of its simple return policy without hidden fees.
Sigma's cleaning prowess coupled with its groundbreaking navigation technology makes it definitely worth the spend.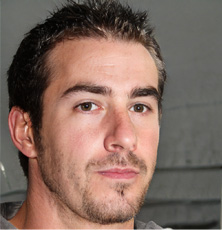 Hi! I'm Markus Robertson, and water is my passion.
Five years ago, I graduated from the University of California-Los Angeles and was going to become a professional marine biologist. However, my fate had other plans for me, and due to family problems, I had to find a more stable and well-paid job. I had only one wish for my job to be connected with water.
During this period of my life, I worked as a sales manager at Olympic Pool & Spa Supplies. The job helped me learn everything about swimming pools and related pool equipment, as well as how to choose the best option and what to pay attention to.
Having worked there for three years, I decided to start my own blog about pools, where I can tell people about the best new pool equipment models and share my knowledge and experience.
A marine biologist by education, I became a pool blogger by trade. Now I'm glad I can help the guests of my store and the visitors of my blog know a lot of exciting things about pools, their types, best pumps and filters, necessary equipment maintenance, and so on.
I welcome all people who want to choose a proper basin and the stuff to my blog! Hope you'll find this information interesting and useful!