Many owners of medium and large swimming pools torment themselves with manual or semi-automatic cleaners because of the trivial prejudice. They wrongly believe that robotic pool cleaners cost a fortune, seem too hard to program and just aren't worth all this hustle and bustle.
If you recognized yourself in this description, welcome to our surprising Dolphin E10 vs Nautilus CC comparison! While Dolphin E10 and Dolphin Nautilus CC cannot boast the latest high-tech features presented in their younger Maytronics brothers, both customers and experts are unanimous in finding a perfect balance in these products. The reasons we chose these devices are their relative affordability (you can easily find more expensive non-robotic cleaners now) and exclusive control plainness.

Comparison Table Dolphin E10 vs. Dolphin Nautilus CC
Pool Type
inground and above ground up to 30ft
inground and above ground up to 33ft
Navigation
CleverClean+Obstacle Escape
Cable
simple non-swivel 40 ft cord
simple non-swivel 50ft cord
Pool Type
inground and above ground up to 30ft
Navigation
CleverClean+Obstacle Escape
Cable
simple non-swivel 40 ft cord
Pool Type
inground and above ground up to 33ft
Cable
simple non-swivel 50ft cord
Last update on 2023-09-25 / Affiliate links / Images from Amazon Product Advertising API
Main Differences Between the Models
In general, Dolphin E10 and Dolphin Nautilus CC provide almost the same performance. But being a later model, the CC features a couple of significant improvements. So, before we pass to the detailed comparison, let's look through the list of the models' crucial differences:

The Nautilus CC model was developed for pools up to 33 ft in length (and even longer), while the E10 performance is limited by 30 ft.
Partially, the Nautilus CC can work in larger reservoirs thanks to a longer 50 ft cord. Its rival comes with a 40 ft cord. Otherwise, the cables are absolutely identical.
Dolphin E10 eliminates all dirt from floors. Dolphin Nautilus CC can also climb walls and steps for more comprehensive cleaning results.
However, the first device deals with pollution faster. Its cleaning cycle takes 1.5 hours only. The CC model needs 2 hours to perform cleaning.
Both robots use CleverClean sensor navigation, and Dolphin E10 also features the Obstacle Escape System.
Only the younger Nautilus series vac provides us with three schedule settings to program everyday, every other day, or every third day cleaning.
One could hardly find a better basic-level robotic pool cleaner than Dolphin E10. This device comes out strongly among others as the lack of some «high-tech» functions doesn't severely hurt your comfort or final results but beneficially influences the price and energy saving.
Dolphin E10 was designed as a simple robot for medium above ground pools and more complex inground basins up to 30 ft in size. The unit provides thorough bottom cleaning, dirt suction and algae scrubbing with a single soft brush, as well as water filtration through a filter basket.
The bot can even navigate underwater, avoiding major obstacles and running in the simplest rows. The manufacturer has already integrated its famous CleverClean technology into this model.
All in all, cleaning takes 1.5 hours. Besides, you don't have to get into the water each time you need to start or stop a cycle. A nice touch screen will help you do it remotely.
important
Some misses are why we still call the E10 a basic model. The bot will clean floors only and won't process walls or waterline. We cannot count on the cycle schedule here, too, so each session is initiated manually only. Finally, a non-swivel cable sometimes causes tangling.
However, most customers easily deal with these drawbacks valuing all its pros. The E10 requires no extra pumps or hoses, works fast and neat, is convenient in transportation and operation. Finally, it's fully energy-efficient. Simpler operation saves your money twice – during purchase and later during use.
We'd recommend Dolphin E10 to owners of small/medium-sized pools subject to large debris rather than sediments. If you're on a budget and look for a simple yet intelligent operation, this device is yours too.
Pros
the best option for above ground and medium inground pools
energy-saving
needs no extra equipment
deals with large and fine debris thanks to a roller-scrubber
processes floor
CleverClean navigation with Obstacle Escape System helps avoid barriers
fast 1.5 hours cleaning cycle
easy-emptying top-load basket with excellent capacity
light body with an additional quick water release system
a remote touch screen included
Cons
doesn't clean walls and waterline
doesn't support cleaning schedules
may lose too fine dirt particles
a 40 ft cable may tangle
In Dolphin E10 vs Nautilus CC battle, the latter will certainly be an upgraded model. The most important innovations lie in cleaning performance and user setting options.
At first glance, the Nautilus provides its services for the same type of pools – both inground and above ground reservoirs up to 33ft. We note familiar CleverClean navigation, which is even reflected in the model name (the CC series). Cleaning tools are also presented by a single silicone scrubber and a spacious filter basket.
However, this time, we get comprehensive pool surface processing, including not only floor but walls and steps. Wall climbing and greater attention to navigation cause longer operation, so one cycle takes 2 hours.
Despite the increased electricity consumption, the bot stays pretty efficient thanks to a special Energy Saving mode. You can activate it on a touch screen. But the best screen improvement is three schedule settings for every day, every other day, or every third day operation. The function makes life much easier, eliminating the need for manual session starts within at least three days.
As you see, Dolphin Nautilus CC offers significantly improved functionality. In addition, the manufacturer worked over the major drawbacks of the previous devices. The only ones left are a tangling cable, no waterline cleaning, and fine dirt missing.
Besides, the unit won't cost you as much as one may think. Thus, though you may have a modest pool (up to 33ft), safely choose the Nautilus if you're looking for hassle-free programming and more thorough surface processing.
Pros
universal model suitable for above ground and inground pools
cleans almost every pool corner, including the walls and steps
uses a grabby scrubber to pick up large debris and fine particles
CleverClean navigation
a more thorough 2-hour cleaning cycle
allows for setting one of three cleaning schedule scenarios
a large, easy-emptying top-load filter basket
supports a quick water release system
a remote touch screen included
saves electricity thanks to the energy-saving mode
Cons
still cannot climb waterline
may lose too fine dirt particles
a longer 50 ft cable of the same simple design provokes more frequent tangling
Face to Face Comparison
Now, let's pass on to the detailed comparison of the Dolphins' characteristics.
Design and Dimensions
Externally, the bots feature identical designs (shape, scrubbers, tracks, carry handles, etc.). Also, the manufacturer uses durable plastic for bodies that withstands impacts and water influence. The only difference is the color solution. While the E10 is made in a light scheme, the CC model offers dark colors with blue insertions.
As we've said, both cleaners come with simple non-swivel cords that slightly vary in length. Below, you can see more detailed information on Dolphins' dimensions, weight, and cord length:
Dolphin Nautilus CC features: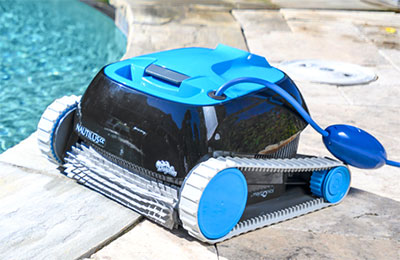 16.38″ x 16.77″ x 8.97″ dimensions;
a more lightweight 14 lb body;
a 50ft cord power cord;
Cleaning Performance
Dolphin Nautilus CC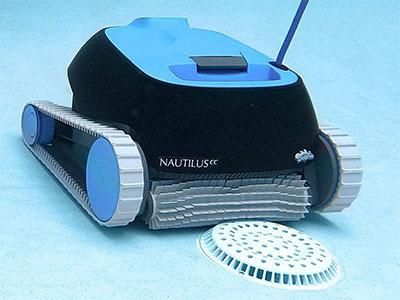 The Nautilus CC series comes with the same Single Active Scrubber. Once again, one tool can deal with various pollutants, including the typical leaves, sticks, insects, algae, and sediment.
The scrubber will also double its rotation speed automatically when necessary.
Despite the same cleaning tool, the manufacturer significantly expanded the cleaning area. Nautilus will both process the floor and climb walls and steps. This improvement cannot be overestimated.
But at the same time, the more areas you clean, the more time you need. The CC deals with the whole pool within 2 hours. This is also the only cycle.
verdict
Certainly, Dolphin Nautilus CC carries the palm in terms of cleaning performance. The unit easily climbs walls, which takes only 30 minutes more.
However, the E10 doesn't lose much. It offers the same quality of cleaning. Besides, please mind that Dolphin E10 is more energy-efficient. So if you're looking for a quick yet economic model, choose the first device of our Dolphin E10 vs Dolphin Nautilus CC comparison.
Filtration


All Maytronics pool cleaners are equipped with either cartridge filters or large baskets. The E10 and the Nautilus CC come into the second category.
Both bots feature the so-called top-load filter basket. To put it simply, the unit looks like a large box with fine filter cartridges served as walls. Such a construction allows for both holding a large amount of dirt and cleaning water from small particles.
And a top-load name means that the basket is located in the upper part of the cleaner. And you only need to open the panel to pull the box out. Thus, Dolphins ensure rare but very easy emptying. Just pull out the basket, through dirt, and rinse walls with clean water.
verdict
If your pool is subject to large debris (like constantly falling leaves), you cannot find a better filtration. The process is effortless and quick. However, Dolphins E10 and Nautilus CC cannot guarantee perfect filtration of fine particles, which is a minus.
Navigation


Smart navigation technologies are the main advantages of robotic pool cleaners. Medium-level Maytronics models use patented CleverClean navigation. This is especially notable in the Dolphin Nautilus CC model, where CC stands exactly for the CleverClean.
The system is based on numerous sensors spread along the bot's body. Sensors scan surroundings and detect standard obstacles (walls, steps, lighting elements). Once the cleaner noticed the barrier, it changes the route.
Apart from the CC system, Dolphin E10 can also boast the so-called Obstacle Escape System that ensures more sensors and, consequently, more precise obstacle detection. Maytronics provides no official information on the presence of this technology in the Nautilus series.
Navigation allows for making a step forward from the primitive random cleaning. However, let's speak frankly, bare sensor technology is not the best. Cleaning routes may be not that consistent and thorough. Besides, cleaners cannot detect dirt for more accurate cleaning.
verdict
Thus, both our Dolphins keep safe from hitting. The navigation system they use allows for taking into account obstacles and collecting all debris they face. The bots may return to the area they cleaned before and mess the routes, but we still consider their navigation pretty efficient for quality and quick cleaning. Dolphin E10 may be slightly more accurate, though the difference is not that great.
Control
There is no need to dive for your pool cleaner anymore. Since robots support remote control, you can use it every time you'd like to start or stop cleaning. However, we note the great difference between the competitors here.
Dolphin Nautilus CC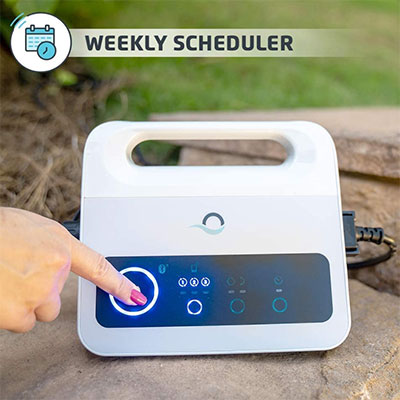 Dolphin Nautilus CC gained great improvement. Its touch screen is also equipped with On/Off and Energy Saving mode buttons. However, apart from that, you can notice three additional buttons on the controller.
These are three schedule settings. Thanks to them, users can preprogram pool cleaning sessions according to three scenarios: every day, every other day, and every third day cleaning.
verdict
Undoubtedly, the Nautilus wins this round. Cleaning schedules eliminate any need for manual bot control and save your time.
Motor
Robotic pool cleaners work independently from pool pumps, filters, and other communications. They come with a standard 24V motor that consumes about 180 watts and requires 110V. Thus, both Dolphins generate a 4000 GPH suction rate.
verdict
Independent and compact motors make our Dolphins quite a profitable purchase in terms of electricity bills and power. If you are worried about this aspect, you can safely choose any of our models and enjoy perfect cleanliness almost for free.
Transport Caddy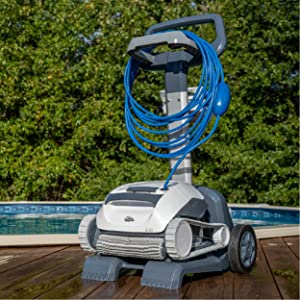 As we've already discussed, these bots are pretty light. Still, once you emerge them in the pool, water increases the weight. That's why many customers inquire about special transport caddies.
Maytronics produces a universal transport caddy suitable for all its robot pool cleaners but doesn't include it in the kit for free. So if you need some, be ready to pay an extra $100.
However, in our opinion, customers on a budget can do pretty well without this additional purchase. Both Dolphins are equipped with a quick water release system. Thus, all extra water will quickly leave the bot body, making it light again for carrying. And a special carry handle also contributes to your comfort.
Buyer's Guide – How to Choose the Best Robotic Pool Cleaner?
Here is a small guide on how to focus on essential characteristics when purchasing your first robot pool cleaner. All these moments were highlighted in the course of the Dolphin E10 vs Dolphin Nautilus CC comparison, but we'd like to mention them one more time for you.

Pool Type and Size
Robotic pools cleaners
are the smartest and most powerful devices for pools available at the moment. So, the majority of them are produced with large inground pools. However, you can also find simpler devices for above ground pools and even hybrids. Only try to choose a model suitable for your pool type since it should meet your needs in power, cable length, performance, and price, of course.
Climbing Ability
Robotic pool cleaners can clean:
floors;
floors and walls;
floors, walls, and waterline;
Certainly, the more zones it covers, the better. But the last type is the most expensive, while not all pool owners obligatory require waterline cleaning. So, please mind this moment and try it for your budget when choosing.
Cleaning Tools
All
pool cleaners
use a suction port. But robotic models cannot leave us without additions. Here, you can get brushes, directional tracks, and rollers. We'd recommend focusing on brushes and rollers since they both pick up dirt and scrub sediment, thus prod=viding more thorough cleaning.
Navigation
Navigation is one of the two essential characteristics of robot devices. Navigation makes them different from the simple manual of semi-automatic cleaners. Most products boast sensor technologies that determine obstacles and allow for route planning. More expensive cleaners use lasers and echo systems to clean in neat rows and find dirt.
Those models that have sensors, scanners, and other navigation methods provide much more efficient operation within a shorter time. This is a must for large reservoirs full of obstacles (steps, niches, recesses). However, the owners of smaller plain basins may find smart navigation unnecessary.
Control
And control forms the second of the most important robot characteristics. The top models support WiFi and app control. With it, you can run your device through your smartphone and optimally customize cleaning.
More affordable robots use remote controls with fewer settings. Usually, it's on/off buttons, a couple of cleaning modes, and scheduling. Please mind that the more schedule settings you have, the more convenient you'll feel later.
Budget cleaners may come with control at all. Here, you run your device with buttons on the body.
Control doesn't directly influence the cleaning result. It's all about your convenience, so please choose as you wish but don't forget about this factor.
Filtration
Robotic pool cleaners compulsory come with built-in filtration elements. Typically, we may get cartridge filters or dirt bins. Cartridges cope better with fine pollution but don't hold much and need frequent emptying. Bins are super-spacious, which is perfect for large debris like leaves. However, they often miss small particles and sediment.
So, do remember it and pick up the most suitable filtration system depending on your type of pool pollution.
Cleaning Cycles
Though robots perform an extremely thorough cleaning, it often takes hours. Not everybody is ready to wait that long. That's why we recommend considering the bot cleaning cycle beforehand.
Usually, you can choose between 1 hour, 1.5 hours, 2 hours, and 2.5 hours cycles. Rare models combine several modes, but you can find such cleaners. We can also recommend models with several cycles to those customers who use their pools irregularly. Also, long cleaning cycles are preferable for large basins.
If you use your pool daily and don't want to spend money on multiple cycles, it's better to get the golden-mean options – 1.5 or 2 hours modes.
Frequently Asked Questions
Dolphin E10 vs Dolphin Nautilus CC: what is the best robot pool cleaner for above ground pools?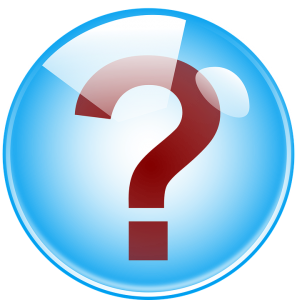 Dolphin Nautilus СС processes more surfaces and ensures more convenient control. However, owners of medium-sized above ground pools may find Dolphin E10 a better option thanks to its shorter cord (that tangles less) and more precise sensor navigation.
Dolphin Nautilus CC vs Dolphin Nautilus CC Plus: what's the difference?
Dolphin Nautilus CC Plus has become an upgraded version of the Nautilus CC. Generally, it uses the same basic functions but is designed to deal with larger pools. The Plus series comes with better filtration, dual scrubbers, and non-tangling cable.
Read more detailed Dolphin Nautilus CC Plus vs Dolphin Nautilus CC comparison in our review.
Can I improve Dolphin E10 and Dolphin Nautilus CC filtration performance?
Yes, you can. Maytronics offer additional ultra-fine filter baskets for
Dolphin robotic pool cleaners
. The units feature the same size but have better cartridge walls to filter even the smallest particles.
Can I use my Dolphin pool cleaner with the pool pump running?
Yes, you can safely use your Dolphin robot with other pool systems since they work independently from each other and don't interfere with each other's operation.
How long do Dolphin robot pool cleaners last?
Dolphin robotic pool cleaners come with a 1-2-year warranty. However, with proper maintenance, devices last for at least five years.
Conclusion
Now, we can come to certain conclusions concerning today's Dolphins.
In our opinion, Dolphin E10 is an excellent choice for customers on a budget. It's simple, affordable, and very efficient. Choose this device if you own an above ground pool and don't need something extraordinary in control.
Dolphin Nautilus CC is designed for larger constructions and owners with greater requirements for control comfort. So, here you pay for three schedule settings rather than for improved performance.
Anyway, both devices will save you from manual cleaning without ruining your budget. That's why we still love them even compared to more innovative models.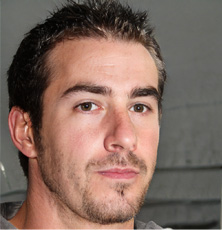 Hi! I'm Markus Robertson, and water is my passion.
Five years ago, I graduated from the University of California-Los Angeles and was going to become a professional marine biologist. However, my fate had other plans for me, and due to family problems, I had to find a more stable and well-paid job. I had only one wish for my job to be connected with water.
During this period of my life, I worked as a sales manager at Olympic Pool & Spa Supplies. The job helped me learn everything about swimming pools and related pool equipment, as well as how to choose the best option and what to pay attention to.
Having worked there for three years, I decided to start my own blog about pools, where I can tell people about the best new pool equipment models and share my knowledge and experience.
A marine biologist by education, I became a pool blogger by trade. Now I'm glad I can help the guests of my store and the visitors of my blog know a lot of exciting things about pools, their types, best pumps and filters, necessary equipment maintenance, and so on.
I welcome all people who want to choose a proper basin and the stuff to my blog! Hope you'll find this information interesting and useful!