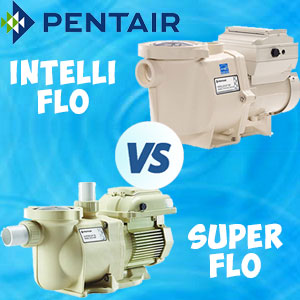 Do you like your swimming pool? And are you sure you provide necessary maintenance?
If both answers are yes, then you definitely use a pool pump or at least must have one as soon as possible.
Pumps form the basis of all pool systems. Without them, we cannot expect either a filtering system or circulation and cleaning to operate correctly.
Today, Pentair pumps take leading positions among other brands. Many users, including myself, prefer SuperFlo 342001 and IntelliFlo 011028 models for their characteristics and performance. But are they as good as they say? And which one is better in face to face comparison Pentair SuperFlo vs IntelliFlo?
Stay with us if you want to take a deep dive into the models to see all their pros, cons, differences, and choose the best!

Our Expert Advice

If you like the best tech models, then look closely at the Pentair IntelliFlo pump. It is the latest achievement of Pentair designers and can be controlled remotely via the Pentair Home app. You can monitor pump performance, get status information, receive alerts if something goes wrong, and receive tips from an expert. Additionally, all Pentair products can be integrated with the Pentair automation system.
Pentair SuperFlo vs IntelliFlo – Comparison Table
Dimensions
23.3 x 10.8 x 12.4 inches
Compatible with IntelliTouch, EasyTouch, SunTouch Pool Control Systems
Digital touch pad control
Improves filter and chlorinator performance
Built-in diagnostics protect the pump for longer service life
Model
Compatible with IntelliTouch, EasyTouch, SunTouch Pool Control Systems
Digital touch pad control
Improves filter and chlorinator performance
Built-in diagnostics protect the pump for longer service life
Dimensions
23.3 x 10.8 x 12.4 inches
Compatible with IntelliTouch, EasyTouch, SunTouch Pool Control Systems
Digital touch pad control
Improves filter and chlorinator performance
Built-in diagnostics protect the pump for longer service life
Last update on 2023-09-25 / Affiliate links / Images from Amazon Product Advertising API
Main Differences Between the Models
Before the main review, I'd like to highlight the differences between the pumps:

SuperFlo uses a 1.5 HP motor. IntelliFlo pump has a bit improved 3 HP magnet motor.
Pentair IntelliFlo is the only pool pump of the review that comes with a built-in self-diagnostics feature.
Pumps offer a different number of speeds. The first provides 3 speed options, while the second model has 8 different speeds.
I noticed a little difference in energy saving. The 342001 model will save you 80% of energy compared with a single-speed pump. The 011028 model can reduce your expenses by up to 90%.
IntelliFlo is compatible with all Pentair automation systems – IntelliTouch, EasyTouch, SunTouch Pool Control Systems. SuperFlo is not.
However, Pentair SuperFlo has no strict requirements for voltage. It can adjust to 115-230V power. Pentair IntelliFlo works with 230V only.
These models have different weights. The first pump weighs 52 pounds, while the second pump is more lightweight with 49.7 pounds.
Detailed Product Reviews

When I set my 30 ft inground pool, SuperFlo became the first variable speed pump I bought. Three years of usage proved its efficiency. So, my cons and pros are as follows.
Firstly, I was amazed by the combination of self-contradictions. The pump is equipped with a powerful, totally enclosed fan-cooled (TEFC) motor that provides 1.5 HP. But, at the same time, I never felt it was too loud, and even standing near it was quite comfortable in terms of noise.
Besides, the manufacturer claimed that this pump would save me money. Variable speed technology with three speeds is supposed to reduce electricity bills by up to 80%. Well, I can openly say the pump didn't hit my wallet. For all these years, I rarely felt it cost me anything at all.
The next thing I like about SuperFlo is control and installation. The item measures 28″ x 15.5″ x 12.5″ and weighs 52 pounds. Yeah, it's a kind of heavy, but electrical hookup was easy. The pump requires 115-230V and can automatically recognize the current power to adapt to it. That was the first pump I installed, but if you had one before SuperFlo, everything you need is to simply unhook wires from the pump and re-hook them to a new item.
The model comes with a small digital screen. So, you can program the speed and use a real-time 24-hour clock to set a timer. So, control is quite easy. There is also a small window to monitor and check any problems.
With the current price, Pentair SuperFlo will be one of the best and most affordable top-class pumps.
As for drawbacks, I mentioned a heavy weight. Besides, some of my acquaintances with bigger pools complained that three speeds were insufficient for their basins. I have a 30ft pool and felt quite OK with three speeds.
Pros
suits all pools that require up to 1.5 HP
three programmable speeds
powerful TEFC motor
quiet operation
saves up to 80% of electricity
automatically adapts V power
digital screen
24-hour timer
easy installation
Cons
heavy
not a budget option
owners of bigger pools may need more than three speeds

Unfortunately, after three years of carefree life, my SuperFlo went to his final rest. So, once again, I faced the problem of pump choice. All it lasted with the purchase of Pentair IntelliFlo.
Here are several reasons why, during Pentair SuperFlo vs. IntelliFlo comparison, I preferred the latter.
Though this pump features the same totally enclosed fan-cooled (TEFC) technology, its permanent magnet motor design provides greater power. Besides, the item offers up to eight speeds. 3 HP and 8 speed settings allow me to install additional pool elements like additional filter, heating, spa, etc.
The built-in diagnostics that protects the pump motor deserves special mention. This feature gives me hope that IntelliFlo will last longer than its previous brother.
Here, the pump saves up to 90% of energy. However, it also consumes more compared with SuperFlo, so I didn't notice any differences in electricity bills. So, isn't it cool to get more power for the same money?
The operation is not silent but still quiet. They say it measures 45 decibels. I can't say for sure, but noise and vibrations feel quite comfortable for my ears.
The pump comes with the same rotatable digital screen for programming and timer setting. Like in the previous model, it's protected with a lid. If you'd like to control lighting, heating, spa, and other elements of your pool, mind that IntelliFlo is compatible with IntelliTouch, EasyTouch, SunTouch Pool Control Systems.
This model has been lightened, which is a great improvement for me. It measures 23.3″ x 10.8″ x 12.4″ and weighs 49.7 pounds. Once again, I did the installation myself. With old connections, it didn't require much time and effort. However, you should mind that Pentair can use your self-installation as an excuse to void the warranty.
I love all this excellent performance and characteristics, though IntelliFlo cost me almost twice as expensive as SuperFlo pump. I'm also sorry it accepts 230 Volt only and cannot automatically adapt itself. Otherwise, for the last six months of usage, I noticed almost no drawbacks.
Pros
suits all pools even of the biggest sizes
provides up to 3 HP
eight programmable speeds
powerful TEFC motor with magnet design as used in advanced hybrid cars
built-in self-diagnostics
quiet operation
saves up to 90% of electricity
digital screen
24-hour timer
compatible with IntelliTouch, EasyTouch, SunTouch Pool Control Systems
easy installation
Cons
expensive option
cannot automatically adapt V power
many users complain that Pentair doesn't provide proper warranty coverage
I think a detailed characteristic comparison will make it easier for you to make your own decision about the best Pentair 342001 vs. 011028 pump. So, let's have a look at each feature.
Buyer's Guide
Design and Dimensions
Both variable speed pumps feature the same design. They have prolonged light bodies made mainly of stainless metal and plastic. There are also two ports for hoses, a digital screen, and a viewing window.
Pentair IntelliFlo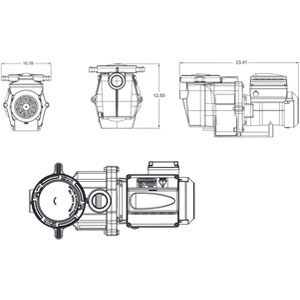 The pump is slightly lightweight with 49.7 pounds.
Dimensions are smaller as well: 23.3″ x 10.8″ x 12.4″.
Motor
Pentair IntelliFlo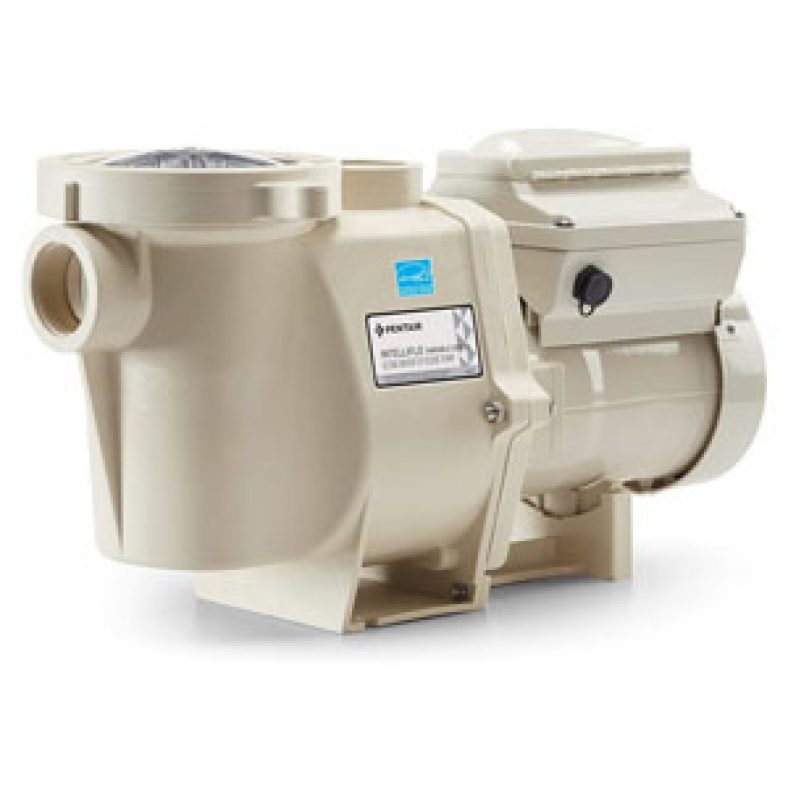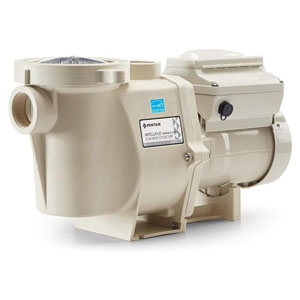 Here we see a similarly quiet and powerful TEFC motor. However, it has been improved.
The manufacturer states that the pump uses «ultra-efficient permanent magnet motors, as used in advanced hybrid cars». It produces up to 3 HP and features additional built-in diagnostics for protection and longer service life.
Speeds
While the first model offers three speeds, the second pump provides a broader choice between as many as eight programmable speeds. In both cases, you can adjust the flow rate and choose between 400-3500 RPM.
verdict
The verdict is that IntelliFlo is a better option for large pools with additional energy-consuming elements like robot cleaners, fountains, waterfalls, spas, etc.
Energy Consumption
This factor varies depending on the chosen speed. You can always see the exact consumption on the digital screen. The pumps count power consumption at whatever speed the motor is running and display results.
However, practice shows that SuperFlo needs less compared with IntelliFlo. But this difference between the models is eliminated by their energy-saving features. The first Pentair cuts your electricity bills by 80%. The second 011028 pump saves up to 90%.
verdict
Both pumps have equal energy consumption and very close energy-saving features. But their usage is undoubtedly much more profitable compared with single speed pool pumps.
Control
There are some differences between the models. Each pump comes with a digital LCD screen. It displays all characteristics like chosen settings, actual wattage consumption, errors. The IntelliFlo has more control buttons for speeds and separate buttons on the touch screen for quick clean, start/stop, timer and reset.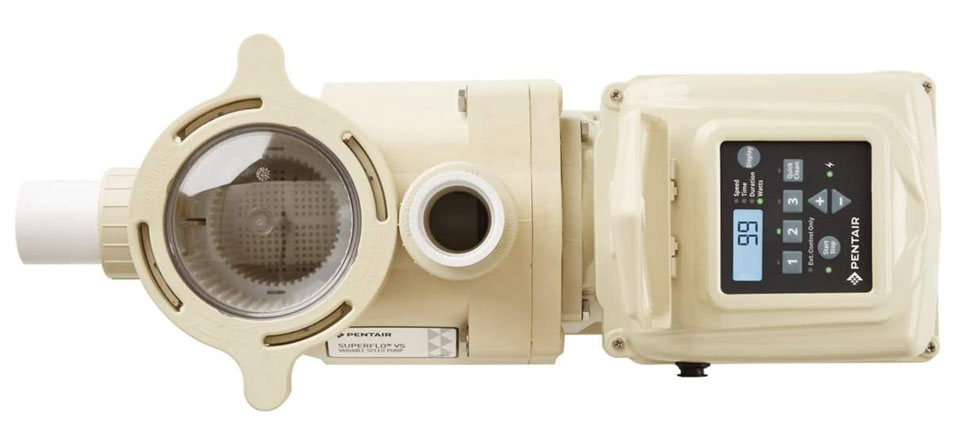 You can also set:

the most appropriate speed;
rotations per minute;
timer.
Installation
Having tried both pumps, I can state that they provide quite easy installation features. It took me about half an hour to mount each pump. More experienced users will need even less time.
attention
Still, I'd like to pay your attention to the fact that the Pentair brand does not support self-installation. It highly recommends asking for professional help. Besides, in case of problems, the manufacturer will consider your self-installation as a reason to cancel the warranty.
So, the choice between expensive professional services and no warranty is yours.
How to Choose the Best Variable Speed Pool Pump?
The purchase of a pump can turn out to be a kind of problem as the choice is enormous. Various brands, models, characteristics, and the like drive crazy even experienced users. Here is a list of essential factors that can help you filter unsuitable models and select the best.
Pool Type
The question of the pool type is always one of the key moments when buying any pool equipment.
Above ground pools feature small and medium volumes and standard construction. Thus, they usually use weaker single or dual-speed pumps. You can also choose the more affordable surface and semi-submersible pump models.
Inground pools often provide a lot of swimming space and have non-standard shapes. If you need the best option, choose variable speed pumps that can give proper water circulation. Submersible and semi-submersible models are also more preferable.
Volume and Size of the Pool
If you have a small above ground pool, which doesn't require much circulation, filtration, etc., it's quite logical that you need a decent pump up to 1.5 HP maximum. Owners of bigger inground pools can choose more powerful models.
attention
Specialists recommend using pool water volume calculators to determine your pool volume in gallons accurately.
Horsepower and Voltage
Pool pumps also vary by horsepower and voltage characteristics. Usually, the power range starts from 0.75 HP for small pools and can reach 3 HP. The horsepower of a pump is important both for pool maintenance and operation of the filter.
On the contrary, the voltage doesn't play such a crucial role, but it still should be minded while choosing a pump. Otherwise, you'll face some difficulties with your net and adapters.
Filtering Capacity
The market offers separate pumps and filters, as well as combined equipment. The latter option costs less, contains all necessary pool maintenance in one body but can be less powerful compared with separate items.
If you want to have a separate pump and a separate filter, please pay attention to their capacity and throughput. Make sure they can work together; otherwise, both your purchases will be a waste of money.
Additional Pool Equipment
Such elements like spa, heaters, fountains, and so on significantly influence pump operation. They need more power, and if you choose a pump without regard for additional equipment, it can cause overload and breakage.
It's also better to purchase a pump and pool equipment of one brand for a perfect fit.
Frequently Asked Questions
How can I set speed for my Pentair SuperFlo pool pump?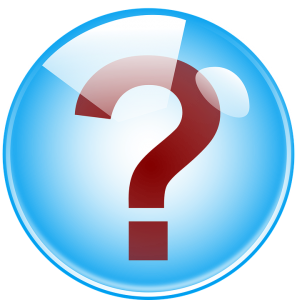 SuperFlo pump uses a simple algorithm of customization.
Please look at the screen. In the upper right corner, you will see the Speed marker. In the middle of the display, you will see 1,2, and 3 buttons. Under the 3 button, you will see + and – arrows.
Press 1,2, or 3 button, depending on the speed you need. Then adjust RPM by pressing + or – arrows. Speed is adjusted up or down by increments of 10 RPM. Then press 1,2, or 3 button again to set the time and duration.
In case of any difficulties, please read the user manual.
How can I clean the pump strainer basket in Pentair SuperFlo and Pentair IntelliFlo pool pumps?
The pump strainer basket is located in front of the volute and must be kept clean of leaves and debris. If you see any debris through the special lid, clean the basket at once.
Stop the pump and make sure it's cold, and the suction and discharge valves are open. Remove the clamp and lid to reach the basket. Pull it out, remove debris, and rinse out the basket.
Then put the basket back into the housing. Fill the pump basket and volute up to the inlet port with water. Remove all elements (O-ring, lid, and clamp) to their places in the proper order.
Please, before basket cleaning, consult with the user manual.
What is the warranty for Pentair SuperFlo and Pentair IntelliFlo pool pumps?
SuperFlo comes with either a 1-year or 2-year warranty, depending on the place and seller you buy it from. In the case of self-installation, the warranty is 60 days.
IntelliFlo provides a 2-year factory warranty. But please mind that the warranty for this model prohibits self-installation. The manufacturer will cancel it if you install the pump by yourself.
How many hours per day should I run my variable speed pump?
The daily run time required depends on the amount of salt, chlorine, and the time of year. However, the average amount of hours for proper pump operation is about 8 hours per day.
How long will a pool pump last?
Manufacturers claim that an expected lifetime of a high-quality pool pump varies from 5 to 10 years. Indeed, it always depends on the proper maintenance and usage. My user's experience shows that an average pool pump lasts for about 3-4 years.
Conclusion
So, as far as I happened to try both models, I can safely say that Pentair IntelliFlo is my favorite. This pump provides more power and speed options while still being energy-saving and easy in use. I also recommend it to the owners of large inground swimming pools with lots of additional equipment.
Pentair SuperFlo is a golden middle. It offers twice a more affordable price and a perfect number of speeds to suit almost any basin. It can be installed both for medium above ground and large inground pools.
My user experience didn't reveal any serious disadvantages. That's why I'm entirely satisfied with these Pentair variable speed pumps. Now it's up to you to decide which one to choose. Good luck!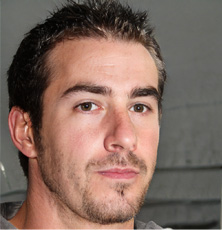 Hi! I'm Markus Robertson, and water is my passion.
Five years ago, I graduated from the University of California-Los Angeles and was going to become a professional marine biologist. However, my fate had other plans for me, and due to family problems, I had to find a more stable and well-paid job. I had only one wish for my job to be connected with water.
During this period of my life, I worked as a sales manager at Olympic Pool & Spa Supplies. The job helped me learn everything about swimming pools and related pool equipment, as well as how to choose the best option and what to pay attention to.
Having worked there for three years, I decided to start my own blog about pools, where I can tell people about the best new pool equipment models and share my knowledge and experience.
A marine biologist by education, I became a pool blogger by trade. Now I'm glad I can help the guests of my store and the visitors of my blog know a lot of exciting things about pools, their types, best pumps and filters, necessary equipment maintenance, and so on.
I welcome all people who want to choose a proper basin and the stuff to my blog! Hope you'll find this information interesting and useful!