Just an F.Y.I. there are
affiliate links
in this post, and if you click any of those links, we will earn a small commission.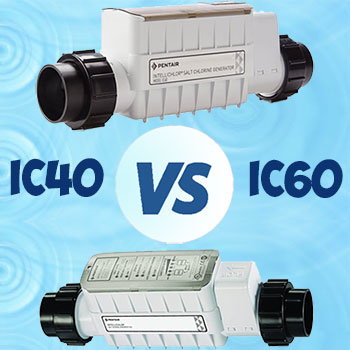 Water is multi-functional and an essential part of the human body and its well-being. A saltwater swimming pool in your backyard is a great blessing for your family and friends.
Pentair has the pool and spa solutions suitable for you. Your pool will become a source of ongoing health, joy, and safety with IntelliChlor salt chlorine generators that bring you sparkling water without unpleasant smells, irritated skin, and chlorine taste.
The appliances from Pentair provide seamless automation, too. It means you will get continuous calmness and connection with your perfect backyard pool even if you are away on holiday or on a business trip.
Here, we want you to get to know more about Pentair's technology of salt chlorine generators. This review and comparison will also help you choose the product that completely meets your needs.
Pentair and Its Products


Only several manufacturers in the industry of swimming pool equipment can compete or be comparable to Pentair. It's precisely the same as in the automobile industry. If you hear the names of such brands as Ford or Toyota, you understand that it all is about cars. If you hear Hayward or Zodiac, you may guess it is about pool equipment. If you come across Pentair, you will know it is about water clearness and quality.
Pentair is a fantastic clean water solutions company that originated in St. Paul, Minnesota, in 1966. The name stands for the Greek 'penta' meaning 'five' and indicates that five people founded the company. They started with the production of high-altitude balloons. However, the company quickly diversified and started developing new technological solutions for water treatment and their sustainable applications. They completely dived into the water industry with the acquisition of Wicor Industries in 2004.
The pool and spa solutions comprise the central part of their business, alongside appliances for water filtration and quality improvement for individual and big industrial customers. In addition, they make virtual devices, from kitchen faucets to sizeable industrial water management devices, filters, and equipment for water supply and disposal.
You will never feel deceived if you choose salt chlorine generators from Pentair. The customers' testimonials support the conclusion that Pentair pool accessories are plentiful. Moreover, high-end architects and installers also recommend Pentair. So even if you think that its IntelliChlor generators are relatively expensive, you will see in a while that you have made an excellent investment in high quality and your family's well-being.
Comparison of IC40 and IC60 Features
You do not need to buy, use, and store chemical additives anymore. IntelliChlor uses kitchen salt. The efficiency is incredible without any drawbacks. However, Pentair offers different models of these salt chlorine generators, and you need to know which model is best for your swimming pool.

We have picked out IC40 and IC60 models, tested them, and now we can compare them and provide our recommendations.
These two models are pretty similar. They feature push-button operation, full diagnostic capabilities, cell cleanliness, the automatic shut-off characteristic for adequate unit protection, and on-time cycling. In addition, they can communicate with Pentair's IntelliTouch, EasyTouch, and SunTouch automation systems.
However, these two models differ in their capacity. IC40 can sanitize middle and large backyard pools for your home and smaller commercial pools with no more than 40,000 gallons capacity. The generator produces up to 1.40 pounds of chlorine every 24 hours. IC60 is meant for larger residential and commercial pools with up to 60,000 gallons of water. It can generate up to 2.0 pounds of chlorine every 24 hours.
Both appliances are equipped with displays for fast checking of the salt levels. You can also see how clean the cell is, the sanitizer's output, and the water flow. It is very convenient as well as the adjustment and maintenance. You will not spend much time on installation, either.
attention
Nevertheless, be careful while making a choice. Consider your pool's size and needs. The choice is always yours.
Pentair IC40 vs. IC60: Quick Comparison
Certification
UL 1081 standard, NSF approved
Productivity
1.40 pounds of chlorine per 24 hours
2.0 pounds of chlorine per 24 hours
LED Salt level Indicators
Compatibility
IntelliTouch, EasyTouch, SunTouch
IntelliTouch, EasyTouch, SunTouch
Certification
UL 1081 standard, NSF approved
Productivity
1.40 pounds of chlorine per 24 hours
LED Salt level Indicators
Compatibility
IntelliTouch, EasyTouch, SunTouch
Productivity
2.0 pounds of chlorine per 24 hours
LED Salt level Indicators
Compatibility
IntelliTouch, EasyTouch, SunTouch
Last update on 2023-12-04 / Affiliate links / Images from Amazon Product Advertising API
This IntelliChlor salt chlorinator utilizes table salt. It provides equally effective sanitation performance with chemical additions, but you won't have to purchase and transport them all the time.
The appliance features complete diagnostic capabilities, so you can see how many performance hours are left for the cell. In addition, you can view all the data about the device's operation in real-time, including chlorine output or water temperature.
The generator is easy to use due to its push-button operation and displays showing cell cleanliness and water flow. The system is equipped with the automatic shut-off feature. It starts operating when the water temperature is relatively low. It prolongs the appliance lifespan. You can also use the on-time cycling that does not allow scale and calcium build-up on the cell.
The principle of the generator's work is as follows. First, water and dissolved salt flow through the cell, and the electrolysis converts the salt into chlorine. Then, the chlorinated water comes back into the pool. The appliance can detect when the chlorine in the water ends, the water comes back into the cell, and the process starts again.
The use and maintenance are easy, indeed. You have only two buttons to adjust the appliance to the changing conditions. However, the device requires 520556 IntelliChlor Power Center, which should be bought separately.
Pros
The item works perfectly and lasts for about 3 years
It's the best price on a quality item.
The device works perfectly on the lowest settings.
It is easy to install and maintain
The generator has been effectively updated for better operation.
Cons
There may be issues with sensors that cannot be repaired.
The generator could have a longer lifespan.
This IntelliChlor generator is meant for larger commercial and residential pools containing up to 60,000 gallons of water. It requires 520556 IntelliChlor Power Center for efficient work. You can buy it separately from the Pentair retailing company or on Amazon.
The device provides even higher reliability, safety, and convenience in use. The electrolytic chlorine generation is the most convenient way to make your pool water clear-clean and safe. The generator uses the common table salt instead of chemicals, so you can add it without spending too much on additives. With this generator, you will not have any unpleasant odor or irritations in your skin and eyes. No bleached-out swimming suits or faded accessories anymore.
The appliance also features automatic shut-off technology when the pool water is too cold, on-time cycling to prevent scale and calcium build-ups in the cell, and a full-diagnostic system for reporting the operation time, salt, and chlorine levels, cell life tracking, and water flow rates.
The use and adjustment are effortless. The appliance works with a push-button and an easy-to-operate display. As a result, you can always control the system. Moreover, it is compatible with the Pentair ComPool and EasyTouch upgrade systems and with IntelliTouch and SunTouch automation systems. As a result, you can manage and maintain your pool even if you are away on a trip.
The chlorine generator is pretty durable due to the material it is made of. It is developed with titanium electrode cell blades. In addition, they are coated with ruthenium oxide, one of the most durable elements in the chemical table.
Pros
The device can work effectively when the temperatures are high.
The installation takes about 2 minutes.
It's the best choice to keep chlorine at a safe level.
This is an excellent option for large pools.
The item makes the pool crystal clear and pretty safe as advertised.
Cons
There is no tech support available from Pentair.
The warranty for the product is quite limited.
Pentair's Chlorine Generator Technology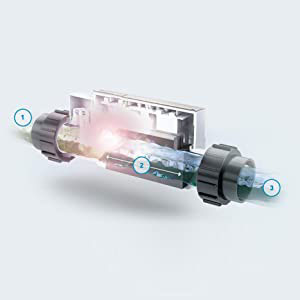 The principle used in IntelliChlor products is quite simple. It is electrolytic chlorine generation. It is very safe, convenient, and reliable. No other chlorinator can be compared by its efficiency to this one. To understand why the IntelliChlor generator from Pentair is better than others, you need to know how it works.
No chemicals are used here, just table salt (also known as sodium chloride). You add not more than a teaspoon of salt per gallon of the pool water. The salt dissolves and flows through the generator's cell. The electrolytic process helps to convert it into pure chlorine. Then, it flows down and distributes around the pool. It sanitizes the water, keeps it fresh and safe for swimmers, and does not produce any additional odor or discomfort.
The significant advantage here is that when you use conventional chlorine additives, you must always add them. However, the salt here is recycled continuously, and you do not have any complicated maintenance requirements. In addition, the generator can clean itself with the reverse cycle feature that works automatically and does not allow the scale to build up in the cell.
Pentair IC40 vs. Pentair IC60: Comparison of Characteristics
We also want to share with you some considerations about the most important technical characteristics of the two models of salt chlorine generators. This comparison is based on our testing experience and customers' reviews on independent review websites.
Installation
Both devices are not difficult to install. You can do it yourself, and the instructions provided on the manufacturer's site and in the User manual are consistent. It can take about 2-5 minutes to install your IC60 because there are only two joints you need to connect.
The installation of IC40 may take you more time. However, if you need to be sure of your appliance's complete safety and full functionality, you can hire an expert and ask them for help.
verdict
As for us, IC60 is a better choice because it allows for a seamless DIY installation that can be very fast. The installation mechanism is improved here, and it does not need additional skills or tools. However, if you prefer to do everything consistently but not in a rush, you may like IC40 better.
On-Time Cycling and Push-Button Operation
Both IntelliChlor sanitizers come with on-time cycling. This feature blocks calcium and scale build-up in the cell. That increases its lifespan and reduces your efforts for maintenance. It is done with the help of the control electronics and bipolar electrodes.
Chlorine production, therefore, is adjusted by changing the output level on the control panel or by modifying the number of hours the generator is switched on every day. In addition, the appliance automatically reverses the cell electrode blades to clean the electrolytic cell. The IC60 model uses the same technology but has been slightly modified within the model.
Both chlorinators are user-friendly due to their easy push-button operation. In addition, they feature view displays where you can check all the necessary information and control the system if needed.
verdict
We recommend IC60 because it features more advanced and modified technology. Remember to consider the size of your pool, though. IC60 may be useless for your small pool because the push-button settings will not correspond to its parameters, while IC40's on-time indicator will not show the correct indices for a large pool.
Service Lifespan and Durability
According to customers' reviews, IC40's lifespan is about 3 years, while IC60's lifespan is about 5 years. However, much depends on the conditions of the appliances' exploitation. If you use your salt chlorine generator correctly, you can prolong its lifespan.
Both devices are constructed with titanium electrode cell blades coated with ruthenium oxide, providing the highest durability. However, some customers complain about the unreliable resin in IC60.
verdict
Our recommendation is IC40 because, despite the shorter lifespan, no customers complained about the device's materials. You can also get a warranty for one year for both models.
What Should You Consider While Buying Pentair IntelliChlor Salt Chlorine Generators
Choosing the correct IntelliChlor salt chlorine generator for your swimming pool may not be easy. Moreover, it is pretty expensive, so you need to make sure that you have made an excellent investment. However, you will do it if your choice is appropriate. Remember that you will not need to purchase, transport, and store any chemicals, and kitchen salt is not a very expensive substance.
Therefore, if you want to get your backyard pool water crystal clear, safe, and healthy, opt for either IC40 or IC60. Anyway, your choice will be a cost-returning one in a while. Though, there are some essential things to consider:
Size.
Never believe that if you choose a chlorine generator developed for a large pool for your under the 40,000-capacity pool, you will make the best use of it. The wrong size of the chlorinator will end up in poor performance. So try to be very careful.
The type of your pool.
The Pentair IntelliChlor salt chlorine generators, IC40 and IC60, are developed for inground pools. If your pool is above-ground, you need to look for some other models.
Technical Support.
The installation of both models is effortless, and you can cope with it yourself. It does not need any special skills or tools. However, if you have an opportunity to hire an expert, this will be helpful. Adjustment of the chlorinator can play a crucial role in its further performance and efficiency. It would be even better if you could consult a specialist before you make an order. Remember that technical support from the manufacturer can be unavailable in your area.
Warranty.
The IC40 appliance has a warranty from the manufacturing company of 1 year. The IC60 offers 2 years of warranty. The time indicates the reliability of the appliance. If something goes wrong before this time, you can ask for free repair or replacement of the device.
Final Thoughts
Therefore, we have considered the two models of IntelliChlor salt chlorine generators – IC40 vs. IC60. Both are developed and produced by Pentair, the prominent manufacturing company with unique water quality solutions.
The prices of these devices are not low, which can distract you from purchasing them. However, you will make a significant investment because the quality and reliability of these devices are outstanding. In addition, you will get your pool water salted, purified, crystal clean, and safe.
The overall recommendation is to make your choice considering the size of your pool and your needs. We hope this review will help you greatly because we have compiled the essential characteristic features, pros and cons, and ways of using these two devices.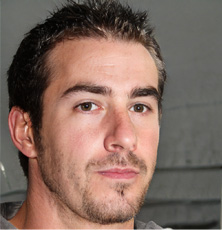 Hi! I'm Markus Robertson, and water is my passion.
Five years ago, I graduated from the University of California-Los Angeles and was going to become a professional marine biologist. However, my fate had other plans for me, and due to family problems, I had to find a more stable and well-paid job. I had only one wish for my job to be connected with water.
During this period of my life, I worked as a sales manager at Olympic Pool & Spa Supplies. The job helped me learn everything about swimming pools and related pool equipment, as well as how to choose the best option and what to pay attention to.
Having worked there for three years, I decided to start my own blog about pools, where I can tell people about the best new pool equipment models and share my knowledge and experience.
A marine biologist by education, I became a pool blogger by trade. Now I'm glad I can help the guests of my store and the visitors of my blog know a lot of exciting things about pools, their types, best pumps and filters, necessary equipment maintenance, and so on.
I welcome all people who want to choose a proper basin and the stuff to my blog! Hope you'll find this information interesting and useful!