The weather is getting warm again, and soon it's going to be time to go swimming! To keep your pool clean regularly and to keep time on your hands, a pool cleaner may be required. To determine the best pool cleaner to suit your pool dimensions and distinct style, you must consider all of the circumstances surrounding your life. Reviews of products should be looked into thoroughly, as well as the amount of money you have to spend and how much manual labor you wish to partake in every day.
There are benefits to having a pool cleaner rather than having to hire someone to clean it for you. The best pool cleaners will enable you to free up your time; however, these cleaners do cost a substantial amount of money, but they do free up your time for other important activities. There are three different types of pool cleaners: suction, pressure and robotic. Each of them scrubs pools in their way with their type of technology and filtration systems.
Suction pool cleaners act as if they are a vacuum and travel the bottom of pools to clean up the debris; these cleaners cannot climb walls easily, but the bottom of the pools get scrubbed efficiently. Pressure pool cleaners are connected to filtration systems and use their filter to shoot out filtered water at the sides and bottom of pools to clean that way. Robotic pool cleaners are more easily described as cleaners that run on wheels or treads that use an outside power source instead of a filtration system.
What are the best suction pool cleaners?
There are two different kinds of Hayward models of suction pool cleaners that are highly recommended.
Hayward Poolvergnuegen Suction
The first is the Hayward Poolvergnuegen Suction pool cleaner. It runs about $291 on Amazon. It has easy climbing abilities and three different kinds of threats which can be changed quickly to enable various sizes of debris to travel through.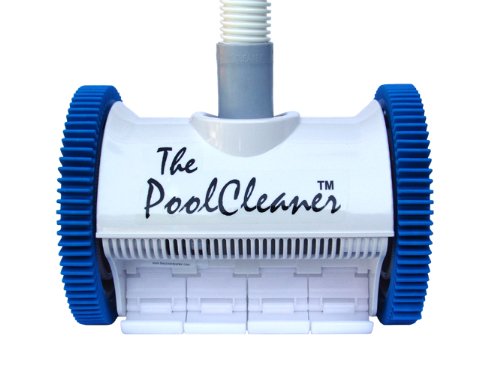 This model also has self-adjusting turbine vanes that enable maximum strength. Several customers loved this model because it was still working well years down the line, and it only takes about five to six hours to clean entire pools. Regarding the negative aspects of this model, customers stated the two wheel version could tilt slightly and leave debris behind in result; also, the pool liner sometimes had marks on the bottom after usage.

Pros
Inexpensive
Durable
Efficient Clean
Lightweight
Low maintenance
Doesn't get stuck
All pool shapes and surfaces
Cons
Needs some adjustments
Doesn't handle steps well
Somewhat Noisy
Barracuda G3 W03000
Barracuda G3 W03000 received 4.5 stars out of 5 on Amazon. It has a wheel deflector to travel better, and a long life diaphragm for energy efficiency that is also quiet. Scuff resistant hoses help to keep this model from scratching the liner.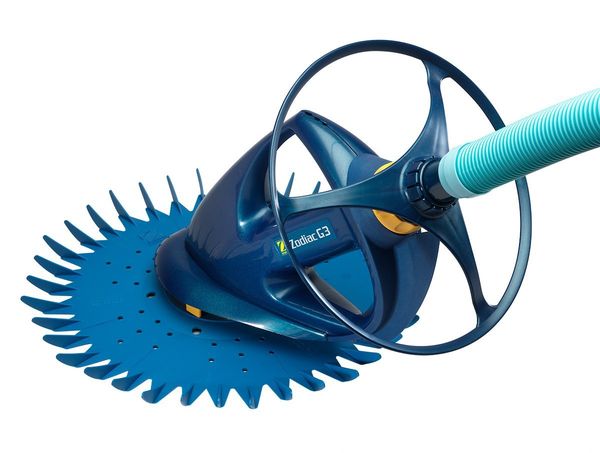 In a three-year span, only a few minor parts were replaced. The flow keeper valve regulates the water and debris to keep up a good performance. The only negative part I read about was some people complaining this model became stuck on drains while cleaning.
Pros
The Barracuda does an exceptional job keeping the pool free of debris and dirt.
Can clean a pool in about three hours which is about half the time of some pool cleaning tools.
One year warranty.
Lasts many years and since it only has one moving part the diaphragm, it is cheaper to maintain than most other pool cleaners.
Very economical to use.
Cons
It sometimes gets stuck and can't move on raised surfaces in the pool.
Sometimes it may get clogged up by large leaves.
You may need to clean the pump's strainer more often since it uses it to operate.
You may have to spend time at first tweaking it to get it optimized.
Hayward Aquanaut 200
The other Hayward model, Hayward Aquanaut 200, has four out of five stars on Amazon, where it retails for about $400.99. It has fantastic tire treads to allow proper navigation without getting stuck, although they can wear out fast if the surface of the pool happens to be rough. Also, there is an adjustable roller skirt that keeps the suction even when the surface is uneven.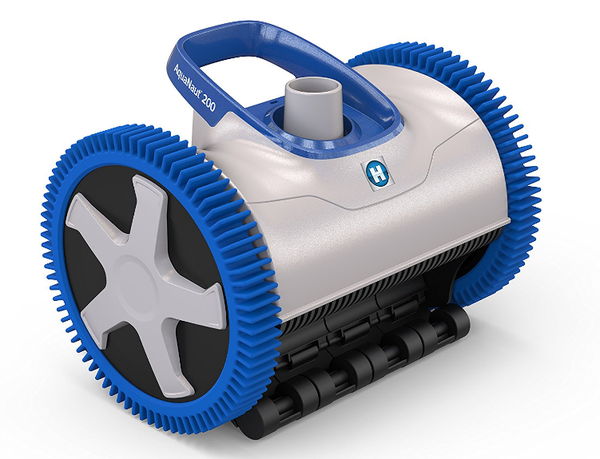 Leaves and sticks can go through this machine directly, leaving the pool spotless. A minor maintenance was needed on this model. However, sometimes after climbing a foot or so, the machine ended up falling.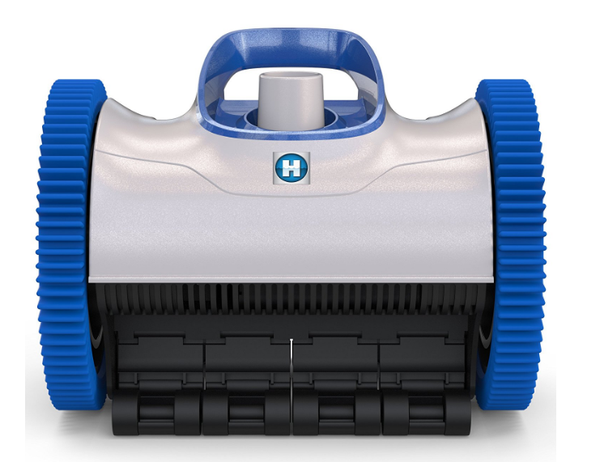 What are pressure pool cleaners recommended?
Polaris Vac Sweep 380
The Polaris Vac Sweep 380 Pressure Side Pool Cleaner retails about $669.46 and receives 4.5 stars out of 5 on Amazon. This model has triple jets which can completely clean everything in under three hours. Their filter bags keep debris from getting to the pump basket or filter. Sometimes the wheels lock up and must be unlocked manually. Unfortunately, before using this machine, it must have a separate pump installed.
Polaris Vac Sweep 3900 Sport
Another Polaris model, Polaris Vac Sweep 3900 Sport Pressure pool cleaner, is priced about $776.57. It has a PosiDrive system that has 50% more torque, and a TailSweep Pro that keeps water from splashing out of the pool. This unit has more power out of all of the Polaris models and is made out of galvanized steel instead of plastic, so the parts do not need replacing as often. This model can tip on its side sometimes, and the filter bags design has been criticized as difficult to clean.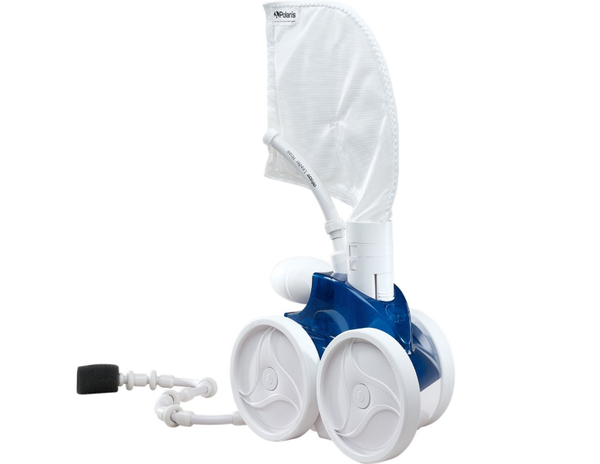 Polaris Vac Sweep 65 6-130-00
The least expensive Polaris model is the Polaris Vac Sweep 65 6-130-00 Pressure Side Automatic pool cleaner for above ground vinyl pools. It retails for $188.99. It cleans and the sweeps entire pool in under three hours. This is one of the best models for above ground pool cleaners. This model has a 24-foot float hose that is ideal for fiberglass or vinyl in-ground pools that are not deeper than five feet.
Some customers used this model for eight years before needing replacement parts. Another positive aspect of this machine is that it only took fifteen minutes to set up the pressure cleaner after reading the manual. Some found it needed regular replacement parts and minor repairs consistently.
What are robotic pool cleaners best?
Dolphin Nautilus Robotic and Plus
Dolphin Nautilus Robotic Pool Cleaner with 60-foot Swivel cable prices about $639.99. It is primarily recommended for in ground pools up to fifty feet in length. This cleaner does not need to connect to the pool to function; it vacuums and scrubs the pool in under three hours. It has a ninety-day warranty that covers labor and parts; however, some noted that it was void if purchased online.
The Dolphin Nautilus Plus is the next step up from the regular Dolphin version. It has a top access large filter that is very easy to clean. The parts are easy to replace and not expensive. This model comes with IntelliScan technology, which cleans even the hardest to reach corners.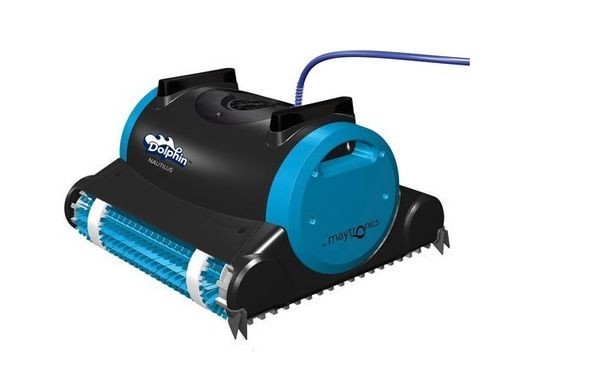 Hayward 9990GR TigerShark
Hayward Pools has an excellent selection of pool cleaners. The third model, Hayward 9990GR TigerShark QC Automatic robotic pool cleaner with quick clean technology, has an automatic shut down after three hours of inactivity. It is the most expensive model we have discussed yet, pricing at about $967.96. With the quick clean technology, it figures out the most efficient way to clean the pool. All customers said it climbed the walls effortlessly and cleaned spotlessly.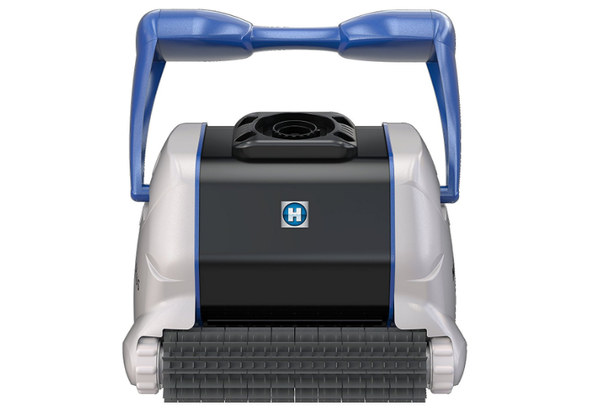 Some customers stated it scratched the pool liner. Unfortunately, other people reported the model got stuck on some drain covers and had to be removed manually. Some also explained how difficult it was to remove the screws to some parts if they needed replacing.

Choosing the best pool cleaner for your pool can be somewhat difficult. Time and money go into picking out the best one, so it can be a tedious process. However, it can be the best investment if you take the time to research and purchase the best one out there.