Just an F.Y.I. there are
affiliate links
in this post, and if you click any of those links, we will earn a small commission.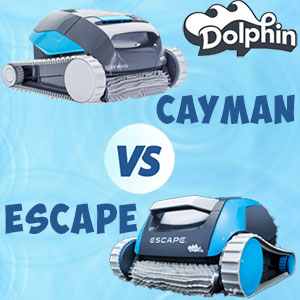 Dolphin Cayman vs. Escape is among the many debates on swimming pool forums. Some say that Cayman is the best, while others insist that Escape is the ultimate above-ground pool cleaner. To end the debate, we have compared the two, stripping down their core features to find out which one should be on top of your wishlist.
There's no doubt Dolphin is among the best pool cleaner brands. The company boasts a wide range of cleaners for both in-ground and above-ground pools. The Dolphin Cayman and Dolphin Escape are the best sellers in the above-ground pool cleaners category.
The two share quite a lot in common, but some profound differences should be the basis of your selection.
important
Dolphin Cayman and Escape differ in dimensions, weight, cleaning cycle, automation, and cable length. Dolphin Cayman is negligibly heavier, has a longer cleaning cycle, allows for automation, and has a longer cable meaning it can clean a bigger pool. On the other hand, the Dolphin Escape is slightly lighter, has a shorter cleaning cycle, lacks any automation features, and has a shorter cable. Of course, it is cheaper than Cayman.
For more regarding how they stack up against each other, read along.
Dolphin Cayman vs. Escape Comparison table
Dimensions and Weight
22.2x17.6x12.8 inches / 14.7 lbs.
22.2x17.6x12.8 inches / 14.2lbs.
Pool Size, Surface
Up to 33ft, Any Pool Surface
Up to 30ft, Any Pool Surface
Filtration
Top-Load, no Full Bin Indicator
Top-Load, no Full Bin Indicator
Cable
50ft / Tangle-Free Swivel
40ft / Tangle-Free Swivel
Dimensions and Weight
22.2x17.6x12.8 inches / 14.7 lbs.
Pool Size, Surface
Up to 33ft, Any Pool Surface
Filtration
Top-Load, no Full Bin Indicator
Cable
50ft / Tangle-Free Swivel
Dimensions and Weight
22.2x17.6x12.8 inches / 14.2lbs.
Pool Size, Surface
Up to 30ft, Any Pool Surface
Filtration
Top-Load, no Full Bin Indicator
Cable
40ft / Tangle-Free Swivel
Last update on 2023-12-04 / Affiliate links / Images from Amazon Product Advertising API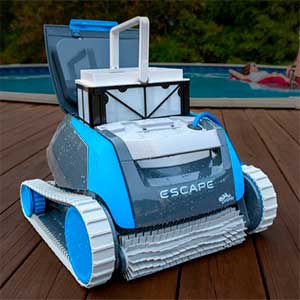 Dolphin Escape Pros
It is suitable for both above-ground and inground pools
It comes in a Plug'n Play Design, so no assembly is needed
Excellent cleaning as it captures both small and large debris
Engineered with energy-efficient motors
Dolphin Escape Cons
Doesn't come with any automation features
It has a shorter cord limiting its use to pools of up to 30ft
Dolphin Cayman vs. Escape Face-to-Face Comparison
To the main business of the day, how does Dolphin Cayman compare to Dolphin Escape? Which is the best above-ground pool? To ensure you make the right decision, we will compare them in a 10-round bout assessing the important aspects considered when buying pool cleaners. So without further ado, let's get into it.
1. Design, Dimensions, and Aesthetics
There are several aspects to consider in this first round. First, how is the build quality of the pool cleaner? Can it withstand the harsh summer heat in the pool or on the deck? Another thing, how is the aesthetics? Will it be appealing while at the pool?
Last, find out the dimensions and weight of the two pool cleaners. You definitely want to get a compact pool cleaner for easy portability and storage without compromising cleaning power.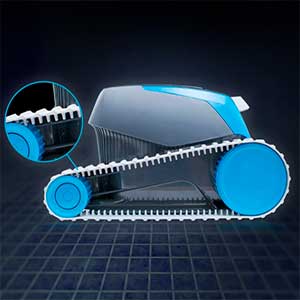 Dolphin Escape is just as appealing aesthetically as Dolphin Cayman. It also boasts a robust build with high-grade plastic material. As a result, the Escape can take all the abuse in any weather condition and remain intact.
The color scheme is similar to the Cayman's; black, gray, and blue. Regarding dimensions, the Dolphin Escape also has a small footprint, so storage space shouldn't be a worry. It measures 22.2×17.6×12.8 inches. Regarding weight, it's negligibly lighter at 14.2 lbs.
2. Assembly and Usability
Robotic pool cleaners have many components, from motors, electrical components, tracks, power supply units, cables, etc. That said, you need to think of the assembly, especially if you are not a handy guy. In this segment, we will look at the assembly and setup procedure of the two. In addition, we want to find out about their usability. Which of the two Dolphin cleaners is user-friendly?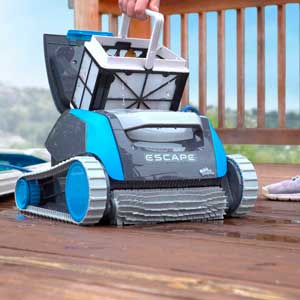 As far as assembly and usability are concerned, Dolphin Escape shares a lot with the Cayman. It also boasts a Plug'n Play design, so you won't struggle with long assembly steps before using your cleaner. Just plug it into the mains and drop it in the water; it will do all the hard lifting for you.
Like the Cayman, it runs autonomously without relying on other pool installations, such as the pool pump. This further cuts down assembly and setup requirements.
As for usability, it is also user-friendly, with easy controls on the power supply unit. The Escape also comes with a tangle-free cord.
3. Cleaning Orientation
In this third round of this Cayman vs. Escape comparison review, we will look at a fundamental factor, cleaning orientation. The first question is, what type of pool cleaners are the two? Remember, we have in-ground and above-ground pool cleaners. None is a substitute for the other, so make sure you buy the right cleaner for the right pool. Next, we will assess the size and shape of the pool they have been designed for. As you may be aware, there are large and small pools, and the pool shapes are also different.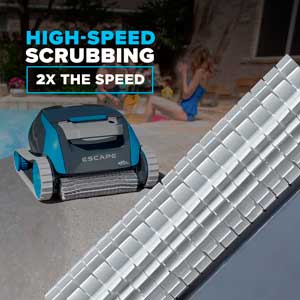 Maytronics Escape is also an above-ground pool cleaner, but using it to clean an inground pool is no issue. But remember, it must be completely submerged, and the pool should be relatively small.
As for the pool surfaces, it can clean, Dolphin Escape handles all above-ground pool materials, from steel and aluminum to resin.
As for inground pools, whether you have fiberglass, concrete, vinyl, or liner. Regarding pool shapes, the Escape is not choosy. You can use it on rectangular pools, round pools, prism pools, kidneys, oval pools, etc. Last on pool size, the Escape has a shorter 40 ft power cord, which makes it suitable for pools up to 30ft.
4. Cleaning Performance
One of the most crucial segments of this comparison review is the cleaning performance of the two Dolphins. One of the features we will be looking at is where the robot can clean. Some cleaners are meant for pool floors only, pool floors and walls only, or pool floors, walls, and the waterline.
Another question to ask is the suction rate of the duo, the kind of scrubbers used, and their cleaning cycles.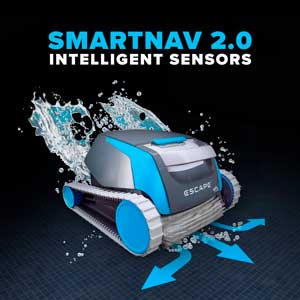 Dolphin Escape, like the Cayman, has a major flaw if you plan to use it in an inground pool. It just cleans the pool's floor and walls. There's no waterline cleaning. As for the suction rate, it is precisely the same as Cayman, as it also puts up 4000 GPH when firing on all cylinders. The brush system is also the same. It has been designed to tackle tough organic or inorganic stains.
Also worth mentioning is that they are gentle, so if you have a resin above-ground pool, you don't have to worry. When it comes to cleaning cycles, the Escape has the upper hand. While it has a single cleaning cycle, completing the job takes around 1.5 hours. But remember, this cleaner is meant for up to 30ft pools, while the Cayman can handle a pool of up to 33ft.
5. Filtration
Pool cleaners work by capturing all kinds of data in the pool. That said, assessing the filtration system that captures this dirt and debris is essential. Here, the first thing to assess is the kind of debris that the filters can capture. Is it the small dirt and debris only or both small and large debris? Maintenance, too, is crucial with the best models featuring top-load access filters and full bin notifications. So, how does the Cayman compare to the Escape?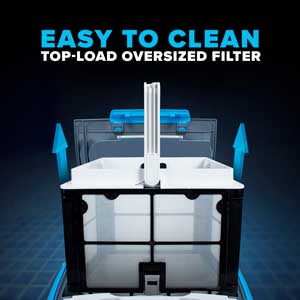 There is no difference in the Dolphin Escape's filtration system. It also comes with a fine filter kit that can capture all kinds of pool debris, including algae, sand pebbles, cones, leaves, etc. It also features a massive top-load filter that can hold a week's dirt from a busy pool.
The top-load design also makes maintenance a buzz, as you can access the filter compartment easily. Like the Cayman, the Dolphin Escape has no full bin indicator, so consider emptying the filter compartment often.
6. Navigation
Robot cleaners operate autonomously. They find their way around the pool by themselves and decide the most efficient paths for entire-level cleaning. At the core of this autonomy is an intelligent navigation system.
Some models have average navigation systems that don't guarantee entire-level coverage and efficiency, while others have the latest systems that ensure the robot reaches every spot in your pool without hitting obstacles or getting stuck. So, which model has the best navigation system?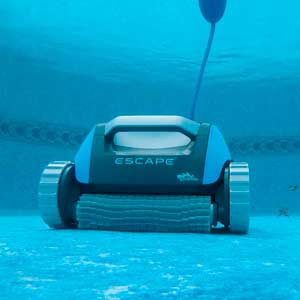 Dolphin Escape is not different from Dolphin Cayman as it has been engineered with SmartNav 2.0 Pool Mapping System. It is also a smart robot vacuum with a processor and a set of other components, including sensors for obstacle detection.
Besides obstacle detection, the robot pool cleaner scans and maps your entire pool area and calculates the most efficient paths to follow. Unlike typical robot cleaners, it uses efficient cleaning paths that ensure the robot finishes the cleaning on time and, importantly, passes on every spot.
7. Maneuvering
Besides navigation, how the robot cleaner maneuvers is a critical assessment factor. You definitely want a robot with a robust drive system for faster propulsion and a track system that offers better maneuverability and grip than wheels. Tracks are also gentle on fragile pool floors such as fiberglass. So, what maneuvering systems do the Cayman and Escape feature?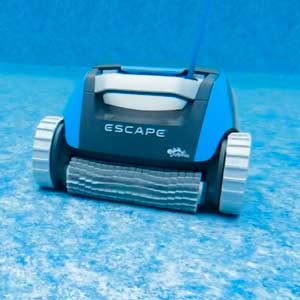 The Dolphin Escape is similar to the Dolphin Cayman in terms of maneuverability as it is also a dual-drive system. It packs two 24-volt DC motors under the hood. The two motors put up excellent power for propulsion and keep down energy bills. Dolphin Escape also runs on a paltry 180 watts translating to an operating cost of just 5 cents per hour which is impressive.
Regarding movement, this pool cleaner also deploys tracks instead of wheels. Dubbed HyperGrip Rubber Tracks, they can go anywhere and climb those large pieces of debris that the cleaner can't capture. These tracks are also gentle on fragile pool surfaces such as fiberglass. The Dolphin Escape also has that ergonomic design behind Quick-Purge Technology.
8. Convenience Features
Robot cleaners are meant to cut down the time you spend cleaning your pool. They have plenty of convenience features to make pool cleaning easy and stress-free. These features include remote operation, programming, and so on. But then, convenience varies from one pool cleaner to another. In this segment, find out how the two robot cleaners compare in terms of convenience.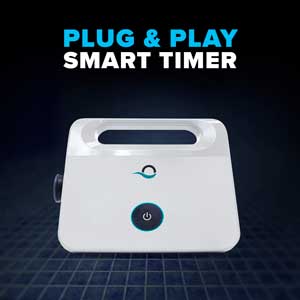 Unfortunately, the Dolphin Escape is not in any way endowed when it comes to convenience. It doesn't have automation, meaning there is no Weekly Timer.
It also lacks Enhanced Cleaning Cycles, remote control, and Delay feature. However, it's still a worthy choice if you don't mind manually prompting the robot to clean.
9. What's in the Box?
What do you find in the respective packages of the two robotic pool cleaners? You must know what comes with these pool cleaners and what they don't come with so you don't get served a rude shock when the order arrives. The best model should have all the necessary accessories to start cleaning your pool immediately. So, what do the Dolphin Cayman and Dolphin Escape come with?
On the other hand, the Dolphin Escape package includes the following:

Dolphin Escape Robotic Pool Cleaner (1)
Power Supply Unit (1)
Multi-Layer Filter Basket (1)
User Manual (1)
Quick Start Guide (1)
Registration Card (1)
Again, you can opt for a Universal Dolphin Caddy and a premium Caddy Cover.
10. Warranty and Aftersales
This last round of this Dolphin Cayman vs. Escape comparison review focuses on the warranty that the duo comes with. Obviously, you want a model with an extended warranty just in case the cleaner develops a problem. With a warranty, you can get repairs or replacements. We will also focus on aftersales. Here find out how easy it is to get support when you are stuck, and notably, the availability of replacement parts and supplies.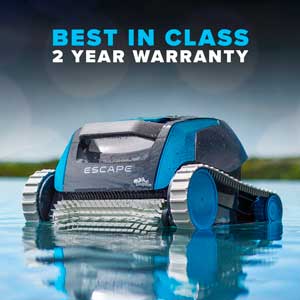 Dolphin Escape also comes with a 2-year warranty, so don't fret if the cleaner develops problems within the first two years of use. But again, check the warranty terms and conditions to avoid voiding the warranty.
Support is also readily available, and so are replacement parts and supplies such as caddies, covers, filters, etc.
Frequently Asked Questions
1. Can you use Dolphin Cayman in an inground pool?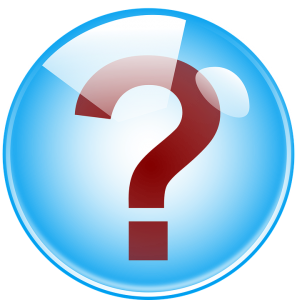 Yes. You can use the Dolphin Cayman or Escape in an inground pool. But make sure the robot is submerged, and the pool is not so big.
2. How long can a Dolphin Escape last?
Like all Dolphin robotic pool cleaners, a Dolphin Escape can serve you for anything between 3 and 5 years, depending on how often you use it and maintenance.
3. Can you leave a Dolphin Cayman pool cleaner in the pool?
Yes. Dolphin pool cleaners have been built using high-grade premium materials that can withstand all weather conditions.
4. How often should I run my Dolphin Escape pool cleaner?
You should run your pool cleaner as long as the water is dirty. It could be daily, thrice a week, or even more often.
5. Can you swim while a Dolphin Cayman pool vacuum is in the water?
Yes. Nothing can stop you from swimming, but it is not recommended. If you can't get it out, at least get it off the mains and leave it stationary at a spot where you won't be restricted.
Wrapping Up
That's it, a detailed Dolphin Cayman vs. Escape comparison review. So, what's the best Dolphin above-ground pool cleaner? Well, it's hard to call a winner as both models share quite a lot. However, we feel the Cayman is the best choice as it offers automation and can handle a larger pool. However, get the Dolphin Escape if you are on a budget and want a faster cleaning cycle.
Professional engineer with 7 years of experience in trading and service of swimming pools covers all tricky cases and the most detailed reviews of pool equipment. Helps in challenging cases with a cup of coffee!