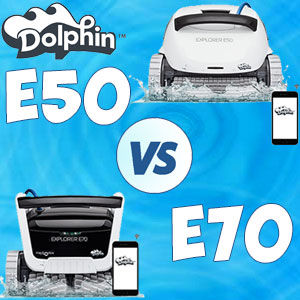 Dolphin E50 vs. E70 is among the major debates going on among pool fanatics. Some think the older E50 is the best, while others front the newer E70.
This comparison review will be resourceful if you are still deciding which model to buy. We have stripped down the two robotic pool cleaners' features to find out which one offers the best bang for the buck.
There's no doubt Dolphin is among the best robotic pool cleaner brands, rivaling the likes of Polaris, cFloat, Aquabot, Aiper, and Sutro, just to mention a few. Operating under the Maytronics umbrella, two of the best-selling models from the brand are Dolphin Explorer E50 and Dolphin Explorer E70.
The two are quite similar in that they are both robotic cleaners that offer excellent pool cleaning. However, there are profound differences that should inform your purchase decision.
The difference between the Explorer E50 and the E70 is the size, suction rate, drive system, full bin indicator, accessories, and warranty. The E50 is smaller and has a single drive system, lower suction, a basic full bin indicator, and a 2-year warranty. It doesn't have the full bin indicator with 5 debris levels, manual drive, or a water temperature sensor. On the other hand, the E70 is a bit bigger, has higher suction, a dual drive system, a full bin indicator with 5 debris levels, a 3-year warranty, manual drive, and a water temperature sensor.
Read along for a detailed review of the similarities and differences between Dolphin E50 and E70.

Comparison Table
Dimensions and Weight
22.2x17.6x13.1 inches, 19.23 lbs
23.8x19.7x20.1 inches, 25.3 lbs.
Pool Size, Surface
Up to 50ft, Any Pool Surface
Up to 50ft, Any Pool Surface
Filtration
Top Load, with Full Bin Indicator
Top Load, with Full Bin Indicator
Navigation
CleverClean™ Coverage - Precise Navigation System
CleverClean™ Coverage - Precise Navigation System
Maneuvering
Dual Drive, Tracks, Manual Drive
Cable
60Ft, with Anti Tangle Technology
60Ft, with Anti Tangle Technology
Dimensions and Weight
22.2x17.6x13.1 inches, 19.23 lbs
Pool Size, Surface
Up to 50ft, Any Pool Surface
Filtration
Top Load, with Full Bin Indicator
Navigation
CleverClean™ Coverage - Precise Navigation System
Cable
60Ft, with Anti Tangle Technology
Dimensions and Weight
23.8x19.7x20.1 inches, 25.3 lbs.
Pool Size, Surface
Up to 50ft, Any Pool Surface
Filtration
Top Load, with Full Bin Indicator
Navigation
CleverClean™ Coverage - Precise Navigation System
Maneuvering
Dual Drive, Tracks, Manual Drive
Cable
60Ft, with Anti Tangle Technology
Last update on 2023-09-25 / Affiliate links / Images from Amazon Product Advertising API
Dolphin E50 vs. E70 Face-to-Face Comparison Review
Now, to the main segment of this Dolphin E50 vs. E70 comparison review, how do the two robotic pool cleaners stack up against each other?
To ensure you make the right purchase decision, we have based this comparison on the essential considerations when choosing the best robotic pool cleaner. So, without further ado, let's get into it.
1. Design, Dimensions, and Aesthetics
Is the design of the pool cleaner you want to buy appealing? Will it complement your pool and the sparkling blue clean water? Another important consideration here is the build quality. The aim is to get a pool cleaner with a robust build quality that can withstand any conditions in the pool or on the deck. The dimensions and weight are also critical, especially regarding portability and storage.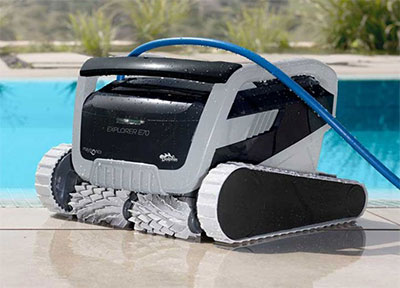 The Dolphin Explorer E70 is also a robust robotic pool cleaner with a muscular design, as you'd expect with a robot. The design is also impressive, blending in with your pool and the blue water. It also boasts a sturdy design courtesy of Maytronics' great choice of materials. Like the E50, the E70 can withstand harsh conditions in the water and on the deck.
Regarding the finish, the E70 is also black and white but has more black patches than the E50, but the hose remains blue. The dimensions are 23.819×19.724×20.157 inches. As for the weight, it is a little heavier at 25.3 lbs.
2. Assembly and Usability
The next consideration is assembly and usability. Find out if the robotic pool cleaner requires assembly. If yes, how easy is the assembly? You definitely want a model that requires minimal assembly and, preferably, a plug & play design. Another aspect is usability. How user-friendly is the robotic pool cleaner? So, which Dolphin wins this round?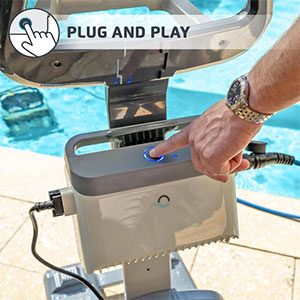 The new Dolphin Explorer E70 is pretty similar as it also bears a "Plug'n Play" design, so no assembly is required. The only thing required is setting up the power supply 10 feet from the pool's edge, connecting the cable, and aligning the notch with the connector before powering on the unit.
Next, sync the robot with the MyDolphin Plus app, and that's it. As far as operation, you also get access to intuitive controls from the app. The only difference is that the E70 gives you more features here, as we will discuss later.
The power cord also boasts patented swivel technology, so tangles, and kinks are not the order of the day. The Pick-Me-Up mode has also been retained so you can effortlessly retrieve your Dolphin from the pool.
3. Cleaning Orientation
There is a lot to discuss when assessing the cleaning orientation of pool cleaners. The first question is, what kind of pools has the cleaner been designed for? Remember, we have above-ground and inground pools. The pool surface materials also vary. Next, check the shape and pool length the cleaner is suitable for. You want to look into cleaning orientation to buy the right pool cleaner.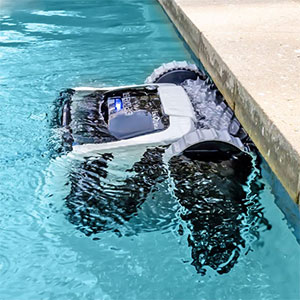 Nothing changes in the Explorer E70 when it comes to cleaning orientation. It is similarly a robotic pool cleaner for inground pools. Don't dare use it on an above-ground pool. It also boasts the versatility to handle different pool materials, from concrete and vinyl to fiberglass and liner pools.
You can also rely on the Maytronics E70 to clean any pool shape satisfactorily, for example, rectangular pools, kidney pools, round pools, free shape pools, hopper, mountain ponds, lagoon, single Roman, lazy ell, Grecian, true ell, etc. As for the pool size, it might be a newer model, but it still uses a 60ft power cord to clean pools of up to 50ft.
4. Cleaning Performance
The cleaning performance is perhaps the most crucial consideration when choosing between the Dolphin E50 and E70. The first question to ask here is, where can the robot clean? Is it the pool floor only, or can it also reach the walls up to the waterline? What is the suction rate? What about the scrubbing brushes? How long does a full cleaning cycle last? Let's dig deeper to find out more about the cleaning performance of the two robots in today's comparison review.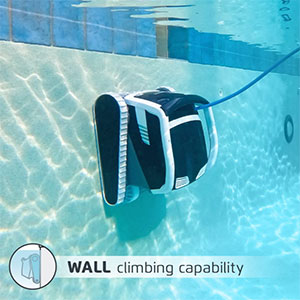 The Explorer E70 is not different from the E50 in terms of where it can clean. It is meant for cleaning the pool floor and walls up to the waterline. But one thing that sets the two pool cleaners apart is the suction rate. To be precise, the new E70 delivers a higher suction rate, 5000GPH. Another difference is the brush system. The E70 has an advanced brush system dubbed High-Speed Dynamic Dual Scrubbing.
There are 2 brushes in the system, just like with the E50, but the E70's brushes have been designed for deeper cleaning. From our experience, it tackled stains and dirt more effectively. These brushes, too, are gentle on the pool surface but tough on stains and grime.
As for the cleaning cycles, the E70 also has 3 cleaning cycles; Quick (1.5 hours), Standard (2 hours), and, Enhanced (2.5 hours), with Standard as the default cleaning cycle.
5. Filtration
The filtration system can also be the deal maker or breaker, not just the scrubbing system. Here, finding out what kind of filtration system the robotic pool cleaner on your wishlist has is essential. What kind of debris can it collect? Is it just the small debris, or can it also capture large debris? How friendly is the maintenance, and are there any extras such as full bin indicators? Let's find out what the two have to offer here.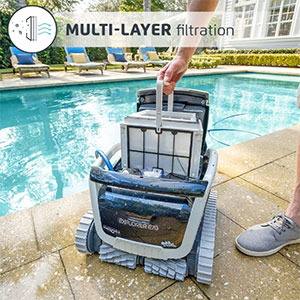 The E70 has the same multi-layer filtration system as the E50, so it is also great whether your pool is under trees that often drop twigs and cones or a sandy spot.
The filter design is also top-load for easy access during emptying and still features a full bin indicator. But one addition is that the E70's full bin indicator shows 5 debris levels.
6. Navigation
As the name suggests, the Maytronics E50 and Maytronics E70 are robotic pool cleaners. They do all the heavy lifting independently. That means they have a navigation system. Navigation is vital when choosing between Dolphin E50 and Dolphin E70. Definitely, you want a model with a reliable and precise navigation system for efficient cleaning and entire-level coverage. How does the navigation system of the E50 compare to that of the new E70?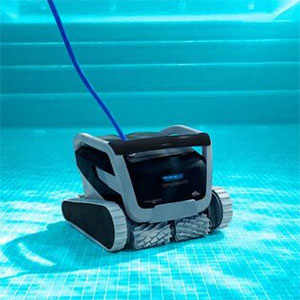 Dolphin Explorer E70 is also a smart explorer that relies on an intelligent system to find its way around a pool with any shape, from regular pool shapes to irregular ones. It also deploys CleverClean™ Coverage – Precise Navigation System.
There are intelligent systems and sensors for scanning and mapping your pool and sensors that detect large obstacles and tell the robot to change course.
Unlike your typical robotic pool cleaner, the Explorers hardly get stuck and guarantee entire level cleaning.
7. Maneuvering
When it comes to maneuvering, it's crucial to find out about the propulsion system of the cleaner and how well it can handle different surfaces. The best robotic pool cleaner should have enough propulsion to take on any surface, be it the pool floor or walls. On the other hand, the tracks should be robust enough to go over large debris and grip to climb walls. So, what's the best Dolphin robot pool cleaner in terms of maneuvering?
The new E70 has also been built with continuous tracks as opposed to wheels. The tracks also boast excellent traction to climb walls and can go over most obstacles along the way, except for the likes of ladders, ledges, steps, and pop-ups. The Explorer E70 tracks are also gentle on fragile pool surfaces, so you won't have to worry about scratches in your covered pool.
The drive system is the main difference between the E50 vs. E70 in terms of maneuverability. While the E50 uses a single-drive system, the E70 has been upgraded to a dual-drive system with 2 motors. This gives it better propulsion and agility.
8. Convenience Features
You definitely want to go for a robotic pool cleaner to avoid the hassles of manual pool cleaners. That said, you need to consider the convenience features of the Dolphin cleaner you want to buy. Here, the priority should be features like programmed cleaning and remote operation. You may also want to pop in energy efficiency in your checklist. So, what's the best model in terms of convenience? Is it the E50 or E70?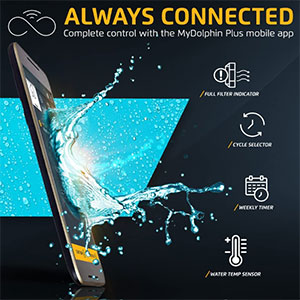 The Dolphin E70 is also packed with plenty of convenience features plus some extras. To start, it also comes with 3 cleaning cycles which you can adjust depending on fast you want to get into the water and how dirty the pool is. You can also customize cleaning depending on your preferences. This feature allows you to program the cleaner to get to work at specific times and clean in select modes.
These convenience features are available via the MyDolphin Plus app, where you also get controls such as Pick-Me-Up mode and Delay mode. Either WiFi or Bluetooth powers the app's connectivity.
As mentioned earlier, the E70 has some extras. First is the built-in water temperature sensors that let you conveniently know how warm the water is, a Manual Drive that lets you manually control the robot and end it to specific spots, and an advanced full bin indicator with 5 different levels of debris.
9. What's in the Box?
While it may sound like a non-issue, what comes with a robotic pool cleaner's package should be at your fingertips. You definitely want to know what accessories to expect to avoid any inconveniences. Ensure the cleaner has everything you need to get started without ordering other accessories or equipment. So, what do Dolphin E50 and Dolphin E70 include?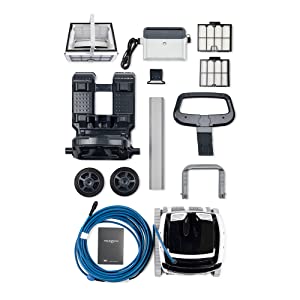 On the other hand, the Dolphin E70 package includes:

Dolphin E70 Robotic Pool Cleaner (1)
Power Supply Unit (1)
Multi-Layer Filter Basket (1)
User Manual (1)
Quick Start Guide (1)
Registration Card (1)
Caddy (1)
The advantage of the E70 is that it comes with a caddy, so you won't have to spend more on accessories.
10. Warranty and Aftersales
In this last round of this Maytronics Dolphin E50 vs. E70 comparison review, we will discuss the warranty that the two models tag along with and the aftersales. The best models should be ones that offer an extended warranty. A warranty is essential as it covers you in case of breakdowns. When it comes to aftersales, we want to assess the level of support available and, importantly, the availability of replacement parts and supplies.
As for the E70, you get an extended 3-year warranty. This is one of the advantages of the Explorer E70 over the E50. As for aftersales, the Dolphin support is sufficient, and supplies and replacement parts are available at affordable prices.
Frequently Asked Questions
1. How long do Dolphin E50 and E70 pool cleaners last?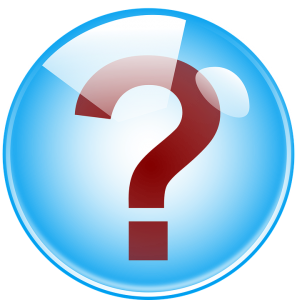 Dolphin robotic pool cleaners can give you reliable service for an average of 5 years if you take maintenance seriously and even longer if you don't use it often.
2. Can I leave my Dolphin E50 robot in the pool?
Yes, you can leave the Dolphin E50 or E70 in the pool, as it has been built with high-grade materials to withstand hard weather conditions.
3. Does Dolphin E70 pool cleaner use a lot of electricity?
No. Dolphin pool cleaners, including the E50 and E70, are energy-efficient cleaners that use 90% less energy than your typical robotic pool cleaners. The average operating cost is five cents per kWh.
4. Is the Dolphin E50 pool cleaner the best for me?
Yes. The Dolphin Explorer E50 is a great pool cleaner if you are on a budget. However, if budget is not an issue, upgrading to the Explorer E70 is a clever idea as it has some bells and whistles.
Wrapping Up
That's the end of this Dolphin E50 vs. E70 comparison review. So, what's the best choice? Well, the E70 is the ultimate winner as it has several upgrades, including higher suction, a better drive system, a manual drive, a more intuitive app, a water temperature sensor, and a longer warranty. It also comes with a caddy which the E50 doesn't come with. But still, don't shy away from the E50, as it offers excellent pool cleaning and is available at a lower price.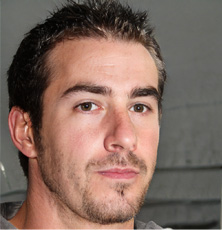 Hi! I'm Markus Robertson, and water is my passion.
Five years ago, I graduated from the University of California-Los Angeles and was going to become a professional marine biologist. However, my fate had other plans for me, and due to family problems, I had to find a more stable and well-paid job. I had only one wish for my job to be connected with water.
During this period of my life, I worked as a sales manager at Olympic Pool & Spa Supplies. The job helped me learn everything about swimming pools and related pool equipment, as well as how to choose the best option and what to pay attention to.
Having worked there for three years, I decided to start my own blog about pools, where I can tell people about the best new pool equipment models and share my knowledge and experience.
A marine biologist by education, I became a pool blogger by trade. Now I'm glad I can help the guests of my store and the visitors of my blog know a lot of exciting things about pools, their types, best pumps and filters, necessary equipment maintenance, and so on.
I welcome all people who want to choose a proper basin and the stuff to my blog! Hope you'll find this information interesting and useful!