The Best Pool Pump for Above Ground, Inground Pools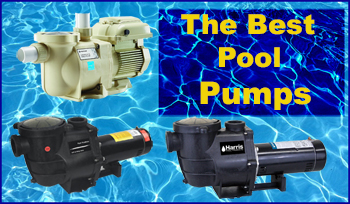 Are you looking for the best pool pump for above ground or inground pool? If yes, then you came to the right place. We have reviewed some of the best products on the market. So, whether you are looking for an in-ground pool pump, above ground or even variable speed, we've got you covered.
But are pool pumps that necessary? Remember, it is your pool pump that keeps pool water clean and fresh. It facilitates water circulation and pumps it through the filter and chlorinator. That in mind, you don't want to end up with an average pool.
For many guys, shopping is the main problem and that's why we decided to review the best pool pumps in 2018. To capture all consumer needs, we will segment the review into 3 parts to cover the best above ground pool pumps, in-ground pool pumps and lastly, variable speed pool pumps.
The Best Above-Ground Pool Pumps
If you have an above ground pool, you will require nothing short of an above ground pool pump. This pump has been designed to take advantage of gravity and atmospheric pressure to pump water in your pool.
One thing you should note here that an in-ground pool pump would work on an above ground pool quite well because it will also take advantage of flood suctioning.
But still, it is recommended that you install an above ground pump on an above ground pool because of the installation position.
Here are our top 5 picks for the best above ground pool pumps in 2018.

Model

Name

On/Off Switch

Motor

Voltage

Check
Price

Hayward SP1580X15TL PowerFlo LX

1.5 HP
115 VAC
Check Price
Intex Krystal Clear 28651EG

0.75 HP
110-120V
Check Price
Intex Krystal Clear 28633EG

2500 GPH
110-120V
Check Price
Harris H1572730 ProForce

1.5 HP
115V
Check Price
Hayward SP1592 PowerFlo Matrix

1 HP
115V
Check Price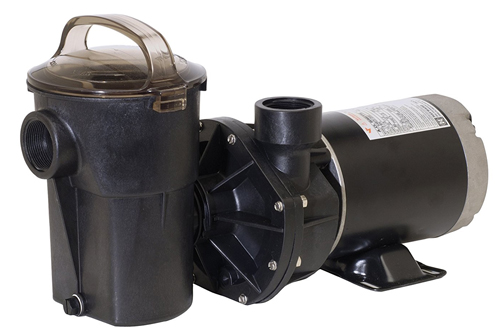 If you are looking for a powerful above ground pool pump that delivers exceptional performance, then look no further. This PowerFlo LX model has got you covered. It features a 1.5 HP motor and a strong build that will withstand all the extreme conditions. But then, you will have to put up with the fact that it lacks an on/off switch and is also quite expensive considering it's only a pump; you have to invest again on a filter.
As is the tradition with Hayward, the PowerFlo LX boasts a rugged construction. The motor is enclosed in a durable and most importantly, corrosion-resistant material so it will last longer. Besides, the enclosure greatly reduces operation noise and though there are better pumps with minimal noise, this one is quite commendable considering it's a 1.5 HP pump. But again, I find it quite heavy, not because of the motor, but the enclosure material.
So, in as much as you are excited about its ruggedness, moving it around is quite a problem and that's why it's recommended for permanent
above ground pools
– you won't have to move it every now and then.
Regarding performance, it packs a powerful 1.5 HP motor and an improved impeller design for the best output. At 10 ft. head, it does an average of 90 GPM while at 30 ft. and 50 ft. it will do 5 GPM and 30GPM respectively.
One thing I'd like you to note here – this is an air cooled motor. For that reason, make sure you install it where there is sufficient air circulation.
I also like its minimal and more so, easy maintenance requirements.
First, the motor has self-lubricating bearings and seals and the motor itself has a thermal overload protection. On top of this, an easy drain plug has been well positioned at the bottom while the strainer basket is transparent to help you notice when it's full more easily.
On the downside, this pump is quite expensive and if you are on a budget, you'd want to go with something like the Harris H1572730 ProForce that boasts a 1.5 HP motor too and costs almost $100 lesser. Also, the absence of an on/off switch is just ridiculous. You have to disconnect it from the mains to put it to sleep something that can prove to be strenuous especially when the mains socket is far.
I know a lot of you may be concerned whether this pump can be used for side discharge. Yes, it is possible with the removal of some clip behind the strainer basket and also, removing 4 bolts from the motor's back.
Pros
Rugged construction
Powerful 1.5 HP motor
Easy maintenance
GFCI equipped
Cons
Quite expensive
No on/off switch
The Hayward SP1580X15TL PowerFlo LX delivers great raw power for efficient water circulation, running a sand filter and even powering a suction side pool cleaner. The only shortcoming is the lack of an on/off switch but if you are keen on raw power to handle large
above ground pools
, it's the perfect match.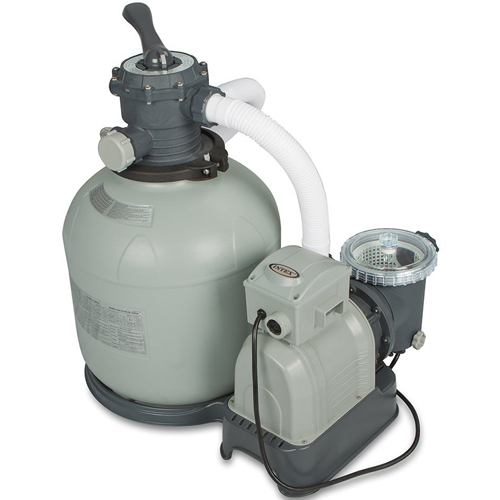 Being UL and CSA certified, Intex is a top brand when it comes to pool solutions and for that reason only, you'd want this pump on your wish list. But besides that, what's more? The Intex Krystal Clear 28651EG is real value for money considering this is a pump that comes with a ready filter. So unlike Hayward SP1580X15TL PowerFlo LX and Harris H1572730 ProForce, you won't need an extra budget for the filter. The price is great too bearing in mind this is a top brand and the top-notch performance it delivers.
One thing I love about Intex pumps is their versatility – they just don't pump water. Like earlier said, this model comes with a sand filter pump and although it is not the best when it comes to filtering the smallest of particles, it still does a great job as far as pool cleaning is concerned. In addition to this, it requires less maintenance as you will be required to change the sand after 5 years or so while a cartridge filter requires weekly change. But then, the sand makes the entire kit very bulky. It weighs in at 120 lbs. while something like the Krystal Clear 28633EG weighs just 20 lbs. though it's suited for smaller pools.
Apart from pumping and filtration, the 6-way valve gives pool owners power to do more – you can filter, backwash, rinse, recirculate, drain and close the system.
With this versatility, the around $165 price tag should make this model am a top priority if you are after value for money.
When it comes to performance, Intex equipped it with a 0.5 HP motor which makes it inferior to the likes of Hayward SP1580X15TL PowerFlo LX and Harris H1572730 ProForce which have 1.5 HP motors. But then, from a technical perspective, it not always about the HP, efficiency matters a lot and that's an area Intex has perfected. This pump has an average system flow rate of 2,450 GPH and a pump flow rate of 3,000 GPH.
So, if you have a really large pool, say 15,000 gallons plus, this pump should be on your wish list. I bought this one to replace the stock pump that came with my 15′ x 48″ Intex pool and so far so good, I love the performance. But what I like most about it is the quiet operation. Remember, this is a 0.5 HP motor so you don't expect to hear it running when in the house going about your other business.
I also liked the large basket strainer. I know many other pumps have strainers for capturing large debris especially leaves. But this one is extra large so if you live in areas with lots of foliage, this one will be a great choice as you will be needed to empty it less frequently. But if your pool is under trees that drop lots of foliage, it would be best to get a surface skimmer. It is also capable of holding up to two treatment tabs comfortably.
Pros
6 functions
Ideal for large pools
2-in-1 (pump + sand filter)
Large strainer basket
UL & ETL certified
Cons
Very bulky
Can't filter very small particles
If you are looking for value for money, you will not go wrong with the Intex Krystal Clear 28651EG. This is a top brand and comes with dual functionality – it is a pump and a
filter
as well. The best part, it costs just $165 and can handle large pools.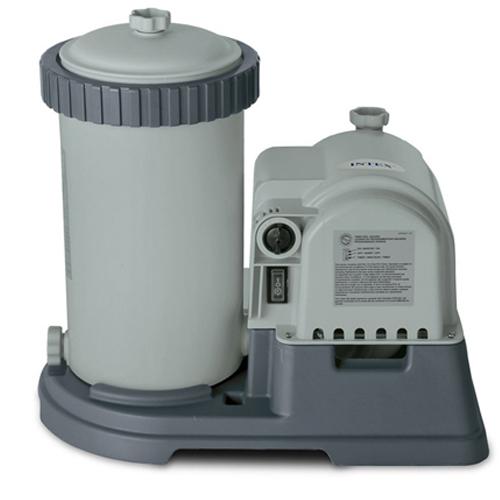 There's this wrong notion that pool pumps are very expensive. Others believe that you can't get a cheap and reliable pump. Though it's true that cheap is expensive, Intex Krystal Clear 28633EG is one above ground pool pump that has defied the odds. Retailing at only $80, it features in our list today of the best above ground pools as the cheapest pump in the market.
Remember, there are several other cheaper options but then, performance matters too. Though not very powerful like the rest, it offers quite some good performance for the seasonal pool water enthusiast.
The first thing you will notice about this model is the compact design. This makes it very easy to install while the weight won't stress you when moving it from one place to another.
Remember, it's the sand filter that makes the likes of Intex Krystal Clear 28651EG bulky. If you have a portable above ground pool, this is the best choice.
I also like the easy installation and operation; you just need to fix the hoses and that's it.
Like mentioned, this model too offers dual functionality. Besides the pump, it has been built with a cartridge filter system. I like cartridge filters because it filters the smallest particles than a normal sand filter will miss out. But then, it requires frequent replacement of filters which is time-consuming and also expensive. But if you are keen on reducing the risks of RWIs, this will be a great pump.
Now, let's talk about the performance which I know is not that powerful. But then, this should not be an issue because you get what you pay for. All the same, this pump is ideal for an average-sized pool. It has a pump and system flow rate of 2,500 GPH and 1,900 GPH respectively. This is enough for pool ranging from 5,000 gallons and 15,000 gallons. But from my experience with it, it is quite slow on pools with a capacity higher than 10,000 GPH.
In terms of extras, it has a 2 – 12-hour preset timer for your convenience. You don't have to be there always for it to do its job – just program it and sit back. But then, I wish it had a complete 24-hour timer like the higher Intex Krystal Clear models.
It also comes with an easy to use air release valve. At times, air gets into the filter chamber and gets trapped there. While other ordinary pumps will require full bleeding, this one has a simple air release valve so you won't have to worry about trapped air.
Pros
Ultra-compact and lightweight
2-in-1 (pump + cartridge filter)
Very affordable
Best in class filtration
UL & CSA certified
The Intex 28633EG may not be
the best pool pump
considering it's average performance. But for the price and dual functionality, it is still a worthy investment if you have a mid-sized pool. But note that while the initial cost is cheap, maintenance costs are high because of the frequent cartridge replacements required.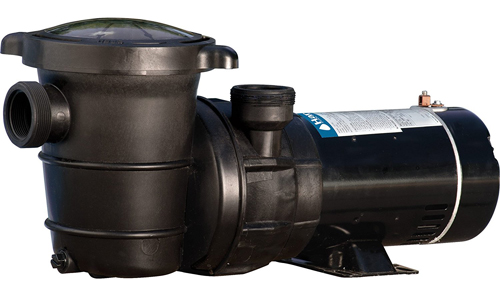 A pool pump is not a cheap investment so you want one that will offer you the best durability. The Harris ProForce happens to be one of the most durable pool pumps out there beating even top brands like Intex and Hayward. In this model, what Harris emphasized on is the motor.
Remember, in pool pumps, it is the motor that's more susceptible to wear and tear. Harris built this model with a stainless steel motor shaft and a reinforced thermoplastic body to ensure it gives you longer service. Besides durability, its performance is also commendable and the price is friendly too.
The Harris ProForce sports a similar design to that of Hayward but with only a few differences. It is lightweight and can be installed both vertically and horizontally though there is no dedicated button for switching in between like the Hayward PowerFlo Matrix. It also lacks the on/off switch so if your mains is far, it can be quite frustrating moving back and forth. But it is at least lighter than Hayward though they are all lightweight. Harris weighed in at 23 lbs. while Hayward is slightly above 25 lbs.
Like earlier mentioned, this pump will last longer than most models out there. While its exterior may not be as rugged as that of Hayward PowerFlo, the ProForce's motor will last twice longer. But then, its endurance is wanting.
I had seen a lot of guys posting about a similar problem severally. They complained that it went off by itself after 2-3 hours of use in hot weather. We really spent some time here and once or twice, it behaved the same.
The problem is overheating – the motor is not properly cooled so when it gets very hot in there, it powers off.
I'm sure this is one thing you will have to consider now that you'll need the pump during summer when temperatures average 30 degrees. Another thing, once it starts overheating, it starts producing a rattling sound intermittently.
But note that not all units have this problem so don't be afraid to go for it. But again my worry is with their after sales. The model I ordered for our test had this problem and a month later, the company has not honored the warranty. It's been a cat and mouse chase – full of promises from both the seller and the company. But I'm sure it's because it was not installed by their accredited installer – that's how the warranty got voided I'm sure. But then it's such a lame excuse; why would a handyman bother calling in their installer? Generally, Harris is not a very popular brand and it seems they didn't do their homework well. Here I'll tell you, it's a matter of chance. If you get a good unit, that's fine, but if you aren't lucky, you are in for one hell of a ride.
This pump cannot be shipped or used in California. This is in accordance with the
California Energy Commission
(CEC) Title 20 Appliance Efficiency Regulations.
Pros
Compact and lightweight
Durable motor
CSA & ETL certified
Half the price of Hayward PowerFlo Matrix
Cons
No on/off switch
Poor after sales service
If you get a standard unit, Harris ProForce is one deal you wouldn't want to miss out on. But then, with the bad reviews regarding after sales, think twice before putting it in your cart. It is understandable to have some units with manufacturer's defect, but trying to evade the warranty is not good at all. But all in all, it's a decent choice for the price!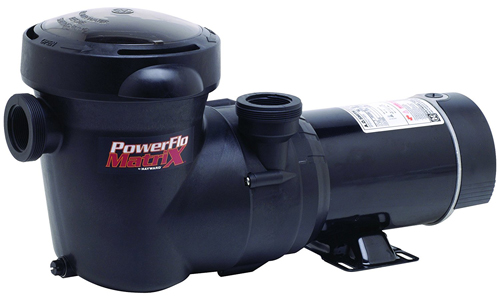 For some reason, you may want to install the pump horizontally or vertically. I know the likes of Hayward SP1580X15TL PowerFlo LX can also be tweaked to both positions but what makes this one unique? The answer is very simple – it's easy to set it up both ways. While Hayward SP1580X15TL will require you to remove some bolts from the motor which can be a hassle for amateurs, Hayward PowerFlo Matrix has a push button – you can switch to both modes with just the press of a button.
The first thing I'd like to talk about is the on/off switch. While the Hayward SP1580X15TL lacks one, this model has been equipped with it so you can put it on or off without necessarily unplugging it from the mains.
One thing I like about this pump is the I also like the ruggedness – it has been built with a durable and corrosion proof housing to withstand extreme conditions and most importantly, to protect the motor.
Speaking of the motor, this pump boasts a 0.75 HP motor with thermal overload protection that is more efficient and ensures the pump runs with minimal noise emission.
But the biggest inclusion here and perhaps what makes this model leave a mark is the powerful Noryl impeller. It offers quite some wider openings that prevent clogging. My problem with Harris ProForce is constant clogging especially when there is a lot of dirt on the pool, Though it has a large strainer basket, time and again you will find the pool still dirty because of clogging. But I'm glad Hayward doesn't have this problem; in fact, if there are trees with large leaves around your pool, consider buying this pool pump.
But on the downside, this pool pump is quite expensive and not unless you just want Hayward, Harris H1572730 ProForce is a much more clever choice. With Harris, you can save up to $100 and will still get the job done.
Also, it's not ideal for saltwater systems.
Remember, you need a low setting for these systems and for this model, the low setting has very low power. My sister had it installed in their 17,000-gallon pool with a saltwater system and it greatly gets overwhelmed. So, if you have a saltwater system, this is not the best – try something like Intex 56671EG.
Pros
Horizontal/vertical discharge
Easy setup
Efficient motor
Powerful impeller
Large strainer basket
To be honest, I only like this
pool pump
because of the one touch vertical/horizontal switching; nothing else is unique for me to pay twice the price of Harris. In my opinion, this is a waste of money if you are not interested in the dual discharge feature.
The Top 5 Best In-Ground Pool Pumps
Like earlier mentioned, an in-ground pool will work on an above ground pool but the vice versa is not possible.
An
above ground pool
won't be able to pump water from an in-ground pool as it lacks self-priming capability; this is the ability of a pump to lift water vertically.
That said, you should only buy an in-ground pool pump for your in-ground pool.
Here are the top 5 in-ground pool pumps that made it on our shortlist.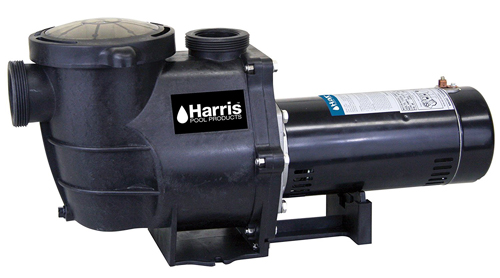 This pool cleaner from Harris costs a fraction of its similar competitors and will still offer quite some excellent performance and notably, durability. Unlike the other two models discussed in this review, this one seems to be more serious with no major complains regarding manufacturer's defects. Retailing at $170, this is a great ion ground pump that should be on your wish list if you are looking for value for money.
To put it into perspective, the Harris ProForce will do the job just the same way higher end models like Hayward Super Pump and costs much less. Though Harris is a little-known brand, with several issues regarding some units of their products, this one has survived the test of time. Looking at the online reviews, and comparing them to the other two Harris models in this review, Harris did a great job with this model, especially the Quality Control team.
One thing you will like about this pump is the ruggedness. Though not the industry's leading, the thermoplastic body does a great job of protecting the motor and also, reducing noise emission to the environment.
This model too comes with a large strainer so you don't have to be emptying the skimmer basket every now and then. And still, when it comes to cleaning and emptying it, it is very much easier considering this model comes with a see-through twist and lock lid. You can easily notice when it is full and also, opening it and closing is much easier.
Performance is also excellent as it boasts a powerful 1.5 HP motor, and by the way, the shaft is made from a 304-grade stainless steel motor shaft. Together with the graphite and carborundum components, this motor will last for quite longer than your normal in-ground pool pumps. But then, its output is quite lower than something like Pentair or Hayward and on a positive note, this is what gives Harris an edge over the rest when it comes to durability. Contrary to what you would expect, a Harris motor will last longer than Hayward's.
Remember, in as much as the build quality matters, the longer and faster a motor runs, the more it's exposed to wear and tear. So, considering Harris runs at lower RPMs, it wears and tears less compared to the high RPMs in a Hayward motor. That said, it is clear that you need to compromise performance a little bit for durability, and vice-versa. One thing that tells the power of an in-ground pool pump is self-priming; how high can it lift water vertically? This is one area the Harris ProForce dismally performs. While the likes of Pentair and Hayward have a suction lift ability of up to 10', this one can barely manage the 8' the company hints so if you want to install it quite high from the water level, it will not be the best. During our tests, it choked at 8' but at 6.5', it worked perfectly.
Regarding operation noise, I wouldn't say it is very quiet but considering this is a 1.5 HP motor, you don't expect it to be as quiet. But I liked the 2-inch union connections for suction and discharge. At least they are larger to allow for more suction and discharge. Remember, it is like using a wide straw and a thin straw – the wide straw has better flow.
Pros
High-grade thermoplastic body
Durable and efficient motor
See-through lid cover
Easy lid opening and closing
115V/230V operation
Cons
Lower self-priming
Quite noisy
The Harris ProForce is the perfect blend of performance and affordability. Though it doesn't pack the same self-priming power as higher-end models like Pentair SuperFlo and Hayward Super Pump, it still puts up a great performance and costs half the price.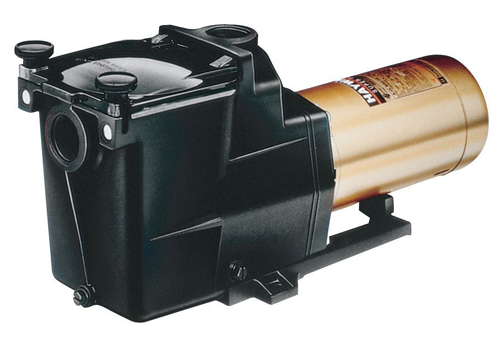 If you have a large in-ground pool, you want to buy something that is big on performance and the Hayward Super Pump, just as the name suggests will offer you premium performance. It boasts a 1.5 HP motor and an impressive self-priming height of 10'. But then, all these come at a cost; almost $400, for a single speed pool pump! Is it really worth, let's find out.
One thing I like about the Hayward Super Pump is the fact that it can work on both 115V and 230V courtesy of a voltage switch behind it. Remember, most pool pumps, including most of the MaxFlo series, are 230V compatible. This means you can't use them when on 115V and considering many American homes are still on 115V, this limits many people. But the good thing is that the Super Pump can use both systems. This makes it a perfect upgrade to an old 115V system with minimal electrical wiring requirements.
The performance, as stated earlier is excellent and there is nothing much to desire in a single speed pump. From our tests, this pump performed exceptionally well and the self-prime is incredible; 10' to be precise. The noise operation is quite low but not as low as Pentair.
Besides performance, the construction of this pump is top notch. The first thing you will love is the mount. Remember, the motor's vibration is what brings about noise and another thing, the vibrations work out the screws and bolts. When properly mounted, the vibrations are absorbed and the result, a quieter operation. Also, the screws and bolts don't get worked out as fast so you don't have to worry about lost screws and nuts like in other models. But then, it is very expensive – retailing at $375, the Super Pump is very expensive for a single speed pump. At the same budget, you can buy a two-speed pump which is more efficient.
Also, the service factor of 1.0 means the pump is susceptible to overheating in the event it's supposed to produce more power. But the good thing is that Hayward addressed all cooling factors.
The exterior is made of corrosion proof and reinforced thermoplastic. This material can withstand overheating and during winter and very hot summers, you don't have to worry about it; it will withstand all these conditions. Also remember, the heat seals are ceramic so, it will withstand overheating, a common cause of motor damage. But I wish the hose connections were 2 inches like Harris ProForce.
Remember, with a wider connection, there is better flow.
One unique feature of this pump is the swing way
hand knobs
that make lid removal very easy. In fact, you don't need any tools to do this. The strainer is also see-through but with a
larger basket
so if your
pool
is under trees, this is also another pump you need to consider buying.
Pros
Non-corrosive thermoplastic exterior
115V/230V switch
High-performance single speed motor
Impressive self-priming (10' above water level)
Swing way hand knobs
Large strainer
Cons
Expensive
No service factor
Small hose connections
Unless you are really into Hayward, the $375 price tag is not worth this pump for two reasons. First, it is a single speed pump and second, the 1.0 service factor is a joke for such an expensive pump. Honestly, I would go for Harris ProForce and save myself almost $200. But if you want something that will guarantee you the best self-priming power, Hayward Super Pump is the industry's reliable workforce so you may give it a try!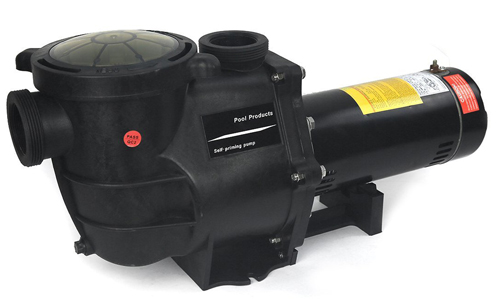 For those who live in hot areas, you understand the effect of the direct sunshine and other adverse conditions to your pool pump, especially when it's not covered. But with the XtremepowerUS, you don't have to worry about your pump. It has been built using the best solid materials and offers quite some impressive performance. The price is also affordable and the pool is a worthy alternative to the pricey Hayward SP2610X15 Super Pump considering the latter is more than twice the price of XtremepowerUS.
This pump was installed at our home 13 years ago and up to now, it is still intact. Among the things that have helped it all through is the solid mounting. One thing that damages the wiring system of motors is an unstable mount.
Remember, the 3000+ revolutions the motor makes in a squeezed tube may damage other components when the unit is shaking. But importantly, it's the exterior design and also material that has made it last this long. But during its prime time at home, my dad used to complain that it has unusually low power and this is something many reviews can confirm. But the good thing is that the motor is durable.
Remember, the higher the performance, the faster the wear and tear. Another shortcoming, the XtremePowerUS is a capacitor start motor so definitely, it is not energy efficient.
In fact, if you live in California, this pump, and also Harris can't be shipped there because of the local regulations. Another thing that would make you shy away from buying this pump today is the strict warranty.
Just like the other brands, you need to have it installed by an accredited installer. I asked my dad about it and he said he installed it himself and even had the voltage switch replaced under the warranty. But then times change and here we are, try installing it yourself and forget the warranty.
Pros
Rugged all-weather design
110V/220V switch
Longer motor lifespan
Quite affordable
Quiet operation
Cons
Not energy efficient
Strict warranty
For the price, I wouldn't mind adding this pump to my cart. It costs much cheaper than the Pentair 2HP model and even though its performance is not up to the mark, the average operation gives the motor a longer lifespan. The exterior is also rugged so you won't worry about leaving it outside all year long!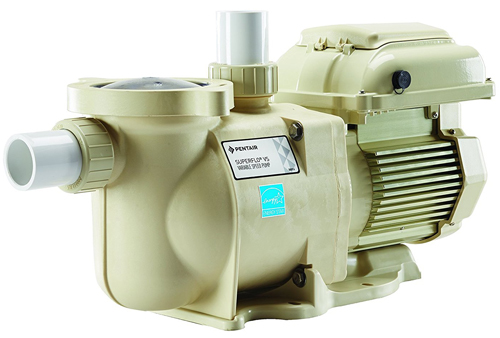 If you want the ultimate in ground pool pump, here's the Pentair SuperFlo that boasts world-class performance and a range of convenience features perfect for modern living. It packs a powerful motor and an impressive service factor so you are sure it won't overheat and damage the motor. Remember, this is a variable speed pump and will run on both 115V and 230V. But then it's bulky and expensive but this time round, it's worth every penny, unlike the Hayward Super Pump.
The Pentair SuperFlo is an awesome pool pump designed for large pools.
Though it has been criticized for being too bulky (51 lbs.), this is not a major issue considering your pool is permanent. I think bulkiness should be an issue with portable above ground pools only.
One thing I like about this pool is that it's very easy to operate. But if you are used to the old pool pumps, you might freeze a little bit but in a few minutes, you will be well acquainted with its operation.
It sports a digital interface that helps you input precise settings and also, you can accurately monitor your pool water. For user convenience, there's also a real-time clock and 24-hour memory retention so you can easily program the pump if you are not yet ready to automate the pool.
When it comes to power and performance, the SuperFlo is excellent. First, it has a 115V and 230V switch so you can use it on either line. This is also advantageous for those who want to replace their old single speed 115V pumps because they will use the existing wiring system; you don't have to call a wiring expert to modify a few things for electrical hookup. But then this doesn't make much sense bearing in mind you should have it installed by an accredited Pentair installer lest you void your warranty. But as a DIY project, this feature comes in really handy.
When it comes to the motor, Pentair used the revolutionary TEFC motor. For starters, this is a totally enclosed fan cooled motor that in fact uses a permanent magnet as is with all variable speed pumps.
Actually, speaking of speed, this is a 3-speed pump that also comes with an override function. I also like the low noise operation and this model is, in fact, one of the quietest pool pumps you will find out there. But just to keep you in the loop, in 'quick cleaning' and 'first priming', it produces a very rattling sound you might think the motor is damaged – this is quite normal.
Pros
Digital control interface
TEFC variable speed motor
ENERGY Star Certified
115V/230V switch
Ultra-quiet operation
Real-time clock with memory retention
The Pentair SuperFlo is the best pool
pump for above ground pools
considering the budget. It retails at around $670 which is very affordable for a variable speed in ground pool pumps. Remember, junks like Hayward Super Pump cost almost $400 and are average single speed pumps. If you have a large in-ground pool and you don't want to spend $1000 plus on 8-speed models, this is a great landing point; the perfect blend of performance and affordability!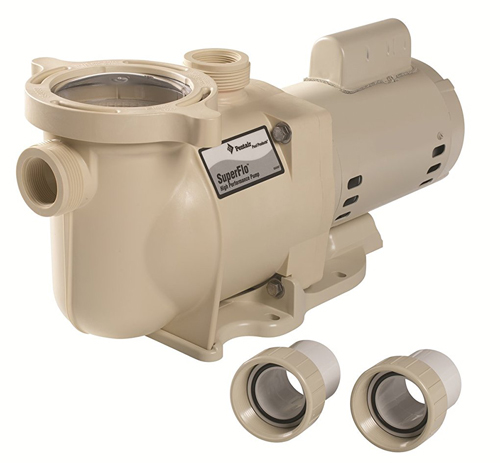 The Pentair 340038 is another quite expensive in-ground pool pump but with better value for money than the Hayward Super Pump. Remember, you might need a powerful and reliable single speed pump and these two are the best deals so far. But SuperFlo offers better value for money in light of the fact that it offers the same performance as Hayward and costs $50 cheaper. Besides this, it packs quite some excellent raw power and has unionized fittings for easy changes and versatility. But should you buy the Pentair SuperFlo? Let's find out.
Like earlier mentioned, this pool pumps packs quite some impressive raw power. It boasts a new generation 56 square flange 1HP motor built for efficiency. In as much as they have been rated the same as Hayward Super Pump, (self-priming – 10' above water level), you'd want to go with Pentair and here's why.
Remember like I said, Hayward has a service factor of 1.0 and Pentair has 1.25. This means that while they both could raise water 10' above in optimal performance, Pentair could do a little bit higher because the service factor allows for 25% boost in performance when needed. This is to say, when Pentair does 10' like Hayward, this is not its best performance; it can do much higher. But on Hayward's case, the 1.0 service factor implies that it's running optimally. The other thing I want to talk about is durability which is directly related to service factor. The Pentair SuperFlo is obviously durable than Hayward – from a technical perspective. As we will discuss later, service factor greatly reduces overheating, a leading cause of motor damage.
Another thing you will like about it is the unionized fittings that allow easy change from 1.5'' hoses to 2.0'' hoses – there's a 1.5'' internal slip while the 2'' slip is external. Actually, when used with the 2.0'' hose connection, the flow is much better than the smaller 1.5'' connection – it's still the same case of a thin straw and a thick straw; the latter is best. I know, when comparing the two models head to head – Hayward Super Pump vs. Pentair SuperFlo – you might highlight some of the unique cooling features of Hayward we discussed.
Remember, Pentair is air cooled too but with no unique cooling features. For that reason, you may despise Pentair but then, why would it concentrate much on cooling when it doesn't overheat? The only thing that could make me look back is the swing way hand knobs in Hayward, and perhaps the fact that it is a top brand.
Pros
Quality construction
High service factor
Durable motor
Unionized fittings 1.5'' and 2.0'' external slip
Value for money
The Pentair 340038 SuperFlo puts up quite some great performance and actually, the best when it comes to raw power. It has a high service factor and is cheaper than its main competitor, Hayward Super Pump. Considering the raw power and affordability, this is the best value for money. But make sure it's installed by an approved installer lest you void the warranty.
The Top 5 Best Variable Speed Pool Pumps
With the rising awareness of energy efficiency, variable speed pool pumps are gaining popularity as they allow pool owners to regulate the speed of the motor depending on the pool's needs. Also, they offer users the convenience they need as they can customize their cleaning needs.
But then they are very expensive so you might want to get a two-speed pump; at least it is cheaper and will still save energy when adjusted to low speed.
But if you still want a variable speed pool pump, here are 4 models that should top your wish list.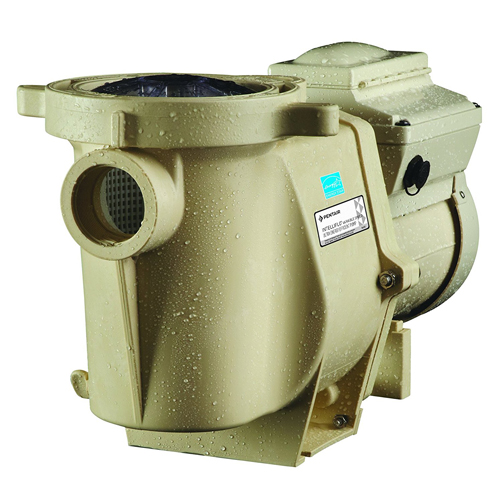 If you want something that is really quiet, then look no further. From my experience with pool pumps, I've never met one that is so quiet like Pentair IntelliFlo. I've set up my pool just 11 meters from my house and you can barely hear it when inside. In as much as other brands boast of quiet motors, that's just on paper, IntelliFlo is the real deal. Besides, it is compatible with several Smart controls – if you want to automate your pool, this is also something you should put on your wish list.
Whenever the IntelliFlo is mentioned, it reminds me of my predicament with Harris ProForce. It is also a brand that has been on the spot over its warranty policies. I really like all the features Pentair had to offer in this pump but with the many cases of manufacturer's defects and a strict warranty policy, you should think twice.
Fortunately, for the model that we ordered for our test, it worked 100% fine. We haven't had a reason to contact after sales service but from the look of things online on forums and product reviews, their warranty is voided if the pump is not installed by a Pentair approved installer. This is a common excuse they use to evade honoring their warranty, just like Harris.
But on a positive side, I liked the fact that it comes with an LCD and is digital pool and spa ready meaning you can use it with EasyTouch, IntelliTouch, SunTouch, and several other pool control systems.
Inside, you will find a TEFC 8 speed motor that is powerful, efficient and very quiet. What I want you to note here is that the motor has nothing to do with the quietness; the magic is in the precise matching of the motor's speed to your pool's needs.
Another interesting bit is on energy savings– the company boasts that it can save you up to $1,500 annually and has energy savings of up to 90%. These are all inflated numbers because we compared it to Hayward and the latter was far much better. But then, it is still a pump you should consider when looking for energy savings – at least it is ENERGY Star Certified – you can save 40% – 50% of your energy costs.
I also like the onboard self-diagnosis feature that will help you troubleshoot motor errors.
Pros
LCD screen
TEFC motor (8 speed)
Quiet operation (45db)
Self-diagnosis
Energy Star Certified
Digital pool/spa control ready
Cons
Poor after sales
Many defective units
I really like the Pentair 011018 IntelliFlo because of its quietness and also, the Smart control compatibility. If you don't like disturbance or you want to automate your pool, buy the Pentair IntelliFlo. But make sure to call in a Pentair approved installer just in case you may need the warranty.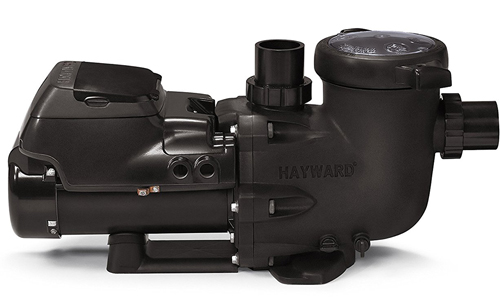 If you are a parent, you always get uneasy imagining the obvious risk of suction entrapment especially if your kids are very small.
According to the U.S. Consumer Product Safety Commission (CPSC), there were 83 reports of circulation entrapment, including 11 deaths and over 70 injuries.
Suction entrapment is a real scare and if you want to remain stress-free, then Hayward addressed the safety concern courtesy of the new Safety Vacuum Release System (SVRS). Besides this, I'm glad it meets the Virginia Graeme Baker Pool and Spa Safety Act. For those reasons, I consider it the best pool pump for family safety.
The first thing you will realize about the Hayward Ecostat is the nice digital interface. It makes control such an easy experience, something that covers for the bulky design – it weighs 60 lbs. You will realize that this model shares quite a lot of features with its older sibling, the Hayward SP3400VSP.
They all have an efficient permanent magnet, a totally enclosed and fan-cooled TEFC 8 speed motor and the industry's leader, hydraulic design.
The only problem is that when at high speeds, it tends to be quite noisy but this is not a big problem because you are sure of getting the job done in a few minutes when running it at high speeds. Just like all the other Hayward models in this variable speed pumps segment, Hayward SP3400VSPVR is also energy efficient and should be able to save you around 60% -80% depending on the other dynamics.
They also have an impressive service factor, 1.35 to be precise meaning they can handle 35% extra load without breaking down.
But what makes Hayward SP3400VSPVR Ecostar more expensive than the earlier version?
If you are keen, you will notice a new term in the new model; Safety Vacuum Release System (SVRS). This is a pretty new technology that seeks to address the problem of circulation entrapment.
If you have kids, this will be a pool pump you would want to invest in for total peace.
But how does SVRS work? As you all know, circulation entrapment happens when a body is trapped with the suction power of the pump at the outlet. This system, in response, will induct air in the pump to disable the suction ability releasing the trapped body.
I must also mention its automation compatibility. This model gives Pentair IntelliFlo a run for its money considering it's compatible with Hayward controls like ProLogic, OnCommand, Omnilogic and E-Command 4. Several other 3rd party pool and spa controls are compatible.
Pros
Digital interface
TEFC motor (8 speed)
ENERGY Star Certified
Vacuum Release System (SVRS)
Digital pool/spa control ready
Cons
Very expensive
Quite noisy
If you read the story of a little 7-year-old girl who died as a result of suction entrapment, there's no doubt you will want to put this pump in your cart right now. It has been built with family safety in mind and I recommend it if you have small kids.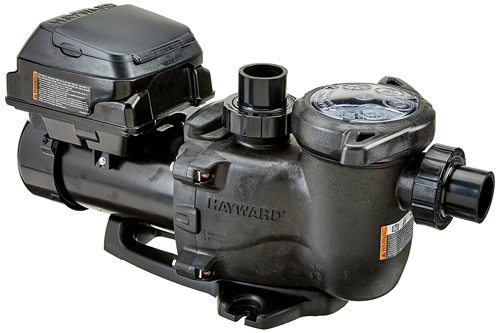 With the rising costs of energy, you want something that will truly save you some bucks at the end of every month. Hayward Ecostar, as the name suggests, is one pump that you are sure it can help you save energy. Most brands and even some Hayward models lie about their efficiency. Their marketing content suggests 80% savings which in the real sense, the actual savings stand at around 50%. But for this model, I can guarantee you 80% savings – that's first-hand information.
The Hayward SP23115VSP MaxFlo VS is very similar to the Hayward SP2303VSP and were actually released at the same time. The major difference between these two models is that the Hayward SP23115VSP has been designed as a standard 115V pump.
Remember, most MaxFlo pumps are rated 230V with no option for 115V so this one will be a great buy for those who want a lower draw or if your residence has only 115V. So, when shopping for a 115V pump, be sure to pick SP23115VSP MaxFlo and not SP2303VSP MaxFlo. If you want to replace a 115V single speed system, this is the best option because you won't require any electrical wiring or upgrades – just a simple installation that requires basic wiring skills and you're good to go.
But interestingly, its power is lower yet it packs the same TEFC fan cooled motor. My explanation for this would be because of the 115V pump. Remember, in 115V line, current fluctuations are directly felt by the motor unlike in 230V lines that at least have a back up in the other 'hot' wire. So, when lesser Amp than required is what gets to the motor, the performance will definitely dip. But then this is something you can't avoid especially if you are on the old 110 – 115V grid predominant in old America.
But in terms of energy efficiency, this is the best model you should go for. Though the company promises $1,500 savings, that is way much high. In my first year, I saved $712 and though I traded it in the second year, I'm sure the best it would save you is a thousand bucks, which is still quite a huge amount.
I also like the quiet operation. Though not as quiet as Pentair, at least it is quieter than the other higher models from Hayward. It hit 55dB, which is silent enough to allow you study or even sleep. But when it starts straining, it starts producing a rattling sound which can be quite disturbing especially in a quiet neighborhood. But all the same, you will still like it he considering it is able to communicate with external automation devices whereas the older versions couldn't.
One last thing, the digital interface is detachable and comes with a wall mount for easier remote monitoring and operation.
Pros
ENERGY Star Certified
Exceptionally quiet
TEFC fan cooled motor
Large strainer basket
Easy installation
I will only recommend this pool pump if you have to buy a 115V system when replacing a 115V single speed pump. Otherwise, the Hayward SP2303VSP would be a better choice; it's bigger in performance and costs almost the same.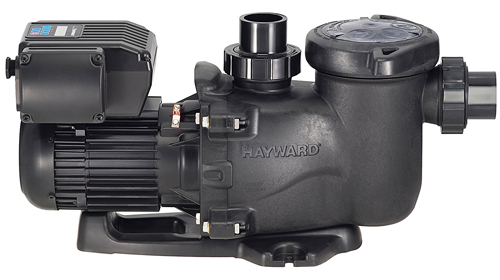 As you have seen, variable speed pool pumps are quite expensive and a good one averages $1000. But you can still get value for money is a cheaper one and the Hayward Max-Flo VS happens to be a great bargain. It retails at around $750 and will still put up a great performance rivaling higher end models like Hayward SP3400VSPVR and Pentair IntelliFlo. But that's in terms of performance only. When it comes to extras, there is a lot you will have to sacrifice. But all the same, it is a reliable entry-level variable speed pump you can count on.
Hayward SP2302VSP is the 2nd Gen of the Hayward MaxFlo VS series. This model is very similar to the 1st Gen, the Hayward SP2300VSP which is not in production anymore. Soon after its inception in the market, its major flaws were exposed and Hayward went back to the drawing board and came back with a better pump, the 2nd Gen. Hayward SP2302VSP.
The first thing I appreciated about this model is the new rotating display and the additional built-in clock for advanced programming. But unfortunately, the display uses a single line display screen while newer models have two line display screens. Also, it is not detachable so you have to read it right at the pump, unlike newer models that you can mount on your wall for remote operation.
Another thing I liked about this model is that you can never miss seeing the strainer basket when full. From 10 meters, you could easily tell that the leaves and debris need to be emptied.
This is same to settings; the digital interface ensures you input the exact setting you want and most importantly, you read the correct and most precise readings.
Unfortunately, when it comes to performance, it performed dismally during our tests. First, it is quite noisy and the TEFC motor kept overheating. But luckily, I realized that I had installed it on a dead end where there was little air circulation. So, in case yours starts to go off after three hours or so, maybe it needs a more open installation area – remember the motor is air cooled.
Also, it's not directly compatible with pool automation controls as it's quite an old model; but with relays, automation is very possible. If you want a pool pump you can automate, look for something like Pentair IntelliFlo or Hayward Ecostar.
Pros
Very affordable
ENERGY Star Certified
Exceptionally quiet
Digital interface
See-through strainer cover
Easy installation
Cons
Requires relay control for automation
Low performance
If you are on a tight budget and you want something that will also save you a few bucks at the end of the month, then go for the Hayward SP2302VSP. But then, don't expect so much from it in terms of performance – this is an entry-level model.
A COMPLETE POOL PUMP BUYING GUIDE; ALL YOU NEED TO KNOW
Now that we have taken you through some of the best pumps per category, it is time we discuss a few important things that you need to know when buying these pumps. But first, it is important to understand what a poll pump is.
Truth to speak, the pool pump is the heart of your pool and plays an important role just like the human heart. It is tasked with the role of drawing water out of the pool via the main drain, as well as the skimmer and thereafter, pumps it through the filter system back to the pool. That's the reason swimming pool water remains clean and fresh.
I know for sure, it has been a long ride since the start and we had to discuss the many products because there are different types of pool pumps. That will be our next subtopic in this buyer's guide.
Types of pool pumps
I know you must be aware of the different types of pool pumps in the market, and if you did your homework well, you understand they can be categorized based on a number of factors. When out shopping, it is important to know the different classifications and that is what we are going to discuss next.
Classification by use
This is the most popular and every pool owner with basic pool knowledge knows them. These are in the ground and above ground pools.
In-ground vs. above ground pool pumps
A lot of times I get asked, can an above ground pool pump be installed on an in-ground pool? The best way to explain this is to first discuss the difference between the two. It is after understanding the difference that we will know if you can juggle in between the two.
The first difference between an above ground pump and an in-ground pump is priming.
In-ground pumps are designed to allow self-priming. For starters, self-priming is the ability of a pool pump to vertically lift water. This means that an in-ground has to overcome gravity and lift water from the pool.
On the other hand, above ground pumps use what we call flooded suction by taking advantage of atmospheric pressure and gravity to pump water.
From the above description, you can easily tell that there will also be a difference in flow rate.
Above ground pool pumps have lower flow rates because they take advantage of gravity and atmospheric pressure. On average, they will range between 30 GPM and 60 GPM. When it comes to in-ground pool pumps, they are located 2-3 feet above the pool water level so definitely, they need higher flow rate and on average, flow rates in these pumps range between 5 GPM and 150 GPM.
So, back to our question, can you use an above ground pool pump on an in-ground pool pump? The answer is yes and as long as you install the pump below the pool water level, it should be able to complete a turnover in 8-10 hours. However, if it takes longer than this, then it wouldn't be wise to continue running it.
Classification by motor speed
You must have heard single speed, two speed, and variable speed pumps. These three are classifications but based on the type of motor used.
Single speed pumps
As the name suggests, this pump runs at a constant speed and the motor can't be tuned to reduce or increase speed.
If you have ever owned one, you will agree with me that it is not the best as it doesn't allow you to set the speed depending on your cleaning needs. Typically, they will come with one button for switching them on and off but there are some models that even lack this button.
A single speed's main advantage is the affordability.
If you are looking for a cheap pool pump, look for a single speed pump; it will cost you an average of $200 while a good variable speed pump will retail at around $700. On the downside, they are considered energy guzzlers and in some states, they can't be shipped.
With variable speed pumps, you can reduce the speed if you don't need much power and while with a single speed motor in the same situation, you have no choice but to run in full power.
Dual speed pumps
Also known as two-speed pumps, these ones are more or less the same as single speed pumps only that they have high and low modes. At least, instead of running at high speeds, you can come down to much lower speeds. These pumps come with a toggles switch for setting the speed while others have frequency inverters. The low speed comes in handy during filtration while the high speed is necessary during jet action.
The advantage with two-speed pumps is that you can save on energy when you don't need much power.
But still, you don't get the ability to customize your cleaning much like in pumps with four and above speed settings. But then, two-speed pumps offer great value for money. They are not as expensive as variable speed models and will still save you a few bucks every month.
Variable speed pumps
These are the ultimate
pool pumps
and offer multiple high speeds as well as low speeds. It is practically the most versatile pool pump that you will use in all types of pool cleaning systems; from saltwater systems to sand filters.
The advantage of variable speed pumps is more user convenience as you are able to precisely control the speed. In addition to this, they run on permanent magnet motors which are more efficient and most importantly, they operate quietly.
But on the downside, you might break the bank trying to get one. A good affordable variable speed motor will cost you around $750 and a good option should be the Hayward Max-Flo.
Plugged in vs. in-wired pump
This is another classification of pool pumps depending on their power orientation. In the market, you will find hardwired pumps that allow for easy hardwiring directly to the power line.
On the other hand, plug-in pumps, also known as in-wired pumps allow for connection with the mains.
But then, the most important thing here is to make sure that you are on the right voltage.
AS discussed earlier, you know there are two types of voltage line; 115V and 230V. Each pool has its standard voltage so make sure you get a pool that suits your voltage line. But if possible, get a pool pump that has a switch for juggling between 115V and 230V.
Be sure to check the specifications as some models are very similar in terms of features but have different voltages.
For example, the Hayward SP23115VSP MaxFlo VS is very similar to the Hayward SP2303VSP but while the former has a 115V pump, the latter uses a 230 pump.
Amps, Volts, & Watts – what's the difference?
There is a lot of confusion regarding the above 3 electricity terms common in pool pump conversations. To make sure you come out with a better understanding of things, we have described what they are in a simple real-life context of water flowing through a hose.
Amps – Knows as Amperage in full, this is the rate at which electrical current flows in a conductor. This is equivalent to the amount of water that is flowing through a hose.
Volts – This is the force of the electricity flowing through the power line. In our analogy, it is equivalent to the pressure at which the water is flowing through the hose.
The interesting thing about Volts is that there are two different Volts supplied. In the US for example, a lot of households have 115V while in Europe, 230V is the standard. So, when shopping for pool pumps have this in mind and ensure you get a pump that has the right Volts requirement.
115V vs. 230V – what should you buy?
Everyone wants to save energy but most of the guys out there get it wrong on which is the best voltage to be on if you want to save energy. I came across a review that suggested that 230V is the best if you want to save energy but that is a very wrong conclusion.
The argument was that because 230V appliances had low amp draw, the energy consumption is lower too. The truth of the matter is that every month, you are billed depending on your consumption, measured in KiloWatts per Hour (KWh). This takes into account the KiloWatts consumed, and for how long.
So, let's do some little mathematics to see which the best voltage is when it comes to energy savings. (We'll use a 230V 7.5Amp pump vs. 115V 15Amp pump as our example).
The first thing is to get the total KiloWatts consumed
Watts formula = Amps x Volts
Pump 1 — 230 x 7.5 = 1,725KWh
Pump 2 — 115 x 15 = 1,725KWh
That is to say that there is no voltage that will save you electricity
So, what's the difference between a 115V line and a 230V line? To understand this, it is imperative to first note that Amp rating defines the usage per 'hot' wire, also known as load-bearing wire. This is what majorly brings the difference. While a 115V system will use one 'hot' wire for carrying current and one neutral and ground wire, 230V systems have two 'hot' wires and a ground.
So, for 230V systems, Amp load is split between the two 'hot' wires thus bringing somewhat the deception.
Watts – This is amps x volts and should not worry you much when shopping.
Why are 230V systems preferred?
If you ask any Tom, Dick, and Harry, they will tell you that using a 230V system is better than a 115V system. But what's the reason when we have seen that both systems have the same energy consumption?
Note that even though they use the same energy, a 230V system is better than a 115V system.
Here, we will shift our example to drinking with a thin straw and a thick straw. Bringing the drinking straw analogy to the electricity context, the soda you are sipping is like the electric current and the more you sip, the more Amps you draw in. No matter how you try to pull with a thin straw, the amount of soda sipped is the same but when you add another straw, the load becomes easier.
This is the same case with a 230V system; there is more Amp draw so be rest assured the motor will have enough power to run sufficiently. Actually, from a technical perspective, a 115V motor is more likely to break down when trying to compensate for the electricity current inadequacy. That said, you want to have a 230V system and 230V appliances as well.
The good thing is that we have some appliances with a 115V/230V switch at the back so in case you might want to use it on both systems, you can switch to either side easily.
Service factor – is it that important?
Time and again, I receive a lot of questions regarding service factor. Contrary to what it sounds, this is a technical term that refers to the endurance of a motor and is not concerned in any way with servicing as we know it.
Commonly abbreviated as SF, service factor is basically the tolerance of the motor to stress. Technically, this is the percentage multiplier that motors can comfortably handle for very short periods when operating at the recommended voltage and frequency tolerance.
To put it into perspective, service factor is just a fudge factor that boosts the performance of the motor when needed.
Service factor is measures in denominations higher than 1.0. For example, a pump with an SF of 1.25 will put up 25% percent extra performance comfortably.
But how is this important to pool pumps? I know you are wondering why is service factor important when you already calculated the performance of the required pump? There are times the density of the water changes and more power is required to compensate for the extra needs. Also, when more flow rate is required, service factor covers up for the extra power required. But then this is for the general customer.
For pros, you understand that service factor plays a more important role; allowing the motor to operate below the theoretical maximum. This ensures the motor runs for a long time without overheating something that greatly boosts durability.
Important Factors to Consider Before Buying a Pool Pump
Now, let's focus on the crucial aspects that you need to consider before settling on any pool type.
So, without further ado, here are questions you need to clearly address before buying any pool pump.
What brand are you buying?
I know a lot of people will call me choosy but I'm always careful on the brand I buy. Not only when buying pool pumps, I always buy from top brands for two reasons – performance and durability.
You will agree with me that there are a lot of substandard brands out there and in as much as they may offer very affordable products, they use substandard materials and you may not realize the efficiency you desire. On top of this, they won't give you service for long. In case you are not sure what brand to go for, Hayward, XtremePowerUS, Intex, Pentair, and Harris are among the popular brands you can buy from.
But for the record, these top brands are quite expensive and going by the mantra of you get what you pay for, the price should not be a reason for not buying a top brand.
How efficient is the motor?
Another thing you would want to address is the motor efficiency and the energy efficiency of the entire pool pump.
On average, pool pumps will run for 8-10 hours daily and this will greatly impact your energy bills at the end of the month. For that reason, you want to buy a pool that is efficient and one that will help you cut down energy costs. Here, the first thing you should note is that the bigger the motor, the higher the energy consumption. So, while you may want to buy a high-performance pool pump, know that you are inviting high energy bills.
But the good thing is that we now have pool pumps that have been built to help you save energy.
Two speed and variable speed models can be adjusted to use low power when high power is needed. This saves a lot of energy as the motor is using only what it needs. This is unlike a single speed model that will use high power even when you just need low power for filtering the pool.
That said, you should consider buying a two speed or a variable speed motor to save energy when you think you should.
Here is a simple chart that shows the running costs of different pool types.

Power

KWh

Running 6 hours

Running 10 hours

0.5 HP

0.70

4.2

7

0.75 HP

1

6

10

1.0 HP

1.4

8.4

14

1.5 HP

1.9

11.4

19

2.0 HP

2.4

14.4

24

Hourly cost = KWh * Kilowatt cost

I know for most pool owners, understanding the technical functionality of the motor in relation to energy efficiency may be quite a challenge. But the good thing is that we have some energy efficiency ratings that you can look out for when shopping for energy efficient pool pumps.
One of the common certifications is ENERGY Star that is common in many appliances.
If you see a pump that's ENERGY Star Certified, that's a surety that it will save you some bucks at the end of the month.
Otherwise, beware of the many cheap brands that are only efficient on the marketing hypes but in the real sense, they will push your energy bills up.
After sales service
For many guys, buying ends when they receive their order but the truth of the matter is that there are several other issues that you might need from the seller or even the manufacturer. All these are aspects of after sales and that is why you need to consider the after sales service of the brand you are buying from.
Taling about after sales, there are several important things you need to be keen on.
Warranty period – The first thing you would want to check is the warranty. Get a pool pump that has an extended warranty on its motor just in case it develops a problem before using it for long.
Here, the most important question to ask yourself is, how long is the warranty?
Many buyers complain that their pool pumps develop problems within the first year of use so buying a brand that has at least 1 year warranty will put you on a safer side. But then, it is not only about the length of the warranty, the commitment of the seller and manufacturer to honoring the warranty is key. You might buy a pump that has a 5 years warranty but the manufacturer is never willing to honor the warranty. This now takes us to warranty genuineness, our next aspect of after sales.
Warranty terms – You might buy a pump that has a warranty on book but in the event you contact the seller, nothing fruitful comes out of it. This means that you either incur the costs of repair or you just buy another pool pump.
But then, how will you know that a warranty is genuine?
There is no science to ascertain this but I would recommend you get a top brand. Also, reading customer reviews can give you insights on whether the brand has a genuine warranty or not.
Here, there's something I want you to take note of seriously. With many brands, the terms of the warranty demand that the pump is installed by an accredited installer.
What most customers do, especially handymen is install the pump by themselves thereby voiding the warranty. That said, it is important to read the entire terms of the warranty so as not to void it.
Even if you are a professional, just call an approved installer especially if you are buying from Pentair and Harris – these are the two common brands that have very strict warranty terms yet their products have a high chance of manufacturer's defects.
Replacement parts – Lastly, you must also check the availability of replacement parts. Whether you are buying a sand filter pump or a cartridge filter pump, make sure they are available and the cost is reasonable.
I once got a cheap cartridge filter pump and getting the compatible cartridge was a real headache. I had to order directly from the manufacturer and it took several weeks before my order arrived.
Here again, I would advise that you get these popular brands; at least their replacement parts are available locally and at an affordable price.
Pool pumps and energy consumption
There has been an unending debate on the high energy consumption of pool pumps in light of energy efficiency. Remember, pool pumps run for 8 – 10 hours and this takes a toll on the local power companies. As a pool owner, the heavy electricity bills also come in and that's when it's time to think of how you will cut down the energy bills and still enjoy the waters.
If you want to save on energy costs, here are a few helpful tips.
Use the right pump size – The larger the pool, the higher the energy consumption. That said, it is not a clever idea to use a very big pump for a small pool.
2. Variable speed pumps save energy – Yes, variable pumps save up to 80% of energy costs as it self-regulates the motor speed depending on the pool's needs.
3. Don't split running times – I know a lot of pool owners split the pump's running time to keep the pool fresh always. This will consume more energy when the pump starts again.
Wrapping Up
I know a pool pump may be an unexpectedly higher cost now that you have a pool. But then, if you want to swim in clean and fresh water, it is a necessary installation. Though shopping for one can be a great hassle, we hope this article will help you make the best choice. So, until next time, bye!