Just an F.Y.I. there are
affiliate links
in this post, and if you click any of those links, we will earn a small commission.
Even if you live in an area with frequent temperature drops and cold seasons, it doesn't mean you should deprive yourself of a nice and warm swimming pool. Modern pool heaters try to keep an ultimate balance between fast heating and energy economy, so you'll definitely find a decent product.
Today, we'd like to help you and discuss two bestsellers. So, welcome the Hayward vs Raypak pool heater comparison!
Temperature Range
65°F (18°C) to 104°F (40°C)
65°F (18°C) to 104°F (40°C)
Control
digital screen and remote
Temperature Range
65°F (18°C) to 104°F (40°C)
Temperature Range
65°F (18°C) to 104°F (40°C)
Control
digital screen and remote
Last update on 2023-12-04 / Affiliate links / Images from Amazon Product Advertising API
Main Differences Between the Models
Surprisingly, there are not so many distinctions between the pool heaters. Below, we'd like to highlight a list of key differences we managed to find in the course of the review:

The two models use different heating systems;
The Raypak device ensures a higher BTU rate, so it's more powerful;
Also, Raypak 266,000 BTU heater allows users to install additional remote control;
However, the Hayward heater outperforms its rival in durability and weather resistance;
If you're looking for a quiet product, choose Raypak. The unit works with less noise compared to the Hayward;
Hayward H-Series heater deserves special attention due to its simple yet powerful operation. The model was designed especially for large inground pools, which means it can quickly heat a great amount of water. Nevertheless, smaller and more complex constructions like spas will also find this unit perfect for heating needs since you can set any temperature and accompanying conditions.
The main reason for attention here is significant energy care. The H-Series works on natural gas (which is tangibly cheaper than electricity). Thus, the heater saves energy and has mercy on your pocket. And this is a rare thing for a heater, believe us.
Control won't take you much time, thanks to a user-friendly front control panel. Intuitive LED buttons allow for setting and saving your own temperature, and well as conducting diagnostics. By the way, these features contribute to money-saving too.
Unfortunately, Hayward H-Series will cost you pretty much at first. But the unit seems to be quite durable both inside and outside. Users note corrosion protection, weather resistance systems, and inner protection from failure caused by water chemistry.
Let us also mention a few more drawbacks that users note.

First, get ready that the unit is really noisy, bulky and may disturb easy access to a pool and the whole view if you don't have a lot of free space. Anyway, many won't find it such a big deal.
Also, the heater needs a pretty accurate water pressure adjustment at first for proper operation without further errors and restarts.
All in all, Hayward provided us with an expansive but very durable and efficient pool heater. Though having to pay a lot at first, you'll redeem your investments in the future with the following years of reliable and saving operation.
Pros
best suits large inground pools and spas
works on cheaper natural gas
saves energy due to reduced circulation pump run time
allows for setting any temperature
provides simple, intuitive digital control
pretty simple installation
resistant to any weather conditions and water/chemistry impacts
Cons
expensive
loud operation
inconvenient dimensions
requires regular gas level monitoring
One more American brand – Raypak corporation – presents us with an almost industrial-level pool heater named Raypak 266,000 BTU Digital. Since we're dealing with a comparison, let us note that the choice between Hayward vs Raypak pool heaters is often complicated by their resemblance.
The Raypak heater belongs to the same price category and very similar operation method. First of all, we also see natural gas heating, both simple and economical. However, this unit is a bit more powerful, which is obvious from the name. That's why we recommend it for even larger inground pools and all hub/spa systems. The manufacturer claims that they raised fuel efficiency to a new level.
Your saving may turn even greater thanks to microprocessor-based thermostat control. The Raypak offers a nice digital screen control with a customized temp setting. But most of all, we like its compatibility with most remote pool control systems.
This digital electronic ignition heater is made to resist high-wind, rain, snow. However, real users' reviews disapproved the statement – unfortunately, Raypaks are more subject to corrosion than Haywards. The improper pH level in your pool may also lead to significant inner breakages, which is a problem.
But despite these drawbacks and a high price, Raypak 266,000 BTU pool heater deserves its reputation. The model heats a greater amount of water, staying as energy-efficient as the Hayward device. You also pay for a quieter and more comfortable operation.
Pros
the heater deals with larger inground pools, all hubs and spas
requires natural gas for heating and has an improved fuel consumption
can adjust any temperature
provides simple, intuitive digital control
works with major remotes
ensures worry-free installation
quieter operation
weather-resistant body
Cons
expensive
bulky
not so durable
requires regular gas level monitoring
Now, let's pass on to the detailed comparison of our heaters' characteristics.
Design and Dimensions
A compact pool heater is a guarantee of neat and convenient installation. That's why we'd like to discuss the Raypak vs Hayward dimensions.
Raypak 266,000 BTU Digital Electronic Ignition Heater answers with similar characteristics that include:
43″ x 31″ x 29.3″ dimensions;
210 pounds of weight;
Other characteristics are not that detailed, though we can find information about a standard 3/4″ gas connection and 2″ CPVC water connections.
Both brands prefer using durable metals for the heaters, which is quite wise minding their outdoor application. The Hayward applies nickel (especially for heating elements) and stainless steel.
Raypak offers galvanized metal with a unique powder coating to resist corrosion. Here we also notice polymer resin as inner material.
The color scheme is pretty plain, with predominantly grey and metallic parts that serve pragmatism rather than esthetics.
Performance
Despite some differences in dimensions and performance, both Hayward and Raypak work with water reservoirs with surface areas up to 750 ft. Nevertheless, the second device can be applied for more spacious pools, and here is why.
BTU
Let us start here with the description of Hayward and Raypak's BTU rate. We'll briefly mention that BTU stands for British Thermal Units that allow us to calculate how much heat we need to increase the temperature of one pound of water (by one degree as a rule).
verdict
Thus, the Hayward heater is rated 250 000 BTU. Its rival ensures a bit higher 266 000 BTU result.
Thermal Efficiency
Thermal efficiency is a concept close to BTU. It means how much heat energy transforms into work and how great our energy and heat loss is. Once again, we deal with similar characteristics. The first heater provides 83% thermal efficiency, and the second heater is hardly inferior with its 82% efficiency.
To leave vogue theory, let us mention that such performance allows heaters to increase water temperature by 1-2 degrees per hour if we speak about 15000-20000 gal pools.
Heating Systems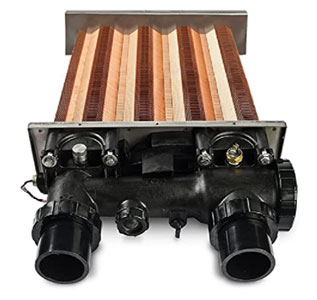 So thanks for what such efficiency is possible?
Hayward W3H250FDN Universal H-Series Heater is equipped with a Cupro-Nickel finn plate heat exchanger standard for Hayward heating products. Such an exchanger ensures evener water heating at the same time staying resistant to salts and aggressive pool water chemistry.
Heat losses are minimized thanks to the superior hydraulic performance and the forced draft combustion system. The system makes air circulate through the combustion chamber, thus minimizing side influences (wind, cold air, etc.).
Raypak 266,000 BTU Digital Electronic Ignition Heater uses Rayak branded integral copper finned tube. This is one extruded tube with inbuilt fins. The design ensures maximum heat transfer equal to the performance of commercial heaters/boilers. Add here stainless steel tube sheets, 3D design, and a water flow rate of up to 125 gallons per minute.
verdict
If you choose between these two models, you can take any. In our opinion, the Hayward good heats evener and «thoroughly». But the Raypak can deal with a greater amount of water (thanks to higher BTU and water flow rates).
Digital Control

Hayward W3H250FDN Universal H-Series Heater
The first heater ensures quite accurate and easy control. All customizations go through the digital screen. We can actually set any temperature we'd like (within the offered range) with either Up and Down buttons or a keypad on the screen. The allowed set point range is limited between 65°F (18°C) and 104°F (40°C). As you see, we can also choose between Fahrenheit and Celsius, which is a nice option for users all over the world.
The screen provides two modes – Pool and Spa. The option allows for better suiting your heater and basin type.
The digital control also means improved maintenance and troubleshooting. The heater displays basic diagnostic information about the heater's operation, pressure level, errors, etc.
Finally, control buttons allow us to activate smart and safe ignition as well as stop it immediately.
attention
Please mind that the Hayward Universal H-Series heater does not provide timers or schedules. The unit works 24/7 with periodical drops and raises in heating. While water temperature lowers by more than 1° below the set point, heater sensors activate the heating cycle. Thus you can only completely switch off the unit when unnecessary or for saving.
Raypak 266,000 BTU Digital Electronic Ignition Heater
Raypak boasts approximately the same control options. First of all, we cannot do without a digital screen. Here, users will find electronic ignition, temperature sensor, pressure switch, adjustment buttons, etc.
Apart from usual buttons, the Raypak 266,000 BTU owners may control the temperature with the heater thermostat on the upper front panel. You can also use a special temp control knob. All you need is to rotate the knob between spa temperature range, pool temperature range, and stand-by temperature range.
The heater accurately monitors water temp and automatically increases it when water is below the set point. Once again, we deal with a stand-by model without the possibility of setting timers and schedules.
Like the Hayward product, this tool offers Pool and Spa modes. You can switch between them with a Mode button. The minimal water temp starts from 65°F (18°C), and the maximum range reaches 104°F (40.0°C) both in the Pool and Spa modes.
The on-board diagnostic control prevents accidental breakages and dangerous situations. You can control all errors with the Fault History File and display notifications.
attention
Attention! Raypak's best advantage is its additional control feature. The 266BTU model is called a remote-ready product since it comes with a 7-pin remote wiring connector. The unit supplies power out to either a toggle switch or the switch contacts of a third-party remote (supports major models for easier fitting).
verdict
As you see, control options are pretty wide in both cases. And in both cases, we have a similar set of customization tools. Our only pity is the lack of timers since the non-stop heater's operation leads to unnecessary energy/fuel expenses. But owners of large pools will find it indispensable.
Fuel Consumption
Almost all gas pool heaters share the same gas consumption and installation features. That's why we won't see a big difference here between Raypak vs Hayward.
So, in both cases, all gas connectors are included in the kit. Customers have nothing to buy additionally except for the gas tank. As far as we managed to conclude, there are no official limitations of gas tank sizes. The factor will depend on your readiness to refill the container. However, we do recommend consulting the manual before the final choice for safety.
important
Originally, Hayward and Raypak heaters work on natural gas, but the manufacturers also allow for transforming them into propane gas models. For this, you'll need extra connectors.
All gas utilities are located on the left-hand side of the heaters. Though ignition is automatic (electrical), you also have standard manual shut-off valves for the start and prevention of gas leakage.
The gas pressure regulator is preset at 4.0 in. WC for natural gas. The pressure at the gas valve should be about 4.0 in. WC. Users are allowed some adjustments (within the required range, of course).
When it comes to the gas consumption itself, both brands spend about 1 gallon of fuel to reach each 100,000 BTU. Once the pool water is heated, our devices reduce consumption to the minimum necessary for temperature support.
verdict
Once again, we face sticking to standards rather than unique innovations. Raypak and Hayward use the same technologies and gas types, and the consumption economy pleases us a lot.
Buyer's Guide – How to Choose the Best Gas Pool Heater?
Pool heaters can be divided into three main groups depending on the type of energy used. Here we have:

Electric heaters;
Fuel heaters;
Sun heaters;
The gas heaters we've discussed in this review belong to the second fuel type. So, let's focus on characteristics we should consider to heat the water in the pool effectively.
First of all, gas heaters are associated with two factors that you should pay attention to before purchasing a device. Heaters require the usage of a circulation pump. We'd also like to highlight in the very beginning that with gas products, you will have to take additional care of fire safety measures.
Choose only high-quality products, and it's better to look for heaters with emergency gas cut-off systems, anti-leakage protection, and self-diagnostics.
Power:
It must be chosen based on the volume of the reservoir and the desired temperature. Also, keep in mind that the more power we need to heat the pool, the more consumption.
Maximum temperature:
In some water heaters, max temp forms 80°F (30 °C), in others, it may reach 104°F (40 °C). Please mind that the higher the heat loss, the more significant the power consumption will be. Consequently, it's better to choose heaters with a wide temp range, heating timers, and special temp sensors (this's especially true for pools located outdoors or in unheated rooms).
Maximum working pressure and flow volume:
This is a must factor to consider in order to match your existing pool systems with a future heater.
Inbuilt regulating and protective devices:
Though not compulsory, extra devices will greatly help your heater do its job right and energy-efficiently. We mean such tools as flow sensors, auto turn-off, thermostats, and overheating protection sensors, and so on.
Model characteristics and additional functions:
The first thing to look out for is the body material. Since most heaters are designed for outdoor installation, choose on rust-resistant, all-weather models. We'd also recommend giving preference to metal materials. Speaking about extras, you need to pay attention to the presence of a display and a thermostat if you'd like more convenient usage.
Frequently Asked Questions
Hayward vs Raypak: what is the best pool heater?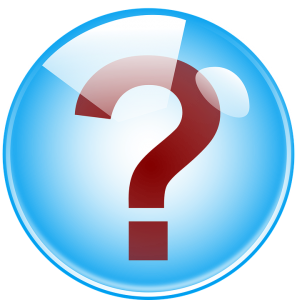 In our opinion, Hayward W3H250FDN Universal H-Series Heater and Raypak 266,000 BTU Digital Electronic Ignition Heater offer almost identical performance for a similar price. However, while the Raypak is more powerful, the Hayward device is slightly more energy-efficient and durable (thanks to materials).
Are gas pool heaters safe?
As with all gas products, gas pool heaters hide definite danger but only for those neglecting safety rules. Your gas heater will be as safe as electric or even wooden/charcoal models if you make professional installation and follow the simplest manufacturer's instructions.
Does a gas pool heater need winterization, and how to do it?
Winterization is required for areas with often drops in temperature and periodical cold seasons. It means manufacturers do not recommend running heaters if the air temperature stays below 50°F for a long time.
attention
Please mind that heaters must not freeze or work to maintain the water temperature just above freezing.
Winterization includes the following steps:

1) Drain water from the heater;
2) Turn off all valves and disconnect a gas tank.
3) Open drain plug located on the inlet/outlet header;
4) Remove the heat exchanger inspection panel on the side opposite water piping to gain access to the drain plug on the return header. Open drain plug on return header.
Please always read the manual beforehand to make sure your actions will not damage the heater or the pool.
How long do pool heaters last?
We believe that 5 years is a minimal service life of a high-quality pool heater. On average, such devices last for 6-8 years with proper maintenance.
Conclusion
So, this is it; we came to the conclusion of the Hayward vs Raypak pool heater comparison. Despite different manufacturers, our heaters belong to the same price and performance categories. We notice minimal differences that significantly complicate the choice.
If you want «an immortal» device, pick up Hayward W3H250FDN Universal H-Series Heater. The price is biting, but it will redeem within the following years of application.
Hayward W3H250FDN Universal H-Series Heater is an optimal choice for larger pools. Also, if you need more control options, this device is yours.
At least, we can say that both models proved to be energy-efficient (which is rare for pool heaters), quite smart in terms of control, and lasting.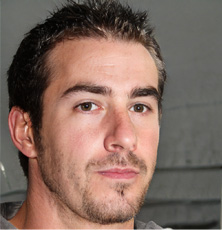 Hi! I'm Markus Robertson, and water is my passion.
Five years ago, I graduated from the University of California-Los Angeles and was going to become a professional marine biologist. However, my fate had other plans for me, and due to family problems, I had to find a more stable and well-paid job. I had only one wish for my job to be connected with water.
During this period of my life, I worked as a sales manager at Olympic Pool & Spa Supplies. The job helped me learn everything about swimming pools and related pool equipment, as well as how to choose the best option and what to pay attention to.
Having worked there for three years, I decided to start my own blog about pools, where I can tell people about the best new pool equipment models and share my knowledge and experience.
A marine biologist by education, I became a pool blogger by trade. Now I'm glad I can help the guests of my store and the visitors of my blog know a lot of exciting things about pools, their types, best pumps and filters, necessary equipment maintenance, and so on.
I welcome all people who want to choose a proper basin and the stuff to my blog! Hope you'll find this information interesting and useful!