Just an F.Y.I. there are
affiliate links
in this post, and if you click any of those links, we will earn a small commission.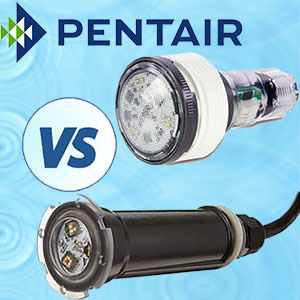 You may know that pool lights add charm and attraction to the pool. However, if you have ever contacted the underwater pool lights, you may have noticed how hot they are. This is only one of the issues you can encounter with conventional pool lights. Pentair has developed brand-new technology that makes all the lights perfect and safe.
Your swimming pool is an excellent feature of your property, and now you have a chance to demonstrate your style and express your personality. The use of the pool should not finish with the sun going down. You can have pleasant nighttime at the pool or swim in it with Pentair's LED lights.
Here we have collected the information about the two models of Pentair's pool lights and attempted to review and compare them. MicroBrite vs. GloBrite pool lights from Pentair will make your choice easier because many pool light options are on the market today. Still, not all of them have the perfect quality and characteristics you need to make your swimming pool the best place in the world for relaxation and enjoyment. We hope that this review will help you make the right choice.
Pentair and Its Products

The backyard swimming pool accessories are trendy among customers nowadays. They add a lot of vibes to the environment and provide more visibility. But unfortunately, only several manufacturers nowadays produce pool equipment and accessories.
Pentair stands out from the crowd. It is the most popular and well-appreciated company around the globe. It started in 1966 in St. Paul, Minnesota as a manufacturer of high-altitude balloons. However, it diversified in a while to produce things for water quality improvement. The pool and spa solutions had become the central part of its merchandise since 2004 when it acquired Wicor Industries.
Your choice of Pentair pool lights will be pretty beneficial. All the testimonials from the grateful clients on independent review platforms prove that.
A Standard Pool Lights LED Technology
The company offers different models of color and white LED lights. As a result, their appearance and perception may vary greatly depending on the number of lights and a particular model, the specifications, and installation features (including depth, angle, and location).
The factors that influence the choice also involve:

The pool material.
Depth and shape of the pool.
The natural light sources.
Subjective preferences.
The company's recommendation for the best efficiency is to use the same model if you want multiple lights because mixing different models may worsen the results. The lights have to bring your pool water to life, and they really do.
Pentair's models are characterized with:

energy efficiency;
new possibilities across the color prism that set the positive mood;
innovative technology for remote control.
You will always get the perfect pool lighting to make your family and friends delighted. The LED lights from Pentair are also pretty durable and reliable, which matters a lot.
Comparison of MicroBrite and GloBrite Pool Lights
The characteristic features of Pentair MicroBrite and GloBrite are a bit different. You can observe these differences in weight and dimensions, though they are equally energy-efficient with 12 volts of the overall voltage. GloBrite lights are heavier and more durable and are more prominent in length. The cord length of GloBrite is 150 feet, while MicroBrite offers a length of 100 feet.
Both pool lights can be easily installed on narrow walls, tight spaces, steps, sun shelves, and swim-outs. In addition, MicroBrite models offer mainly white color with 5 different shades, while GloBrite has a whole spectrum of colors.
The warranty of MicroBrite is one year, while the warranty of GloBrite is three years if you purchase three items. However, both models' energy efficiency and durability are almost the same – they are long lasting and made of sustainable materials that do not produce heat.
Pentair MicroBrite vs. Globrite: Quick Comparison
Warranty
3 years (for 3 items bought)
Installation
Narrow walls, tight spaces, steps, sun shelves, swim-outs
Steps, water features, fiberglass sun shelves, swim-outs
Installation
Narrow walls, tight spaces, steps, sun shelves, swim-outs
Warranty
3 years (for 3 items bought)
Installation
Steps, water features, fiberglass sun shelves, swim-outs
Last update on 2023-12-04 / Affiliate links / Images from Amazon Product Advertising API
Pentair 620429 MicroBrite – The Choice of Comfort and Energy Efficiency That Comes from the Future
These pool lights will make your evenings brighter and your night swimming experience more unforgettable. These lights are very compact, so you can install them in the narrowest places, on the walls, steps, swim-outs, and sun shelves. You can also install them in the shallow water of 4 inches.
The device can be connected to other Pentair products and automation systems, including Color Sync™ Controller for Pentair Color LED Pool Lights. The installation is pretty simple. It does not require specific niche, but the lights can be installed on the standard 1.5-inch wall fitting of the pool.
The lights are exceptionally brilliant and uniform, producing unique colors and hues. Their compact design works perfectly with the new pools and hi-tech constructions, adding dynamic lighting and design freedom. You can use your imagination to install these lights for the best decorative effect.
The device is highly energy-saving. It uses 12V LED for the utmost efficiency. These pool lights are the most compact and energy efficient in the entire pool light industry.
You can experiment with the locations, tones, numbers of items, and possible shadows to achieve the most exciting results. No bonding or other special tools are required for any type of installation, and it will save your time, effort, and materials.
Pros
The lights are easy to install on any surface.
The item is pretty energy and cost-saving.
It is a great value for money.
The lights are reliable and durable, with a long lifespan.
They look great at night, creating an unforgettable mysterious atmosphere.
Cons
The cord could be a bit longer.
The installation instructions are not clear and straightforward.
Pentair 602056 Globrite – The Best Option to Turn Your Backyard Pool into a Fairy Tale
GloBrite pool lights use the innovative Pentair technology to make any backyard pool fascinating. The technology enhances the pool's shallow water features and makes your outside evenings spectacular. The appliance has 5 brilliant colors and 7 pre-programmed light shows. In addition, the device is compatible with most Pentair communication and control technologies, such as IntelliTouch, EasyTouch for remote management, and Color Sync Controller.
The LED lights are energy efficient, consuming 5 times less energy than incandescent and halogen lights. They are easy to install and do not require bonding and grounding. No assembly is required.
The materials of the lights are durable and can withstand changing temperature conditions and water-related corrosion. The lights are convenient and do not require any specific and effort-consuming maintenance. They will serve you reliably for a long time.
Pros
The lights are great for handling temperature swings.
The item can withstand corrosion from salt pools effectively.
These are pretty lights with great colors.
The product is easy to install and maintain.
The cord is of the perfect length.
Cons
The light could be more durable.
The cord should be more flexible because the resin is easy to crack.
Pentair MicroBrite vs. Pentair GloBrite Lights: Comparison of Characteristics
Now, we want to compare these two types of Pentair pool lights' characteristics more. This comparison emerges from our testing experience and users' testimonials on the independent customer review platforms.
Sizing & Spacing

The most important characteristic of MicroBrite is that these lights are very compact and small. GloBrite lights are bigger, of course, and they are appropriate for larger pools. However, the light fixtures are very compact for both models, so you can easily install them even on the narrowest surfaces.
Moreover, neither of them requires particular niches for the installation. You can place the lights anywhere you feel necessary and appropriate for your pool design. You can use 4 MicroBrite items in total. For example, if you need to combine the pool and spa lighting, placing 3 lights in the pool and 1 in the spa is better. Or you may choose any other combination that fits your design.
The pools several decades ago were lit with one big light that left one part of it sparkling and the other completely dark. This is not the case with the brand-new MicroBrite lights that provide cohesive lighting to the entire pool.
As for GloBrite, you can use 3 separate items – 2 for a pool and 1 for a spa. They are colored, and also 7 pre-programmed light show options are available. That makes a big difference from a calmer and more relaxing MicroBright.
verdict
As for us, we stand for MicroBrite lights because they can provide a more elegant futuristic design and coziness to the entire backyard space. However, if you want your backyard and pool to feel brighter and more festive, GloBrite is your best choice.
Cost
You may be surprised, of course, if you want to replace your old incandescent lights with either MicroBrite or GloBrite. At first sight, the cost is higher, especially for GloBrite items. However, as you need 4 items in the case of MicroBrite and 3 items in the case of GloBrite, and they will serve you much longer than traditional lights, the overall cost will turn out to be lower. Your superior pool lighting experience will cost you roughly the same. Considering the appliances' energy-saving nature, the ultimate cost will appear even lower.
verdict
We would rather choose MicroBrite, not just because of the lower cost of one item but because of the overall cost-efficiency. You will get 4 items for a lower price than three items in the case of GloBrite. However, consider a great option of getting 3 years of warranty for GloBrite if you buy 3 items, and you can make your choice in favor of this model.
Efficiency and Safety


Customers are often concerned about light fixtures' safety because they think they can electrocute users. This concern may be appropriate for standard pool lights but not Pentair LED lights.
MicroBrite and GloBrite lights have a line voltage of 12V, meaning they utilize a low volt system that is entirely safe for swimmers. It also means that these lights are immensely energy efficient and last much longer. Their lifespan is ten times longer than the traditional incandescent lights. The wattage of GloBrite is a little higher – 15 watts compared to 14 watts in MicroBrite. Therefore, there is no sufficient difference between these two models.
verdict
The choice is entirely yours. Both models of lights are energy-saving, cost-efficient, and completely safe in use. The decision may depend on your preferences and the overall design of your swimming pool and spa. We would recommend MicroBrite, though, because of its lower wattage, but it is a slight difference that does not substantially influence the preferences.
Quality
The beneficial features described above do not matter much if you have to obtain a lower quality than you expected. It is not about Pentair pool lights, luckily. On the contrary, the MicroBrite is the brightest compact model that can provide astounding results and an incredible feeling of the highest possible quality ever.
The range of colors featured by GloBrite is also fantastic. It will liven up your backyard and swimming pool, making it a perfect place for partying. In both cases, you will get a reliable and durable product with excellent performance and many useful options for your entertainment and relaxation.
verdict
Our recommendation is MicroBrite because of its soft and relaxing light of very high quality and the reliability in performance. GloBrite is no less durable and high-quality, but it is a matter of your taste and need which model to choose.
Reasons to Use Pool Lights
There are several reasons why you need LED pool lights. The essential ones are the necessity to improve visibility and energy efficiency. The design of your pool matters a lot, too. You can turn your backyard into an enchanting oasis.
Let's consider some of these reasons in more detail.

Extension of the Swim Time
Pool lights can become a perfect source of visibility for a nighttime swim. With them, you can use your pool around the clock. This investment in backyard comfort is pretty pleasant.
The Increase in Underwater Visibility
LED pool lights are very effective when you consider underwater visibility. They produce 25% more visibility than the standard pool lights. As a result, you will have a brighter swim and be able to control your underwater environment better. You can also observe swimmers, for example, your kids, at night.
Setting the Mood
If you have a backyard pool party, colored LED pool lights will add a brighter mood and more enchantment to the landscape. When your guests see the water shining at night, they will be thrilled. You will add more enjoyment and create a unique backyard ambiance. Gathering at the dark pool is not attractive, so your lights will have an entertainment function.
Money and Energy Efficiency
LED lights use about 90% less energy and have a 25 times longer lifespan than traditional incandescent lights. In addition, the cost of the pool lights from Pentair is constantly decreasing, so you will see a big difference in your electric bills soon.
What Else Should You Take into Account While Buying Pentair's Swimming Pool LED Lights
You may get lost in various brands, shapes, and color offers if you want your backyard pool lights. However, you will never miss your aim if you opt for Pentair MicroBrite or GloBrite lights. However, you should be careful with your choice and consider other requirements and pool features your lights need to comply with. Consider these features in advance to always be on the safe side.
Size.
The size of your pool lights has to correspond to the size of your pool. Why? Because you may want a perfect design, a smaller MicroBrite may get lost in a very large pool, while a more sufficient GloBrite will look clumsy in a very small pool.
The type of your pool.
The shape and type of your pool and location play a significant role in your choice of pool lights from Pentair. If you think that these models are interchangeable, they are not. The pool in the darker part of your backyard may need colorful lighting from GloBrite, while a pool in a more well-lit place may need a calming MicroBrite model. Of course, consider whether your pool is inground or above-ground. The lighting of such pools may differ, and their design may need another model. The same relates to the shape. Round pools look better with MicroBrites, while rectangular ones will be brighter and look fantastic with GloBrites.
Technical Support.
The installation process of both MicroBrite and GloBrite models is straightforward. These lights do not need particular niches and can be installed on their narrow fixtures immediately on the surfaces you mean for them. The cord also matters a lot – its length may make the installation and maintenance easier. You can install your lights yourself, but if you are not technical savvy, it is better to ask for a consultation and help from a professional electrician. The company does not provide any technical support.
Warranty.
The amount of time provided by the company for the warranty testifies to the quality of its products. Both MicroBrite and GloBrite have a warranty of 1 year, and you can assume that the quality of these lights is pretty high. However, consider that GloBrite can get a 3-year warranty if you acquire 3 items.
Final Thoughts
Here we have compared and contrasted technical characteristics, ways of use, pros and cons, and the main criteria for making a choice between Pentair's MicroBrite and GloBrite swimming pool lights. We wanted to show you that Pentair offers high-quality products and advanced technologies in all its pieces of equipment and accessories for residential and commercial pools. That is why this manufacturer is well-known and highly appreciated around the globe.
No matter what model you choose, you will get energy and cost-efficient, reliable and durable, perfect color and performance pool lights that will make your backyard a paradise for entertainment and relaxation.
Both MicroBrite and GloBrite lights will add more vibe and fascination to your evening gatherings around the pool and nighttime swimming. Which model to choose is your decision. It may depend on many factors.
Make your backyard pool and spa the best place in the world with these astounding LED pool lights from Pentair.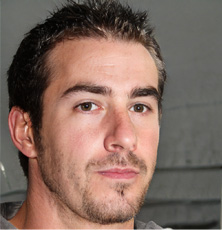 Hi! I'm Markus Robertson, and water is my passion.
Five years ago, I graduated from the University of California-Los Angeles and was going to become a professional marine biologist. However, my fate had other plans for me, and due to family problems, I had to find a more stable and well-paid job. I had only one wish for my job to be connected with water.
During this period of my life, I worked as a sales manager at Olympic Pool & Spa Supplies. The job helped me learn everything about swimming pools and related pool equipment, as well as how to choose the best option and what to pay attention to.
Having worked there for three years, I decided to start my own blog about pools, where I can tell people about the best new pool equipment models and share my knowledge and experience.
A marine biologist by education, I became a pool blogger by trade. Now I'm glad I can help the guests of my store and the visitors of my blog know a lot of exciting things about pools, their types, best pumps and filters, necessary equipment maintenance, and so on.
I welcome all people who want to choose a proper basin and the stuff to my blog! Hope you'll find this information interesting and useful!