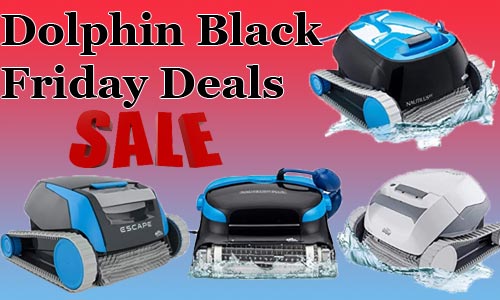 Dolphin pool cleaners are fairly considered to be one of the most efficient though no the most affordable. Unlike many other devices, these cleaners use robotic navigation systems and provide programming functions, which justify the high cost.
If the price tags still frighten you, Dolphin Black Friday deals are here to destroy all doubts. In the course of the coming sales, you'll be able to get any Dolphin robotic cleaner at a great discount.
Since this Black Friday will start on November 27th only, the majority of deals haven't been announced yet. Still, the last year's sales, together with already known Prime Day 2020 deals, allow us to make some guesses on the future reductions.
Let's look at what we can get from this Dolphin Black Friday 2020!
Polaris Black Friday 2020 Offers as alternative of Dolphin
Dolphin Black Friday 2020 Offers
Customers still have to wait for the beginning of November when more detailed information on deals appears. At the moment, we expect Dolphin to put six robotic cleaners on sale this Black Friday 2020. There are both three robots known from the last year and three additions.
Dolphin Nautilus CC suits both above ground and in-ground pools up to 33 ft. The model is perfect for small and medium-sized reservoirs, where it thoroughly scrubs all surfaces with its rubber roller.
Water and debris come through a top-load filter basket. Users can also apply a handy remote control with a touch screen to turn on/off and schedule the bot.
Dolphin Nautilus CC is an excellent middle price device that we've already discussed. The regular price didn't change – it costs $599 – and this year, we hope for a $70-$100 cut.
Dolphin Nautilus CC Plus Automatic Robotic Pool Cleaner
Dolphin Nautilus CC Plus continues the series. Engineers picked up all the best features of the Nautilus CC and completed them with additional functions.
Thus, the vac is more powerful and suits in-ground pools up to 50 ft. It has a tangle-free floating 60 ft cable and dual scrubbing brushes to eliminate dirt even on walls.
The main reason to buy this product is the Smart navigation and scheduling function with three schedule modes for every day, every other day, or every third day cleaning.
Surprisingly, but the robot dropped in price since 2019. Before, it was $810. Now, we see a $750-$780 tag. Experts wait for a minimum of $70 reduction in price. To know more, please monitor our updates on Dolphin Nautilus CC Plus Black Friday deals.
The last representative of the Nautilus lineup is also welcomed this Black Friday. The model is designed for large in-ground pools up to 50 ft, comes with a 60 ft swivel cable, and CleverClean scanning smart navigation.
The lack of scheduling makes it more affordable compared to the previous robot, so the Nautilus costs under $700. Last year, it didn't win much popularity as the price was similar to the more advanced Nautilus CC Plus bot.
Walmart has already released a $656 deal on this product for the coming Black Friday. A $50 off is not the limit, so let's look at what Amazon will offer at the beginning of November.
Since that dramatic price reduction up to $639 on Black Friday 2019, the Escape robot kept the cost on the same level, making it even more popular among customers. During the coming sales, we have all the chances to get it under $600.
Believe us, such a price is a true dream, especially when it comes to a smart navigating robot.
Dolphin Escape is equipped with SmartNav 2.0 navigation system, which scans the pool for obstacles, sets the performance algorithm, and scrubs floors. The device is recommended for 30 ft and smaller above ground pools. Please mind there is no scheduling or remote control.
Owners of smaller pools with simpler requirements may pay attention to the excellent budget Dolphin E10 robot. Applied in above ground pools up to 30 ft, the cleaner covers every inch of their bottoms.
It gently scrubs and navigates thanks to the CleverClean technology based on sensors and the Obstacle Escape system. Cleaning takes 1.5 hours only, and control is performed through a simple touch screen.
For some reason, retailers didn't prepare any special deals on this product last year. According to the price history, the E10 was $450 and stayed that during November of 2019. Now, its regular price raised to $499, and we hope to see it dropping by $50 at least.
The final Dolphin robot belongs to the category of nice average models. There is everything you may need for proper in-ground pool cleaning. The Advantage works in reservoirs up to 33 feet and scrubs floor and walls. Standard cleaning takes 2 hours, and you may choose one of the three scheduling modes for every day, every other day, and every third day performance.
We recommend the Dolphin Advantage to those who don't need innovative smartphone control and smart navigation.
Dolphin Advantage didn't participate in Black Friday 2019 and cost the same $579 during the whole autumn and winter. At the beginning of October, the robot raised in price up to $599. We think there should appear 15% off deals for us to save $90-$100.
How to Find the Best Dolphin Deals on Black Friday?
The best way to get notifications on Dolphin Black Friday 2020 deals is to subscribe to the brand website, retailers (Amazon is the main!), and our blog.
Our experts will keep monitoring the platforms for you and post here the most delicious offers. Follow us and have a nice shopping this fall!