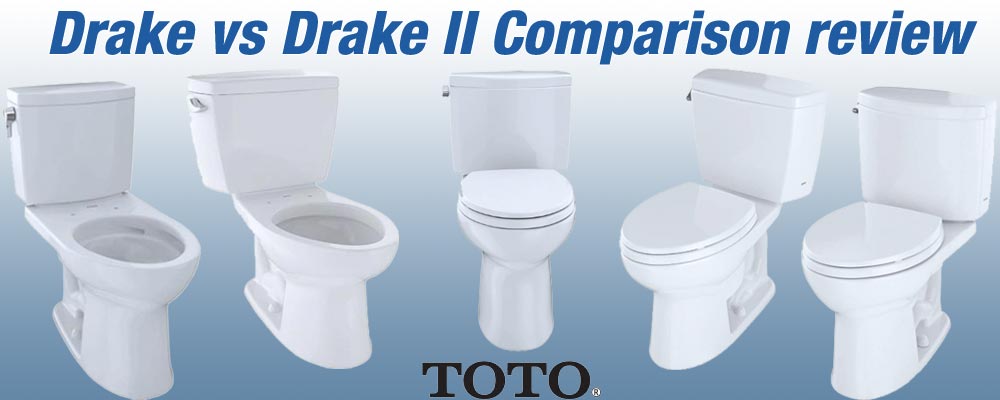 TOTO brand is quite familiar to Western customers. This Japanese company belongs to the largest plumbing manufacturers and boasts more than 100-year history. Though its products cannot be called budget, people appreciate exquisite quality and convenience of use for the money.
If you look at the leading toilet ratings, you'll definitely meet at least a couple of TOTO Drake models. All of them are worth attention, but the main battle always goes between TOTO Drake vs Drake II generations. Today, we'd like to discuss several representatives of both lineups and help you pick up the best product for your requirements and ultimate comfort in the bathroom.
Main Differences Between the Models
In the course of the TOTO Drake vs Drake II comparison, we considered five models:

The review showed several crucial differences between the toilets:

All models can be divided into two groups: single flush and dual flush products. Different systems influence the efficiency of flushing and water saving.
Thus, toilets use 1.6, 1.28, or even 1 gallon per flush. Details are waiting for you below.
The Drake II series toilets have a special CEFIONTECT layer for longer cleanliness and less water consumption.
Almost all models meet the Universal Height standard and are suitable for people of all ages and abilities. However, Drake CST744S#01 is not.
Models differ in rough-in dimensions.
Customers can choose between oblong and round bowl shapes.
Comparison table
Last update on 2023-09-25 / Affiliate links / Images from Amazon Product Advertising API
TOTO Drake II successfully combines powerful flushing, water-saving feature, and quiet operation.
All this is possible thanks to a dual flush system called Double Cyclone or Tornado Flush. Technology refuses traditional holes under the rim and refers to the two water jets. They create a centrifugal washing action and fill the bowl.
Such a system allows for minimizing the amount of water used. This model requires 1.28 gallons per flushing (or GPF). Besides, a special CEFIONTECT cover also contributes to efficiency since it's exceptionally smooth and particles cannot adhere to it like in common toilets.
TOTO Drake II CST454CEFG#01 suits everyone due to the TOTO's Universal Height design.
Among other drawbacks, we note complicated installation that requires professional plumber service only. Also, the toilet is clog-resistant, but once the clogging happened, it will be quite challenging to remove.
Pros
powerful and efficient dual Tornado Flush Technology
needs only 1.28 gallons per one flush
CEFIONTECT layer
Universal Height for a more comfortable seat position
a left-hand chrome trip lever
quiet
Cons
expensive model
the seat is not included
complicated installation
difficult clog removing
If you're looking for a more budget alternative to the previous product but don't want to sacrifice lots of features, try the TOTO Drake CST744 modifications.
The toilet spends 1.6 gallons, which is more but still saving enough to impact your water bills.
Here, we get a single flush technology called GMAX Flushing System, which consists of a 3″ super-wide flush valve, extra-large siphon jet, and a computer designed trapway. Thus, engineers developed increased flow and powerful flushing.
Pity, but we don't see the CEFIONTECT layer. Despite this miss, cleaning doesn't take much effort. But by design, there seems to be a small ridge around the toilet bowl at the water level line. It gives the appearance of a dirty ring around the bowl.
Also, the model doesn't meet Universal Height requirements and may feel low for some users.
Thus, we won't recommend the CST755S#01 for quest bathrooms and ask you to check the height beforehand. But as your private toilet, it's more than powerful, convenient, and easy to install, especially for the money.
Pros
single flush design
powerful GMAX Flushing System
requires 1.6 gallons per one flush
wider 3″ flush valve
a left-hand chrome trip lever
quiet
easy installation
affordable model
Cons
the seat is not included
no CEFIONTECT layer
height doesn't suit every user
However, if you loved the CST744 series, but it didn't fit your height requirements, don't rush to get upset. TOTO Drake CST744SF.10#01 modification is designed to improve it.
The model completely repeats the construction of the second product but complements it with the Universal Height design.
Also, we note a smaller 10″ rough-in, so if you have such unique dimensions, you'll love the model.
Otherwise, this Drake belongs to the same family of GMAX flushing toilets with 1.6 GPF. Consequently, it shares both pros and drawbacks.
Pros
single flush design
powerful GMAX Flushing System
requires 1.6 gallons per one flush
wider 3″ flush valve
convenient Universal Height
suits 10″ rough-in plumbing communications
a left-hand chrome trip lever
quiet
easy installation
affordable model
Cons
the seat is not included
no CEFIONTECT layer
please pay attention to the rough-in to make sure you get the right model that fits your plumbing
This model is justly considered the most water-saving as it uses only 1 gallon of water per flush. No other gravity toilets can provide you such efficiency and silent flushing for such amount of water.
At the same time, it saves all advantages of the Drake II generation, including a dual flushing Tornado system for a powerful centrifugal rinse.
Traditionally, the II series supports the Universal Height standard and comes with a CEFIONTECT layer. Cleaning takes seconds.
Many customers state the model is literally perfect. The only moments to mind are seat that is not included in the lit (but it's typical for the brand) and complicated installation.
Pros
powerful dual Tornado Flush Technology
the most saving model that needs as little as 1 gallon per flush
CEFIONTECT layer
Universal Height for a more comfortable seat position
a left-hand chrome trip lever
quiet
Cons
expensive model
the seat is not included
complicated installation
TOTO Drake II CST453CEFG#01 is a surprising model as it has all the same characteristics seen in the first TOTO Drake II CST454CEFG#01.
Users get excellent dual flushing with 1.28 GPF and other pros of Tornado Flush technology. CEFIONTECT ceramic glaze cover is also presented.
In fact, the only distinguishing features are different dimensions, weight, and materials.
Unfortunately, in our opinion, this toilet is significantly overpriced.
However, TOTO Drake II CST453CEFG#01 is included in the review due to its great performance and design.
Pros
powerful and efficient dual Tornado Flush Technology
uses 1.28 gallons per one flush
CEFIONTECT layer
Universal Height for a more comfortable seat position
a left-hand chrome trip lever
rare round bowl shape
quiet
Cons
overpriced model
the seat is not included
complicated installation
difficult clog removing
Face To Face comparison TOTO Drake vs Drake II
Design and Dimensions
The dimensions and weight of your toilet have a significant influence on the ease and possibility of installation. However, not only should it be compact for mounting, but it also should feel comfortable in use.
Below, we list the dimensions and weight for our five TOTO models.
TOTO Drake CST744S#01:
28" x 19.5" x 30.5"
69.6 pounds
TOTO Drake II CST453CEFG#01:
26.6" x 16.5" x 30"
38.7 pounds
The first, the second, and the fourth toilets are made of vitreous china.
The third and fifth models use ceramic.
attention
Though the design is completely your choice, many users prefer models made of vitreous china as it's more durable and glossy compared with standard ceramic.
When it comes to design, there are almost no differences between the products. No matter what toilet you'll choose – it will definitely fit any interiors in terms of appearance.
All models discussed are presented in classic cotton white. However, the first, the second, and the fourth TOTO toilets feature several additional colors. There are bone, colonial white, and sedona beige options.
Flushing Technology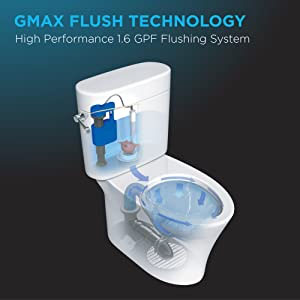 One of the fundamental differences between the simple Drake and Drake II generations is flushing technology. The features have already been briefly discussed in the description part, but let us look at them more deeply.
First of all, TOTO engineers refuse numerous rim jets and concentrate all flow in one or two points.
Secondly, they developed unique computer designed glazed trapways. Their best features are wide pass, flow support, and anti-clogging construction.
The early models use a single flushing called GMAX. The system is presented in the second and the third toilets of our review (the CST744S#01 and the CST744SF.10#01). They have one GMAX siphon jet that throws water forcefully into the bowl. Water evenly spreads all over the bowl and flushes everything into the trapway.
GMAX Flushing is 125% more advanced as it features a 125% wider flush valve than the standard – the unit measures 3″.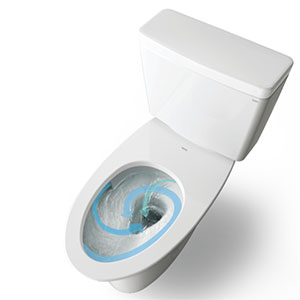 The other three representatives of the Drake II series, i.e., the CST454CEFG#01, the CST454CUFG#01, and the CST453CEFG#01, are equipped with improved dual Tornado Flush Technology. The system now consists of two jets directed at each other. Jets output water and thus create centrifugal, cyclonic rinsing action. The system allows for decreasing the amount of water but increasing the power of flush.
Another crucial characteristic is a flush or MaP score. MaP score stands for Maximum Performance and counts the amount of waste measured in grams that a toilet can flush from the first time. The scale reaches 1000, and all products that got over 600 are highly recommended for use.
Surprisingly, but the Drake models have >=1000 results, while the Drake 2 toilets received >= 800 score. The difference is not that dramatic to influence flushing, but it's definitely worth mentioning.
verdict
Whatever TOTO Drake toilet you choose, you'll never have to flush twice. One such powerful flushing toilet saves more than weak environment-friendly models. Tornado System is more innovative and saving, but the GMAX is also an extremely decent option.
Water Consumption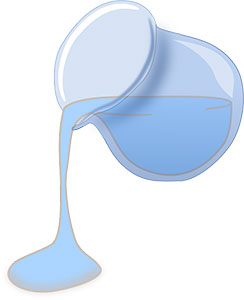 Indeed, flush systems directly influence the water consumption rating.

So once again, TOTO Drake products need as little as 1.6 gallons per flush.
The Drake II toilets became 20% more efficient compared with the first generation. They require 1.28 GPF.
However, one Drake II model outperforms everyone in terms of economy. This is the fourth TOTO Drake II CST454CUFG#01 that managed to reduce its water consumption up to record 1 gallon.
verdict
Even the 1.6 GPF TOTO toilets can greatly impact your water bills. But if you're looking for the most saving option, pay attention to the II series.
CEFIONTECT Bowl Cover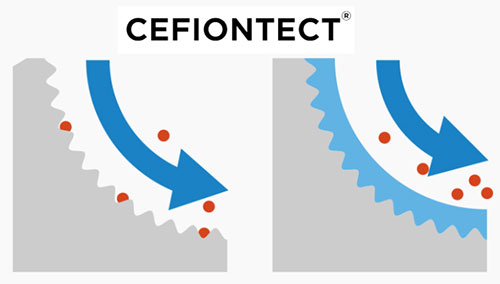 Partly, the efficiency of flushing and durable cleanliness of the Drake 2 models are caused by the CEFIONTECT layer. It is an exclusive feature of the Drake II series only.
CEFIONTECT is the ion-barrier that evenly covers the toilet bowl and increases its smoothness. A super-slippery surface minimizes debris from sticking.
Toilets with CEFIONTECT layer stay way cleaner than common porous bowls and require less cleaning, less water for flushing, and fewer detergents.
attention
The manufacturer warns users that with CEFIONTECT toilets, you cannot use bleach or acid in order not to damage the layer. However, it doesn't seem to be such a big deal as you can successfully apply less toxic chemicals or even home-made solutions.
verdict
Undoubtedly, CEFIONTECT toilets are way better in terms of cleanliness and water efficiency. They do lose the first generation of TOTO Drake models in price. But practice proves their expensiveness is redeemed with time.
Bowl Shape and Seat Position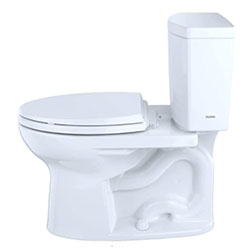 TOTO follows trends. That's why all its toilets share oblong bowl shapes. However, the brand also leaves freedom of choice. The last TOTO Drake II CST453CEFG#01 toilet comes with a round bowl for those who have such preferences.
No matter what TOTO toilet you'll choose, it will definitely meet all your family members' requirements. The lineups follow the so-called Universal Height standard. It means they offer optimal seat positions for people of all ages and abilities, from small kids to seniors.
The only exception is the second competitor of our review, the Drake CST744S#01, that doesn't support Universal Standard.
verdict
The second toilet will still fit adults, especially considering its beneficial price. However, if you have small children or people with health issues, it's better to take care of their comfortable bathroom experience.
Rough-In

Rough-in characteristic is crucial to mind for proper and worry-free toilet installation.
attention
Rough-in is a distance between the drainpipe where the toilet is attached and the wall behind its tank.
All TOTO Drake toilets in the review feature 12″ rough-in, which is a universal standard in most houses.
However, as we've already mentioned, the third model, TOTO Drake CST744SF.10#01, suits smaller bathrooms with 10″ rough-in.
Certification
Maximum, TOTO can offer three certifications, which are ADA, WaterSense, and CALGreen.

ADA stands for the American Disability Act that is based on the principle of considering all people's needs, regardless of their health state, abilities, and age. ADA certification means the toilet doesn't require additional adaptation or specialization for comfortable use.
WaterSense is a partnership program sponsored by the U.S. Environmental Protection Agency (EPA), the members of which protect the water resources by promoting water efficiency of their plumbing products.
CALGreen is the new California Green Buildings Standards Code, the members of which produce sensible and usable state building standards and administrative regulations that implement or enforce those standards.
TOTO Drake II CST454CEFG#01 has all three certifications, i.e., ADA, WaterSense, and CALGreen.
TOTO Drake CST744S#01 is a simple toilet that didn't pass any certifications.
TOTO Drake CST744SF.10#01 will suit people with special health needs, thanks to the ADA Compliant.
Like the first model, the last two toilets, TOTO Drake II CST454CUFG#01 and TOTO Drake II CST453CEFG#01, also boast ADA, EPA WaterSense, and CALGreen standards.
Accessories and Installation Items
All models of our review are two-piece toilets that consist of a separate bowl and water tank. No other accessories are included in the kit.
That goes for seats, too. They are sold separately, which is the main upset of most customers. The manufacturer recommends purchasing TOTO SoftClose Seat.
important
Please pay attention that the installation process will require additional items not supplied by TOTO. They include:
bowl wax ring
closet flange mounting bolts (2 T-bolts, 2 metal washers, and 2 nuts)
water supply line (1/2″ compression to 7/8″ ballcock)
verdict
TOTOs belong to the top price category toilets, which typically offer no additional items. We consider it a drawback as such expensive products mean more investments.
Guide – How to Choose the Best Toilet?
A toilet is a compulsory element of any bathroom. Properly chosen models can serve your decades without a single leaking or breakage. However, if you want to find such a perfect option, please mind the following characteristics.
Material.
When purchasing a toilet, first of all, pay attention to the quality of the material used to manufacture the product. The modern market is represented by steel, ceramic, polymer products, or china. Ceramic and china sanitary ware are more popular; its most famous types are porcelain and faience. Since the toilet is an object that constantly deals with water, it is better to choose a porcelain version.
Dimensions.
This is an obvious moment, but let us remind you about it one more time. Toilets should perfectly fit the space available in your bathroom. Dimensions include length, width, rough-in, and height. The last is especially crucial as the wrong height may cause an uncomfortable seat position.
Bowl Shape.
Modern toilets offer elongated, compact elongated, square, and round bowls. Different shapes influence the ease of installation and comfort of use. That's why their choice depends on your preferences and requirements. However, elongated models are the most popular at the moment.
Flushing.
The next factor to be taken into consideration is the type of flushing. There are direct and circular flushing. The latter is considered the best since, when releasing, the water washes the entire bowl, which is more efficient from a hygienic point of view. Various models offer single, dual, or multiple flush jets: the fewer jets, the higher flow.
Water Consumption.
Water Consumption greatly depends on the flushing system. Modern models tend to minimize the amount of water used and optimize the efficiency of flushing through engineering. Like our TOTOs, toilets with 1.6 GPF and less are the best.
Drainage.
There are three types: vertical, horizontal, and oblique draining. Here you need to choose, focusing on the size of an apartment or house where the toilet will be installed. For a small apartment, the vertical option is more suitable. Such a toilet occupies little space, but its disadvantage is the impossibility of reconstruction. The horizontal version is more versatile since it allows you to lead the drainpipe in the desired direction. However, such a toilet will take up more space, so it can be installed in medium to large bathrooms. An oblique drain is a kind of golden mean, which implies a pipe outlet at an angle of 30-40 degrees.
Floor or Wall-Mounted Toilets.
Floor-mounted models are a classic option that doesn't require special installation tools or skills. However, wall-mounted toilets take less space and provide much easier cleaning though they need professional installation.
Noise Level.
It's not the most important moment, but noisy flushing may disturb you and your family members. So, please don't forget about this before purchasing.
Frequently Asked Questions
1. What is the best TOTO Drake toilet?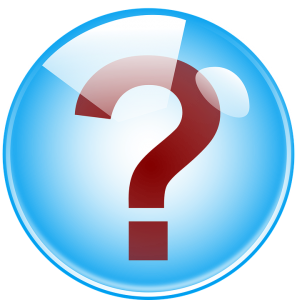 At the moment,
TOTO Drake II CST454CUFG#01
is the optimal choice in terms of efficiency and price. It costs like all Drake II series models but offers the greatest water saving – 1 gallon per flushing. Also, it has Tornado Flushing, CEFIONTECT cover, and Universal Height to suit all people.
2. How long do TOTO Drake toilets last?
TOTO Drake toilets are two-piece products. Such constructions are less durable than one-piece models. Still, with proper maintenance and repairs, the TOTO toilet will last over 10 years.
3. What are recommended cleaners for TOTO CEFIONTECT toilets?
The manufacturer recommends using soft gel cleaners and soft brushes that are non-abrasive and will not scratch the surface. Please avoid using strong acids, bleach, alkaline cleaners, and other detergents that may damage the CEFIONTECT cover.
5. What does Universal Height mean in TOTO Drake toilet systems?

Universal Height means that TOTO toilets were made, taking into account people of all ages and abilities. TOTO Universal Height suits everyone and doesn't need additional adaptation.
Conclusion
TOTO toilets are definitely worth purchasing even despite their high price. The water efficiency they offer will refund expenses within a couple of years.
Those who're looking for the best affordable option should try TOTO Drake CST744S#01. It's perfect for people on a budget and family without kids as its height won't suit them.
TOTO Drake CST744SF.10#01 is an upgraded version of the previous toilet for families with kids or people with special health requirements thanks to the Universal Height.
If you have an unlimited budget, we'd recommend the Drake II series with less water consumption and improved features.
TOTO Drake II CST454CEFG#01 is an excellent choice with all advantages possible. If purchased at a discount, TOTO Drake II CST453CEFG#01 can compete with the CST454 model. It offers absolutely the same functions but is overpriced.
However, TOTO Drake II CST454CUFG#01 is the winner of our review. It became the best thanks to 1 GPF consumption at the same price for other Drake II toilets.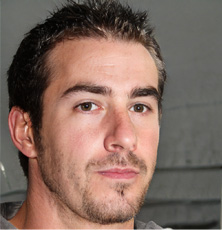 Hi! I'm Markus Robertson, and water is my passion.
Five years ago, I graduated from the University of California-Los Angeles and was going to become a professional marine biologist. However, my fate had other plans for me, and due to family problems, I had to find a more stable and well-paid job. I had only one wish for my job to be connected with water.
During this period of my life, I worked as a sales manager at Olympic Pool & Spa Supplies. The job helped me learn everything about swimming pools and related pool equipment, as well as how to choose the best option and what to pay attention to.
Having worked there for three years, I decided to start my own blog about pools, where I can tell people about the best new pool equipment models and share my knowledge and experience.
A marine biologist by education, I became a pool blogger by trade. Now I'm glad I can help the guests of my store and the visitors of my blog know a lot of exciting things about pools, their types, best pumps and filters, necessary equipment maintenance, and so on.
I welcome all people who want to choose a proper basin and the stuff to my blog! Hope you'll find this information interesting and useful!