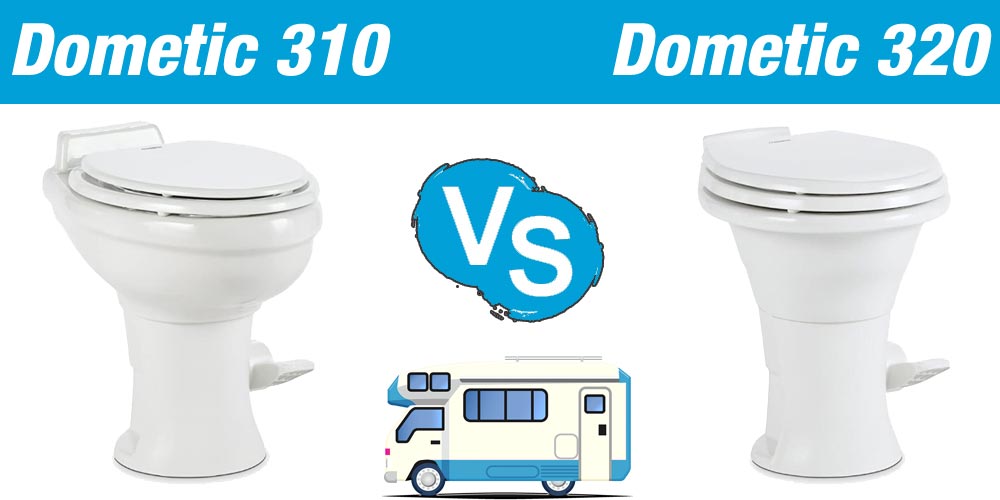 Dometic is noted for producing elegant plumbing goods that are designed to maximize comfort and economy. First of all, the brand is famous among travelers and camp fans as it provides excellent RV toilets. They are one of their best products in terms of water saving and compact design.
That's why in this article, we decided to compare two best-selling models, Dometic 310 vs 320. The convenience of use, improved hygiene, and…some complaints. Why? And do pros redeem drawbacks? Let's find it out!

Main Differences Between the Models
The models are very similar both in appearance and construction since the 320 series became an upgraded version of the 310 model. However, we noticed the following crucial differences:
Dometic 310 has a round bowl, while the 320 series received an elongated and deeper bowl.
Due to the rim in Dometic 320 toilet, users are safe from spills and frequent floor cleaning. Dometic 310 doesn't offer a rim.
The first model is equipped with a slow-close enameled wood seat. The second toilet features a full-size residential style wood seat.
Dometic 320 is a bigger and heavier RV toilet.
Comparison table
Last update on 2023-09-25 / Affiliate links / Images from Amazon Product Advertising API
Dometic 310 series toilets are distinguished by the compact design. This modification requires little space for installation, saves water, and at the same time feels very convenient for use and cleaning. The model comes in two size options – you can choose between low profile and standard height. We took the standard product for review.
The toilet features a nice slow-close enameled wood seat. Flushing is exceptionally hygienic as you don't have to press any buttons and touch the toilet with your hands. Just press a foot pedal. The 310 model additionally comes with a hand spray.
Flushing will take no more than a pint of water. Such an economy is possible, thanks to the well-thought-out bowl design and swirl-jet action. However, please mind that spills are frequent as we have no rim.
Dometic 310 will perfectly fit all types of recreational vehicles, including motorhomes, campervans, camper trailers, truck campers, etc. Many purchase it even for their small bathrooms. It's an excellent saving option that has almost no drawbacks. Besides, the price is more than affordable for a ceramic toilet.
Pros
compact yet convenient
has two size and color designs
foot pedal flushing contributes to the hygiene
so does the hand spray included
only one pint per flushing
slow-close enameled wood seat
easy cleaned
easy installation
affordable model
Cons
no rim causes often spill
the base part is not that solid
the manufacturer has serious issues with packing, so many customers complain about broken products
Dometic 320 came to replace the previous 310 series. This toilet saved the core but added certain improvements, the most important of which are a changed bowl shape and rim.
The manufacturer calls it an elongated model. We got an oblong shape and deeper bowl for greater convenience. In general, the product became bigger and heavier, so be ready to provide more space for installation. Once again, there are a standard height and a low profile option.
Efficient water flushing is preserved, though the top was complemented with a rim. Engineers hid the flush pattern under the rim, which solved the problem of spills. Consequently, now the product boasts a full-size residential style wood seat.
At the same time, users received other beloved features such as an ergonomic foot pedal, one-pint flushing, and a hand spray.
The model will become a decent alternative to the 310 series. However, bigger dimensions may not suit some campers, so please mind it before purchasing. Otherwise, we love its improved design.
Pros
still quite compact
has two size and color designs
improved bowl shape
nice rim for spill protection
a full-size residential style wood seat
foot pedal flushing
the hand spray is also included
only one pint per flushing
easy cleaning
easy installation
Cons
overpriced
rim complicates cleaning of the top part
seat not always stay locked and moves a lot
the same problem with packing
Face To Face comparison
Design and Dimensions
As we've already mentioned, customers can choose between two size options, depending on the free space available. In this review, we discuss standard height toilets that measure:
Dometic 320: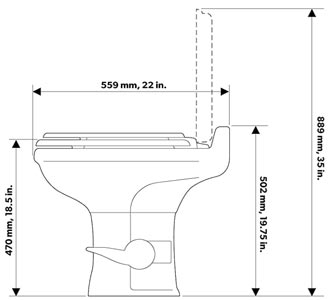 27″ x 20.5″ x 25″
37.5 pounds
Low profile models offer the same functionality but smaller height:
Dometic 320: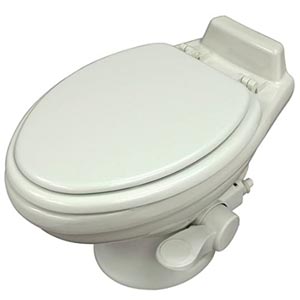 22″ x 14.63″ x 15.5″
36 pounds
Anyway, even standard dimensions require quite a little space. Dometic 320 may cause some issues if you have a small trailer, but it mostly concerns the installation convenience.
Both models are made of ceramic, which is a considerable advantage compared to common plastic RV toilets. The ceramic design provides the same durability and comfort as home toilets.
Two color options are available – white and bone.
Bowl


According to the official user's manual, both toilets have similar ceramic bowls. They are very durable, unlike the polypropylene bases.
The main difference is the shape. On the one hand, a longer bowl feels more convenient in use. On the other hand, users note that it requires greater flushing power than it has for proper and quick cleaning.
We like a topping rim of the second appliance. Though cleaning may take more time, the rim protects you from spills supporting hygiene and cleanliness.
Flushing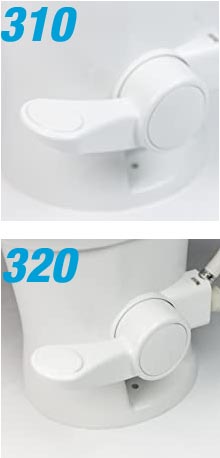 The flushing system of both models coincide and offers technology standard for all gravity toilets.
Toilets have a set of 360-degree jets located around the top or under the rim. Such location allows for providing powerful swirl action that flushes the contents and covers every inch of the bowl.
important
One of the best advantages of the Dometic RV gravity flush toilets is their water economy. You won't need more than one pint / 0.13gal / 500 ml.
Moreover, users can control the amount of water used and spend as much water as needed right now. It's possible thanks to the pedal system.
You press the flush pedal part way down to add water to the toilet. Water flows into the bowl while the flush ball remains closed. When you fill the bowl as much as you wanted, just press the pedal down until it contacts the floor. Flushing will happen. Release pedal after a complete flush.
Hand Spray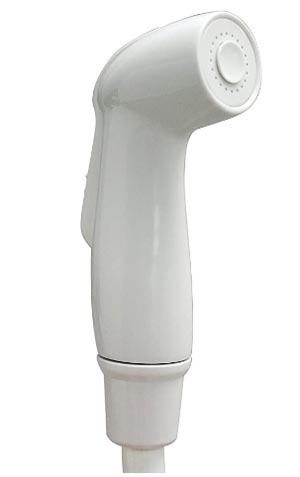 Hand spray contributes to the water economy and provides additional hygienic processing. The unit comes out of the base in the back. You can use it to deal with spot messes. Just direct it and press the trigger for easy cleaning.
Hand sprays are made of plastic materials. We can't say they're very durable, which is their only drawback, by the way.
attention
Please pay attention that a hand spray is an optional element that comes only in definite models. So if you need some, make sure you chose the right product. Both of our competitors provide these units.
Installation
Dometic 310 and Dometic 320 come with a full kit of elements necessary for installation. The process is quite easy even for beginners. Toilets are attached to the floor and wall with special bolts and are equipped with a nice floor flange seal.
For more information on the kit and installation, please follow the instruction. In case of difficulties, contact the User's Service.
Guide – How to Choose the Best RV Gravity Toilet?
Thousands of camp fans have been successfully using gravity toilets for decades. Foot-pedal flush models are the best as they don't need an electrical supply and lots of water. But the choice may become a challenge if you don't mind certain pitfalls. Here is the list of factors to pay attention to while purchasing an RV toilet with pedal flushing.
The type of your recreational vehicle will greatly influence the choice. Foot-pedal flush toilet won't suit all cars. First of all, it works only with a large holding tank because, in gravity toilets, bowl contents drop directly into the tank. If you don't have such a construction, you'd better look for portable models.
Secondly, your vehicle should have enough space for the unit even though gravity toilets are known as compact things. Besides, you may have enough space for a toilet, but please remember that the installation process requires even more (you need to deal with hoses, pipes, attach toilet, etc.).
Water consumption is another moment to mind. Foot-pedal toilets are the most economical as you control and adjust the amount of water used with a pedal. Still, this characteristic varies in different models. Specialists recommend consulting with manufacturers and experienced users about every toilet you liked.
A little amount of water can remove all bowl contents at once only if the toilet has an efficient flushing system. It depends on the flush pattern, i.e., the number and location of flushing jets as well as the shape of a bowl.
Finally, please don't forget to check the materials. Ceramic and porcelain models are the best. Plastic and polypropylene parts reduce the durability and cause leakage, which is an extremely unpleasant issue on the journey.
Frequently Asked Questions
1. Can I install the Dometic 310 or 320 model in my home bathroom?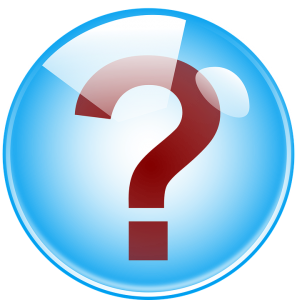 Yes, you can install these RV gravity flush toilets at home. However, you should mind some moments such as water and waste connections and manual water filling and emptying.
2. Do Dometic RV gravity flush toilets require special toilet paper?
Yes, it's better to use toilet paper specially designed for RV toilet systems. It dissolves quickly and doesn't provide clogs. If you cannot find RV paper, you can use common paper, but please don't throw it into the bowl.
3. What is the weight capacity of Dometic 310 and 320 gravity flush toilets?
The manufacturer doesn't provide such information officially. However, real users' reviews show Dometic 310/320 can easily carry weight over 300-350 pounds and stay as comfortable and reliable as common domestic toilets.
4. What do you clean Dometic RV gravity flush toilets with?
Dometic produces its own lineup of RV toilet cleaners that are sold separately on the official website or Amazon. However, you can also safely use any non-abrasive bathroom and toilet bowl cleaners.
Conclusion
If you love to travel with comfort or just are looking for a compact and saving toilet for your home bathroom, Dometic 310 and 320 flush models will definitely please you.
Choosing between the toilets, we'd prefer the 310 modification as an optimal product in terms of price and functionality. The 320 series offers certain advantages like rim construction and a better seat, but it seems overpriced. However, if you're lucky enough to find the 320 toilet at a discount, grab it without any doubt.
important
When it comes to complaints, the greatest drawback isn't connected with the toilets but with the manufacturer and sellers. They do provide poor and unsafe packing. So please ask sellers to pack your item with greater attention and don't forget to check the toilet before installation.
Have an excellent shopping and travel with pleasure!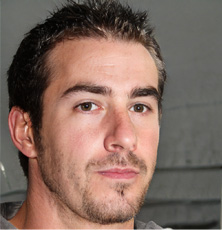 Hi! I'm Markus Robertson, and water is my passion.
Five years ago, I graduated from the University of California-Los Angeles and was going to become a professional marine biologist. However, my fate had other plans for me, and due to family problems, I had to find a more stable and well-paid job. I had only one wish for my job to be connected with water.
During this period of my life, I worked as a sales manager at Olympic Pool & Spa Supplies. The job helped me learn everything about swimming pools and related pool equipment, as well as how to choose the best option and what to pay attention to.
Having worked there for three years, I decided to start my own blog about pools, where I can tell people about the best new pool equipment models and share my knowledge and experience.
A marine biologist by education, I became a pool blogger by trade. Now I'm glad I can help the guests of my store and the visitors of my blog know a lot of exciting things about pools, their types, best pumps and filters, necessary equipment maintenance, and so on.
I welcome all people who want to choose a proper basin and the stuff to my blog! Hope you'll find this information interesting and useful!