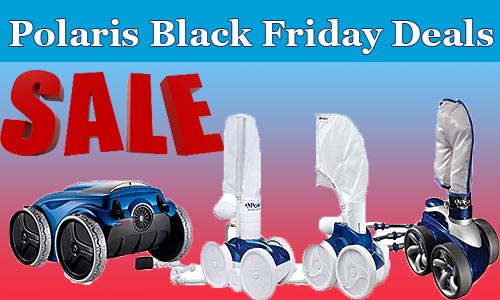 The reason why Black Friday sales have become so loved by millions of people is the fact that it provides us with excellent discounts for all categories of products. No matter whether you want a smartphone or a new set of bath towels – they will be yours with great benefit.
Luckily, the owners of pools can also participate in this world-wide festival of discounts. Here, we collected the most expected Polaris Black Friday deals. The brand is known for its high-quality, efficient pool cleaners, the only minus of which is costliness.
So, why not to use the Black Friday 2020 to save up to several hundreds of dollars? Let's take a look at what we can get on November 27th-29th.
Best Offers of Last Year
Unfortunately, Polaris hasn't improved its pool cleaner lines for long. It means the models expected this year will include the same cleaners we saw during last year's sales. A brief listing of former deals will help us better determine the coming offers and price drops.
Most of all, customers preferred budget cleaners such as Polaris 280 and 360. The manufacturer regularly changes their prices, so they float from year to year. Last November, you could see several Polaris 280 Black Friday and Polaris 360 Black Friday deals on Amazon. The best sellers asked $476 and $429, respectively.
Surely, the sales couldn't do without the improved Polaris 380. However, better performance and power cost more. While in 2019, the 280 and the 360 devices were sold for around $500, Polaris 380 cost $699. During the Thanksgiving sales, customers got the model at a $70 discount.
In general, the brand cuts the prices by 15%-25%. The drop looks insignificant till you see it in real money. Due to the high costs of the Polaris products, 15% make an admirable economy.
Polaris Black Friday 2020 Offers
In the coming November, we're going to see the same Polaris 280, 360, and 380 cleaners on sale. Hopefully, the list of Polaris Black Friday products will be extended by the 3900 Sport pressure side cleaner and the only Polaris Sport robotic vacuum from the F lineup.
The model raised in price since the last year, costing about $550-$600 on Amazon. The regular price is floating, but this fall, we have all the chances to catch it at a $100 discount or more. The reason is the growing popularity of its more powerful modifications.
Polaris 280 pressure side pool cleaner works in all in-ground pools and processes floors and walls but misses steps. Thanks to 2 jets, it traps most dirt and rarely tangles or gets stuck.
The model provides a 31ft hose to cover even large reservoirs and is compatible with TailSweep PRO.
Polaris Vac-Sweep 360 shares the majority of its features with the 280 cleaner. It is applicable in all in-ground pools, covers all pool elements except for steps, uses the same 31ft hose, and is compatible with TailSweep PRO.
However, this modification can boast of three propulsion jets and doesn't require a separate booster pump.
Now, the model costs $425, and the price may rise to $450. Last year's experience showed not too impressive drops, so we hope for $50-$60 off.

Polaris 380 Black Friday deal is one of the most expected by customers. Though the model is the most expensive among these three devices, the difference is not so dramatic, while the functionality collects all the best moments.
The current price reaches $670. The discounted price we hope for is $600-$550. There is no official information yet, but we're going to check the deals to provide you with updates.
Powered by triple jets that provide greater power and faster cleaning, the vacuum works in all in-ground pools and climbs all elements, including challenging steps and protrusions. Also, it is the only cleaner equipped with the All-Wheel Belt drive mechanism. The system eliminates all possibilities of getting stuck.
The 3900 Sport has participated in Polaris Black Friday sales before, though without much success. Frankly speaking, the vacuum is very expensive, costing $950-$990 on a regular basis. The previously discussed cleaners perform almost the same quality cleaning but for twice less price.
Nevertheless, the 3900 Sport series features a couple of characteristics worth buying. Thus, the model processes every inch and awkward place of the pool, picks up all debris with the most powerful triple Polaris propulsion jets, provides ultimate sweeping action, and won't get stuck thanks to the 50% more torque with the all-wheel PosiDrive system. It also uses the largest 5L bag with 40 GPM of additional pool filtration.
We absolutely recommend this cleaner to all in-ground pools if purchased at a discount. Last year, the brand cut the price by $200. This time, we are waiting for similar generosity.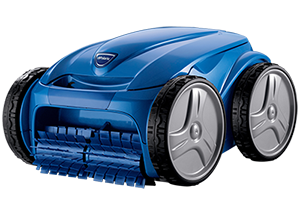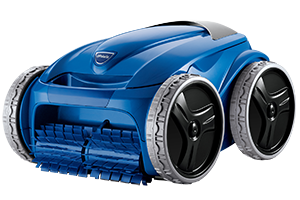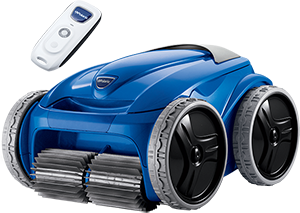 Cleaning Modes
Floor, Floor/Wall, Waterline Only, Custom
Cleaning Cycle
Dual Mode Cleaning: 1.5 & 2.5 Hours
Easy Clean Filter Canister
Rear Water Cleaning Stream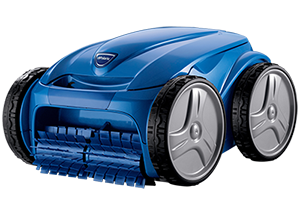 Cleaning Cycle
Dual Mode Cleaning: 1.5 & 2.5 Hours
Easy Clean Filter Canister
Rear Water Cleaning Stream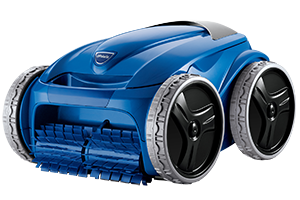 Easy Clean Filter Canister
Rear Water Cleaning Stream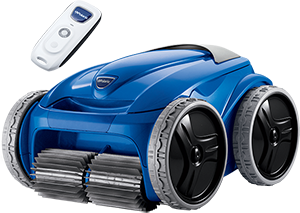 Cleaning Modes

Floor, Floor/Wall, Waterline Only, Custom

Easy Clean Filter Canister

Rear Water Cleaning Stream

Finally, we came to the only Polaris robotic pool cleaners – the F9350, F9450, and F9550 Sport. While the pressure side generation is the most demanded option for relatively affordable money, these devices cost from $990 to $1300. Even the basic F9350 modification belongs to the luxury price niche, that's why Black Friday discounts are so desired here.

All vacs use the same technologies in their core, but there are some differences worth mentioning. Depending on the model chosen, you'll get from 2 to 4 wheels, various means of remote controlling and programming. Look for more information in our PolarisF9350/F9450/F9550 Sport reviews.

Among common characteristics, we note the ActivMotion Sensor Technology for unmatchable navigation even in the largest pools up to 60″, Vortex Vacuum Technology and water propulsion system for picking up larger debris while maintaining maximum suction, Aqua-Trax tires for all pool surfaces, and unique programmable timer.

Judging by last year, the prices should drop by 10%-15%. However, you may be able to save up to $300 on the more expensive F9550.

Here are the most long-awaited deals on Polaris pool cleaners. However, we also recommend you to use the Black Friday 2020 to get numerous Polaris accessories at great discounts. Pay attention to replacement bags, filters, tires, and other things so necessary for daily use of your vac.
How to Find the Best Polaris Deals on Black Friday?
If you want to get the best deals on Polaris products and other brands, don't forget to subscribe to the Amazon. Walmart, Target newsletters.
Visiting the manufacturers' official sites is another great way to stay informed on the exclusive and the most beneficial deals.
We would be extremely pleased with your subscribing to our blog. Here, we post the current deals and updates to help you find your perfect product at a discount.